Expert's Rating
Pros
Stylish design with high quality feel
Easy to use and clean
Accessory options
Funnel heat control
Cons
Slightly uneven distribution of heat
More unwieldy with any of the accessories (extra side burners) fitted
Rapid heat loss when the lid is lifted
Our Verdict
The Outdoor Chef Davos 570 Pro is a beautifully designed, quality build that takes up relatively little space and is easy to use and maintain. It also gets a thumbs up for its expandability and the nicely illuminated controls. But the fast heat loss when the lid is lifted and a slightly uneven distribution reduces the rating slightly.
Price When Reviewed
Not available in the US
Outdoor Chef is not as well known as brands such as Weber, which is a shame, as it has a number of exciting models.
The new model Davos 570 Pro gas kettle barbecue is one example. Partly because it is relatively compact – with the side table fully extended it measures only 105cm, with 57cm of that a grilling surface, and partly because it can be supplemented with a couple of excellent accessories to expand its functionality. More on these later.
Design and assembly
Assembly takes several hours
High quality parts
Funnel system for diffused or concentrated heat
When unpacking the parts from the box, I began to realise that assembly would take some time. Not that the manual is bad. In fact, it's informative and easy to understand. Rather, it's the sheer number of different parts that made me wonder what I was getting myself into.
Andreas Bergsman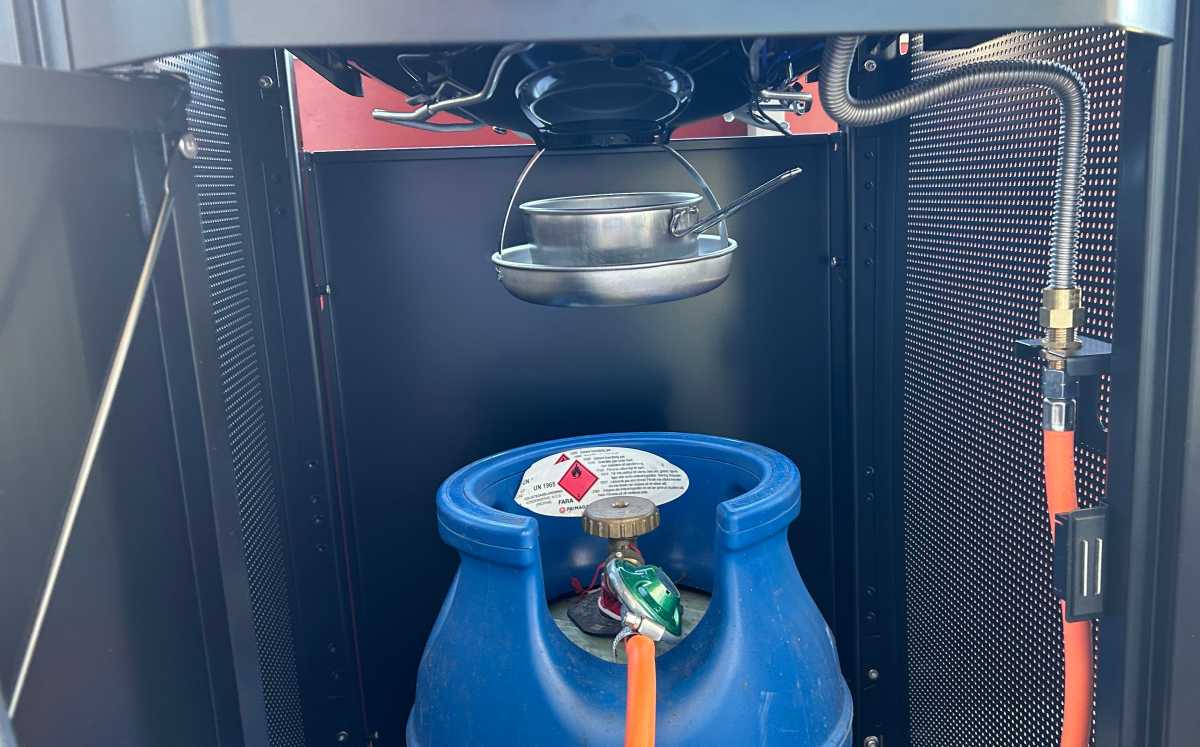 Andreas Bergsman
There is no doubt that this is a quality construction. The parts are solid and the fit is almost perfect, but it takes a while before everything is in place – almost three hours in total.
As with most other gas grills from Outdoor Chef, the actual grill box and grate are round, which is unusual in this context, and this has both advantages and disadvantages.
On rectangular models it is easier to quickly redistribute heat as well as to grill indirectly, and for most models it's also possible to supplement the grill with a rotisserie kit. Indirect grilling is also possible with the Davos 570 Pro, but it requires more planning.
Andreas Bergsman
The advantage, and something I really like about the grill, is the funnel system. There are two two funnel-like parts, which, depending on how they are stacked, distribute the heat in different ways. You can have either a more even distribution of heat over the entire grill surface or a more concentrated, and really brutal, heat in the centre.
You use the latter, the "volcano position", when you want to use a cast iron pan, a wok or just burn off the steaks really well, as well as for indirect grilling where you place the meat along the edges of the grill grid.
Another advantage of the funnel system is that the burners are completely protected from dripping grease and meat juices, which are instead channelled directly into the collector. There's less risk of dangerous grease fires, in other words.
Performance
Two burners
Reaches 300°C heat in minutes
Heat quickly drops when lid is opened
There are two circular burners, one inner and one outer, delivering a maximum power of 2.9 and 6.6 kW respectively. The electronic ignition controls look stylish and have inbuilt lighting that illuminates when you turn them.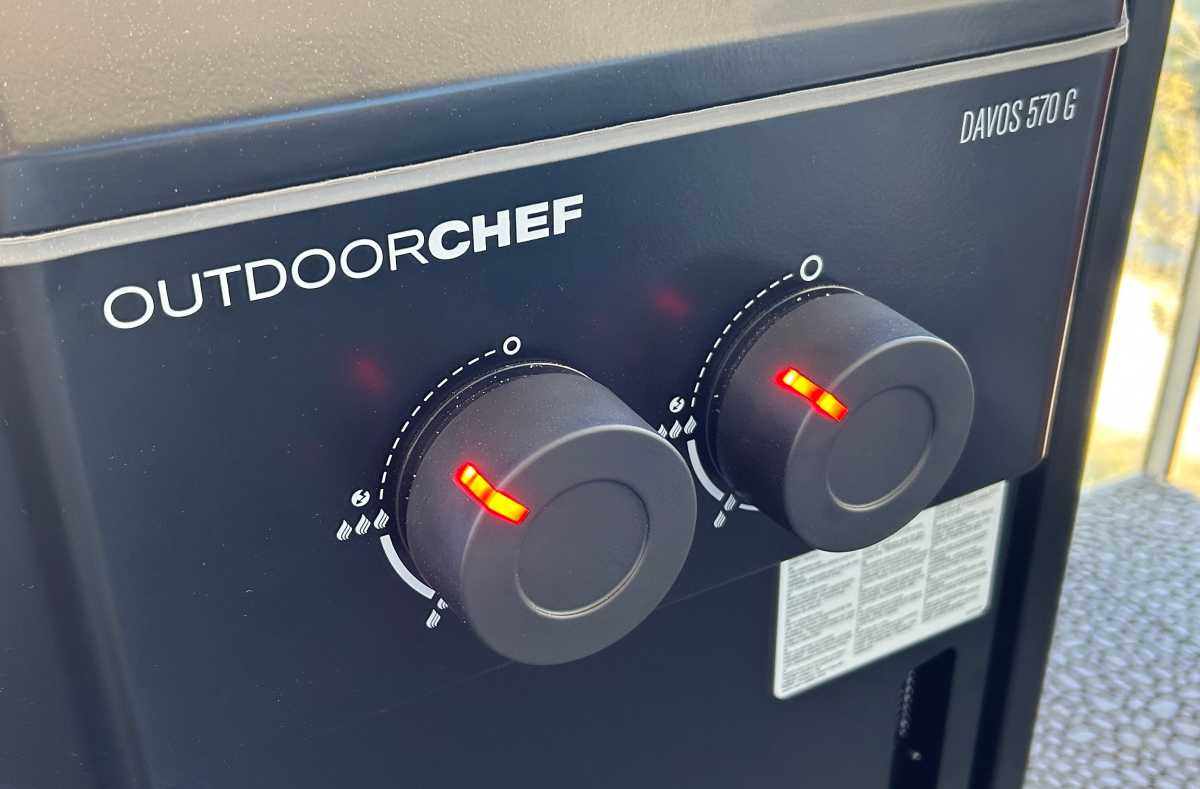 Andreas Bergsman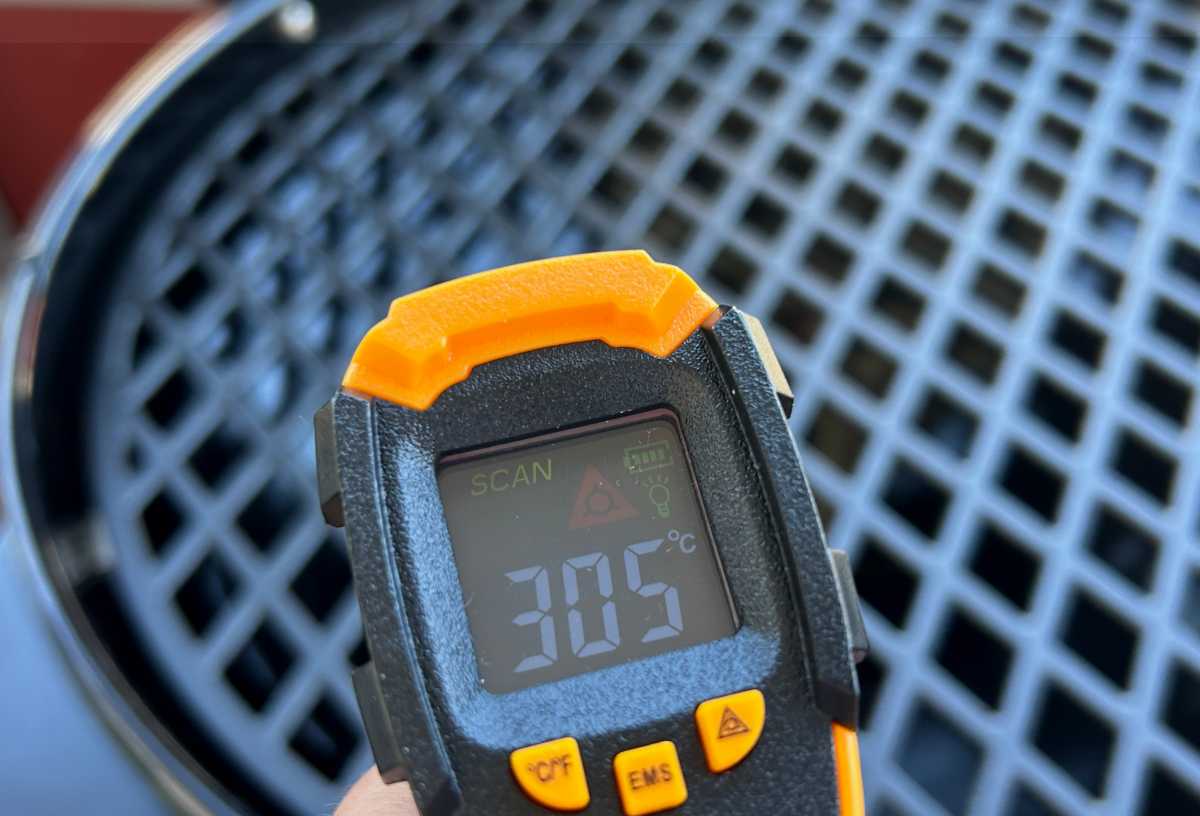 Andreas Bergsman
The Davos 570 Pro delivers really good heat and quickly! After just a few minutes, we measured a temperature of over 300°C. The lid insulates well, but the heat tends to drop quickly every time it's opened.
The distribution of heat is slightly uneven. With the funnel system in normal mode it inevitably gets slightly hotter along the edges. Correspondingly there's a much more concentrated heat in the centre when I turned the funnel for the "volcano position".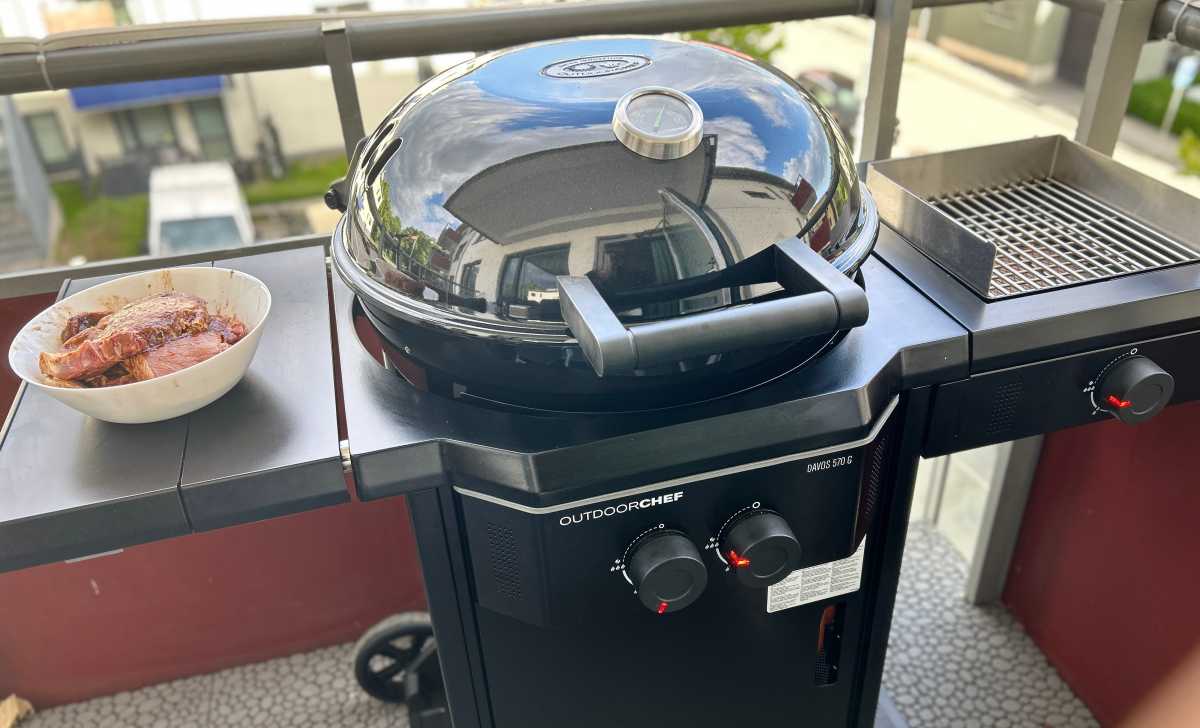 Andreas Bergsman
Another plus is the possibility for expansion – if you're willing to shell out for accessories. You can get a side burner (2.7 kW) to boil potatoes or perhaps prepare a sauce, or a ceramic burner (3.5 kW) to cook at really high temperatures (it's adjustable from 200-900°C). Both of these are available for fixed installation on one side of the grill. They're convenient and easy to put in place. You can see the available accessories at Outdoor Chef.
Price and availability
The 570 Pro has an RRP of £979, and you can buy it at this price from a number of online retailers including Direct Stoves. For around £100 less, you can get it from Home Pizza Ovens but the best price at the time of writing is direct from Outdoor Chef, where it's just £749.
This means that where outdoor cooking is concerned, it is still a fairly pricey option. If you'd like to see some other options, we've also reviewed a capacious smart grill, the Masterbuilt Gravity Series 560 and the clever and budget conscious Ninja Woodfire Electric BBQ and Grill.
Verdict
The Davos 570 Pro is well made and versatile, with high quality components and the opportunity to expand its functions. It heats up quickly and we especially liked the funnel system that allows you to change the heat distribution.
But it's not flawless: you'll need to invest a few hours in its construction and once it's going, you'll need to bear in mind the uneven heat distribution during cooking. Overall, however, we would recommend it.
This review was originally published on M3.com and has been translated for Tech Advisor.
Specifications
Model: Davos 570 Pro
Manufacturer: Outdoor Chef
Weight : 39.3 kg
Dimensions (width x depth x height):105 X 69.5 X 114cm
Number of burners: 2
Total burner power : 9.5 kW
Grill grate: Enamelled steel (cast iron grate available as an accessory)
Other: backlit knobs