At a glance
Expert's Rating
Pros
Excellent performer
Slightly cheaper than the PCIe 5.0 competition
Excellent TBW rating and warranty
Cons
Slightly slow at our 450GB write
No 4TB option
Our Verdict
Though it's not the fastest PCIe 5.0 SSD we've seen with synthetic benchmarks, Seagate's FireCuda 540 blazed to a first-place finish in our real-world 48GB transfers. That makes it a top choice.
Price When Reviewed
1TB/$179.99 I 2TB/$299.99
Best Prices Today: Seagate FireCuda 540 NVMe SSD
You know the PCIe 5.0 NVMe market is picking up when venerable storage vendor Seagate enters the fray. The company's new FireCuda 540 leverages the fifth-gen bus to turn in outstanding real-world performance.
It wasn't quite the measure of the Crucial T700 in other tests, but it was close and is also a bit more affordable.
Further reading: See our roundup of the best SSDs to learn about competing products.
Design, Specs & Price
The 540 is a 2280 (22mm wide, 80mm long) M.2 type utilizing four lanes of PCIe 5.0 for transfers. The NAND is Micron's B58R 232-layer TLC, and the controller is Phison's PS5026-E26. It's double-sided, but still thin enough to upgrade most laptops.
The 540 is currently available in 1TB/$189.99 and 2TB/$319.99 flavors, putting it at the high end of the market, albeit a tad cheaper than Crucial's top-rated T700 in a 2TB capacity. You can buy it from Amazon and Andorama.
In the UK, it's priced at £210.90 for 1TB and £364.90 for 2TB. You can order it from Amazon UK, CCL and Box.
Fair warning. Before official pricing is announced, some unscrupulous online vendors charge far more than retail to take advantage of the over-anxious. Hold onto your horses and wait for real pricing from the vendor to show up before you buy any computer component.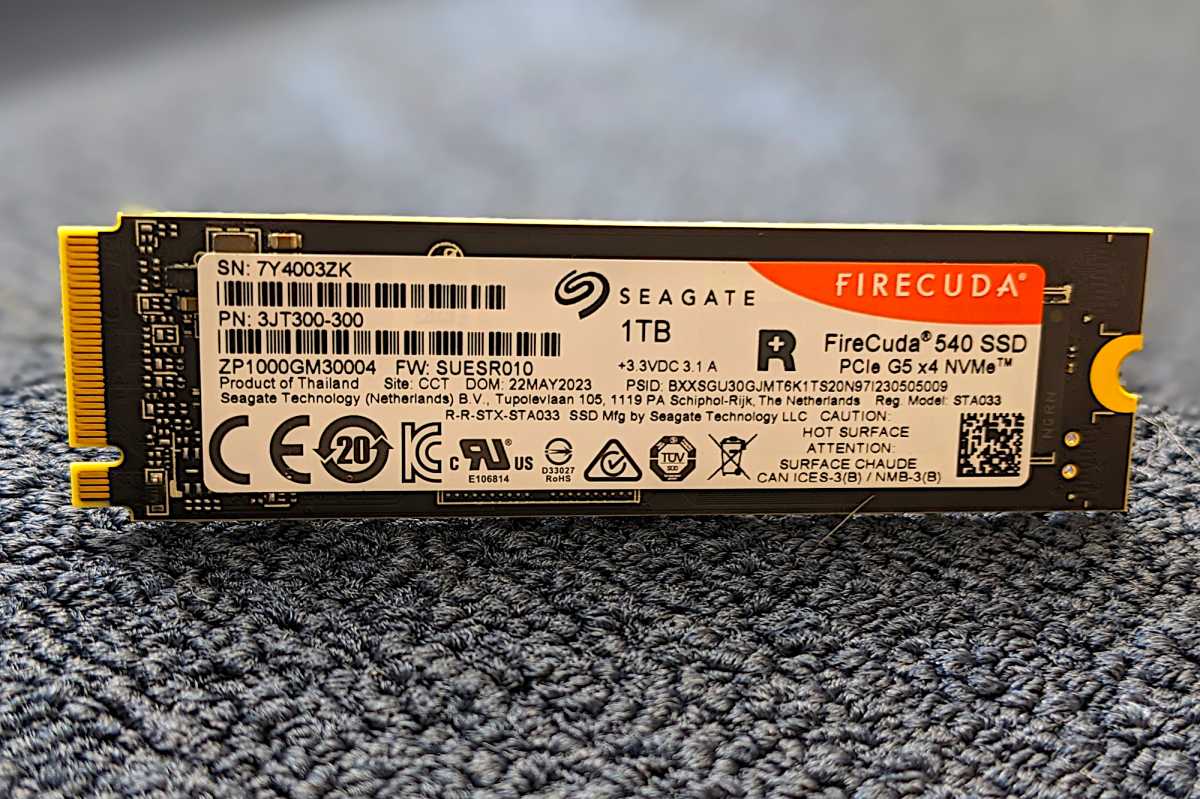 Jon L. Jacobi
Seagate warranties the drive for five years and at 1TBW (terabytes written to the drive) for every terabyte of capacity. That's a very generous TBW rating, and the company also provides data rescue for three years should something monstrously evil befall the drive. Note that SSDs are now so reliable, we've almost forgotten what failure is like.
Our favorite PCIe 5.0 SSD
Crucial T700 PCIe 5.0 NVMe SSD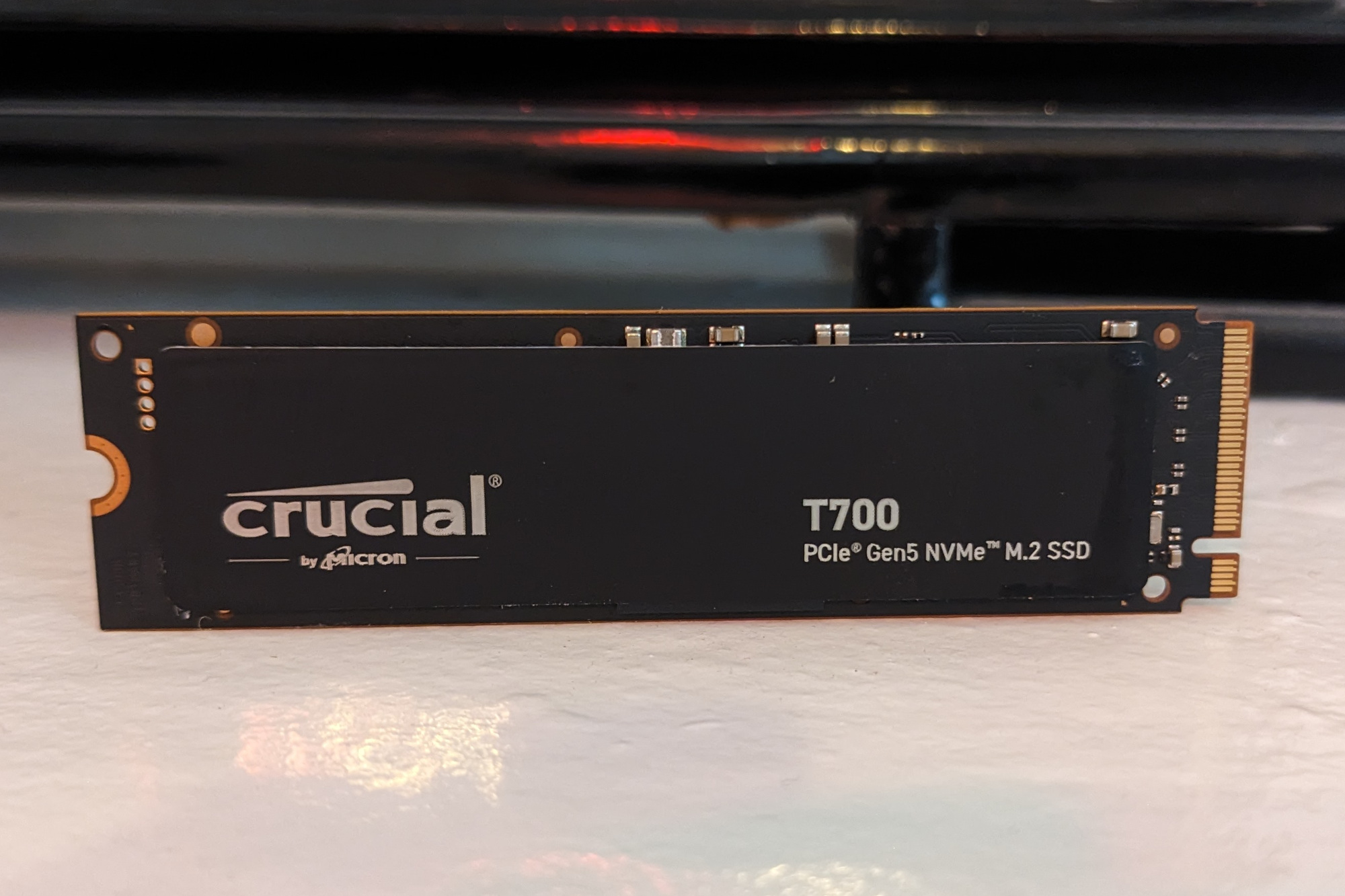 Price When Reviewed:
1TB/$179.99 I 2TB/$339.99 I 4TB/$599.99
Performance
The 540's performance was one of the best we've seen, but a mixed bag with extreme highlights and a couple of "low" points. The good news is that the drive set a record in our 48GB transfers, blasting its way past the previous record holder—the PCIe 4.0, host memory bus WD SN580. In the same test, it also easily bested both of the other PCIe 5.0 SSDs we've tested: the Gigabyte Aorus Gen5 10,000 and aforementioned Crucial T700.
The WD SN580 is included in these charts because of its stellar 48GB transfer performance, and the fact that it's about a third the cost of the others.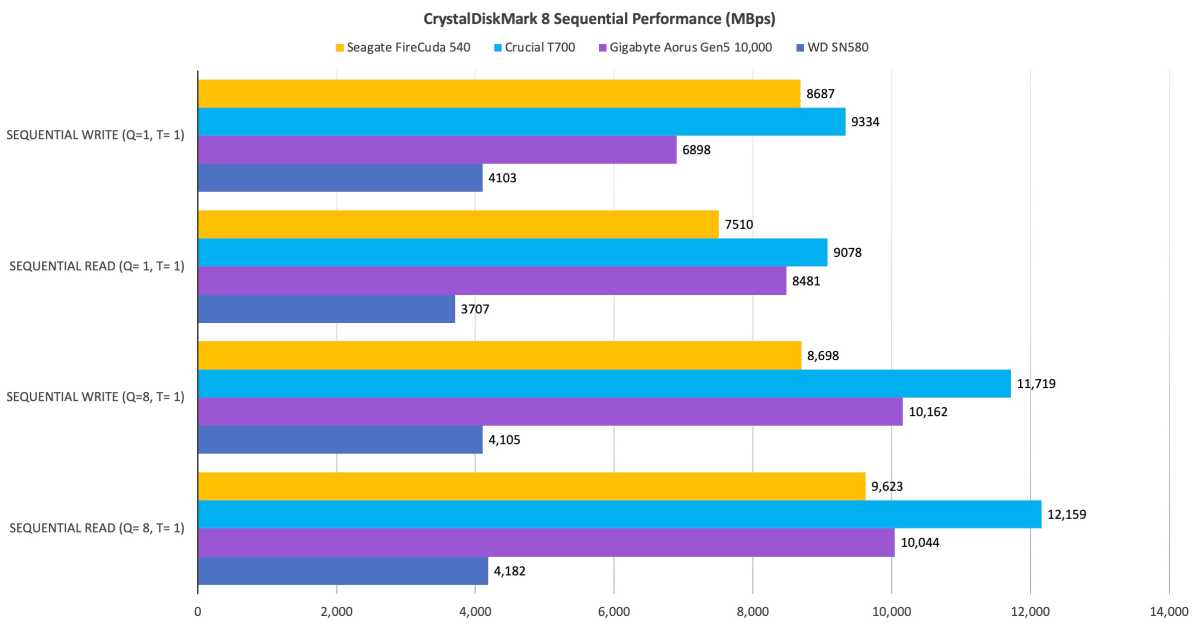 Jon L. Jacobi
The "low" points were that FireCuda 540 lost to both its PCIe 5.0 competitors by a bit in the synthetic benchmarks (CrystalDiskMark 8 and AS SSD 2.0) and lagged considerably behind them in the 450GB write. Of course, those fifth-gen competitors were both 2TB drives, while Seagate sent us the 1TB version of the 540. That means less secondary cache and slower times in that test.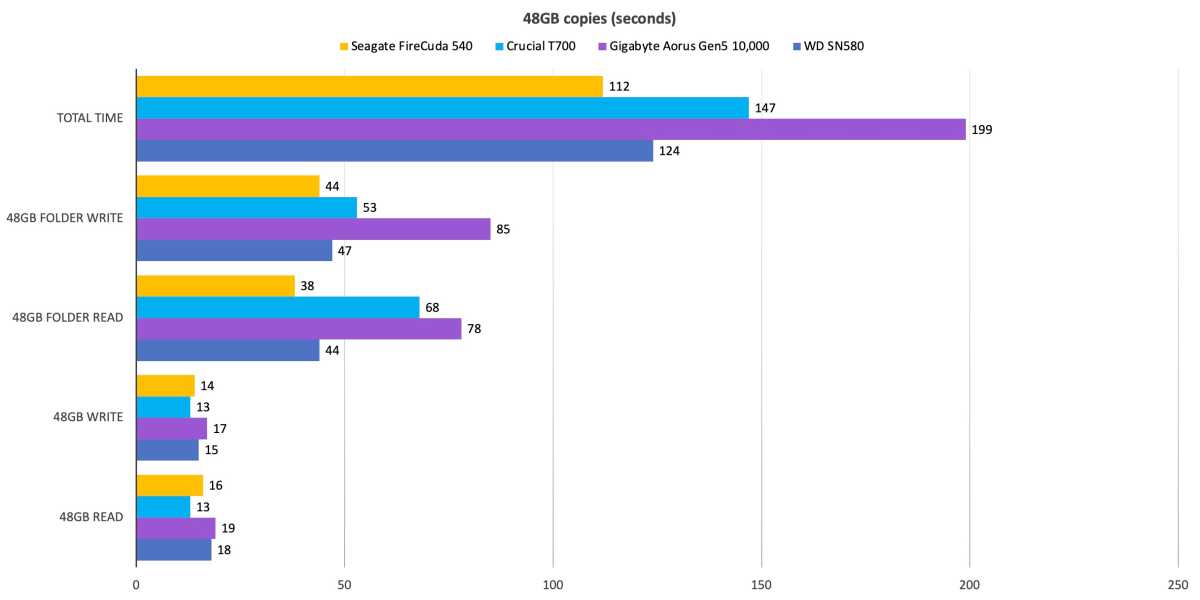 Jon L. Jacobi
The FireCuda also behaved a bit oddly during the 450GB write. Normally, we see the top speed sustained until the secondary cache runs out, then a drop to the NAND's native write speed (usually 250Mbps to 450Mbps). The 540 on the other hand started out at top speed (over 3GBps), then about a quarter of the way in dropped to around 1.7GBps and stayed there until the write was completed.
The overall time was acceptable in the grand scheme, but not on par for fifth-gen, with the aforementioned caveat concerning capacity.
Jon L. Jacobi
The only other facet of the FireCuda 540's performance worth mentioning is that it was just a bit slow formatting. As you'll likely only do this once (we reformat continually during testing), that's not something you should ever worry about.
A PCIe 4.0 Alternative
WD Blue SN580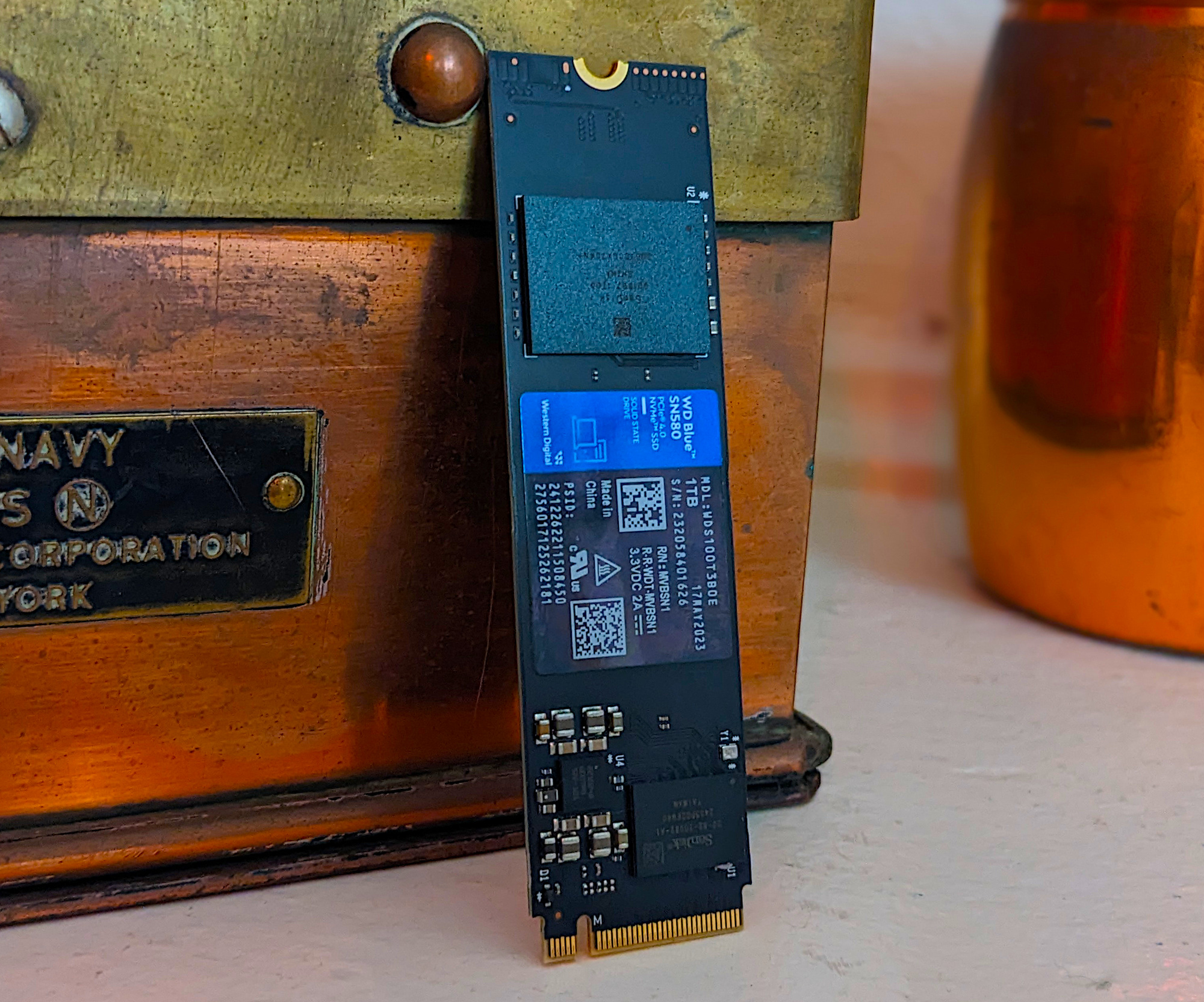 Price When Reviewed:
From $28 | Model tested $50
Should I buy the Seagate FireCuda 540?
The FireCuda 540's real-world performance with the 48GB transfers bodes well for the average user, and it's a bit cheaper in its 2TB incarnation than the Crucial T700. The outstanding TBW rating and data recovery make it a good fit for the average user with a PCIe 5.0 M.2 slot.
However, I'd be remiss if I didn't inform you that you can get almost the same real-world performance for far, far less. Some of the latest HMB PCIe 4.0 designs such as the WD Blue SN580 listed in the charts or the Sabrent Rocket Q4 are also very fast at our 48GB transfers. Again, the former is less than one-third the price of the FireCuda 540.
How we test
Internal drive tests currently utilize Windows 11, 64-bit running on an X790 (PCIe 4.0/5.0) motherboard/i5-12400 CPU combo with two Kingston Fury 32GB DDR5 4800MHz modules (64GB of memory total). Both 20Gbps USB and Thunderbolt 4 are integrated to the back panel and Intel CPU/GPU graphics are used. The 48GB transfer tests utilize an ImDisk RAM disk taking up 58GB of the 64GB of total memory. The 450GB file is transferred from a Samsung 990 Pro 2TB which also runs the OS.

Each test is performed on a newly formatted and TRIM'd drive so the results are optimal. Note that in normal use, as a drive fills up, performance will decrease due to less NAND for secondary caching, as well as other factors.
Caveat: The performance numbers shown apply only to the drive we were shipped and to the capacity tested. SSD performance can and will vary by capacity due to more or fewer chips to shotgun reads/writes across and the amount of NAND available for secondary caching. Vendors also occasionally swap components. If you ever notice a large discrepancy between the performance you experience and that which we report, by all means, let us know.
Best Prices Today: Seagate FireCuda 540 NVMe SSD