At a glance
Expert's Rating
Pros
16 top-end ports
2.5Gb Ethernet
Supports up to four displays (Windows)
Dedicated HDMI & DisplayPorts
96W PD
Cons
Video ports mean no downstream TB4 ports
Few device-charging ports
Macs limited to two displays
Our Verdict
Packed with fast data-transfer ports and generous video options, this Thunderbolt 4 dock offers much if you want up to four external 4K displays at 60Hz but lacks powered USB and TB4 downsteam ports.
Price When Reviewed
$349.99
Best Prices Today: Satechi Thunderbolt 4 Multimedia Pro Dock
This Thunderbolt 4 docking station from Satechi is aimed at users who want multiple external displays and the most options.
Windows laptops can connect to up to four monitors using the built-in DisplayPort and HDMI ports. MacBooks are limited to two displays, but you can choose between the video ports as you desire.
The design is flexible, as the dock can either lie horizontal or sit up vertically in the included stand. It's higher than the squatly compact Caldigit TS4 but shorter than most horizontal docks we have tested.
We like the power button, which is a rarity on docking stations despite the advice being to not keep a laptop battery charged all the time. A power button means you can give that battery a rest at least overnight.
Foundry
Specs and features
One upstream Thunderbolt 4 port (40Gbps, 96W)
2x HDMI 2.1 video ports
2x DisplayPort 1.4 video ports
Three USB-A ports (10Gbps, 5.5W)
Two USB-A ports (5Gbps, 5.5W)
One USB-A ports (480Mbps, 7.5W)
One USB-C port (10Gbps, 7.5W)
2.5 Gigabit Ethernet
UHS-II SD card reader (320MBps)
UHS-II MicroSD card reader (320MBps)
3.5mm combo audio jack (front)
135W power supply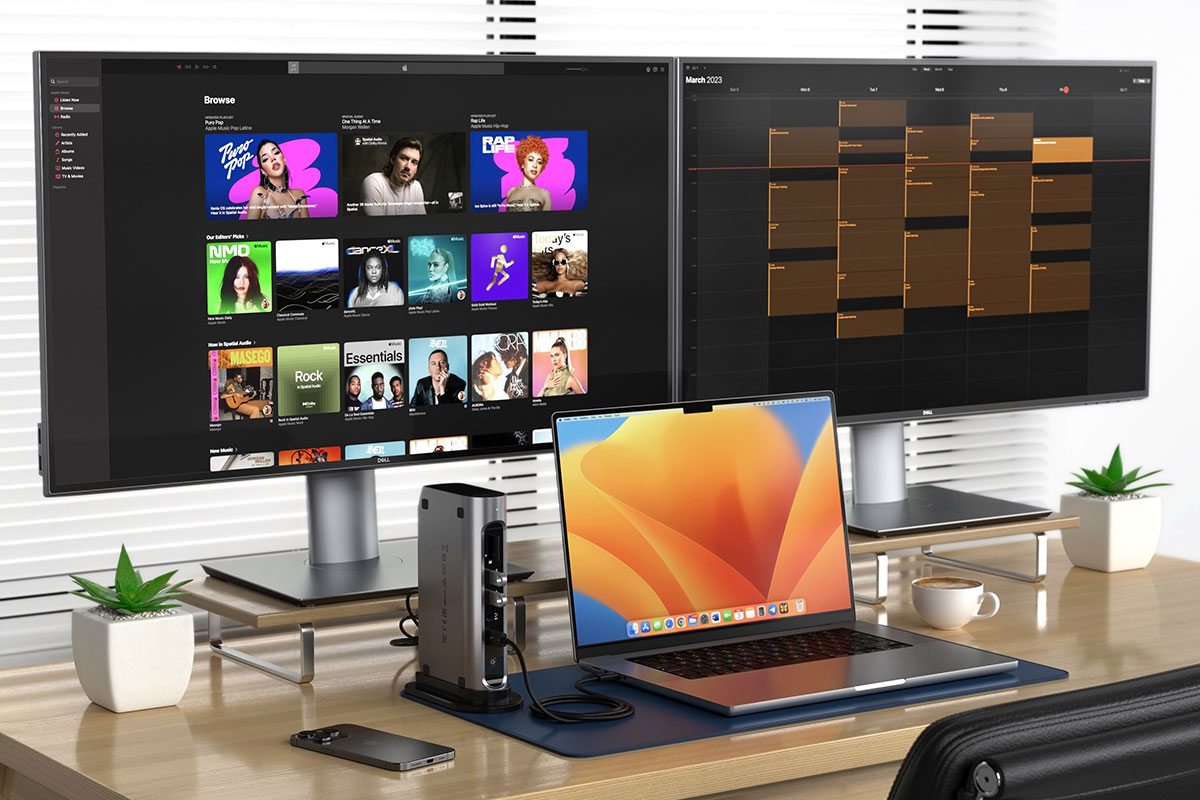 Satechi
It's all about displays
The Satechi Thunderbolt 4 Multimedia Pro Dock is big on displays—with four integrated video ports—and USB-A, but shyer on Thunderbolt 4 and USB-C ports.
In fact, it's nearly alone in all the Thunderbolt 4 docks that we've tested in having no downstream Thunderbolt 4 ports at all.
Thunderbolt 4 (TB4) docks have one upstream connection to the host (usually a laptop) and up to three downstream ports for other devices (TB4, TB3 or USB-C). Some TB4 docks give up a downstream port or two to include one or two video ports, in the knowledge that most users will end up using at least one of them to connect an external display or two.
Having a dedicated video port means you won't need a special adapter to connect the TB4 port to your monitor, although Thunderbolt to a USB-C monitor is fine.
The Satechi Pro Dock goes all the way and offers two of each premium DisplayPort 1.4 and HDMI 2.1 ports, allowing for up to four external displays. If all those displays are HDMI, you'll still need a couple of adapters, of course.
Both HDMI 2.1 and DisplayPort 1.4 are top-end video technologies, and are big improvements over docks that offer just HDMI 2.0 or DisplayPort 1.2. You'll get more monitors at higher resolutions with these two video standards.
The only other TB4 dock we've seen with no downstream Thunderbolt 4 ports is the Plugable Thunderbolt 4 & USB4 Quad Display Docking Station, but that dock has DisplayPort 1.2 and HDMI 2.0 so isn't as technically adept as the Satechi Multimedia Pro Dock.
A single connected display can be up to 8K (7680-x-4320) at 30Hz—ensure that the cable supports 8K, too. Two 4K displays can run at 60Hz.
Indeed, all four displays can be at 4K 60Hz if you are connecting a Windows computer.
Macs are sadly limited to just two external displays unless you install DisplayLink software drivers.
Windows supports Multi-Stream Transport (MST), which allows for up to four screens in extended mode. The macOS supports Single Stream Transport (SST) so can output video in extended mode to just two screens but it can mirror the other two—that is, show the same screen as the laptop.
Because there are docks more suited to two external displays, we don't recommend the Satechi Thunderbolt 4 Multimedia Pro Dock for Mac users. It's certainly a flexible solution, giving Mac users the choice between HDMI and DisplayPort, but two of the ports will lie vacant, and we'd prefer one or two more Thunderbolt 4 ports instead.
For Windows users, the support for up to four displays makes this dock a compelling solution, especially with its other speedy USB, SD and Ethernet ports.
Foundry
Thunderbolt and USB weakness
While the video ports are top-notch, the spread of USB and Thunderbolt is weaker.
First and foremost, the lack of any Thunderbolt 4 docks means you can't even connect a Thunderbolt 4 hub to make up for the absence of 40Gbps connections.
10Gbps data transfer might well be all you require, and the Multimedia Pro Dock has four of these, but three of them are old-school USB-A. There's just one 10Gbps Type-C port, which seems a little old fashioned.
if you desire more Thunderbolt ports, read our roundup of the best Thunderbolt 4 hubs and docking stations.
As the dock is principally offering great direct video options, we shouldn't get too hung up on USB and Thunderbolt, but the lack of Type-C ports is a compromise that should be acknowledged.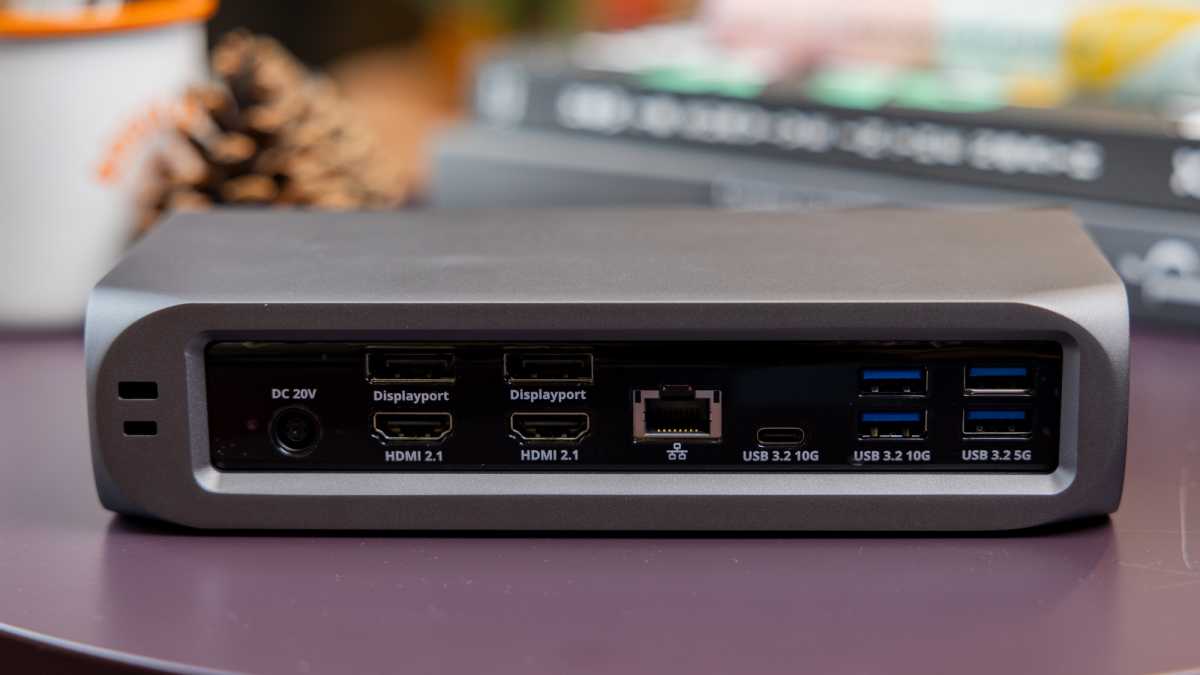 Dominik Tomaszewski / Foundry
Charging limited
Charging to the laptop is impressive at 96W, which is enough for even large laptops.
But only the front-mounted USB A (2.0) port and the back's USB-C port can give enough power to a connected device other than the laptop. And both are limited to 7.5W, which is fine for charging a phone and keeping a drive going but not much else.
If there was a Thunderbolt port, you'd get at least 15W from the dock, but most of the included USB ports are limited to a fairly feeble 5.5W.
You can't use the dock to fast-charge a phone, either. To be fair, if you want to charge your phone, forget about using the dock and choose a dedicated USB-C charger or USB-C phone charger.
The dock comes with a 135W power supply, so there's at least some excess power there even when the laptop is sucking up nearly 100W of it. However, the dock itself will require maybe 25W, so a more beefy power supply would be required if Satechi was to make the ports more device-charge friendly.
For ultimate device-charging power, you can't beat Caldigit's TS4 that ships with a 230W power supply and a full range of USB ports that can charge at up to 20W.
The lack of charging ports only affects connected drives that need to draw power from the dock, so if this isn't an important factor for you, then this charging limitation should deflect you from the Satechi Multimedia Pro Dock that has other benefits that could outweigh this.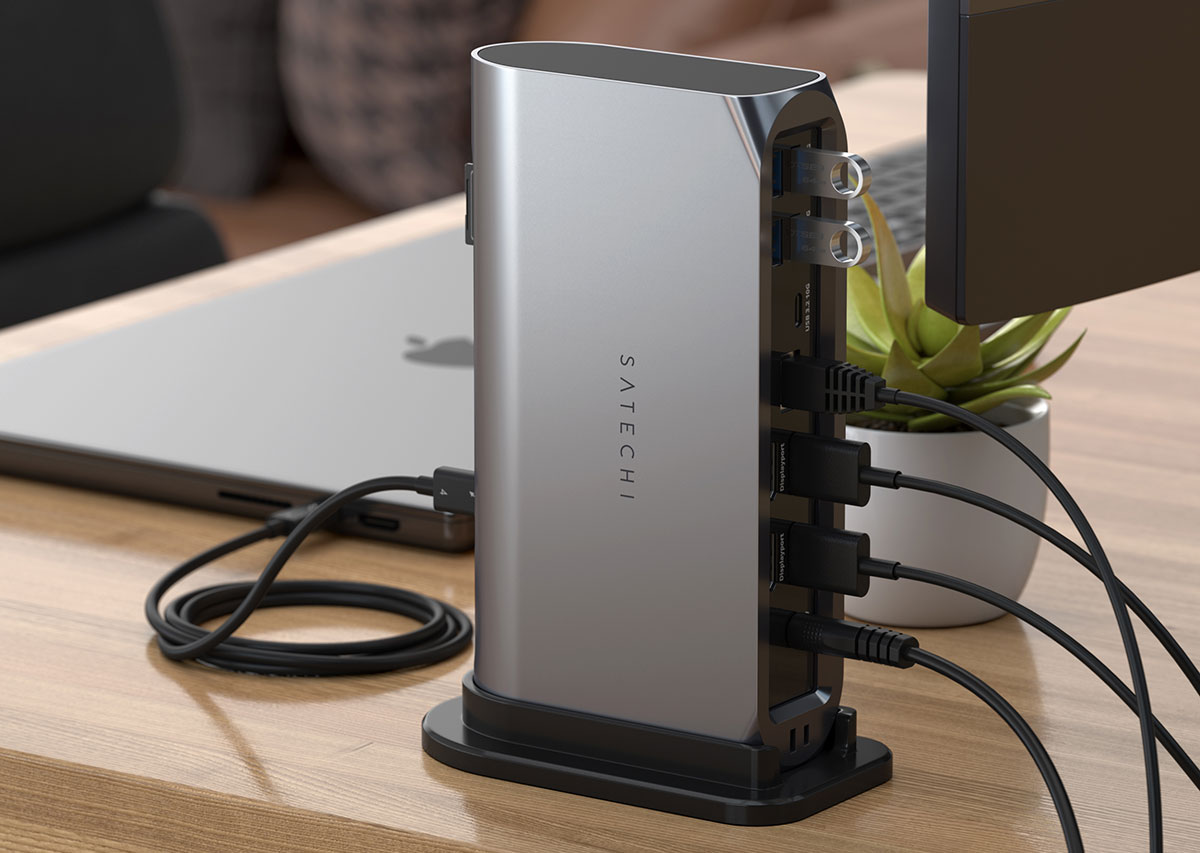 Satechi
Super-fast Ethernet
The latest generation of Thunderbolt 4 docking stations is looking ahead beyond the current wired network access dominance of Gigabit Ethernet.
The Satechi Thunderbolt 4 Multimedia Pro Dock—like the recent Sonnet Echo 20, Plugable Thunderbolt 4 & USB4 Quad Display Docking Station and Caldigit TS4—boasts a 2.5Gb Ethernet port, which when connected to a supported network can offer up to 2.5x the data transfer performance.
The main point here is that you'll still get Gigabit Ethernet speeds unless you are in a 2.5Gb or 10Gb network, and those aren't too common right now but it's appreciated professional future-proofing and fully backwards compatible.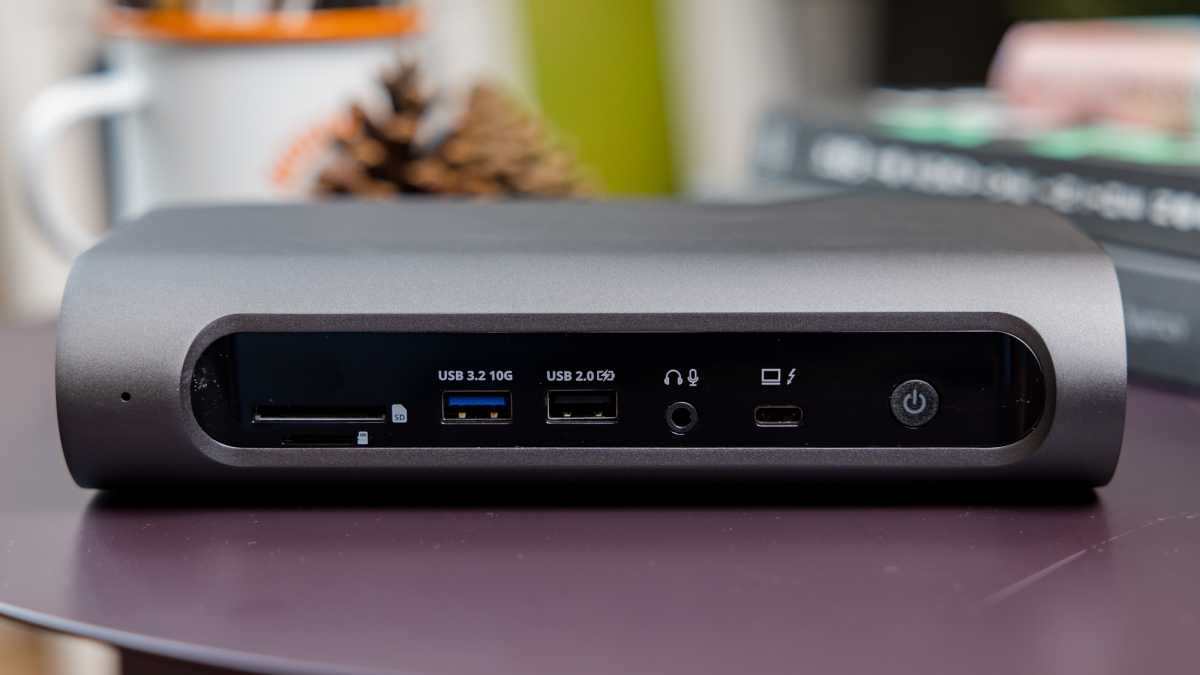 Dominik Tomaszewski / Foundry
Portable storage
Once the preserve of photographers, memory cards are now a very affordable way of adding decent capacity storage to your laptop/dock setup.
Manufacturers charge a lot to install a high-capacity SSD in their laptops, so buying portable storage is a great way of saving money and expanding the functionality of your system.
A 512GB MicroSD card can be found for around $75/£75, although memory card pricing is quite volatile.
Satechi has included the fastest UHS-II versions of both SD and MicroSD memory card readers, where some docks have just the larger SD variant and sometimes at UHS-I. UHS-II is three times faster (312MBps) than UHS-I (104MBps).
Having both formats is handy if you are often swapping out both sizes of card but having just SD is fine, as common adapters make sure MicroSD fit SD readers.
As well as being smaller, MicroSD is often cheaper at the higher capacities.
Price
The Satechi Thunderbolt 4 Multimedia Pro Dock costs $349.99, which is cheaper than the $399.99 Caldigit TS4 and close to the Kensington's SD5700T ($369.99).
The Plugable Thunderbolt 4 & USB4 Quad Display Docking Station is cheaper at $299 but is weaker in its video ports.
At the time of writing, it is not available outside the US, but international versions are planned.
However, it's not right to compare these docks. The Satechi TB4 dock is aimed at a different market: Windows professionals who need three or four monitors, rather than those after multiple Thunderbolt ports.
The TS4 does have one DisplayPort so works well with single—or, using one of the TB4 ports, a second 4K display—but if you want more monitors, the Satechi Multimedia Pro Dock is a more flexible solution.
Verdict
If you want downstream Thunderbolt 4 ports, this is not the dock for you, because the Satechi Thunderbolt 4 Multimedia Pro Dock is a solution for modern Windows-based professionals who require a many-monitor setup. Its support of four 4K displays at 60Hz is impressive, and with four top-end video ports you can connect directly without adapters.