At a glance
Expert's Rating
Pros
Premium build
Excellent Android skin
Solid battery life
Programmable lights on the back
Cons
Cameras are below par
Bulky build
Screen hard to see outdoors
Only IP54
Our Verdict
The Nothing Phone (2) is a small hardware upgrade over the Phone (1), with a better display and chipset. The software is improved too, but the cameras remain behind the competition.
It's hard to start a technology company from nothing – perhaps that's one of the reasons former OnePlus exec Carl Pei named his new company Nothing back in 2020.
So far, the brand has released a phone and three models of earbuds. The hype it builds around its products works well in tech enthusiast circles but hasn't yet broken through into the mainstream.
Nothing's new smartphone, the Nothing Phone (2), is an improved version of 2022's Nothing Phone (1) and I'm not sure it's going to help the company break through, even though it is getting a full US release. It has a very similar design and camera and feels almost identical in day-to-day use.
The software is better, but the older phone is promised an update with the improved OS, so it's not a reason for existing owners to upgrade.
It means the Nothing Phone (2) is a solid, well-priced mid-range phone at $599/£579/€679 – but there are a lot of those on the market already. Not all of them have programmable flashing lights on the back, though.
Design & build
iPhone-inspired design
Programmable LED lights
IP54 rating
I'll do my darnedest not to spend this whole review comparing the Phone (2) to the Phone (1) – but not much has changed here: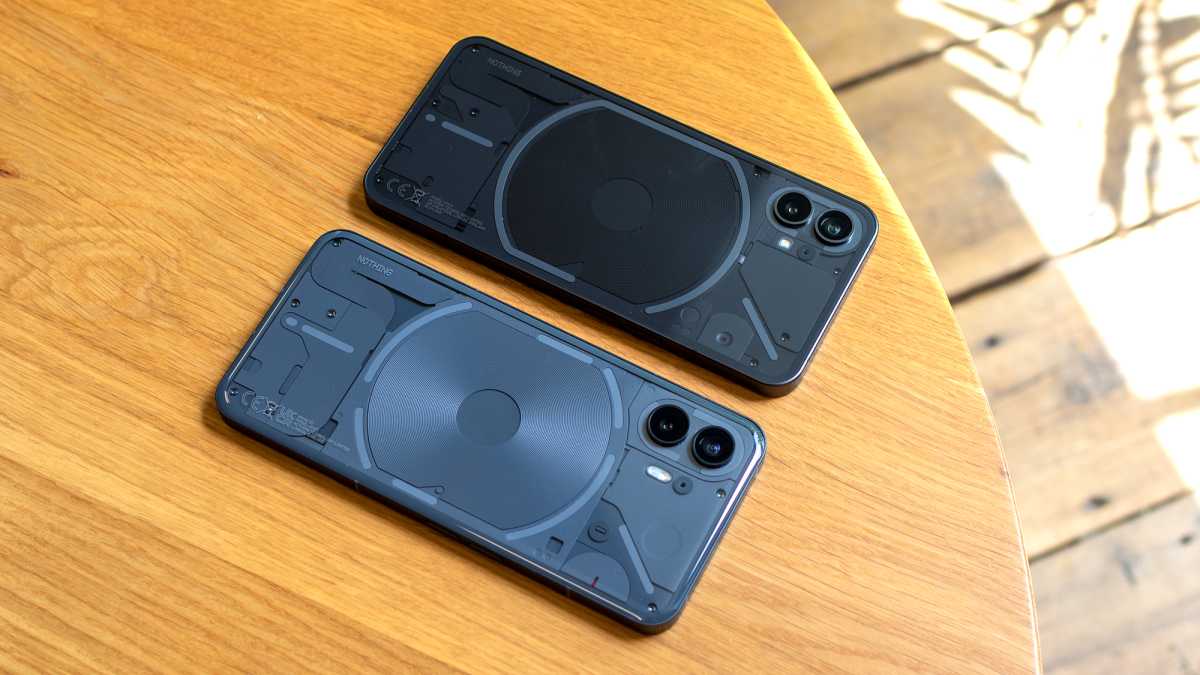 Henry Burrell / Foundry
That said, I commend Nothing for at least doing something interesting with the design. Everyone who saw me using the Phone (2) wanted to know what it was (or thought it was an iPhone).
The Phone (2) is well built with a 100% aluminium frame and transparent glass on the back showing a neat array of internals and 'glyph' LED light strips that flash to signal calls, notifications, and other programmable things.
These lights are a little different to the Phone (1) – for instance the central light is now in six strips rather than one, and the camera lights are split in two. The lights nearest the bottom can indicate the charging level while face down.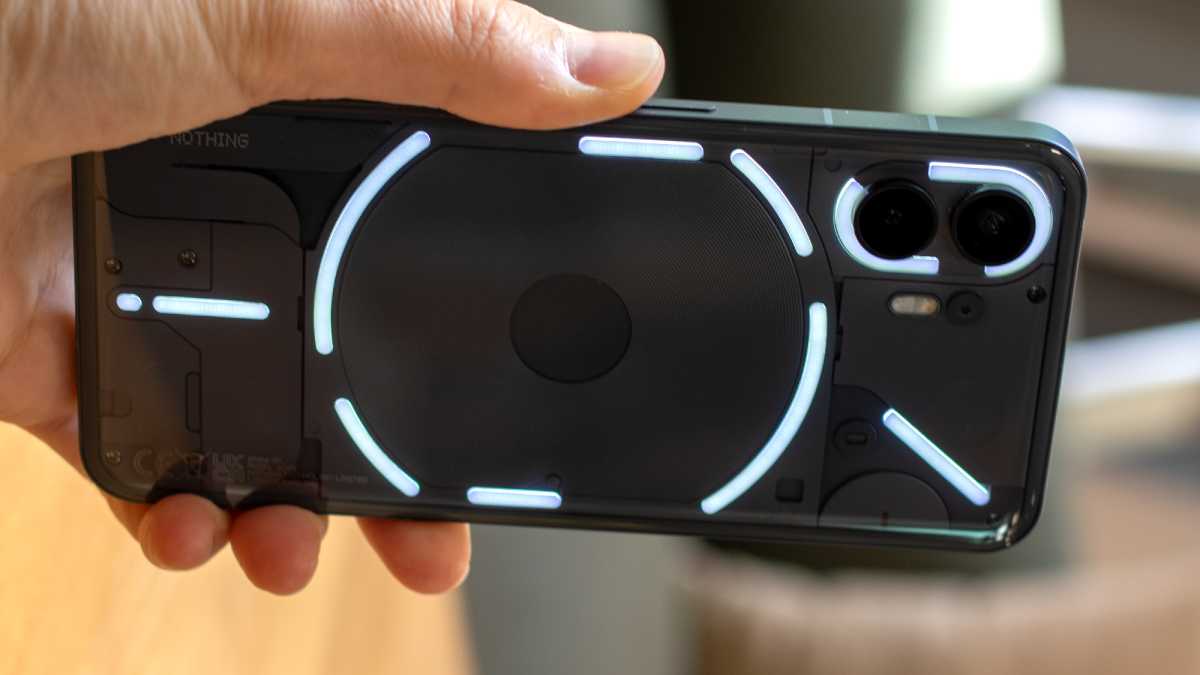 Henry Burrell / Foundry
One of the central light strips now has 16 different sections and can be used to show the progress of a countdown timer, your volume level, or even how long until your Uber arrives. Nothing is hoping for more third-party app buy-in, but there's much less utility in a single light strip compared to what developers can do with information in Apple's Dynamic Island software on the iPhone 14 Pro.
The glyph lights do make the Phone (2) stand out against the iPhone 12 from which this design was likely cribbed, from the flat sides with curved corners to the rounded display and elongated buttons.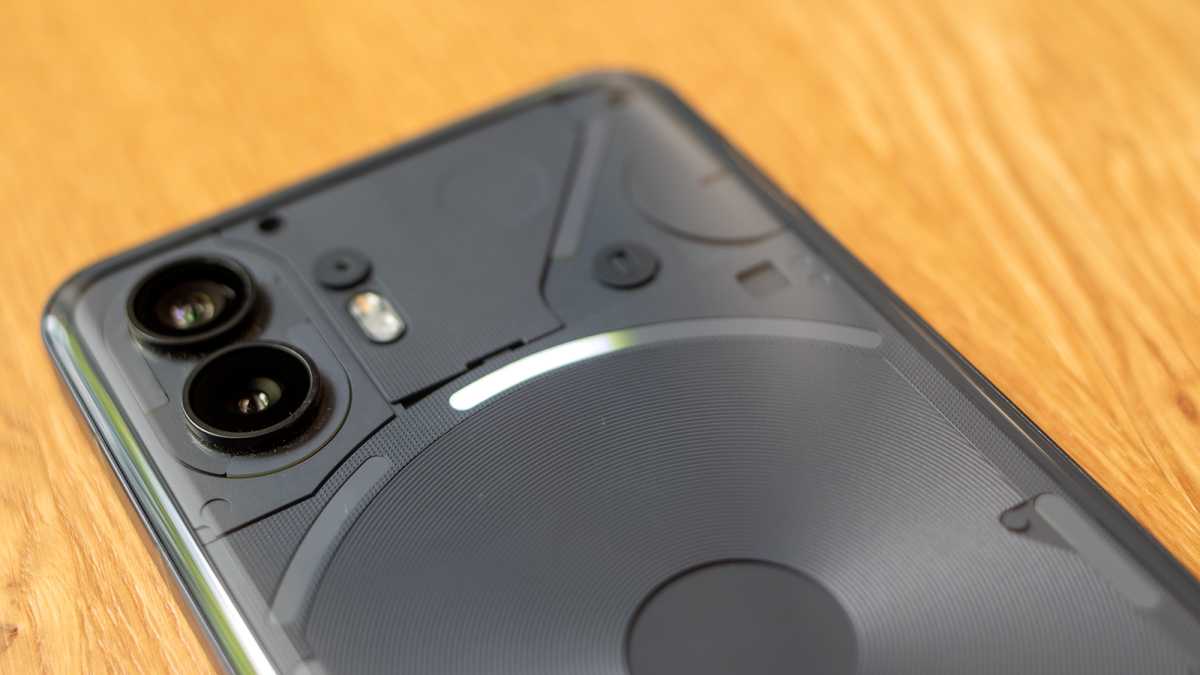 Henry Burrell / Foundry
My review sample is the grey model that is lighter than the closer-to-black of the Phone (1). There's also a white model I've not seen.
The rear glass is slightly curved at the edges for a smooth feel, but the front Gorilla Glass over the display is flat. Overall, the phone's dimensions are 162.1 x 76.4 x 8.6mm, weighing in at 201g. I find the phone a little cumbersome and certainly can't use it comfortably with one hand.
I was a little disappointed with the haptics: the vibration motor that buzzes when you use the keyboard is quite rattly and is audible in very quiet rooms. I adjusted it and it improved, but it's below the quality of more expensive phones.
On the front there's a nicely even bezel around the edge of the screen that's punctuated by a central camera cut-out at the top.
Henry Burrell / Foundry
There's no headphone jack to be seen, with a USB-C port at the bottom. There's also no charging brick in the box, but you do get Nothing's lovely transparent-tipped USB-C-to-C cable.
It's also disappointing the phone only has an IP54 dust and water resistance rating, implying it can handle rain and splashes but won't survive a dunk in the bath, pool, or sea. The similarly priced Samsung Galaxy A54 and Google Pixel 7a both have superior IP67 ratings.
Screen & speakers
6.7in OLED
120Hz LTPO
Decent stereo speakers
The Nothing Phone (2) has a 6.7in OLED screen, a tad larger than the Phone (1)'s 6.55in.
I found it a good quality display. It can refresh at up to 120Hz and uses LTPO tech to scale the refresh rate right back down to 1Hz when not needed to save battery. Not many phones at this price use LTPO.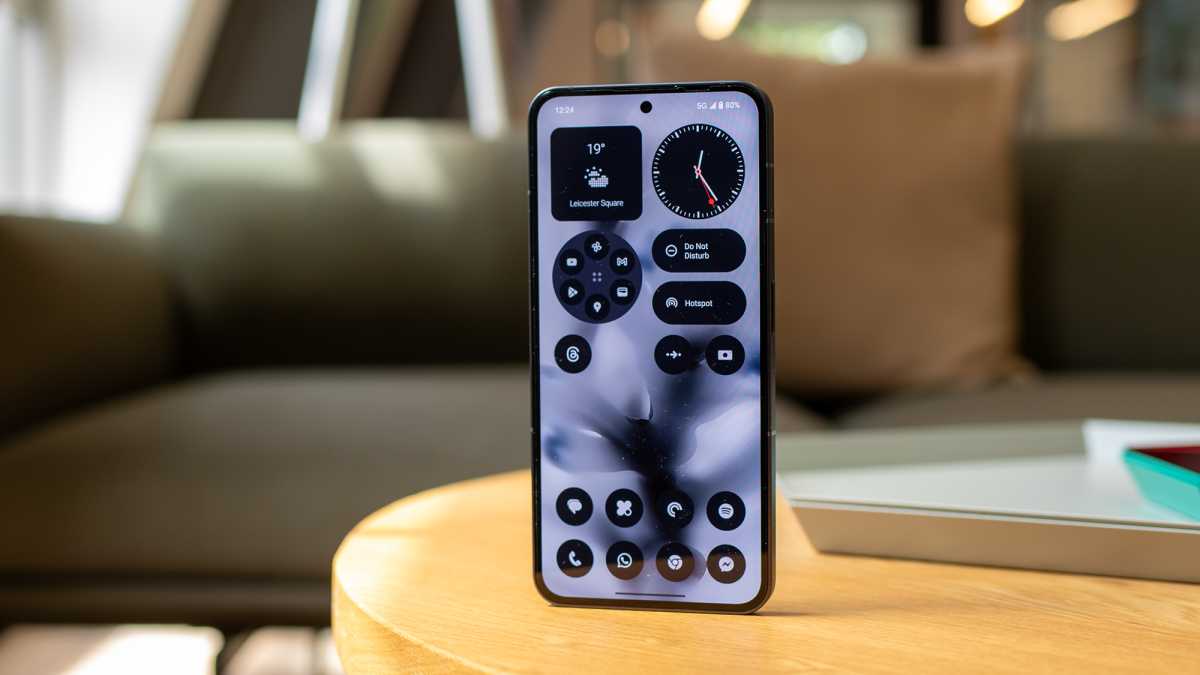 Henry Burrell / Foundry
The issue is the panel doesn't get bright enough. Even indoors with a bit of sun I went to turn up the slider only to see it was at the maximum setting.
Outdoors the screen is very difficult to see clearly. Nothing says it gets up to 1,000 nits outdoors – it's not enough, and one of the most annoying things about the Phone (2). It can hit 1,600 nits indoors.
Because of this frequent dimness in the sunshine, I often ran the phone in light mode to more easily read the screen – I rarely do this and use most other review phones in dark mode as it's my preference.
The phone comes fitted with a screen protector out of the box, but it's cheap and plastic. For a phone that encourages you to put it face down all the time to see the lights on the back, I got some horrendous scratches within three days on mine. You will want a case with a lip to protect the screen, and a transparent one at that, or you won't able to see the lights.
Dual stereo speakers are table stakes on mid-range phones and the Phone (2) delivers. They get plenty loud and will do for podcasts, YouTube, and gaming, but music sounds a little thin and piercing at high levels.
Specs & performance
Snapdragon 8+ Gen 1 chipset
8/12GB RAM
128/256/512GB storage
The main internal upgrade over Phone (1) is that Phone (2) has the Snapdragon 8+ Gen 1 chipset, silicon also found in the OnePlus 10T and Samsung Galaxy Z Flip 4. This gives you 5G support, but check which bands it works with and if it's compatible with your carrier, particularly in the US.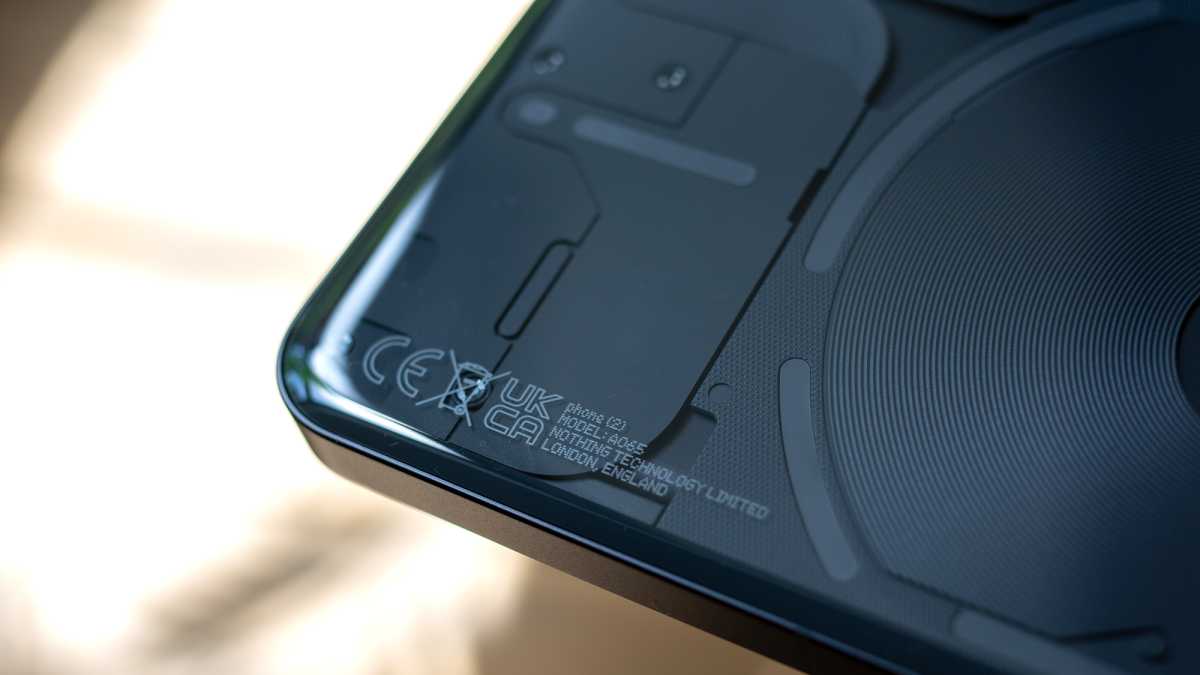 Henry Burrell / Foundry
It's not the latest 8 Gen 2 from Qualcomm, but the phone is fast enough for everything from day-to-day use flipping between apps right up to playing Call of Duty Mobile for half an hour with no issues.
It's not perfect though, and there were moments that I could tell the OS was stalling slightly. This is a powerful phone, but I've not found it as smooth in tandem with the software as recent OnePlus or Samsung phones in the same price range.
Henry Burrell / Foundry
My Phone (2) review sample had 12GB RAM and 256GB storage, the former likely helping with performance. You can also opt for the base 8GB/128GB version, or a full fat 12GB/512GB. No models have a microSD slot but all do have dual physical SIM card slots.
Here's how the phone performed in benchmark tests on the CPU and GPU compared to the Phone (1) and some other similar spec and similar priced rival phones:
The in-screen fingerprint scanner is placed quite low down on the screen and works well, and can also be used for biometric sign-in to third party apps, unlike the face unlock, which is fast and effective for unlocking the phone.
Camera & video
Main 50Mp lens disappoints
50Mp ultra-wide
32Mp front facing
The Phone (2) uses the Sony IMX890 f/1.88 sensor for its main camera, but in reality this is an incredibly similar sensor to the IMX766 used in the Phone (1). It means there are barely any improvements here, and I've been disappointed by the shots I've taken.
Henry Burrell / Foundry
The IMX890 is actually same sensor used in Pei's old company's recent OnePlus 11, which I reviewed, and found its main camera consistent and of excellent quality.
The Nothing Phone (2)'s main camera is not those things. It's good to shoot with in a pinch, but far from perfect. It's not as good as the Pixel 7a for still shots, a phone that costs over $100/£100/€100 less.
In broad daylight – like most smartphones in 2023 – the main camera is solid. It captures 12Mp stills by default but you can also shoot at full 50Mp. It gives relatively true-to-life colours, with a decent focal range that reacts well when I tapped the screen to change focus:
But Nothing's image processing is overly aggressive, either sharpening photos too much or adding an orangey tint to skin tones and surfaces in all but the best lighting conditions. It also struggles with bright sun, meaning shots can often blow out the sky or make the subject too dark depending on the focus point:
There's also bad shutter lag, particularly when zoomed in, and sometimes the shutter button doesn't react at all.
Video is standard and as good as you'd expect from a phone of this price. It can record at 4K up to 60fps. There is good stabilisation (both optical and electronic) and an action mode that successfully keeps judders down, but it isn't as good as the action mode on the iPhone 14 (admittedly a pricer phone).
The ultrawide lens is acceptable for taking in more of a scene with its 50Mp f/2.2 Samsung JN1 sensor. It even manages low-light OK, but image quality suffers when you zoom in and notice detail is lost: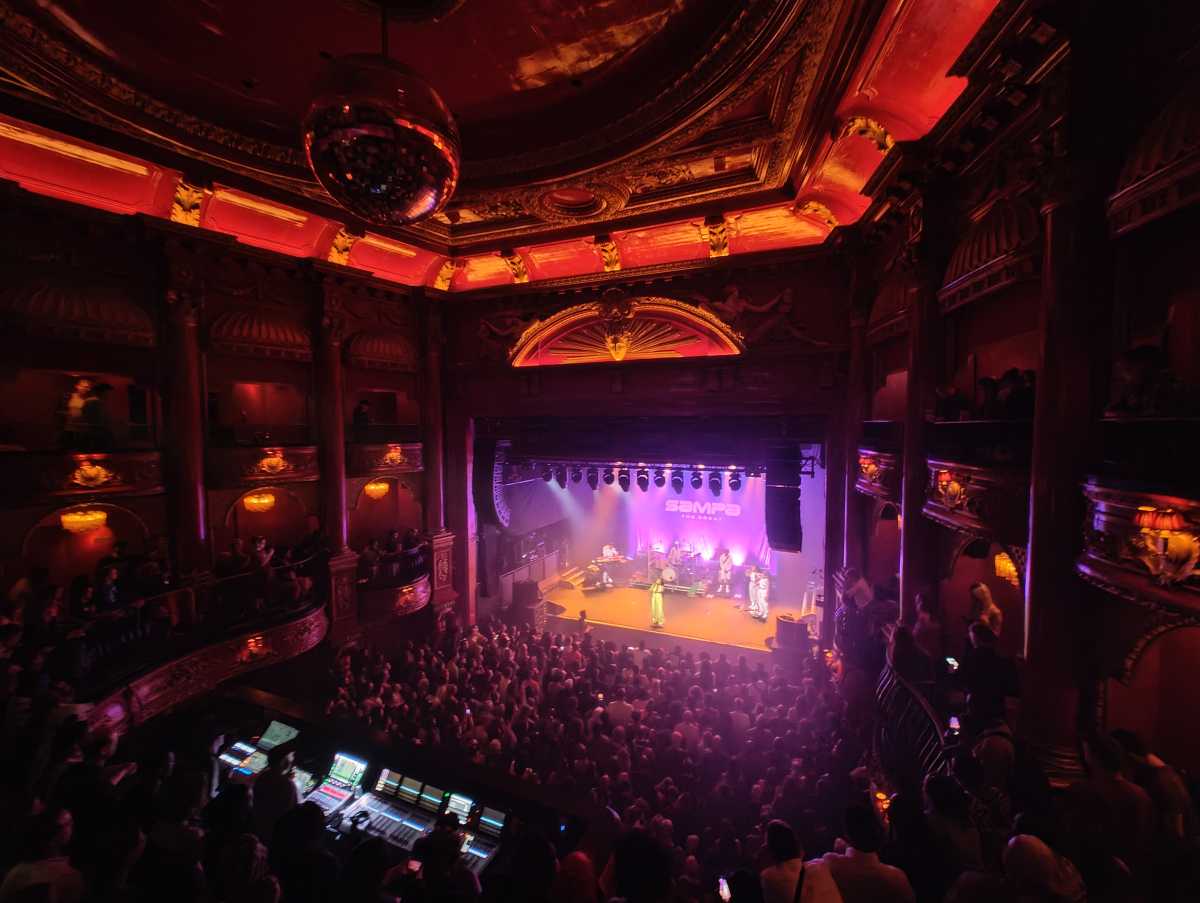 Henry Burrell / Foundry
There's no telephoto lens but you can shoot at 2x with a toggle in the app using digital zoom, and then zoom further up to 8x.
The 32Mp front facing camera is actually the most pleasing of all, producing crisp, bright, well detailed shots:
Henry Burrell / Foundry
For a phone marketed partly around its photo improvements, the Phone (2)'s cameras are merely OK. If camera is your priority, get a Pixel 7a for cheaper.
Battery & charging
Decent all-day battery life
45W charging
15W wireless charging
Battery life is excellent. Unplugging at 7am, I usually had 80% left by midday, and 30% left by 10pm or so. The 4700mAh cell is doing admirable work here, and I reckon the energy-saving LTPO display tech helps too.
In PCMark's battery test it scored 14 hours and 17 minutes, a very decent score that betters the 5000mAh Galaxy S23 Ultra's 12 minutes and 43 minutes.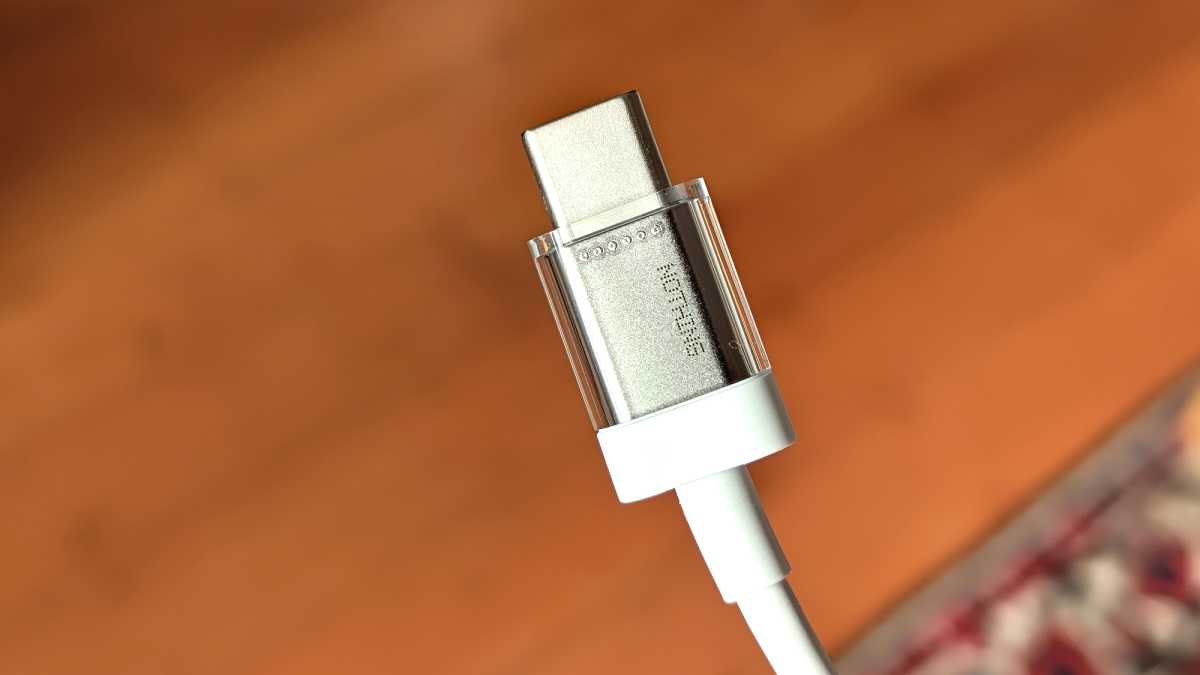 Henry Burrell / Foundry
There's no charging brick in the box, but Nothing does give you its nice sort-of-transparent USB-C-to-C cable. Nothing says you can fully charge the phone in 55 minutes at 45W with the right charger – using a compatible one of my own I got it to 32% in 15 minutes and to 65% in 30 minutes, and it indeed hit 100% on 55 exactly.
There's also 15W wireless charging and the phone itself can act as a 5W charger for accessories like earbuds that have Qi charging built in.
Software & updates
Thoughtful, stylish software skin
Three years of Android updates
Four years of security patches
The Phone (2) runs Android 13 at launch with Nothing OS 2.0, an updated skin. It's the best thing about the device, offering a genuinely unique look and feel to the home screen. I love it.
Android 13 lets you 'theme' apps to a chosen colour palette but requires app developers to offer such a themed app icon. Even on Google Pixel phones if you theme the apps on your home screen, some will likely not play ball and stay colourful.
Nothing has a new icon pack that themes all apps for you. It's very good, and means icons appear white with a black icon in light mode or black with a white icon in dark mode. It's also easy to make your home screens look quite different with some tweaks to the layouts, widgets, and Nothing's wallpapers: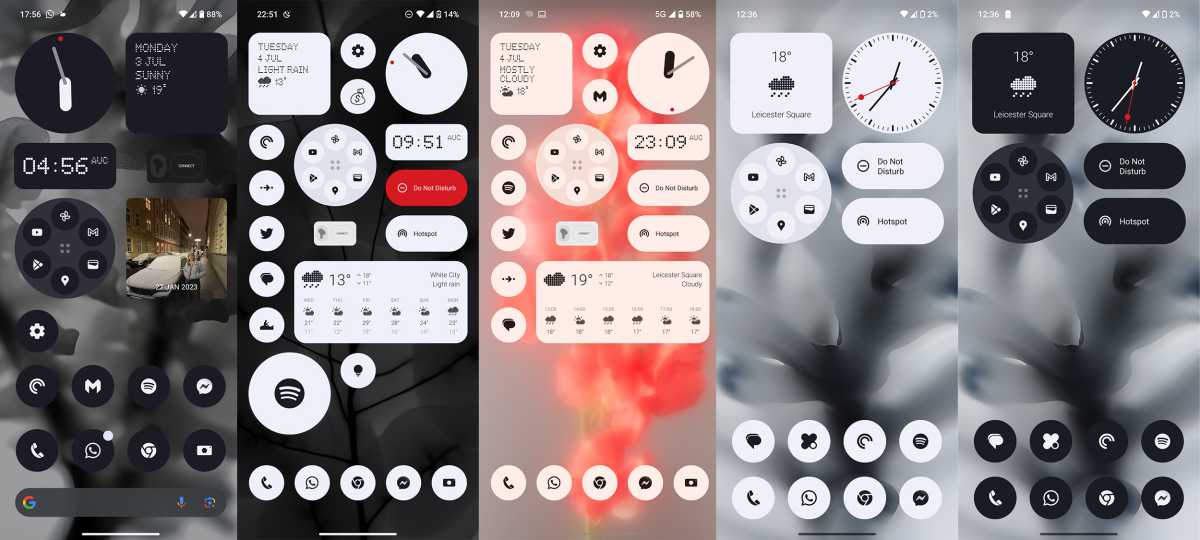 Henry Burrell / Foundry
Aside from the home screen customisation, the OS is actually quite plain. Menu headers and the new always-on display uses a digital clock-style dot matrix font, but otherwise the look and feel are similar to what you might find on a Nokia or Motorola phone that doesn't change too much from basic Android.
There's also a ringtone composer (what is this, 2002?) with sounds supplied by Swedish House Mafia, and you can program the glyph lights to flash in sync with your creations. There are ten preset tones for calls and others for notifications, which you can assign to apps or contacts.
I liked the ability to set 'essential notifications' – so now if I have the phone face down, one of the lights will stay lit if my wife has messaged me. It's handy.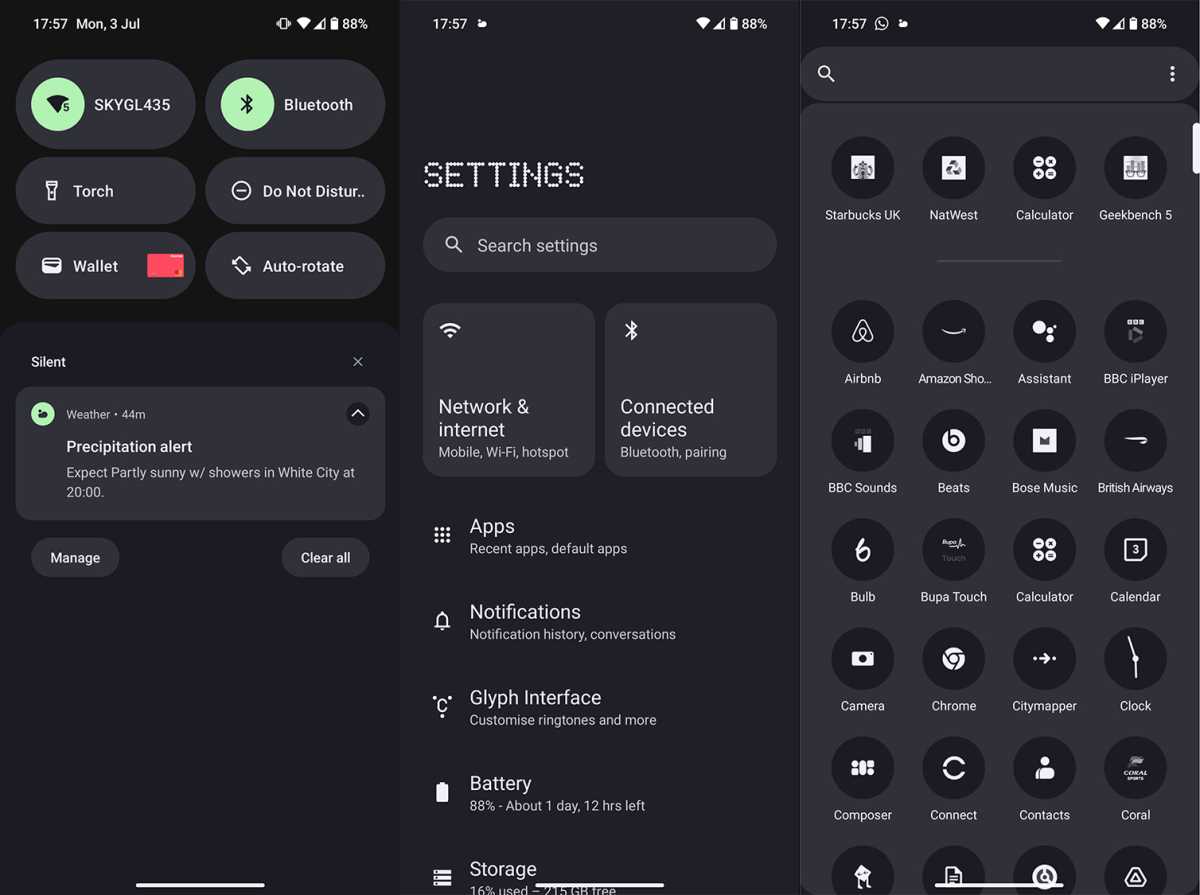 Henry Burrell / Foundry
You can flip the phone over to mute it, too, and set things like double tapping the screen to lock it.
Nothing is promising three years of Android updates (to 2026) and four years of security patches every two months (to 2027). That's solid, and only one year behind Samsung on each front. It's impressive that a new company is beating the software support of Nokia, Sony, and others. Then again, so far it only has two phones to keep updated.
Price & availability
The Nothing Phone (2) starts from $599/£579/€649 for the 8GB RAM/128GB storage model.
You can also get 12GB/256GB for $699/£629/€699 and 12GB/512GB for $799/£699/€799. The latter sounds expensive, but it's a good price for that much storage.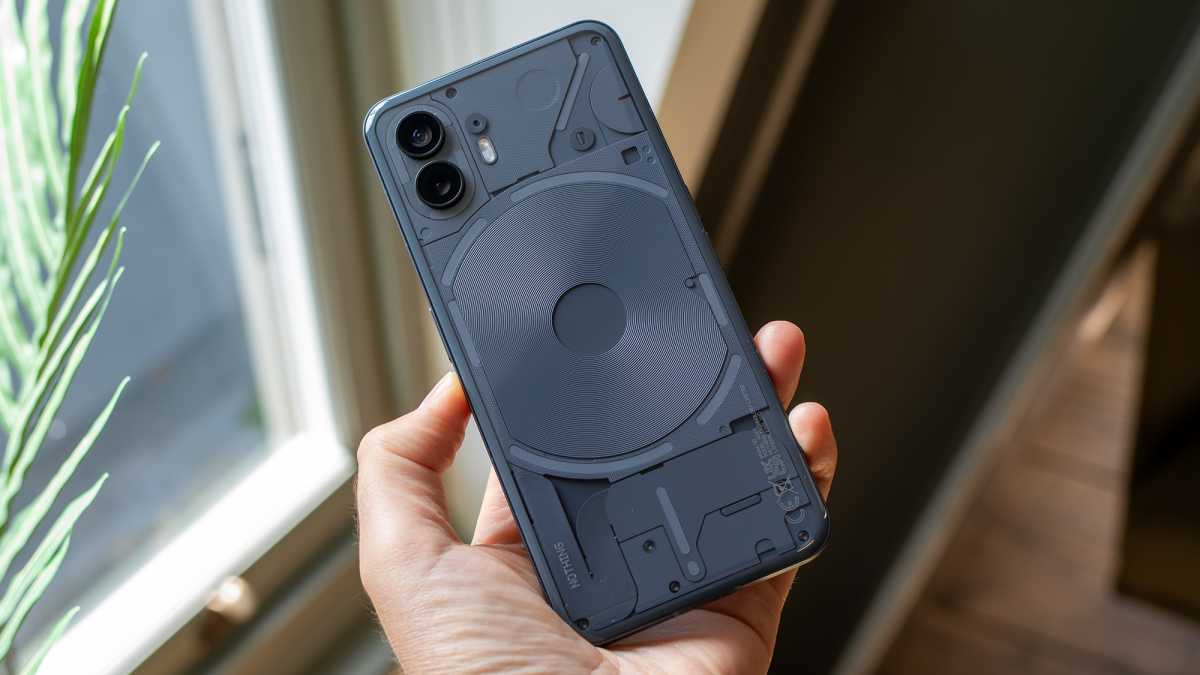 Henry Burrell / Foundry
Nothing is only selling the Phone (2) through its official store and a few select retail partners. It has no mobile carrier partners for the device.
The entry price is competitive, but I would recommend the OnePlus 10T over it at $649/£629/€699. It has a better camera, faster charging, better screen, and the same chipset, but no wireless charging.
You could also opt for the excellent Google Pixel 7a, sacrificing an LTPO display for a much better camera at just $499/£449/€509.
Verdict
The Nothing Phone (2) has flagship specs at a mid-range price, but it still feels mid-range. The display and camera in particular are disappointing, and the bulky build makes it a large and awkward phone to handle.
Yet Nothing OS 2.0 is excellent, and makes Android feel different from other manufacturers' phones in a good way. The phone also has great battery life and packs in wireless charging, and the glyph lights are clever – but you'll either love them or hate them.
Familiar mid-range pitfalls stick out such as an IP54 rating, a dim screen, and sometimes cheap-feeling haptics. But if you love the aesthetic and don't think the lights are a gimmick, then the Nothing Phone (2) is worth considering, especially as it is guaranteed four years of software support.
Specs
6.7in 120Hz LTPO OLED display
Rear camera:

50Mp, f/1.8 OIS main camera
50Mp, f/2.2 ultrawide camera
32Mp, f/2.45 selfie camera

4700mAh battery
45W wired charging
15W wireless charging
5W reverse wireless charging
5G
Stereo speakers
Wi-Fi 6
Bluetooth 5.3
NFC
Glyph Interface LED lights
IP54
Gorilla Glass
Android 13 with Nothing OS 2.0
159.2 x 75.8 x 8.3mm
201g