At a glance
Expert's Rating
Pros
Stunningly light and slim
Excellent OLED displays
Impressive telephoto camera
Cons
No Google support
Lacklustre battery life
Too expensive
Our Verdict
The Huawei Mate X3 has the best design of any book-style foldable on the market so far, but it is heavily let down by its software – making apps commonly found on other Android phones unusable.
Price When Reviewed
Not available in the US
Huawei's third foldable phone is another book-style device, with a slimmer and lighter design than previous versions.
As this is a Huawei phone, it comes without native support for Google services. This is of course a massive shame, as the Chinese tech company has once again produced a slam-dunk on the hardware front that outshines rivals such as the Samsung Galaxy Z Fold 4 and the Google Pixel Fold.
Here's my conflicted review of the Mate X3.
Design & build
The thinnest and lightest book-style foldable right now
IPX8 rating
Two colour options
Huawei has always impressed with its builds, and this phone is no different. It looks incredible and is extremely practical.
For a book-style foldable, the Huawei Mate X3 is shockingly slim at 11.08mm thick whilst folded and 5.3mm whilst unfolded – 3mm slimmer than the previous generation phone, the Mate X2. For a device toting two whole displays, this is a serious feat in engineering.
The weight is equally impressive, clocking in at just 239g. This makes it one of the slimmest and lightest book-style foldable device on the market at the time of writing. In fact, it's not that much thicker than a standard smartphone – so it won't be bulging in your pocket unlike other thicker or wider folding phones.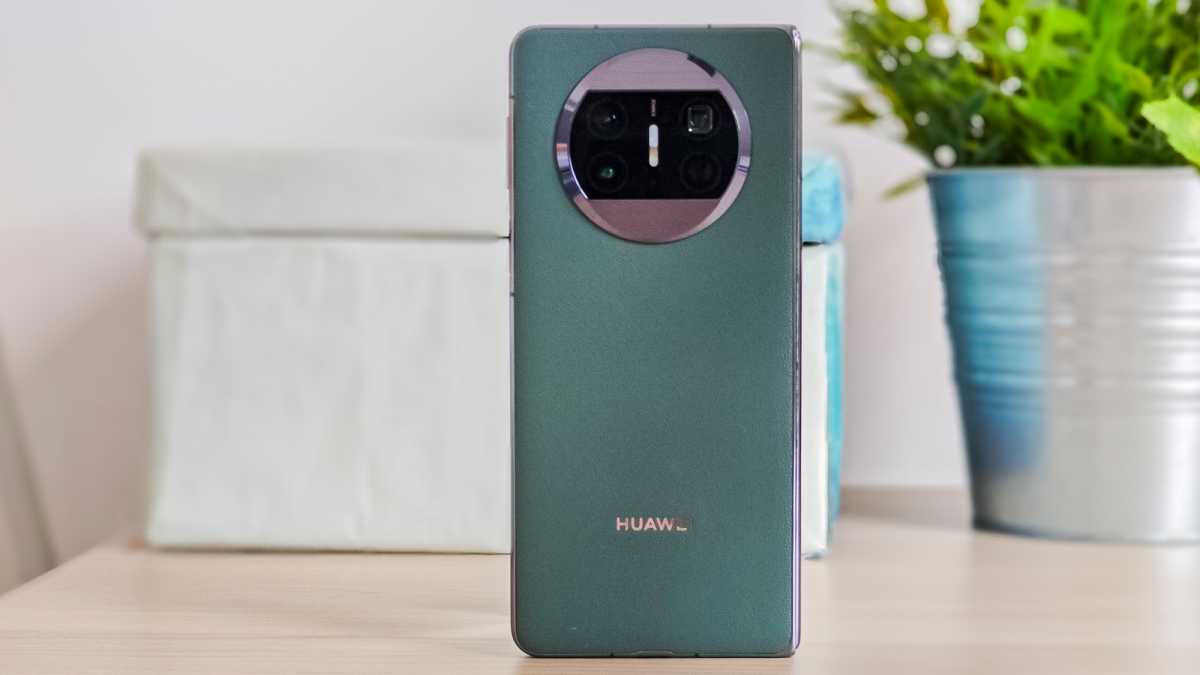 Hannah Cowton / Foundry
The large circular rear camera bump is a statement. The phone doesn't lie completely flat when placed on a surface, but the centre placement does make the weight even so it isn't leaning to one side.
The version I tested comes in a dark green vegan leather finish, but you can also get the Mate X3 in a black glass variant. I'm a fan of the leather finish – it doesn't pick up fingerprints, and it stays securely on surfaces.
The phone has a book-style folding design, with one long display on the outside when closed, and then an internal larger display with a fold down the centre when opened.
The phone closed completely flat, unlike the Galaxy Z Fold 4, so it doesn't pick up much dust or gunk from the outside. The USB-C port sits on the bottom of the phone, whilst stereo speakers are at either end. Like other premium devices, it doesn't have a headphone jack.
Huawei has finally added in some waterproofing to its Mate X line, with this phone boasting an IPX8 rating, so it would survive a brief dunking.
You get space for two SIMs as well as Huawei's own nano-memory card for additional storage. There is a side-mounted fingerprint sensor, which works as intended. Face recognition struggles from time-to-time, particularly in low-lit areas, or if I'm wearing glasses.
Haptics on this phone are clipped and offer a good level of feedback. There is a sliding scale to adjust the strength on the Microsoft SwiftKey keyboard settings. Having it set at about 50% is the sweet spot – 100% is too overpowering.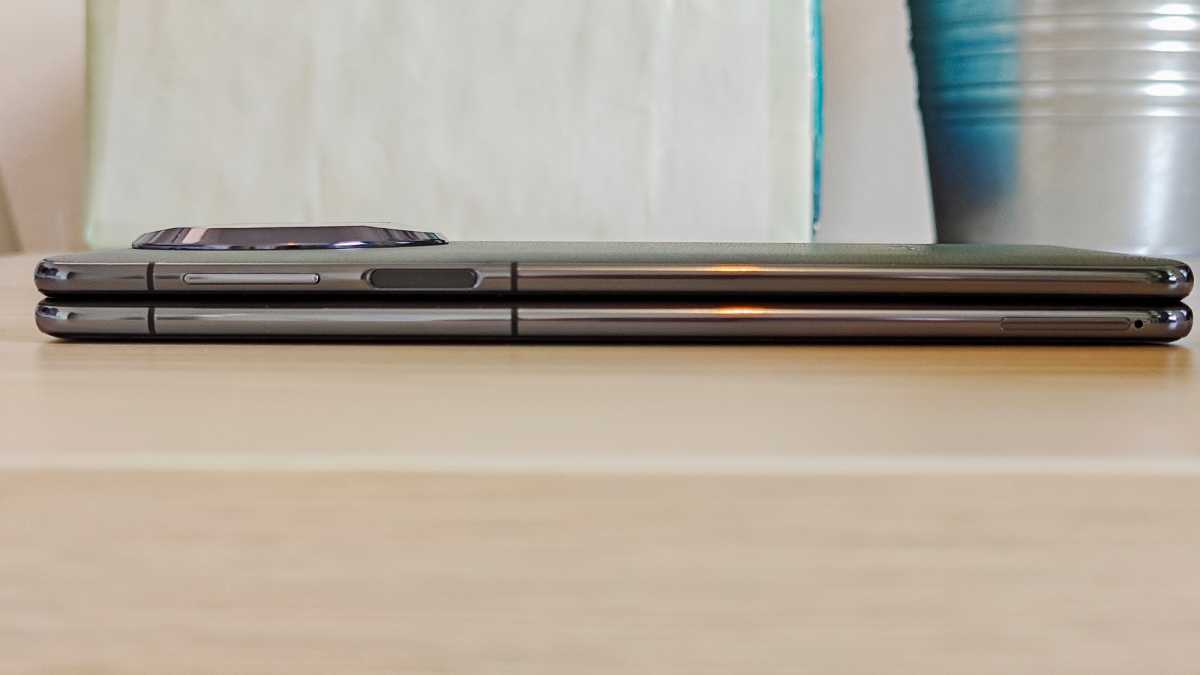 Hannah Cowton / Foundry
Screen & speakers
Dual OLED screens
120Hz refresh rates
Crease is noticable
There are two screens to consider on the Mate X3, and both are splendid.
The external display is 6.4in in a 20.9:9 aspect ratio. That's slightly slimmer than what you'd fine on a normal phone, but webpages and apps still function normally, without any squashing or compression of text or images – I often forgot I was using a foldable device, using this screen as I would on a normal phone.
The internal foldable screen extends to 7.85in and comes with a resolution of 2224 x 2496 – a higher resolution that the cover screen, which is 1080 x 2504. Both displays have OLED panels with refresh rates of 120Hz.
In real terms, both displays are bright and colourful, and produce minimal glare when used under direct sunlight. You'll get the best experience using the bigger display – but if you just want to use it on the go, the external display is still a pleasure to look at.
Hannah Cowton / Foundry
There is a crease in the internal display when you first open it up, there's no denying it. However, it's mostly noticeable when at a side-angle rather than face-on. When I compared side-by-side with the Z Fold 3, the dent doesn't look or feel as prominent. It also feels solid and sturdy to touch, and not spongey like some other flexible displays.
There's also a slightly thick bezel around the outer edge, but this is typical for a phone with this build.
The outer screen in protected by Huawei's own Kunlun reinforced glass, whilst the exterior display is allegedly four times more impact resistant to the Huawei Mate X2 – though I advise against any knocks or drops whilst using it.
There's a selfie camera on its internal screen as well as the outside one. Whilst this does mean that you don't get an entirely clean panel inside, it offers flexibility and allows you to take video calls on a bigger display. Plus, the punch hole design is neatly tucked away in the corner, so it isn't too obtrusive.
Hannah Cowton / Foundry
Not all apps are fully supported for the internal display. Images on Instagram get slightly cut off when viewed in full, and Twitch functions best without maximising the video – if you do, then the whole app rotates and the chat screen gets squashed to the side, rather than being neatly tucked below. Films and series on Disney+ also have letterboxing, so can't take full advantage of that glorious display.
The stereo speakers produce loud and punchy audio. Whilst music doesn't have the same depth and colour as a device with additional processing, the audio is plenty fine for podcasts and video streaming.
Specs & performance
Snapdragon 8+ Gen 1 processor
12GB RAM/512GB storage in the UK
The Huawei Mate X3 is powered by the Snapdragon 8+ Gen 1 processor. This is paired with 12GB RAM and 512GB worth of storage, the only configuration that the phone comes in in the UK. In China you can get it with 12GB and either 256GB, 512GB, or 1TB storage.
The 8+ Gen 1 is the same chip that's in the flagship Huawei P60 Pro, and isn't the latest Qualcomm chipset on the market – that badge of honour goes to the Snapdragon 8 Gen 2 which is available on the Samsung S23 series.
Nonetheless, this is a powerful smartphone that can handle vigorous multitasking, gaming and strenuous apps. It also outpaces the Galaxy Z Fold 4 in our official Geekbench 5 test. See more scores in our benchmarking below:
To put it simply, you shouldn't worry about performance with this phone – there are no issues with stuttering or lag. I was able to play the demanding game Genshin Impact on medium graphics settings with only some popping – though the phone did get quite hot.
Huawei's continued strained relations with the US trade industry means that you'll have to settle for 4G rather than 5G – not great considering the hefty price tag.
Hannah Cowton / Foundry
Cameras & video
50Mp main lens
Up to 5x optical zoom
Dual 8Mp selfie cameras
For a book-style foldable, the Huawei Mate X3 has an impressive set of cameras. The main 50Mp lens has an f/1.8 aperture, along with optical image stabilisation (OIS). This is complimented by a 12Mp telephoto lens with 5x optical zoom, a f/3.4 aperture and OIS, and a 13Mp wide-angle lens with a f/2.2 aperture.
Whilst it doesn't have the same wow-factor as the snapper on the P60 Pro, these images aren't to be sniffed at. Textures and details are sharp, colours are bright yet true-to-life, and the camera performs decently in a variety of lighting environments.
The 5x optical zoom is enough to retain details in skyscrapers from miles away. It's impressive Huawei fit in a periscope telephoto lens in a folding phone in the first place.
You can digitally zoom even further – up to 50x zoom. However, the images become much blurrier and noisier above 10x zoom. Note that this is a slight step down from the Mate X2, which offers 10x optical zoom and 100x digital.
The bokeh effect is very impressive, with the camera identifying fine pieces of hair and boosted colours of the main subject in all the right areas. Super-macro mode means you can take some impressive close-up shots of things such as plants with minimal fuss.
For low light photography, I stuck with night mode. There is a clear difference in shots with this on, with details and shades much sharper and lifted. Without it, the camera suffers with glare and can struggle focusing.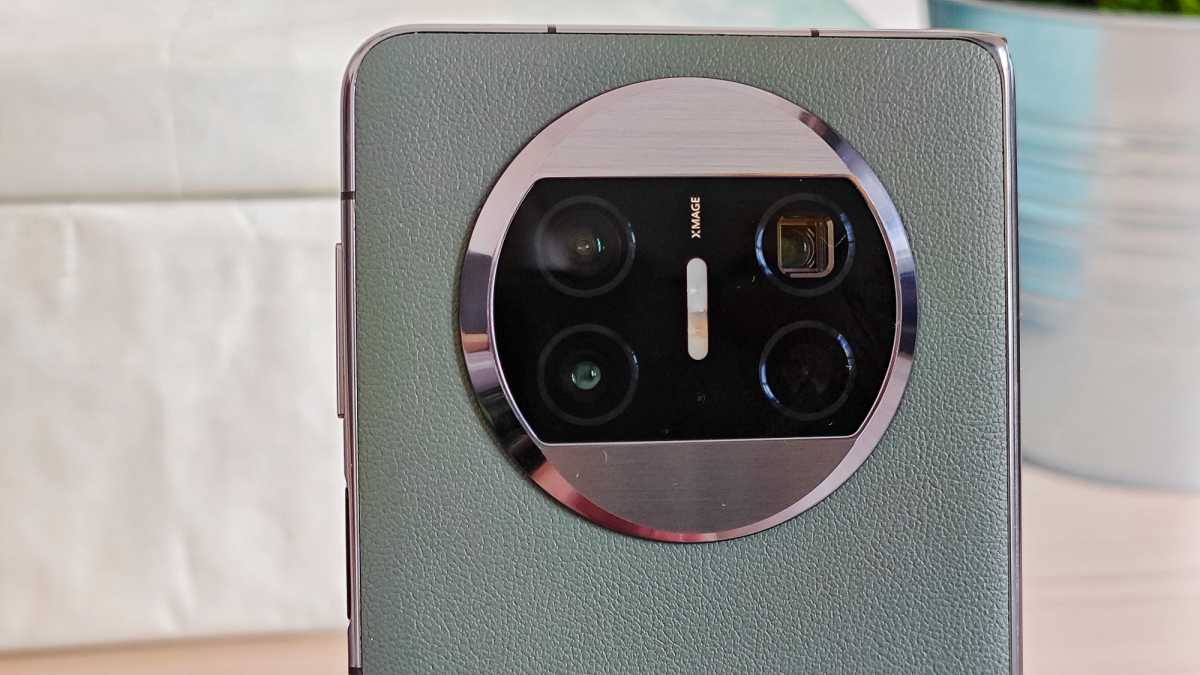 Hannah Cowton / Foundry
The wide-angle camera is less impressive. Whilst it has a good field of view, colours don't pop as much, and fine lines are lost. The perspective also feels a little odd here, with a slightly fish-eyed finish.
Both displays have 8Mp selfie cameras with f/2.4 apertures. They aren't exactly groundbreaking, but will suffice for video calls. If you want a high-quality selfie, then open the camera app on the exterior display, unfold the phone and turn it around – this way you can take advantage of the main snapper, capturing your mug in high quality.
For video, the Mate X3 can record in 4K at 60fps, and comes with gyro-EIS for keeping recordings steady. The front cameras tap out at 4K at 30fps.
Battery & charging
Around a day's use on average
85% charge in 30 minutes
Wireless and reverse wireless charging supported
The Mate X3 has a 4800mAh battery, which is on par with what other foldables of this style pack in.
In typical use, the phone lasts a day on average – this is after watching videos, taking photos and calls, etc. It's about the same level as what I'd expect from a normal flagship phone, which is decent considering that the battery is powering two displays.
In our PCMark10 battery test, the phone didn't fare great – managing just seven hours and eight minutes. However, this was using the main display consistently. During real-world use I alternate between the outer and inner screens. It's also in keeping with most scores achieved by other book-style foldables in our tests.
You get 66W wired charging, 50W wireless charging and 7.5 reverse wireless charging. A standard charge will juice the phone from flat to 85% in 30 minutes – though you must ensure that 'turbo charging' is enabled when you plug the phone in to get the fastest speeds.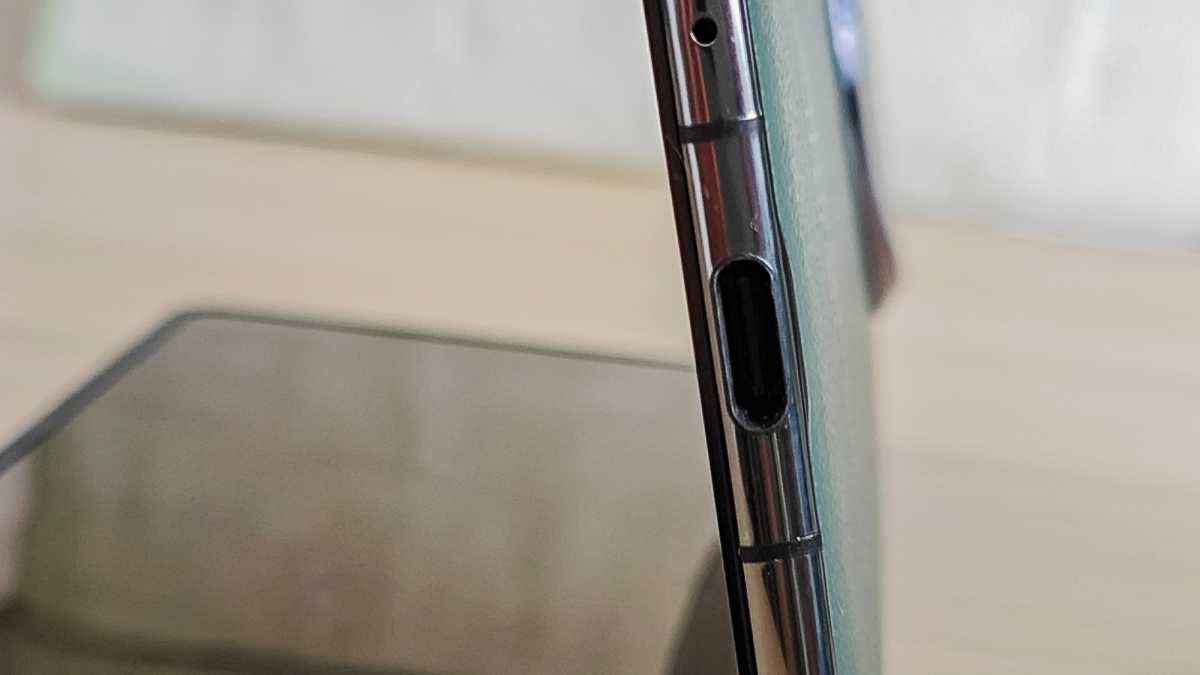 Hannah Cowton / Foundry
Software & updates
No native Google support
EMUI 13.1 based on Android 12
The Huawei Mate X3 runs on EMUI 13.1, which is based on Android 12, not the latest Android 13. It pains me to say it, but the software stops this phone from being recommendable to anyone who relies on Google apps and services. There's no Google Play Store, either.
It's not just things such as Drive, Photos and Docs that this covers – Uber and Citymapper are unusable, as they scrape data from Google Maps. You also can't download other big titles from the Huawei AppGallery app store, including WhatsApp, Facebook, Netflix and PayPal.
You can sideload some of these apps, but the process is quite clunky – and not all apps immediately download from the first APK site you'll find. You can technically get Google working by sandboxing. If you're not sure what any of this means, don't buy this phone!
I got Twitter, Twitch, Instagram and Disney+ all working. The AppGallery also includes some things such as TikTok and Snapchat.
Alternatively, you can use Huawei's own apps. For example, Petal Maps is a clone of Google Maps. Whilst this is accurate in predicting public transport in London, the search function is extremely bizarre and doesn't always suggest every result you'd find on Google's variant.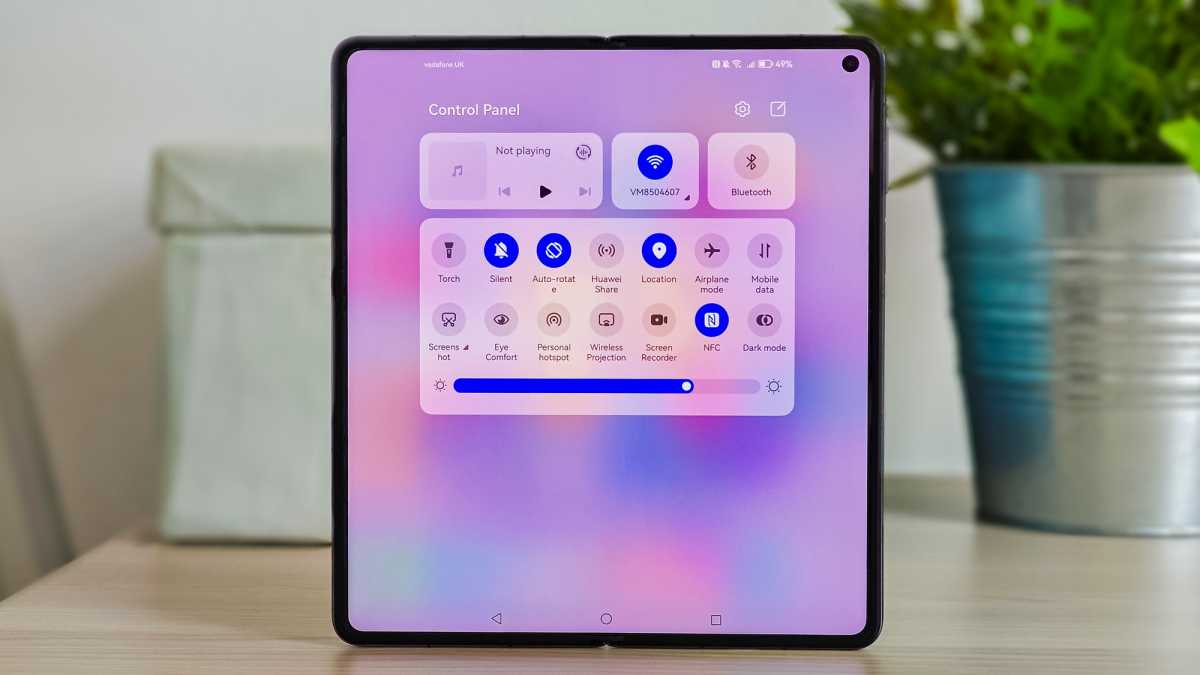 Hannah Cowton / Foundry
Elephant in the room aside, navigation on EMUI is reminiscent of Xiaomi's MIUI OS. Swiping down from the top-left will access your notifications, whilst swiping down from the top-right pulls up the control panel. This phone also shares Xiaomi's annoying habit of bloatware.
Huawei gives you the option to use split screen mode. Whilst this is useful, some apps (such as Instagram) are not supported, and the amount of gestures and controls aren't as handy as what Samsung offers.
According to a Huawei spokesperson, the Mate X3 will get two years of OS updates and three years security at minimum. However, flagships from the brand can get longer – up to three years of OS and four year security updates.
The Mate X3 doesn't get as much long-term support as Samsung models, which have four years of updates and five of security patches.
Price & availability
The Huawei Mate X3 will set you back a hefty £1,999/€2,199, and like other Huawei phones it isn't available in the US. British readers can buy it directly from Huawei, or via Amazon.
You can also import it from VMall.
This is extremely expensive, outpricing both the Google Pixel Fold and the Samsung Galaxy Z Fold 4, both of which don't have the same software flaws. If you're used to the Android experience, I wouldn't recommend dropping £2,000 on this phone.
You can check out further foldable devices, including clam-shell smartphones such as the Galaxy Z Flip 4, in our chart of the best foldable phones.
Hannah Cowton / Foundry
Verdict
From a hardware standpoint, the Huawei Mate X3 cannot be beaten by other book-style foldables. Both the rear body and OLED displays are a treat to look at, and its light and slim body is truly remarkable. It also functions just as well as a normal smartphone when closed.
Unfortunately, it's extremely hard to use without Google-supported apps. Side-loading can only get you so far, and Huawei's own apps just aren't as intuitive and clean. The battery life isn't impressive either.
If it didn't have these software issues, it would almost certainly be one of the best foldables you can get right now. If Huawei can manage to one day get back in the Google game, then it might stand a chance at competing in the Western foldable market.
Specs
Android 12 with EMUI 13.1
Interior: 7.85in foldable 120Hz OLED display (2224 x 2496)
Exterior: 6.4in 120Hz OLED (1080 x 2504)
Snapdragon 8+ Gen 1
12GB RAM
256GB/512GB/1TB storage
50Mp, f/1.8, RYYB OIS rear camera + 13Mp, f/2.2 ultra-wide + 12Mp, f/3.4, 5x optical zoom, OIS tele
8Mp f/2.4 front camera (external display) + 8Mp f/2.4 front camera (internal display)
Side mounted fingerprint scanner
11az dual-band Wi-Fi 6
Bluetooth 5.2
GPS
NFC
4G LTE
USB-C
4500mAh non-removable battery
66W wired charging
Unfolded: 156.9 x 141.5 x 5.3mm
Folded: 156.9 x 72.4 x 11.8mm
239g