At a glance
Expert's Rating
Pros
Clever design
Leaves teeth feeling clean
Good for travelling
Long battery life
Cons
Heavy
Messy in use
No pressure sensor
Our Verdict
This cleverly designed electric toothbrush and water jet cleans teeth well and is a great option for travel. However, its weight and size make it less easy to recommend as an everyday brush.
Price When Reviewed
Not currently available in the US
It's rare to see something totally new where electric toothbrushes are concerned. Most newly launched electric toothbrushes are refinements of existing models, with improved features, or more features, or more brushing feedback packed into their frames.
But the Soocas Neos is the first brush of its kind that I've seen. It's a sonic electric toothbrush that also cleans your teeth with a water jet. It has an inbuilt water reservoir, so you don't need a connected water tank. This makes it a great option for people who like water jet flossing – especially if you want a brush you can take away with you.
Soocas is an oral and personal care company that, in its own words, focuses on research and development. It has a number of electric toothbrushes, water flossers and electric razors available on its website. The Neos not yet available to buy but we'll update this article with links once it is. You can sign up to find out more on the Soocas website.
Design and build
Much larger than a standard electric toothbrush
Weighs more than a can of Coke when the tank is full
USB charging
As you might expect, given its unusual water jet feature, the Neos is much longer at 29cm/ 11.4in and wider than your average electric toothbrush, with an almost 14cm/ 5.5in circumference.
It's chunky but not impossible to hold, and there's a textured grip on its back, which helps. Still, its size means you may not be able to store it with your other brushes. It's too tall to fit in my bathroom cabinet unless I remove the brush head.
It weighs much more as well. The Neos is 274g/ 9.7oz, compared to the Oral-B iO4's 135g/ 4.8oz. If you put them side by side, you'll see just how massive the Neos is.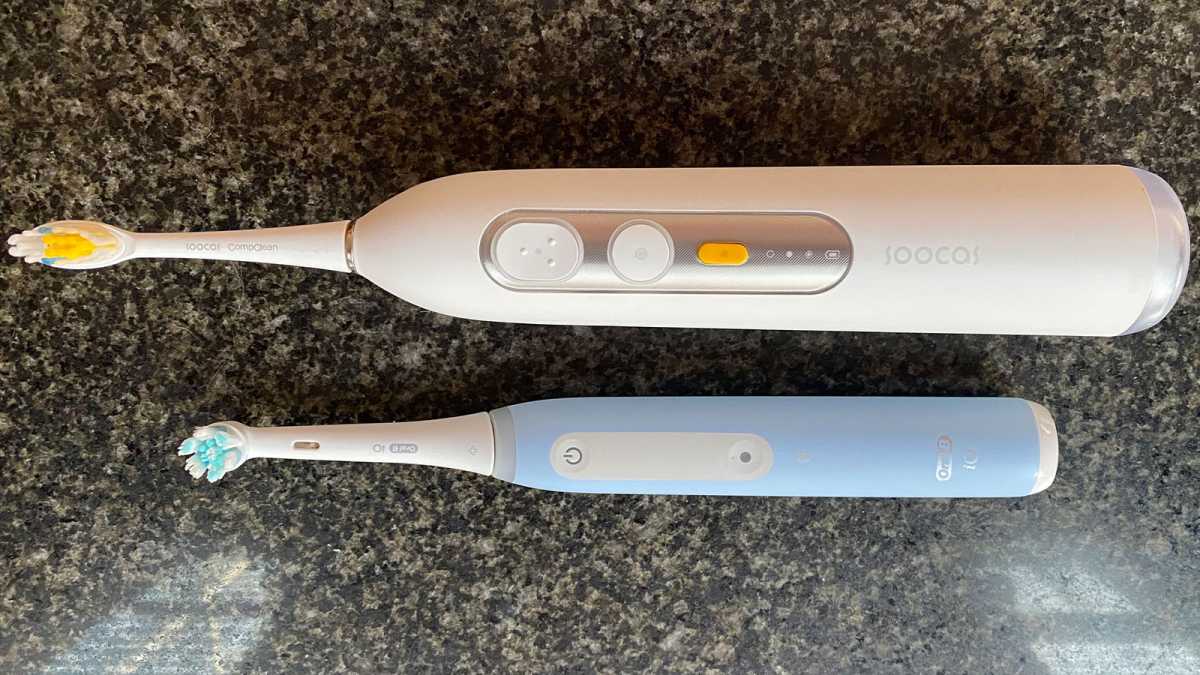 Emma Rowley / Foundry
At the back is a flip-open water reservoir with a 100ml/ 3.3 fl oz capacity. It's easy to fill from a tap but once filled with water, it weighs 361g/ 12.7oz – which is more than a can of Coke.
It has three large buttons that operate it and it's in no way immediately obvious what they do. But all have a different tactile design, which should – in theory – help when it comes to using it. Beneath the buttons is a column of indicator lights that are equally mystifying at the start. Below that is a handy battery indicator light.
Emma Rowley / Foundry
You can remove the cap at the base of the brush to give the reservoir a proper clean and the set comes with a long brush, designed just for this purpose.
Emma Rowley / Foundry
Also in the box, you'll get a USB wireless charging dock, a thin drawstring travel pouch and two toothbrush heads. The brush heads are specialised thanks to the water jet, and it's not clear yet how much replacements will cost.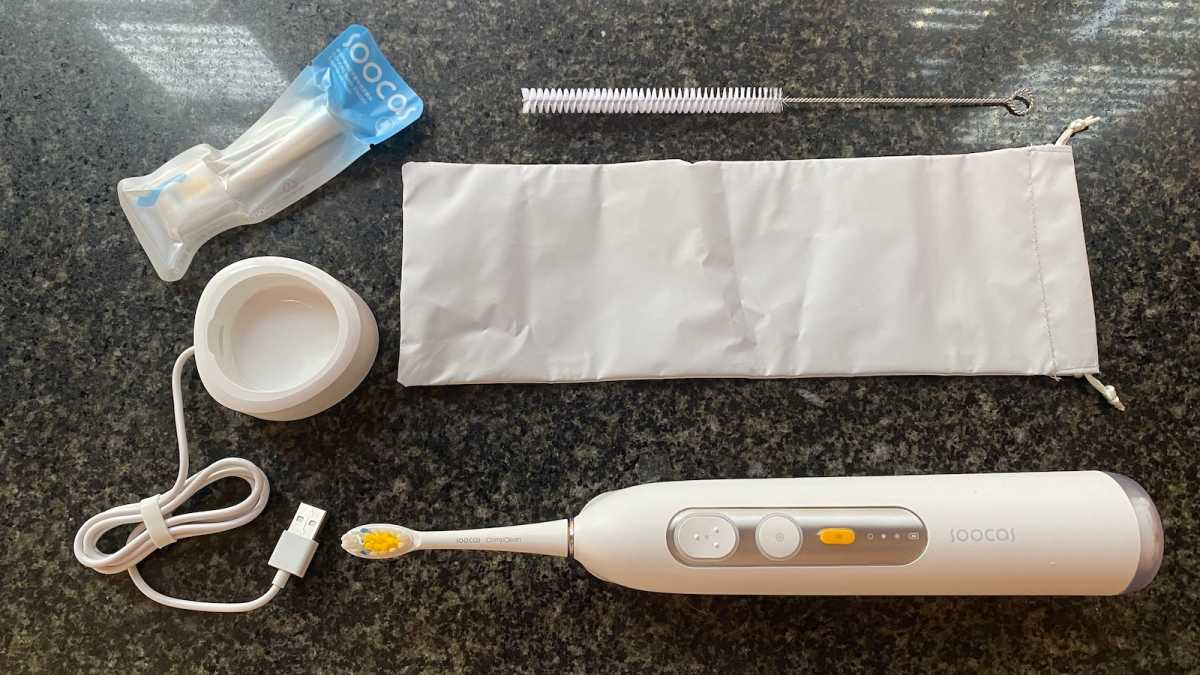 Emma Rowley / Foundry
Soocas claims that the Neos has a whopping 30-day battery life. I didn't manage to drain it during testing.
Performance
Water reservoir lasts around 40 seconds
Three brushing intensities
No pressure sensor
When testing a new product, I always like to see how intuitive it is to use, before referring to the manual. In the case of the Neos, it didn't come with a manual, so I just started using it.
Long story short – I couldn't figure out the buttons, water was spraying everywhere and I resorted to the Soocas website.
As it turns out, rather than being function buttons, the top two buttons are for different programmes. I'd guessed that one was for sonic cleaning and one for the water jet. I was wrong. The larger top button is for a complete cleaning programme of sonic brushing, followed by brushing and water flossing.
The smaller second button delivers a shorter (around 30-50 seconds) complete cleaning mode, with both sonic vibrations and water. The length of time depends on how long the water in the reservoir lasts, which will vary based on water jet intensity.
You can adjust the intensity of the sonic vibrations and water pressure by toggling the yellow key at the base. There are three intensity settings of sonic vibrations and three for water jet intensity.
It's extremely simple once you know, I thought, while wiping toothpaste and water out of my eyes.
When you use the long programme, the initial dentist-recommended two-minute brushing period is broken up by a change in vibration every thirty seconds, to let you to know to move on to the next quadrant of your mouth.
After two minutes, there's a longer and louder alert, to let you know that the water jet is preparing. You'll then get around 30-50 seconds of jet flossing before the reservoir is emptied.
It would be useful to have a brushing only mode. Although you can stop it before the water jet starts up, or brush with an empty reservoir, sooner or later, you're going to get sprayed.
That's because using the water jet is a fairly chaotic process. It's messier than ordinary brushing and most likely, either yourself or your floor will end up catching a bit of spray. It's not the sort of brush you'd want to use when you're all dressed up to give your teeth a quick polish before heading out. This means that you'll also need a second toothbrush for those occasions.
It's also far too easy to accidentally press one of the buttons when you're grappling with its chunky size while brushing. This then means moving the brush out of your mouth to see what you've pressed, which is inevitably when you'll get a water jet in the face.
Still, it's IPX8 water resistance rated, so you could use it in the shower, although we'd suggest you don't use it in the bath in case you drop it. It should survive a dunk or two but it won't if it happens regularly.
The water jet comes from a raised aperture in the middle of the toothbrush bristles. In some respects, this is a perfect design, as it means you can just brush your teeth as usual and the jet will always be pointing in the right direction.
However, the Neos doesn't have a pressure sensor, so if you press too hard when you brush, the only way you're likely to find out is by scratching your teeth with the hard plastic of the jet nozzle. It only protrudes a short way – about half the length of the bristles – but for some people, that will be too much.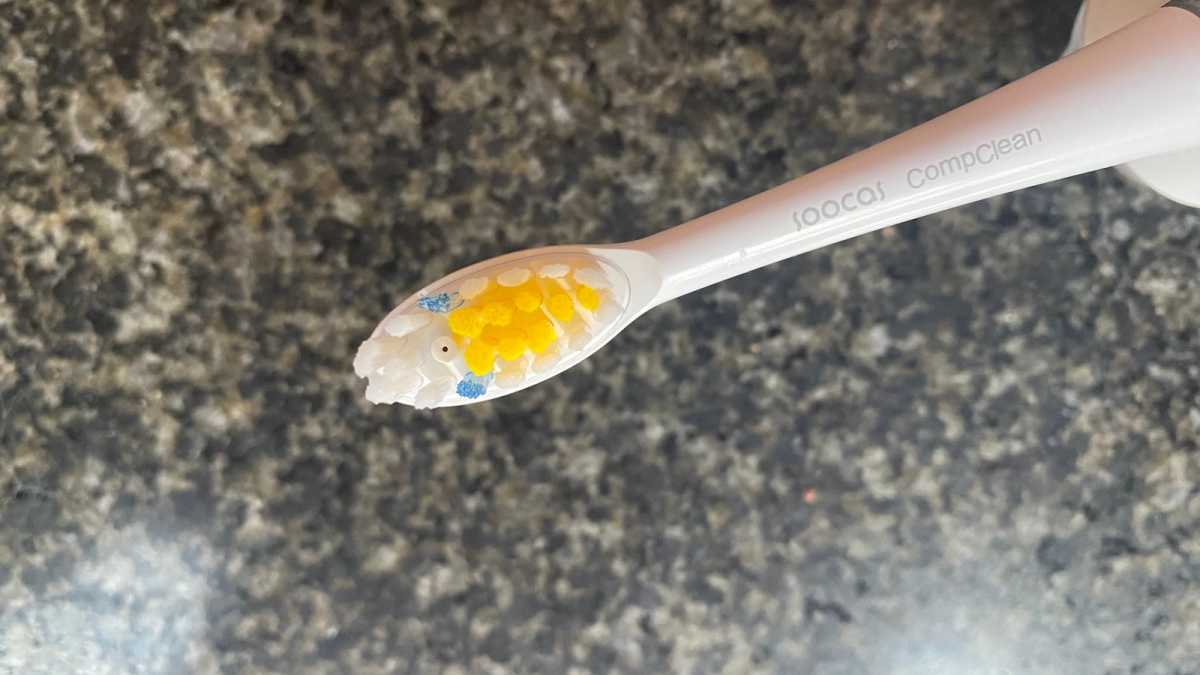 Emma Rowley / Foundry
After using the brush, your teeth will feel very clean. It's also an easy way to incorporate flossing into your regular dental routine. But the brush is much heavier and more unwieldy than an ordinary electric toothbrush, so you might find that you don't always reach for it when you should.
Verdict
The Soocas Neos represents a great idea and I liked using it. I feel that it's an effective brush and the water jet action is good for cleaning between teeth. However, because it's heavy and messy to use, I often found myself picking up another toothbrush instead.
Buy it if you want a water flossing brush for travel, or a second brush to encourage you to floss regularly, but don't throw away your day-to-day brush just yet.
For more electric toothbrush options and to see our recommendations, have a look at our round-ups of the best electric toothbrushes we've tested, the best cheap electric toothbrushes and the best Oral-B electric toothbrushes.