For a company that only began releasing foldables at the start of 2022, Honor is on a mission.
The Chinese firm is already onto its third edition of book-style foldable, known as the Magic V2. Honor is associated with affordable products from its days as a Huawei sub-brand, but it certainly isn't cutting costs when it comes to the V2 – it's one of the sleekest folding phones yet.
While initially exclusive to China, the device has now launched in Europe, but there's plenty we still don't know. Here's everything you need to know.
When will the Honor Magic V2 be released worldwide?
Honor officially announced the Magic V2 at a Chinese launch event on 12 July 2023 in Beijing.
Given the original Magic V never made it outside of its home territory, there was always a chance Honor would go down the same route here. Luckily, it's following the more recent Magic Vs in getting a global launch.
At IFA 2023 in Berlin on 1 September 2023, the Magic V2 was officially announced in Europe.
The company didn't announce a release date at the event, but appears to have confirmed to Android Authority that it won't arrive until Q1 (Jan-Mar) of 2024.
If true, that'd mean at least a six-month wait between Chinese and global releases, by which time the Snapdragon 8 Gen 2 chip may no longer be the latest and greatest.
Don't expect the V2 to ever make it to North America, though. Honor doesn't sell any of its phones there.
How much will the Honor Magic V2 cost?
Despite having been announced in Europe, Honor is yet to reveal how much the Magic V2 will cost.
In China the Magic V2 starts from ¥8,999 (around $1,250/£970), rising up to ¥11,999 (around $1,670/£1,290) for an 'Ultimate' edition with a stylus included in the box. It's not clear if the latter will ever make it elsewhere.
However, those direct conversions are rarely a good guide to international pricing, which is likely to be higher.
In a group interview, Honor CEO George Zhao said "maybe it will be similar to the Honor Magic Vs, maybe we can use that for reference". While this doesn't confirm anything, something around £1,399/€1,599 is therefore likely.
Zhao went on to say that "I believe when we launch attractive foldables it will become more attractive than bar phones and then we can drive the price down". Hopefully that means the Magic V2 will remain cheaper than key rivals in the Samsung Galaxy Z Fold 5 (from $1,799.99/£1,748) and Google Pixel Fold (from $1,799/£1,749).
What about the Honor Magic V2's specs and design?
The most striking thing about the Magic V2 isn't on the inside – it's the phone's design.
This is the thinnest and lightest large foldable yet, just 9.9mm thick when folded and weighing 231g. That's even smaller than the Huawei Mate X3, and substantially slimmer than anything released by Samsung so far.
It's launching in three colours in Europe: black, silk black and silk purple. The silk models are coated in vegan leather. But the ultimate black and gold versions you see below haven't made it outside China.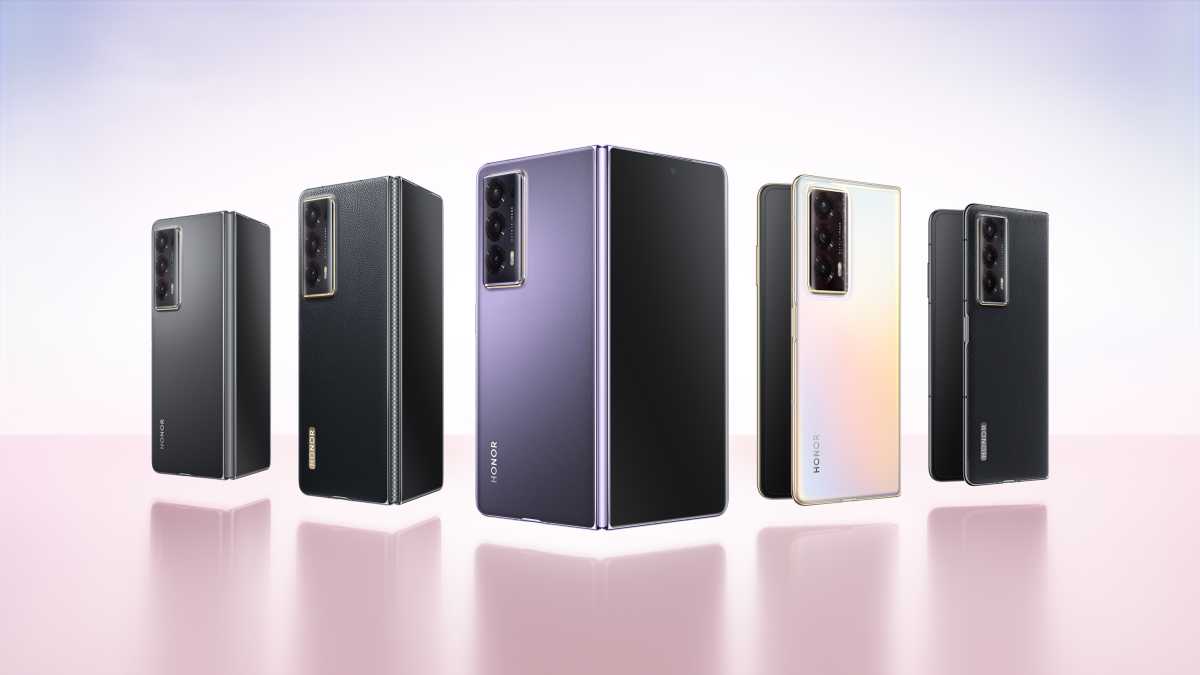 Honor
There are two displays of course. On the inside you'll find a 7.92in foldable OLED panel with a 120Hz refresh rate and LTPO tech for refresh rate scaling. It packs a resolution of 2344 x 2156, and even includes support for a stylus – finally matching Samsung on that front. However, there's no stylus included.
On the outside, the 6.43in OLED display has the same 120Hz LTPO tech, at a resolution of 2376 x 1060. It also supports a stylus.
Moving to the inside, the phone is powered by the Snapdragon 8 Gen 2, which is paired with 16GB of RAM. Storage starts at 256GB, but goes all the way up to a whopping 1TB in the Ultimate.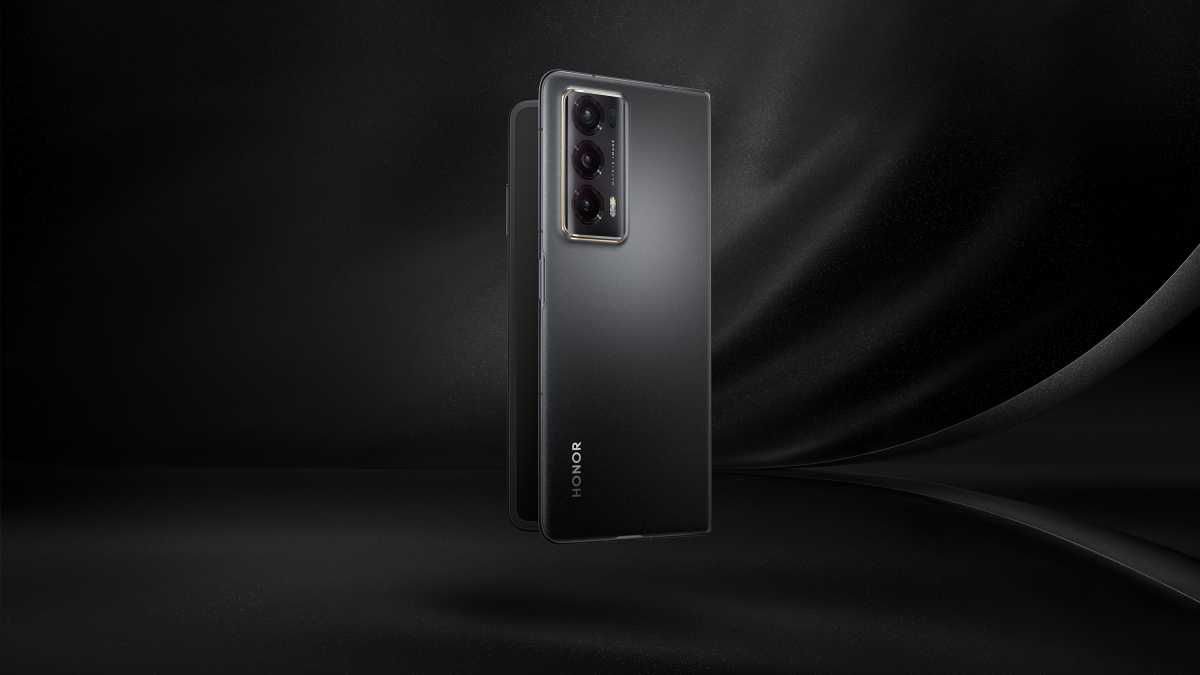 Honor
The 5000mAh battery is large despite how slim the phone is overall, and 66W wired charging is pretty fast too – though sadly there's no sign of a wireless option.
As for cameras, you can see there's a triple lens setup on the back. This is made up of a 50Mp, f/1.9 main camera; a 50Mp, f/2.0 ultrawide; and a 20Mp, f/2.4 telephoto. Each display also has a punch-hole selfie camera – both are 16Mp and f/2.2.
All these components have been shown off in a video from JerryRigEverything on YouTube, who did an assembly video rather than one his usual teardowns:
In it, we get an in-depth look at that all-important hinge, plus the chipset, cameras, battery and more.
Take a look at our guide to the best foldable phones to see what the Magic V2 will be up against. But there's no doubting it has the best design of any folding phone.