Updated: to include details of the OnePlus Nord 3's EU release
The upcoming OnePlus Nord 3 will not be sold in the UK, the company has confirmed to Tech Advisor.
OnePlus has also paused UK sales of some of its smartphones on its official website.
"Nord 3 is not scheduled to go on sale in the UK at all, but it's possible that changes in the future. Other markets are not impacted," a OnePlus spokesperson told Tech Advisor via email.
The original OnePlus Nord was sold in the UK, as were the Nord 2 and 2022's Nord 2T.
The OnePlus Nord 3 is the company's latest mid-range phone and is due to launch on 5 July, having been teased on Twitter by OnePlus President and chief operating office Kinder Liu.
The spokesperson said the Nord 3 will be available in 16 EU markets.
OnePlus denied in March it was exiting the UK and European markets after claims were made to contrary. The company no longer sells phones in Germany following a legal claim from Nokia that OnePlus and Oppo had not paid for use of Nokia 5G patents.
"We would also like to reaffirm that OnePlus remains committed to the UK, a key market for us and the entire European region and we will continue to launch more products in the region," OnePlus said in a separate emailed statement.
"Due to logistical challenges around customs leading to delays around order fulfilment, we have temporarily put the sales of our smartphones on hold via OnePlus.com.
"This affects some of our smartphones in the UK, including the forthcoming OnePlus Nord 3 5G. We are working hard to get these issues resolved promptly and would like to thank our valued community for their patience."
Tech Advisor posed questions to OnePlus after noticing all phones on its UK online store were showing as 'Out of Stock' on Wednesday and Thursday.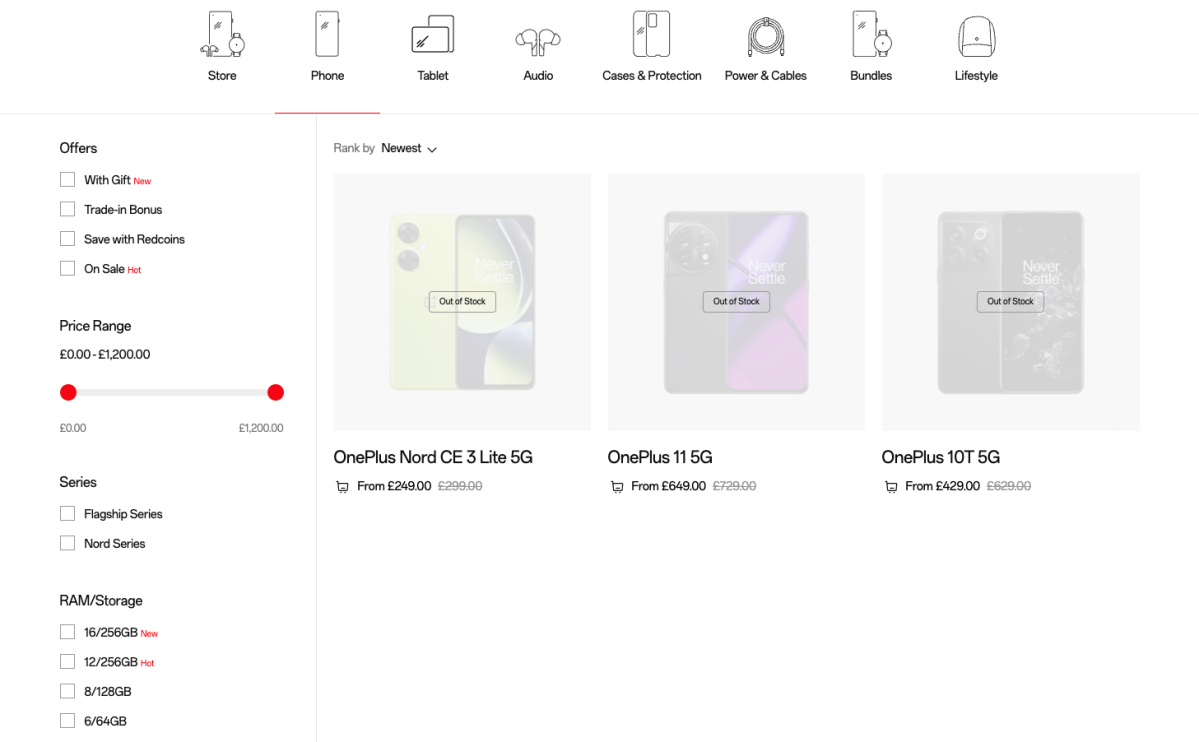 OnePlus
As of Friday morning, the OnePlus 10T and OnePlus Nord 2T were in stock for UK buyers, but the newer OnePlus 11 and OnePlus Nord CE 3 Lite were not.
"Regarding stock, the website is up to date," the spokesperson said.
"If it's listed as in stock, people can buy it and receive it as normal. If stock runs out, the website will reflect that and customers won't be able to purchase."
At the time of writing, most of OnePlus's earbuds were in stock on its UK store, as was the recently released OnePlus Pad tablet and its accessories.
OnePlus recently changed its social media profiles on Twitter and Instagram to run 'Europe' accounts, and no longer maintains 'UK' handles.
"The change of name of our social account is part of our wider plan to consolidate social audiences across Europe," OnePlus said.