It takes a lot for a budget Android phone to stand out these days, but Nokia is giving it a good go.
The new Nokia G42 5G is an ordinary-looking £199/€249 handset with one standout feature: repairability. The battery, display, back cover and charging port can all be replaced by anyone, using simple tools.
All replacement parts will be available for five years via iFixit, with the company also offering a professional repair service if you'd prefer.
In theory, this will significantly extend the lifespan of the phone beyond the normal range. But the software support commitment suggests otherwise. The Nokia G42 5G will only get two years of OS updates and three years of security updates, meaning nothing after 2026.
HMD Global, the maker of Nokia phones, says both cost and user feedback have informed the decision. Presumably, it believes people will want to replace their phone after 2-3 years anyway, but that defeats the point of repairability.
Compare that to the repairability-focused Fairphone company, whose latest Fairphone 4 smartphone will get five years of security updates following its 2021 launch. The compromise there is dated hardware and a higher price tag, with HMD Global believing this approach isn't "consumer desirable".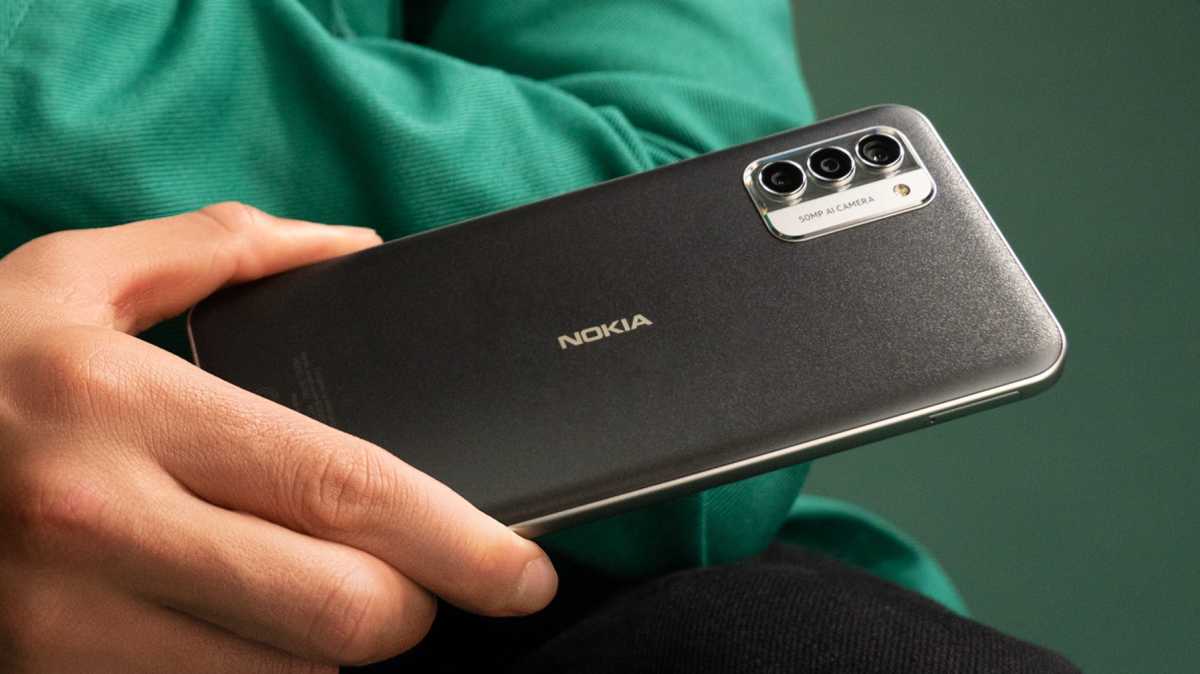 HMD Global
The £149.99 Nokia G22 launched earlier this year with the exact same repairability credentials. So, aside from the price, what's actually new here?
The biggest change is 5G, making it the brand's first repairable phone with the latest connectivity. That relies on a chipset change, with the Unisoc T606 ditched in favour of Qualcomm's Snapdragon 480+.
Alongside 6GB of RAM (up from 4GB), you should also expect a slight performance boost. 128GB of internal storage remains your only option, although you can expand it using a microSD card (up to 1TB).
The only other change is a new purple finish, which certainly makes that plastic back look more appealing.
All the other key specs remain the same, including the removable 5000mAh battery. HMD Global says this can last for up to three days of (presumably very light) usage, and keep 80% of its original capacity after 800 charging cycles – equivalent to around four years.
USB-C is used for 20W charging, while the 3.5mm headphone jack is still here.
The three rear cameras are also unchanged, with a main 50Mp lens joined by 2Mp depth and macro sensors. On the front, the 8Mp selfie camera remains the same, too. If the G22's identical specs are an accurate indicator, you can expect decent shots in good lighting but an underwhelming experience elsewhere.
The G42's 6.5in LCD panel is only 720p (720×1612), but does feature a 90Hz refresh rate. At 194g, it's relatively lightweight for a device of this size.
If you're willing to pay that £199/€249 asking price, the Nokia G42 5G is available to buy now from the Nokia website. Pricing and availability in North America are yet to be announced.
Henry Burrell / Foundry