At a glance
Expert's Rating
Pros
Long battery life
90Hz refresh rate screen
Decent performance
Solid main lens
Cons
Display HD+ resolution only
Secondary rear lenses not great
No 5G
Our Verdict
There are few things you can ask of an entry-level phone, but the TCL 40 SE delivers on almost all of them. The low-resolution screen is compensated for by the long battery life, good performance and a main camera that is surprisingly solid
From a brand that sponsors the Spanish national football team, you expect this TCL phone to have the intelligence of Pedri, the grit of Gavi, the speed of Balde and the confidence of Rodri.
But for less than £200/€200, you can understand if it doesn't shine in all departments and doesn't win the smartphone World Cup.
My expectations before I got my hands on the TCL SE 40 were low: a cheap phone, with somewhat simple specifications, and from a manufacturer that doesn't have the reputation of other companies like Samsung or Apple.
I have to say that I came away with more positive surprises than negative ones, perhaps precisely because I didn't expect much from this handset. This is a budget phone with a big battery, a good main camera, but a screen that could be improved.
Design and build
Ergonomic and lightweight design
Simple but sturdy plastic casing
Slot for two SIM cards and one microSD card
We like to start our reviews with what we should never do in real life: judge the exterior. In this case, it's important because, while you shouldn't base your smartphone purchase on aesthetics alone, the design also speaks to its ruggedness, ergonomics and practicality.
When I took the phone out of the box, I was surprised at how light it felt in my hands. I'm used to the 204 grams of my iPhone 13 Pro and, while it may not seem like much of a difference, those 14 grams less are noticeable. My hands also had to get used to the different dimensions, especially as the TCL is taller.
That's the end of my comparisons with a phone that cost almost ten times as much. It is better to keep in mind other models in our ranking of the best budget phones, for example. The most I can demand of it at this price is that it is sturdy and does not easily show fingerprints and smudges – check.
The TCL 40 SE's casing is made of plastic, which means it won't get damaged as easily as if it were made of glass. This doesn't compromise too much on aesthetics, as it's quite elegant in the grey colour I tested (it's also available in a less discreet purple finish).
TCL doesn't specify IP certification, so we assume it's not waterproof or dustproof.
This phone is easy to grip and the curved edges of the frame around the screen help with this, although I have almost always had to use both hands to hold it well when using it.
The buttons on the right side of the handset are easier to use with just one hand. These are the volume rocker and the unlock button, which doubles as a fingerprint reader. It is wide enough to place your thumb comfortably so that you don't make a mistake when unlocking the phone (or at least not often).
Dominik Tomaszewski / Foundry
On the other side, there is a slot for two SIM cards and a microSD card. At the top there is a speaker and a microphone, while at the bottom there's another speaker, the USB-C port for charging and a 3.5mm headphone jack.
On the back is a camera module with a peculiar layout as he cameras are inside a rectangle in the top left corner. Inside it, there is another rectangle for the main camera, a secondary lens and the flash, while there is a third lens underneath.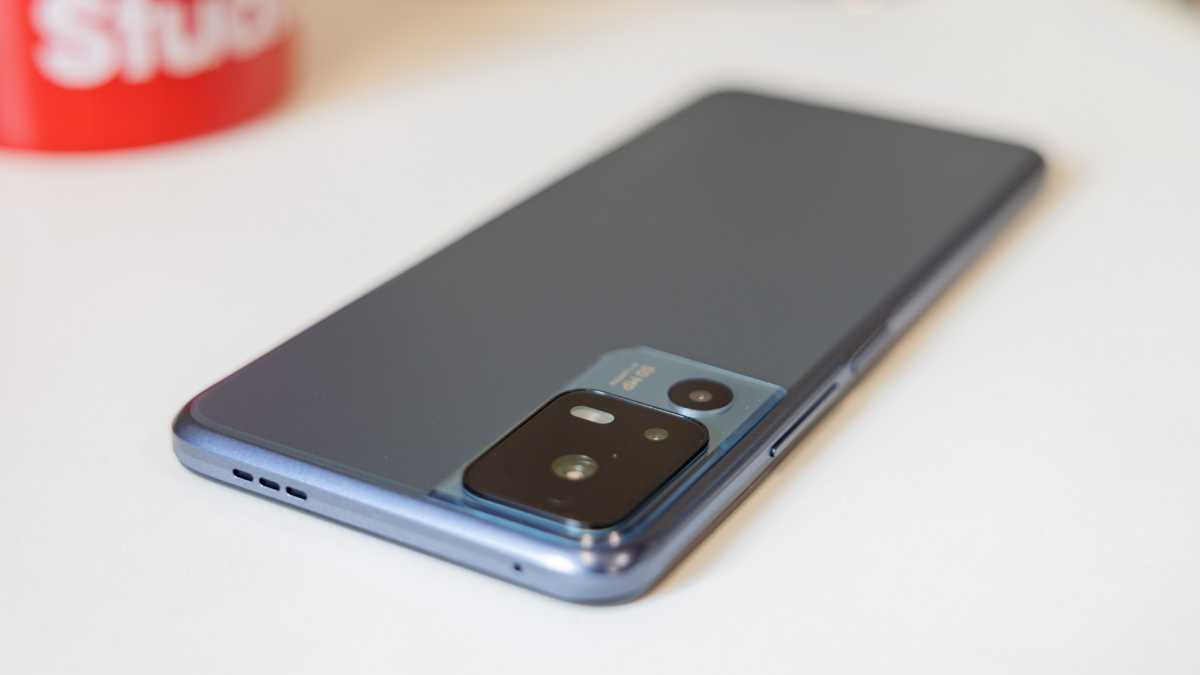 Dominik Tomaszewski / Foundry
Display and speakers
720p-only display
90Hz refresh rate is sufficient
Stereo sound quality is as expected
The screen takes up almost the entire front surface of the handset. The bezels are still present, but they are slim and do not detract from the experience.
Neither does the waterdrop-shaped notch at the top, which serves to house the front-facing camera. It is true that there are other, more modern methods of gaining a few millimetres of screen real estate, but I didn't miss them.
The screen is 6.75in IPD LCD although what is most striking is that TCL still opts for an HD+ resolution (1600 x 720, 260 ppi). It's true that it doesn't affect day-to-day use, but it's more noticeable when you want to watch video. 720p is low resolution by today's smartphone standards.
The dimensions are ideal for audio-visual content, but at this point I'm asking for more than 720p. There are other low-end models with Full HD+, such as the Moto G62 or the Nokia G60. On the other hand, the 120Hz of the Xiaomi Redmi Note 10 Pro is not necessary, as the 90Hz of the TCL 40 SE is more than enough.
Otherwise, the display is quite good. You shouldn't be surprised that it's harder to see what's on it in bright sunlight (I set the brightness to maximum for best results if the automatic function doesn't work well), while indoors everything looks pretty good.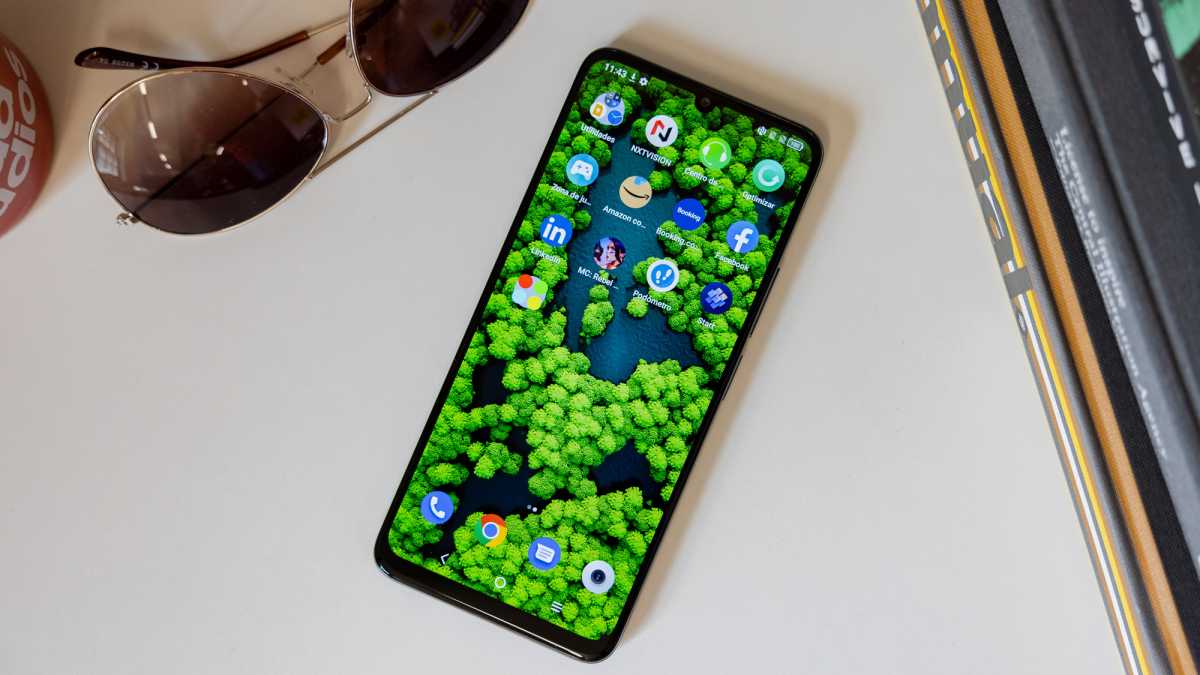 Dominik Tomaszewski / Foundry
The TCL 40 SE has two speakers, one on the top and one on the bottom. If you use the phone in landscape mode to watch series and movies, that means you will have audio on both sides and get stereo sound.
The audio quality of the speakers is what you would expect from a phone under £200/€200, or even just a phone. You won't be using it to listen to loud music while doing things around the house (let alone at an outdoor party), but it will be sufficient for enjoying audio or video while you're stretched out on the sofa.
You'll prefer the experience when you connect headphones to your phone, although bass will still be conspicuous by its absence. I didn't notice much difference between the sound when using wired or Bluetooth headphones, as both are quite crisp and clean (although this will also depend on the quality of the headphones themselves, of course).
Specs and performance
MediaTek Helio G37 chipset
4GB RAM and 128GB storage
Decent performance with some crashes and lags
My first experience with the TCL 40 SE was not good.
One of the first things I do when I get a new phone to test is to link it with my Google account and download the apps that I will later use for benchmarking performance.
It took me several tries to be able to log in to the Play Store successfully, as it would close unexpectedly. Eventually I managed to do so and from here on my experience with TCL's latest phone was less bumpy.
First, here's what the Geekbench and GFX Bench tests say about the power of this handset, which uses the MediaTek Helio G37 chipset along with 4GB of RAM and 128GB of storage.
These figures help us to compare it with other theoretically similar devices in the same price range. Performance-wise, it keeps up with the previous generation, the TCL 30 SE. In contrast, both are outperformed by other models from Moto, Nokia and Xiaomi that were released even longer ago.
On a day-to-day basis, the TCL 40 SE offers good performance considering the price, despite the lack of 5G. It will be sufficient for surfing the Internet, using social media, answering emails and watching the occasional video.
The chipset used does not include high-performance cores and this is noticeable when some applications take a long time to load or when you try to use more than one at a time. Although it doesn't always happen, sometimes apps do crash or close suddenly.
You can't expect it to be ideal for gamers either. It isn't, nor does it pretend to be. You'll be able to play games like Call of Duty: Mobile and even play them with decent enough graphics quality, but performance is a long way off more powerful phones.
Cameras
Good 50 MP main camera
Bad depth lens and macro lens
Front camera lives up to expectations
The TCL 40 SE's cameras haven't changed much from the previous model, which means we still don't have an ultra-wide-angle or telephoto lens. Some cheap phones already offer such lenses, so we don't understand why TCL hasn't taken the plunge yet.
For now, you'll have to make do with a 50Mp main/macro camera (1/2.55in sensor, f/1.8), a 2Mp depth camera (1/5in sensor, f/2.4) and a 2Mp macro camera (1/5in sensor, f/2.4). In front, there is an 8Mp selfie camera (1/4in sensor, f/2.0).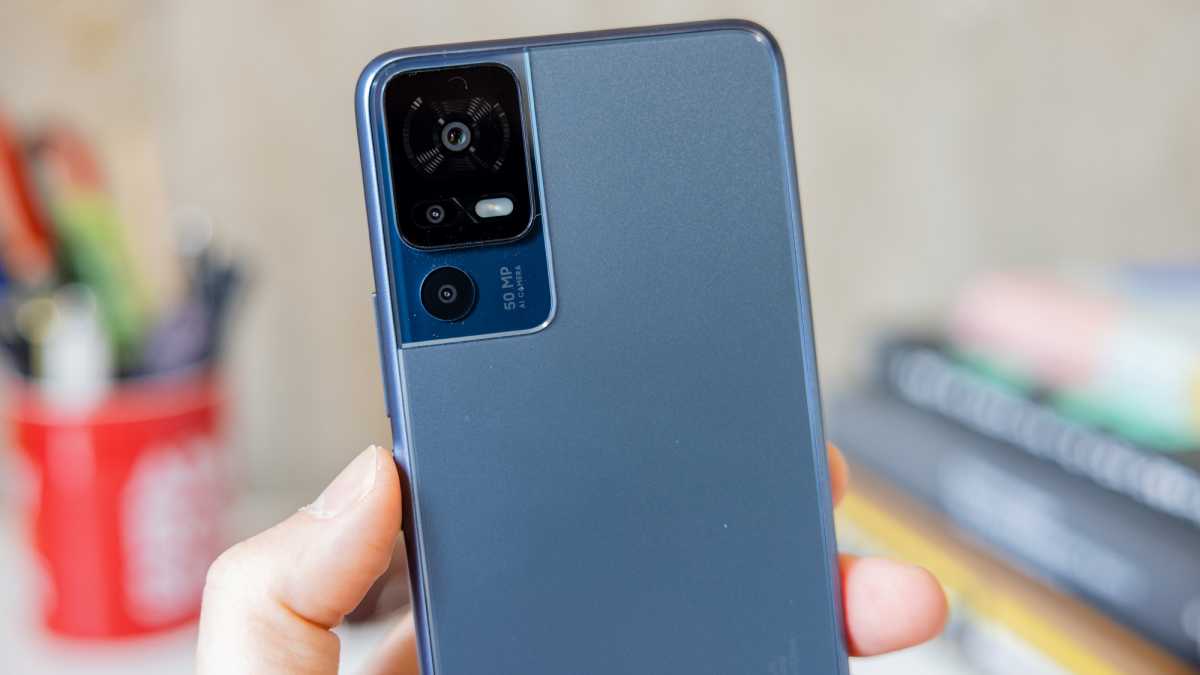 Dominik Tomaszewski / Foundry
There's no better way to test the capabilities of a smartphone lens than to get out there and start shooting. Here are some of my results:
Overall the TCL 40 SE's camera is fine for the price. The results, given good lighting conditions, are acceptable, with balanced colours and good definition. There is a little too much oversaturation for my liking, although this is already the preferred style of Android brands such as Samsung.
This all changes, unsurprisingly, when you start to zoom in. The camera setup doesn't include a telephoto lens, so the zoom you get is digital. And that, unluckily, means that zoomed pictures (up to x4) are unusable.
This is especially the case when zooming at night. The night mode in general is quite good. As you can see in the night shot of a bush, the image is quite well lit (the real environment was completely dark). But if you zoom in, it doesn't help. The photos will be brighter than the real thing, but completely blurred.
The night mode, which is a new feature for the TCL 40 SE, is automatically activated when you try to take a picture in a very dark environment. There is no way to activate it manually. In addition, you will have to stand still for a long time to get a good result, as should the object you are portraying (although if you are photographing a bike, as in my case, the result can be pretty cool).
This phone also has a macro lens and a depth lens. The first one can't be activated manually either, but the phone will detect that you want to take a close-up picture and will only then present you with a button so you can use it. The result? Nothing great. You probably won't use it as it's that bad.
The depth lens works a little better and the portrait mode photos, although not great, are just OK. The same quality in colours and sharpness is maintained, although it's a bit too blurry at times.
This is also the case when using portrait mode on the front camera, and even more evident as software is used to achieve the bokeh effect and not an extra lens. Just take a look at the selfie I took, where there are a few strands of hair that it didn't detect properly.
TCL has also included a Pro mode so you can adjust the ISO, saturation, exposure, black and white and focus yourself. Honestly, I don't think you'll be using it, and if you really care about these settings, you will prefer a more powerful smartphone with better cameras.
Video capture is 1080p at 30fps maximum on both the front and rear cameras. There's not much to comment on the quality. It's fine and will serve you well for saving special moments and sharing them with your friends and family via social networks and WhatsApp.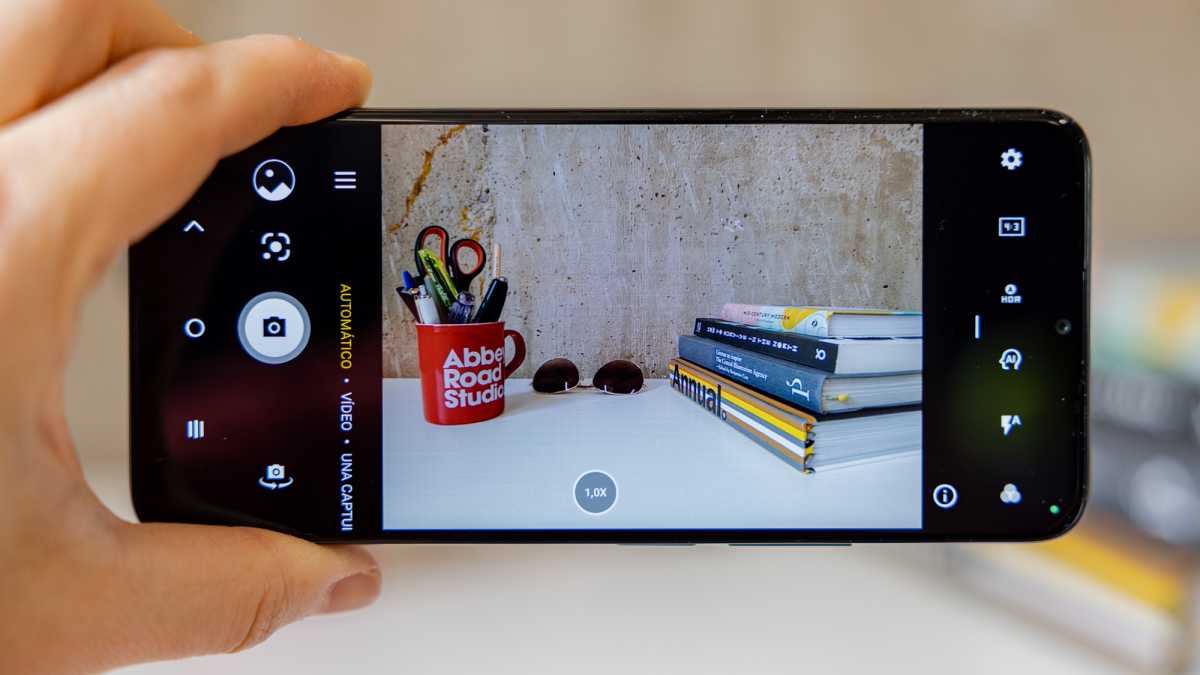 Dominik Tomaszewski / Foundry
Battery life and charging
All-day battery life
Slow charging (3 hours from 0% to 100%)
Only a cable in the box
The TCL 40 SE has a 5,010 mAh battery. That may not tell you much, but it means it will be able to satisfy your need for all-day battery life without too much trouble. In fact, in practical tests it has done just that.
PCMark's Work 3.0 battery test gave a result of 7 hours and 25 minutes, but that's under very demanding circumstances that are unlikely to be anywhere near your day-to-day reality. It's well behind its predecessor (11 hours and 12 minutes) and also rivals such as the Redmi Note 11.
In real life use, I was able to make moderate use of the smartphone for a whole day away from home (that included using it for social media, the odd call, photos, etc.) and go to bed without needing to charge it (although I knew I could do so the next morning before going out again).
I was positively surprised by the battery life of this phone, again, considering that it costs less than £200/€200. On the other hand, its charging speed is rather poor. It took me three hours to charge it from zero (10% in 15 minutes; 20% in 30 minutes), which is far slower than many current Android phones.
In the box you'll only find a USB-C cable for charging so you'll need to use a power adapter you have at home (or buy one), although this has become the norm in the industry.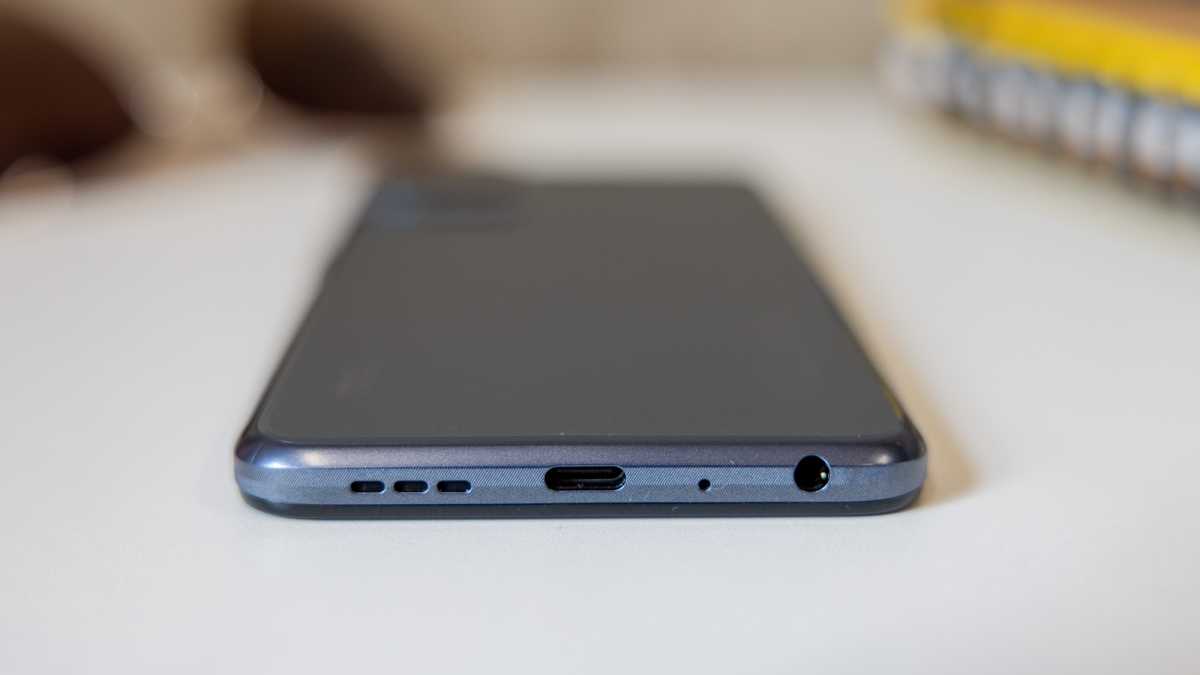 Dominik Tomaszewski / Foundry
Software and apps
Android 13 with TCL UI 5.0
Polished, but simple interface
No bloatware
Software is key in a smartphone for four reasons. On the one hand, you can assess the quality or practicality of a handset according to whether it offers more or fewer software functions and at what level.
In this respect, the TCL 40 SE relies on the basic functions that we all know, and it does not include bloatware (only the Google apps that you will probably want to use). There are also several customisation options from panel settings to game optimisation, and the ability to clone apps.
You can unlock the screen with the fingerprint sensor on the side button. Although its use is reliable, I have often found that the function was disabled for a few minutes because I had tried several times, when in fact I had only held the phone in my hand and placed another finger (or the same one) on the button by mistake.
The facial recognition it offers isn't perfect either, but it performs within expectations. In good lighting conditions, unlocking is quite fast and error-free, although this is different in dark environments.
During the time I've tested the phone, I haven't had too much trouble navigating the interface smoothly and the features are where you'd expect them to be.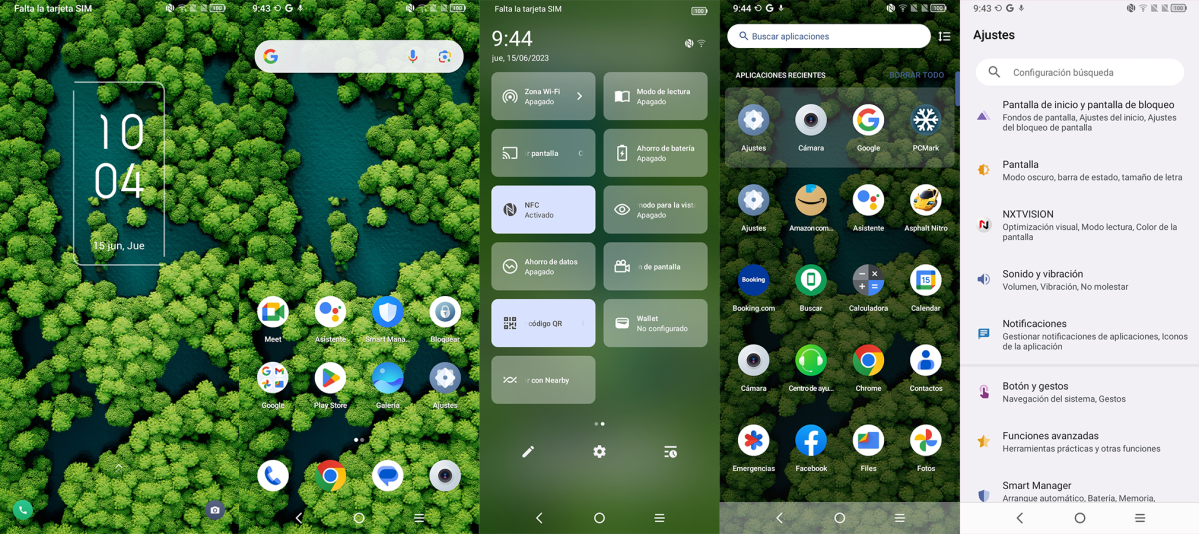 Foundry
Personally, I attach importance to aesthetics and whether an interface is more or less pretty (but to each their own!). I had promised not to bring up Apple again, but I'm too used to the good taste with which iPhones take care of these details.
If you don't care as much as I do, then you won't mind the design of the TCL UI 5.0 (on Android 13), the version of the company's customisation layer that comes with this model. TCL has made some simple little tweaks, but it's recognisably Android. The menus adapt to the colours of the wallpaper, as usual, and there is also dark mode.
Software must offer security and privacy, and biometrics is only one way to do this. Another is through regular updates. TCL doesn't specify how long the 40 SE will receive the latest Android version and security updates, which is worrying. I doubt it will be anywhere near the four or five years offered by other brands like Samsung.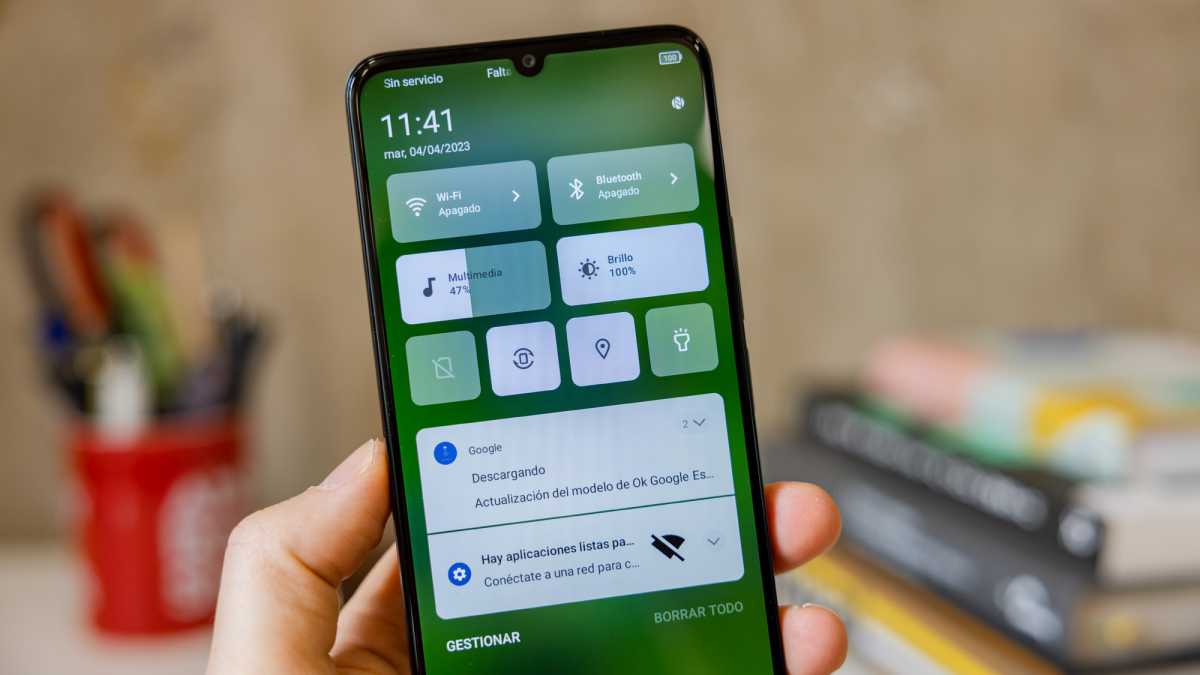 Dominik Tomaszewski / Foundry
Price and availability
The TCL 40 SE is a low-end phone, so it should come as no surprise that it costs only £139.99/€140.
In the UK you can buy it from Amazon, Very, or Argos.
In Spain you'll find it in many other stores like MediaMarkt, PcComponentes, Carrefour or Electropolis. It's also available in other European countries.
You'll struggle to find a more affordable smartphone. TCL's phone rivals other models such as the Xiaomi Poco M4 Pro 5G, the Moto G62 or the Nokia G60 5G, although we recommend you take a look at our ranking of the best budget phones to see the differences.
Verdict
If you're considering buying a phone under £200/€200, you'll understand that you'll have to make some sacrifices. But if you're happy with good performance, a modest screen and an OK main camera, the TCL 40 SE is a model to consider.
The design TCL has opted for is as expected for a handset in this price range. The screen, on the other hand, could have done with a slightly better resolution (there are competitors that offer it), but the phone makes up for it with all-day battery life.
Are there better phones on the market? Yes. Are there better low-end phones? Yes, but that doesn't detract from the TCL 40 SE. It's just one of many options.
Specs list
Android 13 with TLC UI 5.0
6.75-inch NXTVISION HD+ display (1600 x 720, 90 Hz, 20:9)
MediaTek Helio G37
4 GB RAM
128 GB storage (microSD compatible up to 1 TB)
Cameras:

50 MP (f/1.8) main camera
2 MP depth camera (f/2.4)
2 MP macro camera (f/2.4)
8 MP front camera (f/2.0)

4G, Wi-Fi 802.11 a/b/g/n/ac, Bluetooth 5.1, NFC
Dual SIM
5,010 mAh battery
167.91 x 76.5 x 8.45 mm
190 g
Colours: Dark grey, Twilight purple
This article originally appeared in Spanish on Tech Advisor Spain.