At a glance
Expert's Rating
Pros
Powerful suction power
Hot water mop cleaning
Effective mop lifting function
Option for deep cleaning
Responsive app and voice control
Cons
No built-in water tank

Can get loud

Relatively expensive
Our Verdict
The Deebot T20 Omni costs a lot, but delivers on its claims. With easy setup, great range of features and excellent cleaning performance, it's easy to recommend – provided it's within your budget.
Price When Reviewed
$1,099.99
Best Prices Today: Ecovacs Deebot T20 Omni
With its Deebot series, Chinese company Ecovacs offers robot vacuums at a range of different price and performance levels.
The Deebot T20 Omni sits right at the top of range, making it one of the most expensive robot vacuums you can buy. But there are some exciting upgrades here, including new hot water mop cleaning.
So, how does it fare in a 120m2 flat? Can it cope with different floor coverings, steps and other obstacles, and how about the all-important cleaning performance? Here's our full review.
Design
Premium design
Big and bulky dock
The Deebot T20 Omni comes in a package weighing around 18.4kg.
Your first task is one of the most important: where should you put the base station? It takes up the vast majority of that weight (14kg) and has huge dimensions of 43 x 58 x 45cm.
Of course, a power source is required. It also must be easily accessible from above in order to fill up with clean water and dispose of dirty water. Each of these removable containers has a capacity of four litres.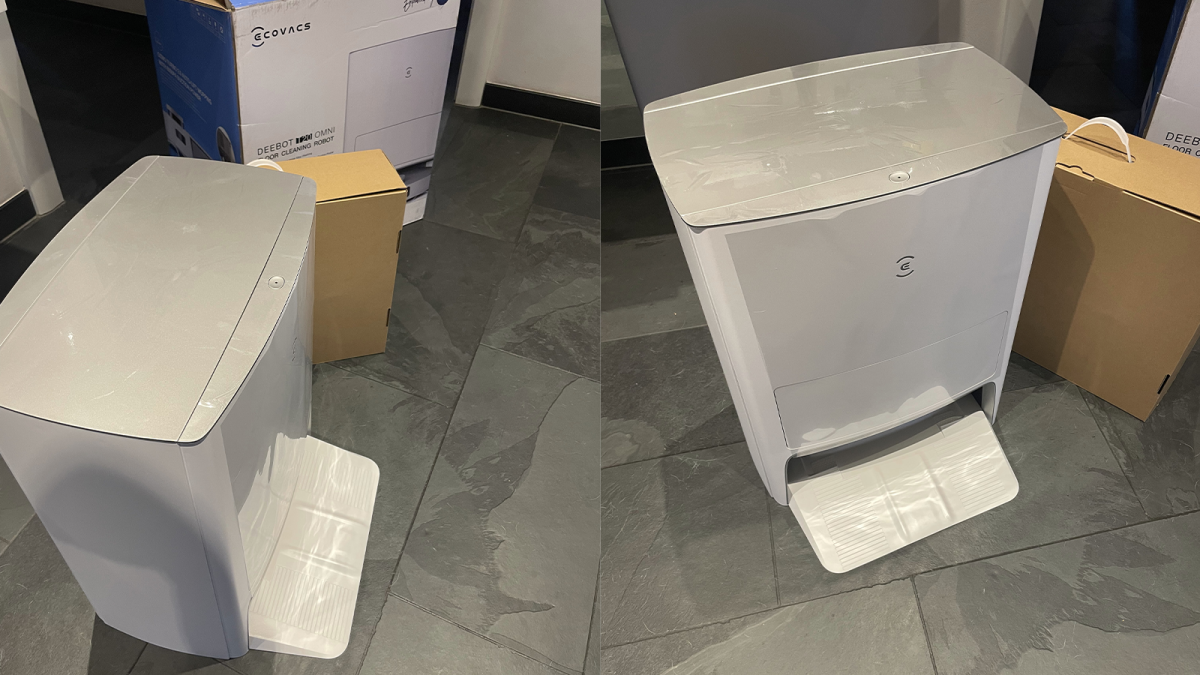 Christoph Hoffmann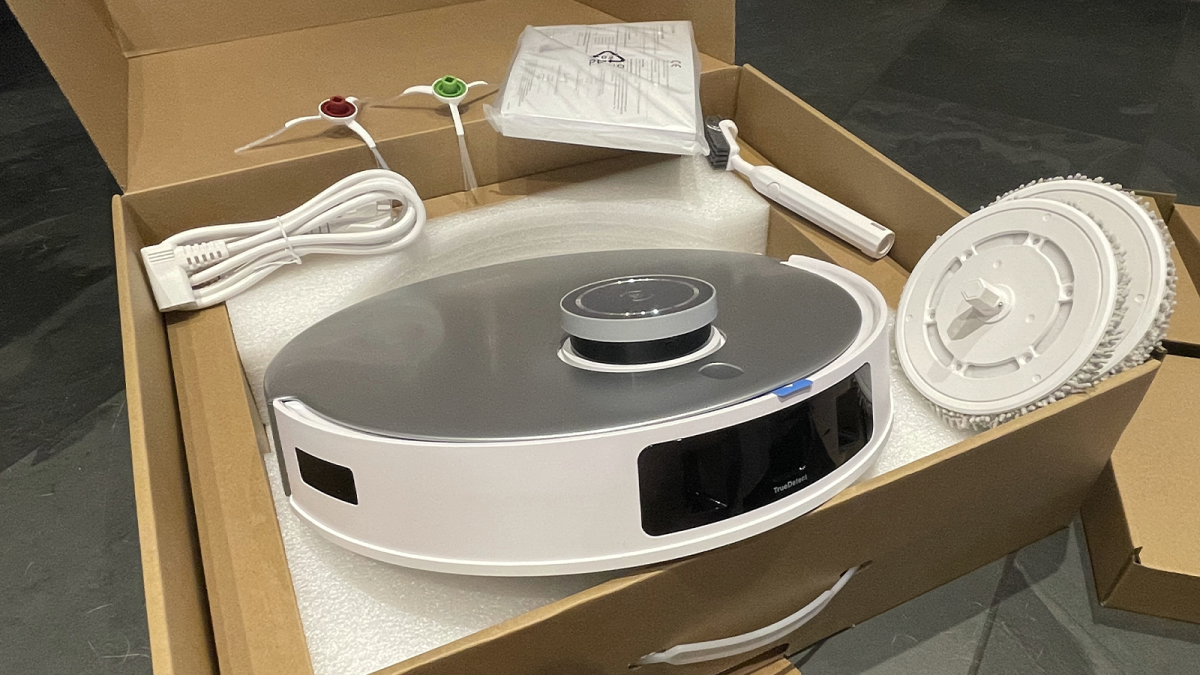 Christoph Hoffmann
Aesthetics are an afterthought on some robot vacuums, but that's not the case here. Both the docking station and vacuum itself feature an attractive white plastic housing, plus attractive silver decorative plates on top. The T20 Omni looks very elegant, which helps it blend into a room more seamlessly.
There's also no doubting that the build quality here is very good – as you'd expect for a premium machine.
Setup
Quick and easy setup
Requires Ecovacs Home app
Alongside the vacuum and dock, everything you need to get started with the device is included in the box. Mops, brushes and suction bags will need to be replaced over time, and are all available on the Ecovacs website. The company also sells its own cleaning solution for mopping, but water on its own will be good enough in most situations.
The quick start guide included in the box with the T20 Omni makes setup look very straightforward. Fortunately that proves to be the case: within just five minutes, it's ready to use.
There are a few things you'll need to do, but none are particularly difficult. Attach two mops and two brushes to the underside of the vacuum, fill the dock's water tank and connect it to the mains.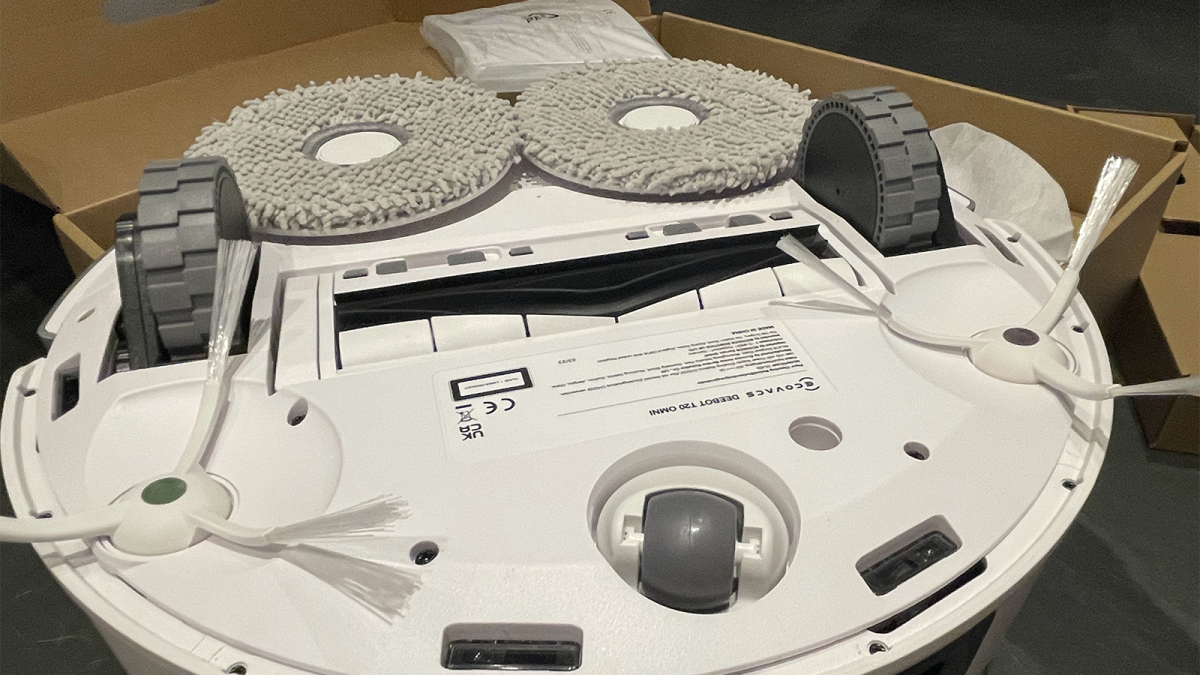 Christoph Hoffmann
From there, everything is done via the Ecovacs Home app – it's available for both Android and iOS.
Once installed, you simply scan the QR code under the top plate of the vacuum and add it as a new device. Linking it to your Wi-Fi network enables key extra features, such as access while you're out via the Ecovacs Cloud and voice control support. Both Alexa and Google Assistant are available, plus Ecovacs' own Yiko assistant.
During the setup process, you'll be prompted to download a firmware update. This is worth doing, but you can allow future updates to be installed automatically when you're not using the vacuum. By default, this will be between midnight and 6am.
The next stage is to map your home. The T20 Omni can do this all automatically, driving around all the rooms and using a laser system (known as TrueMapping 2.0) to detect walls, edges and obstacles.
However, it won't be able to navigate steps that are higher than 1.5cm. The 2.5cm one was a step too far (pun intended). However, the vacuum is able to recognise where stairs are and stay an appropriate distance away. You never have to worry about the T20 Omni falling down the stairs.
Another plus point is that the map isn't fixed: it can continue to learn and expand the map over time. You can create multiple maps within the app, each of which can be displayed in 2D or 3D form. By naming each room, you can start specific cleaning cycles with just your voice.
Performance & features
Powerful 6000PA suction
Impressive hot water mop cleaning
Plenty of features
When the T20 Omni starts cleaning, you'll certainly know about it. Ecovacs states a peak volume of around 67dB – that's roughly equivalent to a conventional vacuum or hairdryer.
That can get quite annoying, but only when close to maximum. This is when the mops are being cleaned, and the regular vacuuming or mopping noises are significantly quieter.
With no built in water tank, the vacuum has to return to the dock every few minutes during mopping. It interrupts the clean, and means everything takes longer.
However, the T20 Omni does have one standout mop feature. Unlike most robot vacuums, the mops are cleaned and moistened using hot water (at 55°C). While that temperature is enough to burn you, the mops themselves aren't nearly as hot. They only ever get warm to the touch.
What's more, it makes the mopping much more effective than usual. You can get quite a deep clean, something shown by the amount of dirt accumulated in the dirty water tank. Hot water mop cleaning is an excellent feature.
Then, when it's time to empty the 4L dirty water tank or add more to the 4L fresh one, a message or alert will be delivered via the app.
When cleaning the floor itself, the mops are only warm to the touch. A message on the smartphone informs you when the 4-litre fresh water tank needs to be refilled.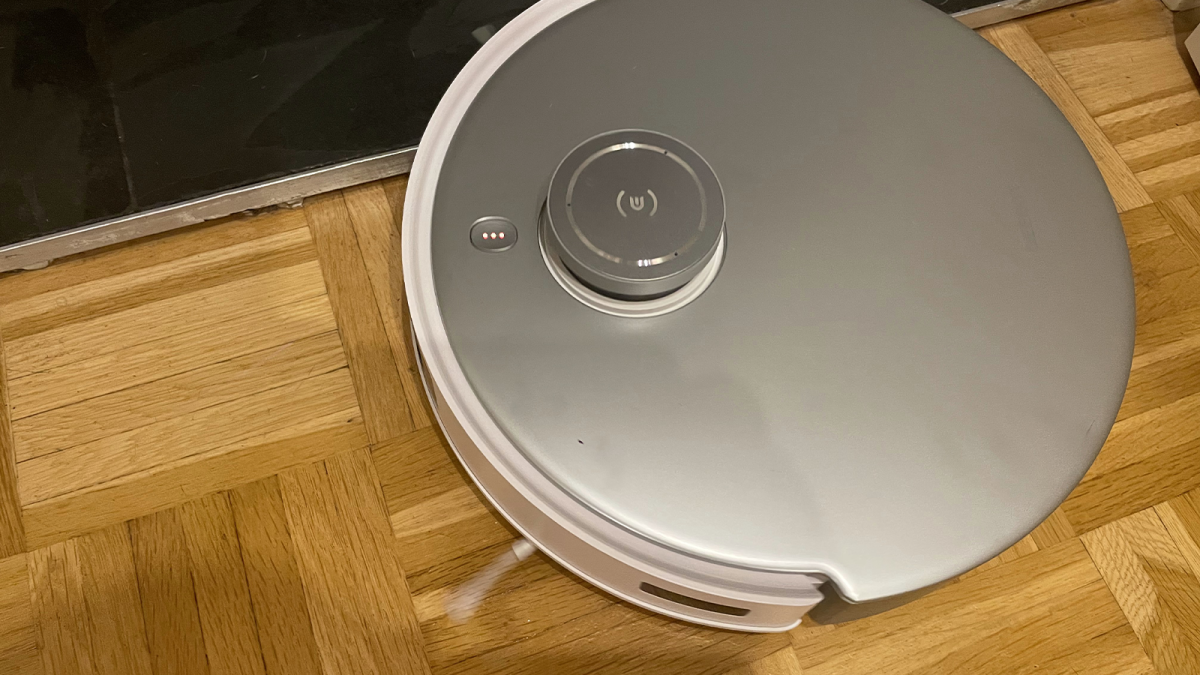 Christoph Hoffmann
In my flat, the T20 Omni successfully vacuumed dog hair and a range of other dirt that accumulated, both on slate tiles and hard wooden flooring. It was very effective at removing debris, then wiping the floor clean with the mops.
Crucially, the vacuum also copes well with carpets – provided they're not high pile. When a carpet is detected, the T20 Omni lifts both mops automatically.
If your carpet isn't suitable or you'd prefer it not to be cleaned, there's an easy solution: just turn on the 'avoid carpet' option within the app.
Admittedly, my flat was already relatively tidy before cleaning, but the T20 Omni completed all cycles without incident. To avoid it trying to go down stairs that are above its 1.5cm limit, you just need to select it as an exclusion zone.
The app itself is intuitive and relatively easy to use. But there's a lot of functionality here, so it's worth taking some time to try everything and get things set up the way you like them. In particular, naming rooms, setting exclusion zones and adding your own objects to the map are worth exploring.
Setting up custom programmes is also recommended, as it makes it extremely easy to start cleaning at any time. Given how good the object detection is, so it's a good choice if you like scheduling cleaning when you're not in.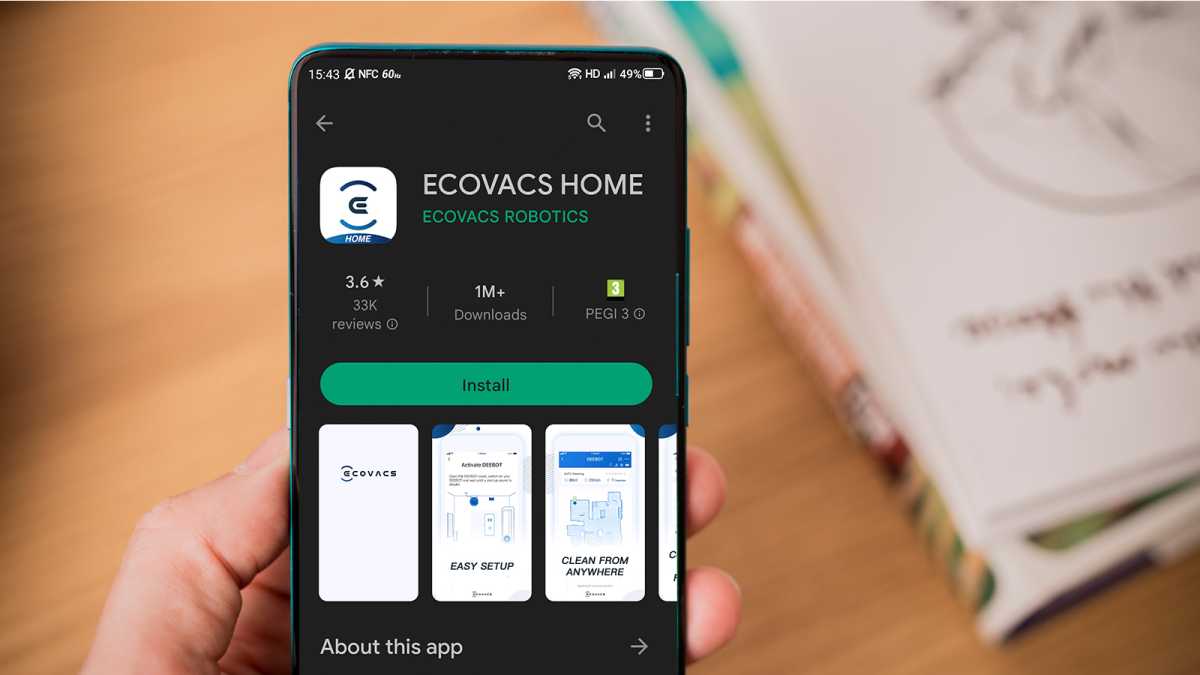 Dominik Tomaszewski / Foundry
However, some text in the app appears to have been directly translated from Chinese, so there's occasional inconsistent grammar and unintended word breaks. It'd be great to see this improved.
Updates about the status of the T20 can be delivered via the app, but also via a voice on the vacuum itself. This allows you to quickly take any necessary action.
Price & availability
The Deebot T20 Omni is a premium robot vacuum, and its price reflects that.
At full price, it'll set you back $1,099/£1,299. It's available both direct from Ecovacs (US/UK) and via Amazon (US/UK).
However, there are often deals and promotions available that drop the price.
Even so, it's one of the more expensive robot vacuums around. Ecovacs' own Deebot X1 Omni and the Roborock S8 Pro Ultra are even pricier, but there are plenty of more affordable options.
The T20 Omni isn't bad value for money, but to buy it, you'll have to be sure that a robot vacuum is right for you.
Verdict
Simply put, the Ecovacs Deebot T20 Omni is one of the very best robot vacuums you can buy.
It combines excellent suction power with a wide range of features, including the excellent hot water mop cleaning. As a result, it's great at both vacuuming and mopping across a range of flooring types.
With a slick, premium design, powerful companion app and voice assistant support, there's a lot to like here.
However, it's not perfect. There's no water tank on the vacuum itself, meaning it has to return to the dock several times during cleaning. It can also get quite loud, and you have to factor in that high price tag.
But for everything you're getting here, the T20 Omni remains one of the standout robot vacuums around.
Specs
Product name: Ecovacs Deebot T20 Omni
Dock dimensions: 43 × 57.8 × 44.8 cm (W × H × D)
Weight station: 14 kg
Dimensions robot: 36.2 × 36.2 × 10.4 cm (W × D × H)
Robot weight: 4.4 kg
Voice control: Ecovacs Yiko, Alexa and Google Assistant
Obstacle detection: TrueDetect 3D 3.0
Mapping: TrueMapping 2.0
Suction power: 6,000 Pa
Maximum dust container volume: 300 ml
Filter bag volume in station: 3 litres
Maximum water tank volume: 2 × 4 litres
Noise level: 67 dB (vacuuming), 69 dB (vacuuming and mopping)
Application area: tiles, hardwood floors, parquet, carpet, laminate
Time / weekly programming: yes, via the Ecovacs Home app
Room recognition: yes
Filter change indicator: yes
Battery life: 260 minutes
Maximum operating time: 170 min
Charging time according to manufacturer: 6.5 hours
This article has been translated from an original posted on PC-Welt.