At a glance
Expert's Rating
Pros
Exceptional image clarity
Human and vehicle detection
Multiple night-vision modes
Cons
Might require drilling holes in exterior walls to accommodate cables
Manufacturer doesn't provide an IP weatherization rating
Conspicuous design
Our Verdict
The EZVIZ H8 Pro 3K is a great option for monitoring large spaces without blurry images or blind spots.
Price When Reviewed
$149.99
Best Prices Today: EZVIZ H8 Pro 3K
Choosing a security camera to monitor a large property often requires a sacrifice of image quality for coverage—the wider the lens, the more clarity and detail you typically lose in the bargain. The EZVIZ H8 Pro 3K requires no such trade-off. Its 360-degree pan-and-tilt design and 3K resolution provide the flexibility needed to monitor broad areas without blind spots or blurry images.
The camera utilizes a dome design similar to other EZVIZ pan-and-tilt cameras, like the C8W Pro 3K, which must be mounted to your home's exterior wall or eaves. A cable extending from the back of the camera splits into a pigtail with ports for the power adapter and an ethernet connection, the latter for use if your Wi-Fi signal isn't strong enough outside. Curiously, EZVIZ doesn't give an IP grade for the camera, saying only it has a "weatherproof design."
With a 104-degree diagonal viewing angle and the ability to pan 340 degrees horizontally and tilt 80 degrees vertically, the camera significantly reduces blind spots and is well-suited for monitoring yards, driveways, parking lots, and other broad expanses. You can set up to 12 waypoints, enabling the camera to "patrol" the areas around your home you're most concerned about when you tap each of these preset locations in the EZVIZ app.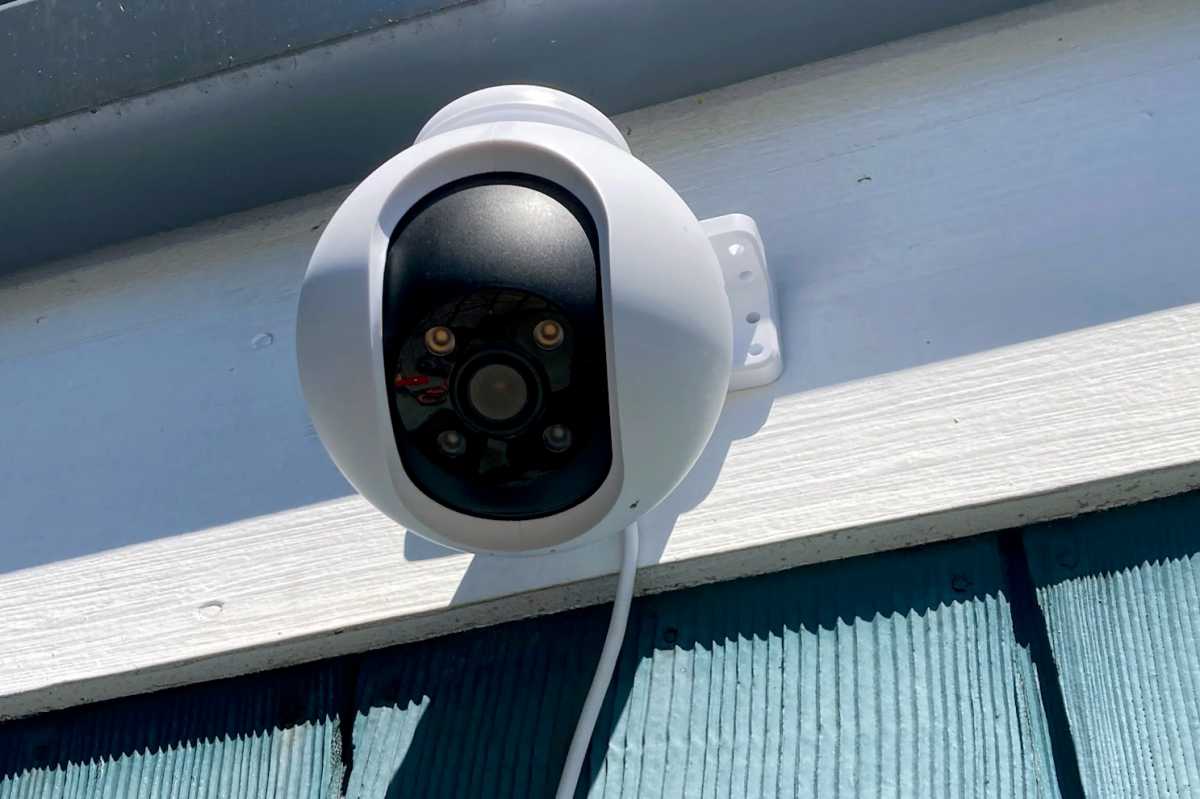 Michael Ansaldo/Foundry
The camera includes colour night vision up to 20 meters via a pair of spotlights, as well as 30 meters of black-and-white night vision in full darkness. A "smart night vision" option enabled by default allows you to utilize both, automatically switching from black-and-white to full colour when motion is detected.
Outdoor environments are notorious for triggering false motion alerts in security cameras; such innocuous activity as swaying tree branches or a squirrel running across your fence can set off a barrage of unwanted notifications. The H8 Pro 3K's onboard AI algorithms home in on the objects users most care about from a security standpoint: moving people and vehicles. It can even inform you when an unknown vehicle parks on your property without permission.
When a human is detected, the camera automatically rotates to track the person and zooms in up to four times for a clearer picture. For extra protection, you can enable an active defense feature that will also set off will set off the camera's built-in siren and flash two of its spotlights to deter the intruder.
Setting up the H8 Pro 3K is simple: Scan the QR code on the camera's body and follow the prompts in the EZVIZ app to connect to your Wi-Fi network. At the end of the process, you'll need to decide about a CloudPlay cloud storage plan. The camera can save videos locally to a microSD card (in capacities up to 512GB), but there is always the risk an interloper can take or break the camera and any evidence along with it. Cloud storage allows you to preserve and more easily access your captured video clips.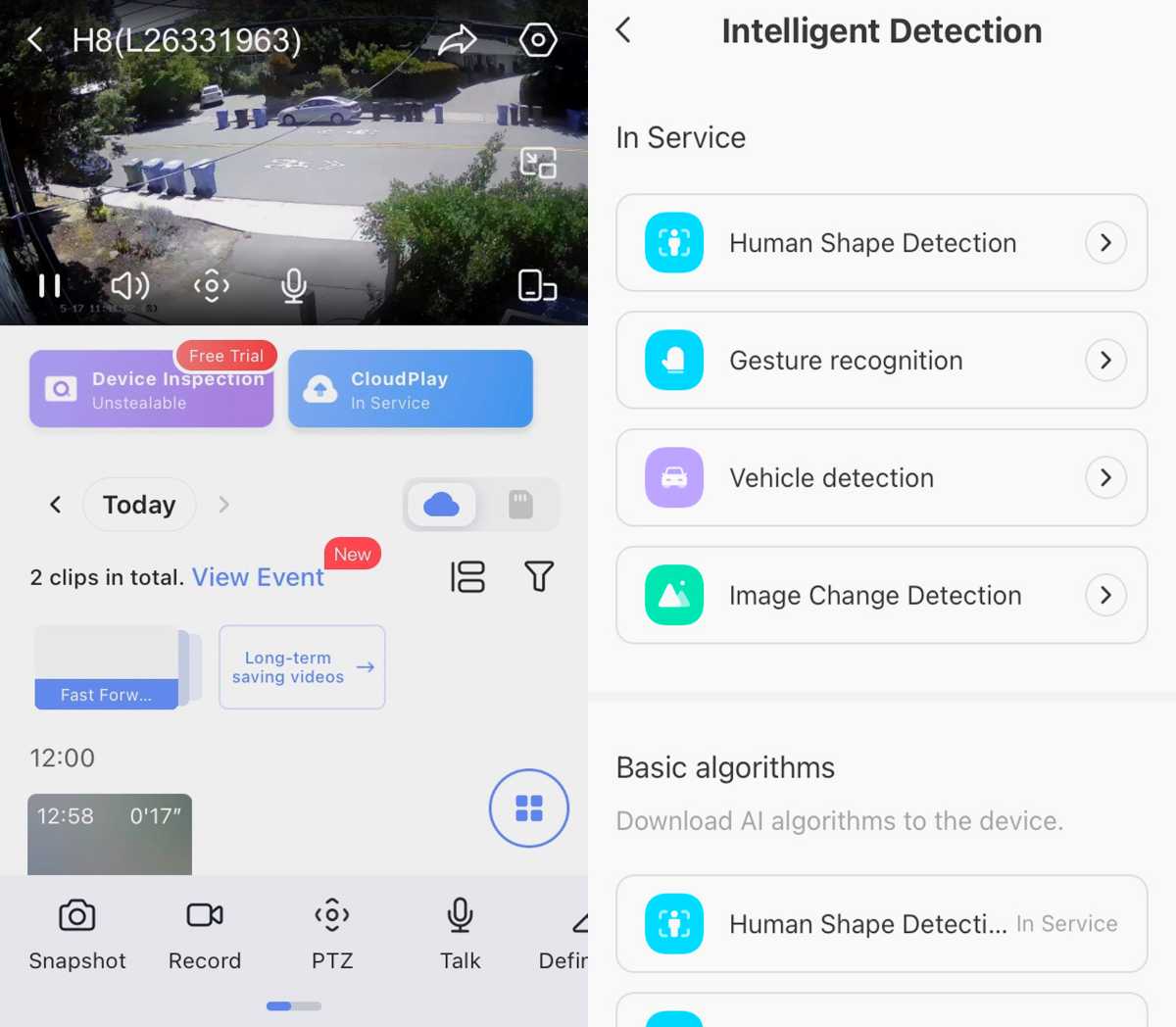 Michael Ansaldo/Foundry
A CloudPlay Standard plan, which stores event-detected video clips from one EZVIZ camera on a rolling-7-day basis, costs $3.99 / £3.99 a month or $39.99 / £39.99 a year; you can upgrade to a 30-day rolling history for $6.99 / £6.99 a month or $69.99 / £69.99 a year. Premium plans support up to four cameras and cost $5.99 / £5.99 a month or $59.99 / £59.99 a year for a 7-day video history and $10.99 / £10.99 a month or $109.99 / £109.99 a year for a 30-day video history. A 30-day free trial of the least-expensive CloudPlay is included with a camera purchase.
The H8 Pro 3K captured impressively clear video; it was easy to make out details like facial features and license plate numbers. Both forms of night vision were effective after dark, and the active defense feature worked as advertised in my tests. The camera responds instantly to pan-and-tilt commands and moves smoothly with almost no motor noise.
The EZVIZ app makes operating the camera and managing its features easy, with options for calibrating pan-and-tilt, scheduling notifications, and customizing motion detection with additional algorithms. The last includes an Image Change Detection option, which enables the camera to detect any kind of motion, and a Gesture Recognition option that allows a person in front of the camera to make a video call to the monitoring user by waving directly at the lens.
Motion detection worked reliably well, each event prompting an instant notification that took me directly to the captured video clip when tapped. The app organizes clips in thumbnails organized by day and hour, starting with the most current, so you can skim through them to find what you need.
The H8 Pro 3K's $150 / £199 price tag seems reasonable considering the camera's capabilities and its leap in image quality over still-common 1080p security cameras. Consider, too, that monitoring your large property might otherwise require purchasing multiple fixed-angle cameras to get the same surveillance coverage. In that light, the H8 Pro 3K seems like pretty great value.