At a glance
Expert's Rating
Pros
Excellent outer display
Dust and water-resistant
Good battery life (for a flip phone)
Cons
Older chipset
Cameras are good, but not great
Outer screen software needs some fine-tuning
Our Verdict
The Razr 40 Ultra is a technical tour de force from Motorola, combining an overhauled design with improved durability and better battery. It's totally unique among flip phones (for now), but comes with some familiar camera compromises.
Price When Reviewed
$999.99
Best Prices Today: Motorola Razr+ (2023)
The Motorola Razr 40 Ultra – or Razr+ (2023) if you're in the US – is more than just yet another flip phone.
For one thing, it up-ends the form factor with its over-sized exterior display, vastly increasing how much you can do with the phone without ever opening it up.
More than that though, the company's fourth attempt at a foldable phone is the first to truly feel like it captures the charm and cool factor of the original noughties flip phone, and with a US release it's also the only flip phone to offer Samsung any real competition in North America.
Best of all? It also happens to be really, really good.
Design & build
Square shape with rounded edges
Huge cover screen
IP52 rating
It's hard to talk about the design of the Razr 40 Ultra without addressing that eye-catching cover display. I'll cover how it works later, but what you need to know is that it stretches from near the top of the phone right to its bottom edge when closed – even wrapping around the cameras and flash.
Dominik Tomaszewski / Foundry
This is an immediate contrast from other folding flip phones like the Samsung Galaxy Z Flip 4, Oppo Find N2 Flip, or indeed last year's Razr, all of which feature comparatively compact outer screens primarily for notifications (though it's worth noting that leaks so far suggest Samsung is about to reveal a similar design in its Z Flip 5).
If you're not a fan of that expansive screen, remember that Motorola also offers the regular Razr 40 (or Razr (2023) for the States), which packs a more familiar smaller outer display.
Back to the Ultra. One thing you might notice is that the phone's shape is different to previous Razrs. Gone are the deep curves and sharp angles that emulated the original Razr aesthetic, in favour of a blocky shape with curved edges. It is, let's just admit it, clear mimicry of the Galaxy Z Flip line, but maybe that's okay – this is a comfortable, practical design that fits easier in the hand than prior iterations, even if the look is a little less unique.
An upgraded hinge means that when the phone is folded it closes fully, with hardly any gap between the two halves, while keeping the display crease minimal. The only downside is that when open the phone doesn't quite go fully flat, resting at a shallow angle a few degrees shy of 180.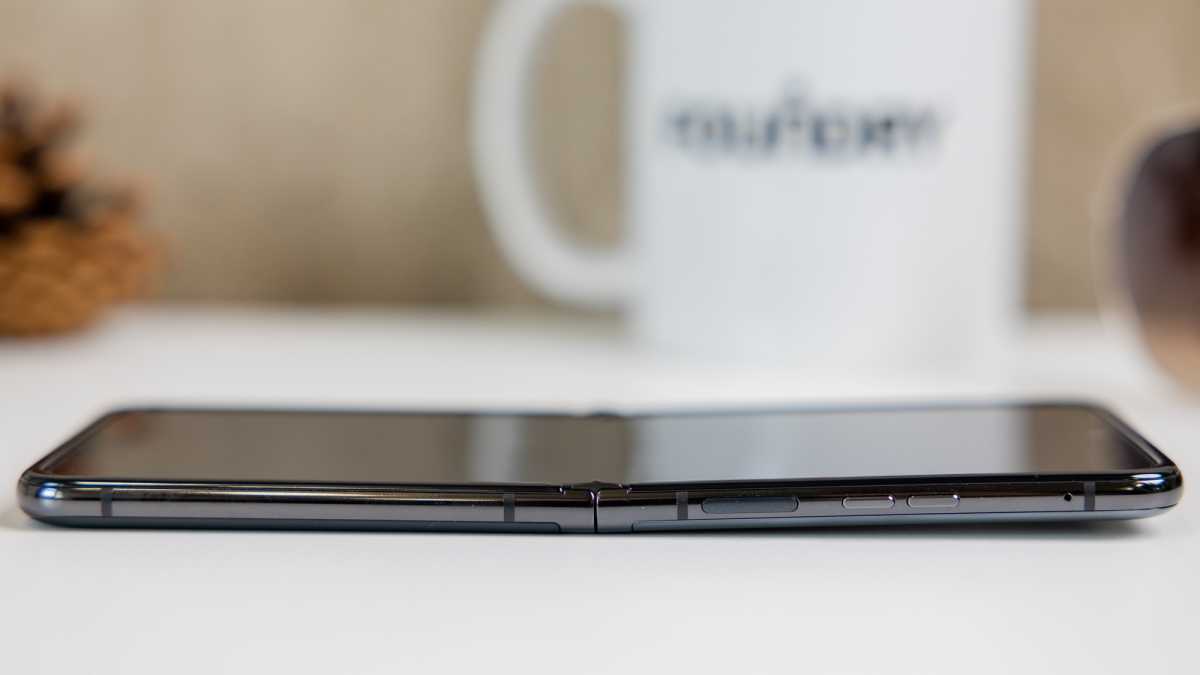 Dominik Tomaszewski / Foundry
The display is coated in protective Gorilla Glass Victus to help avoid scratches, as is the rest of the phone in my black model or the light blue colour. That's swapped for vegan leather in the Pantone-approved 'Viva Magenta' version in case you want something even more eye-catching.
Impressively, the phone also has an IP52 rating – meaning it has good protection from dust and light protection from splashes of water. That's worse water-resistance than Samsung's foldables offer, but better protection from dust and sand – arguably a bigger threat to the internal mechanisms of a folding phone.
Screens & speakers
Large 6.9in, 165Hz main display
Unique 3.6in OLED cover display
Quiet speakers
Let's start with the 40 Ultra's outer cover display, which is the one grabbing all the headlines.
This 3.6in screen is unique in flip phones both for its size and for how it goes through and around the phone's two rear camera lenses and flash.
Dominik Tomaszewski / Foundry
With a 120Hz refresh rate and OLED tech, this display is also impressively high quality, so it never feels like a sub-par way to view apps or messages.
Like other flip phones, you can use this screen to check notifications, change quick settings, access a few custom widgets, and take selfies using the main cameras.
It's also just about big enough to actually run full apps on, with the option to see them in a rectangular box above the cameras, or a larger view that goes all the way down – but of course sees some content blocked, including parts of the keyboard and other interactive elements – one of the signs that there's still room for more polish.
Surprisingly, the main screen still finds space to impress too. It's less revolutionary, but it's both larger than other flip phones at 6.9in, and smoother to use with its 165Hz refresh rate – a first for any foldable.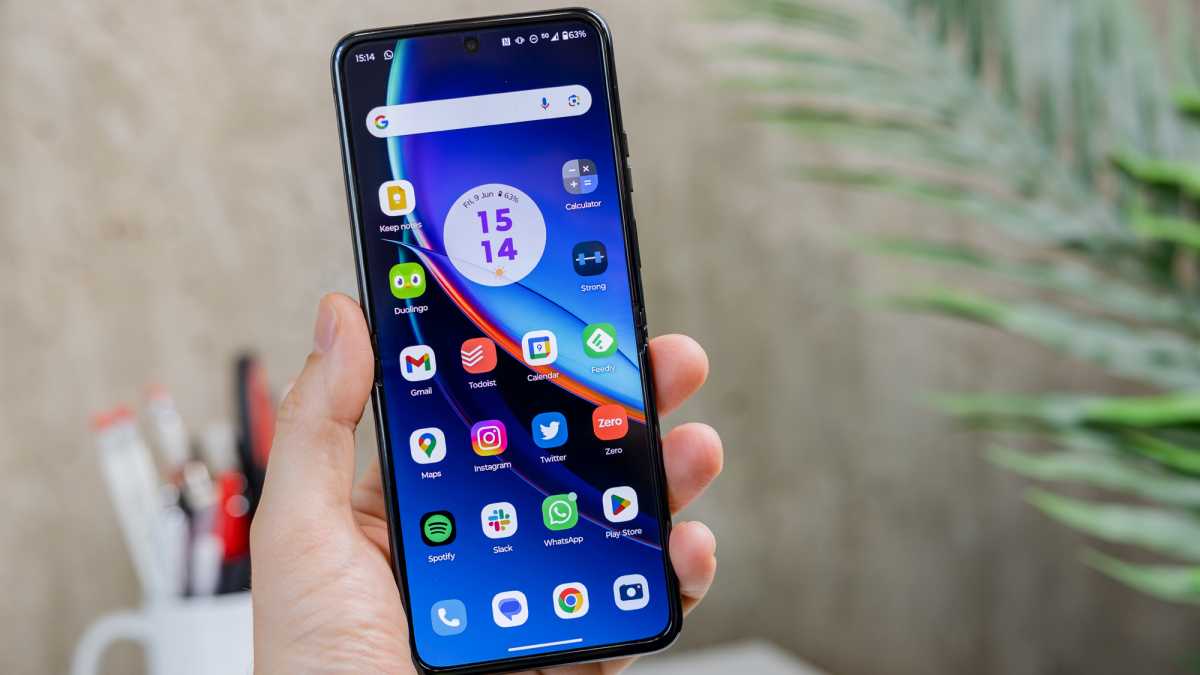 Dominik Tomaszewski / Foundry
The screen here is large – this is a surprisingly big phone when you open it – and narrow enough to still use comfortably, though at times you may find it a stretch to use one-handed.
It looks great too. Colours are punchy, it's bright enough to use even in direct sunlight (I've tested that in the UK's recent heatwave), and the 165Hz refresh rate makes the phone as a whole feel exceptionally snappy and fast.
As mentioned, the improved hinge design does double duty, and has also made the crease in the centre of the screen less noticeable – both in terms of visibility, and how deep it feels as you swipe up and down. The crease is still there, but it's really unlikely to bother you.
As for audio, there's no headphone jack, so it's Bluetooth or the built-in speakers. These sound fine, but are surprisingly quiet – even for something as simple as using Duolingo I have to crank the volume up near max, and the phone is far too quiet to use as even a makeshift speaker.
Specs & performance
2022's Snapdragon 8+ Gen 1 chip
Up to 12GB RAM and 512GB storage
The 40 Ultra is powered by the Snapdragon 8+ Gen 1, a flagship chip which launched in 2022. In fact, it's the exact same chip used in last year's Razr (2022), so there's no step up there (and in fact this phone sees slightly worse performance in our benchmarks than the previous model).
The 8+ Gen 1 is powerful, but has been supplanted since, so this isn't quite top tier. Still, the new Razr packs more than enough power to do the basics well without slowing or stuttering, and enough oomph to make this a capable gaming or work device if you need it to.
The biggest downside is that Samsung's Galaxy Z Flip 5 is around the corner, and likely to be powered by the more recent Snapdragon 8 Gen 2, so there'll be an even faster flip phone before long.
Connectivity comes in the form of Bluetooth 5.3, Wi-Fi 6E, and 5G. There's also NFC for contactless payments, which you can even use without opening the phone up – though you still have to unlock it.
Speaking of, the phone's fingerprint sensor is built into the side power button – which is standard for foldables right now – though face unlock is also available.
Cameras & video
Basic but capable main camera
Simple ultrawide and selfie
Can also shoot selfies with main cameras
One of the inevitable compromises in a flip phone right now is that the camera won't be on par with what you'll find in traditional smartphones at the same price, and the Razr 40 Ultra is no exception.
The two main lenses here aren't bad, but don't go in expecting a camera on a par with the latest Pixel or iPhone handsets.
You'll do most of your shooting with the 12Mp main camera, which benefits from an unusually wide aperture of f/1.5. This is the one camera that could just about hold its own in another phone: shots are bright, vibrant, and detailed, and the camera even handles low-light pretty well.
The Roger Waters gig photos I took with the phone aren't the best of my life, but they're better than I expected and easily good enough to throw on Instagram. The camera does a good job of avoiding over-exposing the lights in shot, and I only wish it would do more to bring out the detail in the darker areas.
You'll probably also use this camera for most selfies, as you can do so with the phone folded shut using the outer display. Results are great, helped by a capable portrait mode, though you may want to change the phone's default square aspect ratio when shooting with the screen closed.
Dominik Tomaszewski / Foundry
On the outside of the phone you'll also find a 13Mp ultrawide lens. Despite being higher resolution than the main camera quality is definitely worse, especially in darker conditions. This is a fine back-up for sunny shots and bright days, but you'll want to avoid it at night.
Finally, there's also a 32Mp selfie camera on the phone's internal screen. Again, the megapixel count is misleading here – the main camera is definitely the better bet for selfie calls, but this is a great other option, especially for video calls, when you'll likely want that whole inner screen active to see who you're talking to.
Impressively, it can handle 4K video at up to 60fps, the exact same as the phone's main camera, which really hammers home that Motorola had video in mind for this lens.
Battery & charging
Full-day battery life
Wireless charging
No charger included
I was a little worried when Motorola announced that the Razr 40 Ultra packs only a 3800mAh battery. That's bigger than last year's, and the Z Flip 4's, but it's still not very large.
Fortunately, the efficient 8+ Gen 1 chip makes the most of it, and battery life itself is good – if not quite great. I found the phone capable of lasting a full day of use most of the time, with battery to spare, only struggling once – a day when I used the phone extensively and kept the main screen running for hours straight.
Dominik Tomaszewski / Foundry
The phone offers both wired and wireless charging, though the wired speeds are capped at 30W, which is a little sluggish these days, but far from a dealbreaker.
In my test, the phone topped up to 55% in half an hour on the charger, though wireless speeds are much slower.
Software & updates
Ships with Android 13
Cover display can be clunky
Three Android version updates promised
The Razr 40 Ultra ships with Android 13, the latest version of Google's OS.
It's been promised three full version updates – so you'll get Android 14, 15, and 16 – plus four full years of security updates. That's not quite a match for Samsung's commitment, but it's only a year off on both counts.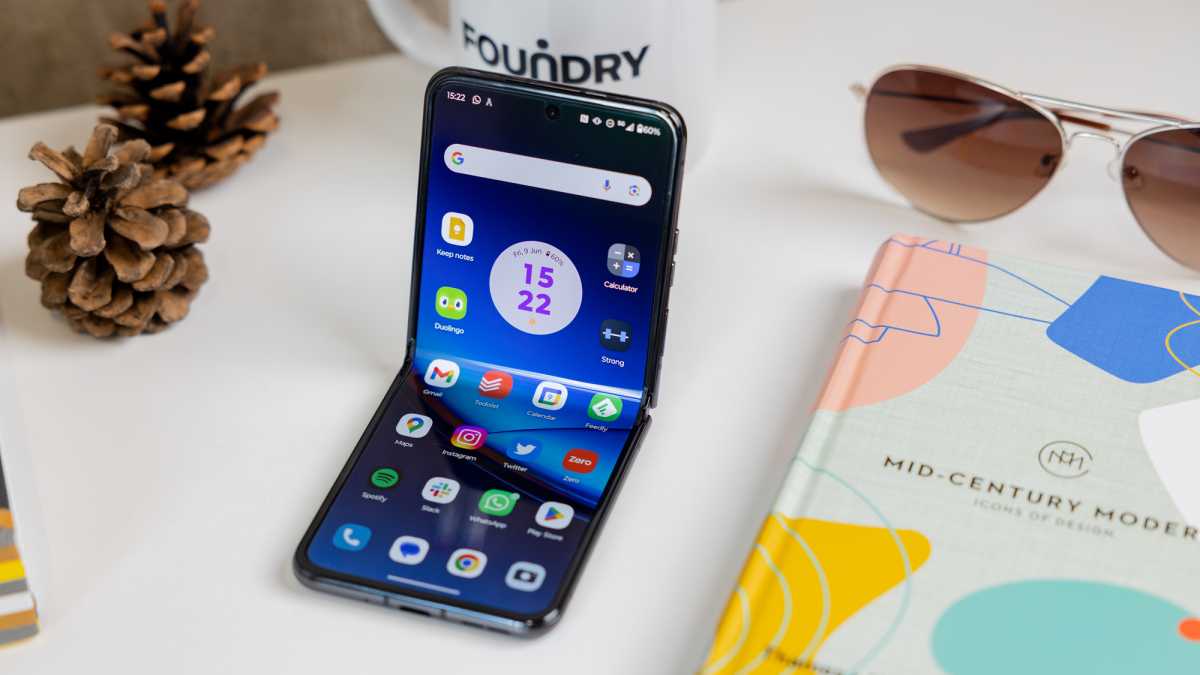 Dominik Tomaszewski / Foundry
Motorola phones these days run a version of Android that looks a lot like Google's default, but packs plenty of extra features inside. There are gesture controls that work better than you'd expect, a more interactive always-on display, and some really in-depth device personalisation options.
For my money, Motorola's take on Android is among the best out there, and certainly preferable to Samsung's, so this is a point in the Razr's favour.
Of course, what really matters here is the software on the phone's novel outer display, and this is more of a mixed bag.
When you first turn the phone on it's set up a little like smaller-screened rivals. You can swipe through a range of widgets, access quick controls like Bluetooth or Wi-Fi, and activate the camera to take selfies.
The only immediate addition is the addition of a range of custom-built games designed with this specific screen in mind. These are good for mindless fun, though there's nothing here worth buying the phone for.
Dominik Tomaszewski / Foundry
The bigger change is the option to open any – and I mean any – Android app on the screen and try to run it. These aren't custom, optimised versions of apps, but simply the ability to run an app on the dinky screen and hope it works.
Some work great. Checking WhatsApp messages or emails without opening the phone is an easy win, and I personally love the ability to use my workout app and calculator in the gym. You can even type messages with a full-screen keyboard, though you'll lose the ability to see what you're typing at the same time.
Dominik Tomaszewski / Foundry
You quickly learn that some apps aren't suited to this screen. Navigating using Google Maps on a closed phone sounds great until you try it, with the busy UI overwhelming the display. Instagram posts don't fully fit, while Duolingo won't work at all unless you extend the display to cover the cameras. YouTube is an unexpected success though, so long as you don't mind watching videos on such a small screen.
The flexibility here is welcome, and Motorola's hands-off approach to compatibility means your options are pretty endless, but it's clear that to make displays like this truly useful we need devs – and Google – to get behind the form factor and optimise for it.
Price & availability
The Razr 40 Ultra is out now in the UK and Europe, and also in the US under the Razr+ name. You can grab it direct from Motorola, from Amazon, or from other retailers.
It'll set you back $999/£1,049/€1,199, making it the most expensive flip phone on the market right now, ahead of both the Z Flip 4 and Oppo's Find N2 Flip – though in the US it's a direct match for Samsung.
The higher price is arguably justified by the expanded outer display, but you'd be forgiven for wondering if you should be getting the latest chipset and more powerful cameras for what you're paying.
Check out our ranking of the best foldable phones to see how the Razr 40 Ultra/Razr+ stacks up as it stands.
Verdict
The Razr 40 Ultra is a slick piece of hardware that sees Motorola not only catch up to Samsung but surpass it, delivering a foldable package its chief competitor currently can't beat.
That said, things aren't quite perfect. The outer display, while eye-catching, clearly needs a little software fine-tuning to get the most out of it.
Meanwhile the combination of a slightly older chipset and the shorter software support promise than Samsung means this phone won't quite have the longevity of the next-gen Z Flip – though in both cases, the folding display is still likely to be the first point of failure.
Like any flip phone, you'll also have to live with a little less battery life and a weaker camera than similarly price slabs. But if those are compromises you can live with, the Razr 40 Ultra does everything it needs to put Samsung on notice.
Specs
3.6in, 144Hz pOLED cover display
6.9in, 1-165Hz LTPO pOLED main display
Qualcomm Snapdragon 8+ Gen 1
8/12GB RAM
256/512GB storage
Cameras:

12Mp, f/1.5, OIS main camera
13Mp, f/2.2 ultrawide camera
32Mp, f/2.4 selfie camera

3800mAh
30W wired charging
5W wireless charging
Stereo speakers
IP52
Gorilla Glass Victus
5G
73.95 x 170.83 x 6.99mm (open)
184.5/188.5g
Android 13