When you're travelling, one of the most heart-sinking moments is when everyone has taken their suitcases from the carousel at the airport and yours is nowhere to be found. What are you going to wear? How long will it take to get your luggage back? Is it gone forever?
Rather than relying on those who lost your possessions in the first place to find them again, you can turn to technology for help. Luggage trackers are small, inexpensive devices that can help you work out where your errant suitcases have gone and hopefully make it easy to recover them once more. Here's our pick of the best ones currently available.
What is a luggage tracker?
These are small devices that you put inside your suitcase, bag or anything important to you, which then send their location information back to an app on your phone. There are two main approaches – GPS and Bluetooth. There are significant differences between them. A GPS tracker will have a SIM card inside (or an embedded SIM) so it can communicate its location from a long distance away from your phone.
Bluetooth works over short distances from 30 feet for an AirTag up to around 200-400 feet for Tile trackers. But, a Bluetooth tracker is cheaper and doesn't require you to pay extra for mobile data. Battery life is measured in years, not days. However, some Bluetooth trackers do lock certain features behind subscriptions such as Tile's Smart Alerts and Location History.
Although a Bluetooth tracker may seem pointless when your suitcase could be in a different country, manufacturers (such as Apple and Tile) often extend the potential range by using the phones of other users (iPhones and Tile app users, respectively) to communicate with any tracker in range and anonymously report its location. This way, there's a chance you could pinpoint your luggage's location without GPS.
A more reliable GPS tracker will tell you exactly where your item is just about anywhere in the world, but the battery may last only a few days if you want frequent location updates. Since a GPS device can't talk directly to your phone (or the internet, to be more precise) you cannot avoid paying for mobile data in order to use one.
It's important that this cost is factored into the equation when you consider the price of GPS trackers. Also, for the SIM cards to send information back to your phone they need to have their frequency bands supported. While most countries do this, there are a few areas of the world where this might not be the case, mainly in the Far East. So, you should check with the manufacturer before travelling or indeed making the initial purchase.
We've split the trackers into their two main categories below, making it easier for you to find what you're after.
Best Bluetooth luggage trackers
1. Apple AirTag
Pros
Affordable
Precision tracking with U1 chip
Replaceable battery
Cons
Works with iOS only (Android not supported)
Relies on Apple devices to locate luggage
Apple's AirTag is perhaps the best-known tracker, due to the brand it bears. This small, coin-like device can easily be tucked into your luggage or placed in a keyring-style holder and clipped to the outside of a bag.
The tracking is handled by Apple's U1 chip, which is also found in all iPhone 11 and later models. Working together, they offer a Precision Tracking mode that acts like map directions to guide you exactly to the spot where you'll find your luggage. Now, as this is Bluetooth, it only tracks up to an area of 30-40ft, which isn't great if your suitcase is a long way away. But, thanks to Apple's extensive Find My network, any iPhone, iPad or Mac that's close to the AirTag will send its position to iCloud.
You can then use the Find My app on your iPhone to hopefully track it down. As so many people use Apple products, there's a good chance that one or more will be near your lost luggage, giving you a good chance of recovery.
There's also the Lost Mode that you can trigger from the Find My app, which allows you to add a message that anyone finding your luggage can access by tapping their NFC enabled device to the AirTag. This could contain contact details that would allow them to call or message you that they've found your stuff.
An IP67 rating means that the AirTag will survive being out in the rain or even a short dip, plus the power comes from standard batteries that you can easily and cheaply replace. One thing to note, as you may have already guessed, is that AirTags only work with iPhones, so they'll be useless for those who prefer Android devices.
2. Chipolo ONE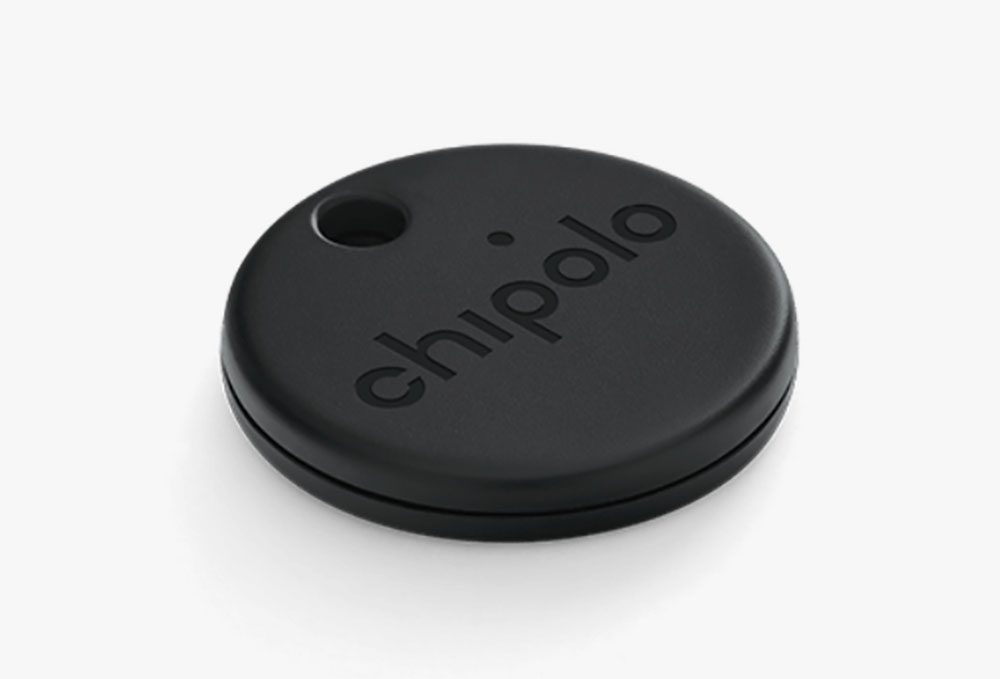 Pros
Can work with Android and iOS
Replaceable batteries
IPX5 water resistance
Cons
Requires specific model to use Apple's Find My network
Chipolo community is limited
Chipolo is another smart little tracker that can be attached to pretty much anything and is small enough to slip into bags. The plastic disc has a keyring hole at the top, so you don't need a specific holder as with Apple's AirTags. It also works with either Android or iOS devices, but there are some drawbacks in this area.
The standard Chipolo One is compatible with both platforms, although it doesn't work with either Google's Find My Device or Apple's Find My networks. This means if the Chipolo (and your luggage) get over 200ft away, you'll be reliant on the Chipolo community network to track it down. This works in the same way as the Apple Find My network, in that anyone on it will receives proximity alerts if they are near your Chipolo One, which can then be relayed back to the app so you can track it down. But, the Chipolo network is tiny compared to either Google or Apple's ones.
Chipolo does offer two other versions of its One tracker, the Chipolo One Spot and Chipolo One Point, which work respectively with the Apple or Google network. They cost around the same, and have identical appointments, although these Ones are platform specific. So, if you want the One Spot because you have an iPhone, then you won't be able to use it with an Android phone, and vice versa for the Chipolo One Point. We're sure this is due to the encryption and network permissions that each platform requires, but you'll probably want one of those as the general Chipolo One doesn't have the support you'd really need to find your luggage once more.
The device itself is cute, coming in a variety of lively colours if you don't like black, plus it uses standard replaceable batteries to ensure you won't have to throw it away when the cells die. There's in internal speaker, which can help guide you to its location, plus an IP5X rating means it's also water resistant against rain rather than total immersion, much like your luggage.
3. Tile Pro (2022)
Pros
IP67 waterproof rating
Replaceable battery
Bluetooth range of up to 400ft
Cons
Tile network still not as big as Google or Apple
Price When Reviewed:
$34.99
Tile is one of the most popular brands in this area. It's been around for years and helped popularise the concept of Bluetooth trackers. Although the field may be a bit more crowded these days, its Pro model is still a very good choice for those who want to be able to locate their lost bags and luggage without signing up to a GPS subscription.
Rather than the circular approach of Apple and Chipolo, the Tile Pro is more of a curved rectangle that looks a bit like a modern car-key, albeit a lot slimmer. It's powered by a standard replaceable battery, which makes it good for the environment, and you should get at least a year before needing to swap in a new one. Tile also adds IPX67 water resistance, so the little plastic device can survive being immersed in up to 1 meter of water for a maximum of 30 minutes.
The Bluetooth range is also good, keeping a solid connection to your phone for up to 400ft, and after that you can make use of the Tile network in the same way as the Apple Find My or Google Find My Device, where anyone else using a Tile or the Tile app will sense your nearby tracker and send details to the Tile servers. Again, it doesn't have the extensive reach of Apple of Google, but with Tile being around for so long and selling many of its trackers, it does still have a large network to draw from.
The Tile Pro is compatible with Android and iOS, so you don't need to play favourites. You can't get the same range of colors as on the Chipolo, but the black and white models are smart and should fit in with most luggage.
If you want additional features, such as smart alerts that warn you when you've left your bags behind or a 30-day location history, then you can sign up to the Premium subscription. This will set you back $29.99/£29.99, although it seems better suited to those who travel regularly or want to use the Tile Pro for their keys or other valuables between trips.
For more choices, read our roundup of the best Bluetooth trackers.
Best GPS luggage trackers
1. Tracki GPS Tracker
Pros
4G/GPS tracking
Replaceable batteries
Wi-Fi and Bluetooth tracking indoors
Cons
No IP rating
Subscription is relatively expensive
Price When Reviewed:
$59.99
There's no getting away from the fact that a GPS tracker commands a much higher price than Bluetooth. At the time of writing, both the US and UK Tracki websites were offering 50% off the usual price of the device, so be sure to check there if you're tempted.
The tracker itself is compact and the company even promotes it as one that can be used to track pets and keys as well as your luggage. It comes with replaceable batteries that will last around 2-3 days if you have the GPS tracking every 1 to 5 minutes. This stretches out to 3-months if you only want it reporting back once a day. The former is great for when you're travelling, while the other can be used for less adventurous activities, such as where you left the car in the car park.
The 4G LTE/GPS coverage is supported in up to 190 countries worldwide, which should mean you'll be able to locate your precious cargo no matter where it goes, there's also the bonus that when indoors the device can use additional tracking via Wi-Fi and Bluetooth.
Tracki comes with a dedicated app with which you can be guided to the tracker's location, plus there's also neat features like geo-fence warnings where you set up boundaries that send alerts if they're crossed. Not necessarily for suitcases, but it does mean the Tracki can be a useful multi-purpose tracker.
The Tracki doesn't have an IP rating for water resistance, although the company does sell a waterproof box which can hold the device if you want to attach it to your luggage or other, larger item. If the Tracki seems expensive, you won't like the fact that it also requires a monthly subscription for the SIM, which at the time of writing was a hefty $19.95 / £16.18.
2. Gego GPS Tracker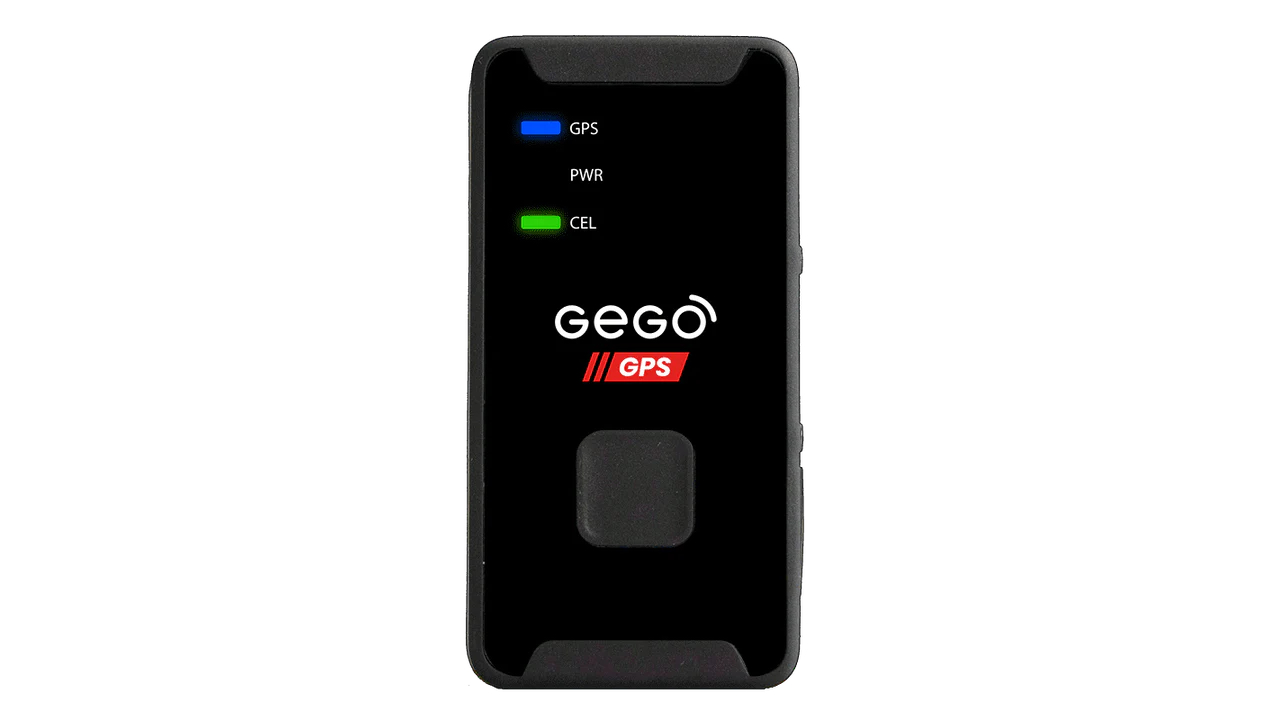 Pros
Three modes (Standard, Flight and Battery Saver)
7-day battery life
TSA regulation compliant
Cons
Expensive compared to other trackers
No IP rating
Price When Reviewed:
$89.99
Another company that's been making trackers for a number of years now is Gego. You may have seen some of its LugLoc range, but with its latest tracker that brand has been dropped and it's simply Gego GPS. The device is a little chunkier than many of its rivals, measuring up around the size of a slightly wider Mars bar. You'll find three indicator lights on the front to report the current status of its GPS connection, power levels and mobile signal. The rechargeable battery is supplied juice via a USB-C port and can last around a week in the standard mode.
There are two others – Flight and Battery Saver – which can respectively reduce or extend the times between needing to be plugged in again. Flight mode is optimised to report on the location of the luggage when it reaches an airport, while the Battery Saver mode sends its location less frequently when the luggage isn't moving, which in turn makes the charge last longer. Gego state that its tracker is fully compliant with TSA regulations, so it should be safe on any flight.
Tracking information is provided by a mix of 4G cellular connection and A-GPS to provide accurate worldwide coverage. You have the option to set up location-based alerts, and there's also automatic notifications when your suitcases arrive that the airport destination. Every is relayed to the Gego tracking app, which is available for both Android and iOS devices.
The price does appear high in comparison to some of its rivals, but again the company also seems to run regular discounts to entice customers. You'll need to factor in the $19.99 (approx. £16) monthly subscription, although you can cancel at any time, while frequent travellers may prefer to pay in advance for the year and save some money.
3. LandAirSea 54 GPS Tracker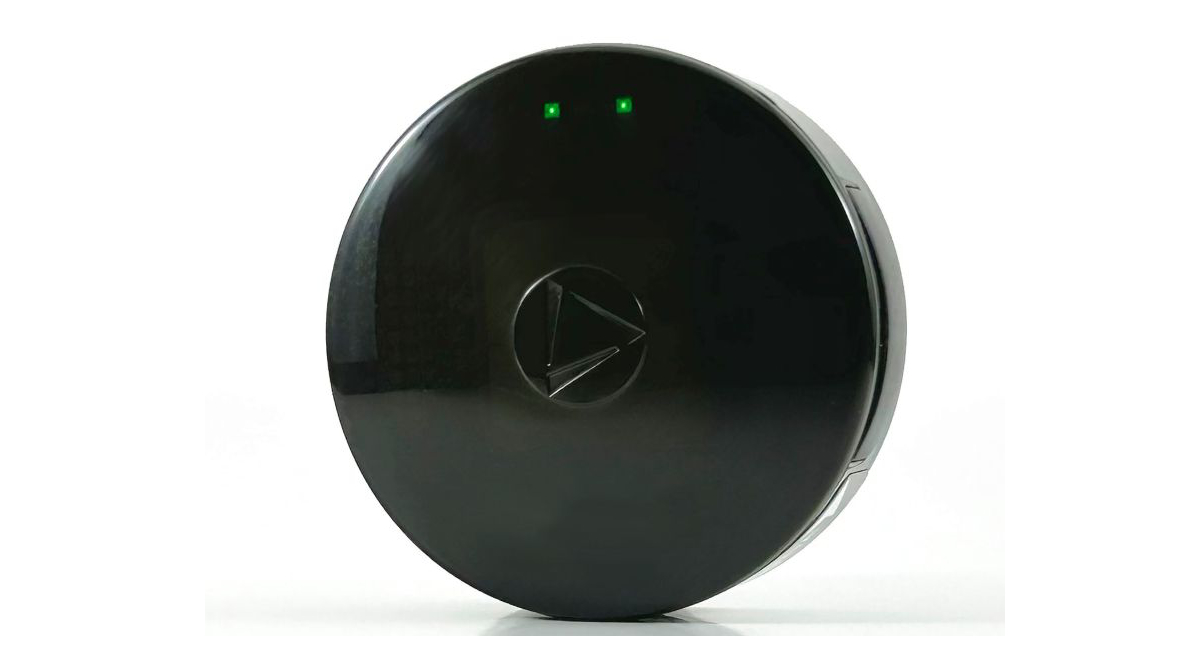 Pros
IP67 waterproof rating
Can report location every 3 seconds
Long battery life (with less frequent updates)
Cons
Update intervals determined by subscription
Slow charging
Price When Reviewed:
$39.99
The LandAirSea 54 is a small tracker that has plenty built into its circular frame. For a start there's a strong magnet, which enables you to attach it to the inside of a metal case, plus it features an IP67 waterproof rating, which means it can survive total immersion so long as the water is not deeper than 1 meter and for no more than 30 minutes.
Design-wise, it's a thick, circular puck with three LEDs on the front to let you know its GPS, Cellular and power levels. Charging is via micro USB rather than the more modern USB-C, but once you've spent the six or so hours it needs to fully replenish the cells (not exactly fast), you'll be good to go.
LandAirSea states that if you use the Energy Saver mode, which sends location data at intervals you set, then you can get up to a year's use from a single charge (with the device reporting once a day). Crank those frequencies up to every half an hour and the duration drops to a still respectable 15 days.
Using the motion tracking mode, you can get reports as often as every three seconds, albeit with the battery being drained flat after 24 hours. All of this is controlled via the dedicated app, which can also be used to set up geo-fencing locations, track the 54 to its precise location, share its position with friends or family, as well as seeing the logged location history of the device.
Unusually, the monthly subscription model used by LandAirSea is related to how frequently you want updates on the 54's location. It starts at $19.95 (approx. £16) for a maximum of every three minutes, while those who want only 3-second intervals will need to pay $49.95 (approx. £39) each month for the privilege.
FAQ
---
1.
Which luggage tracker should I buy?
It's important to know how you intend to use a tracker before paying any money.
If you're a casual / infrequent traveller, then a Bluetooth tracker is the most cost effective. While Chipolo and Tile have built up a good following, we wouldn't recommend relying on their own community networks to locate your luggage, as they probably aren't extensive enough to guarantee anyone being close enough to the tracker in your luggage to notify the network. Instead, you're better off with either an Apple AirTag, if you're an iPhone user, or the Chipolo One Point if you're on Android.
Families will probably be better off with these too, as it means you won't rack up unnecessary expense due to multiple SIM subscriptions as you would need with GPS enabled trackers. Plus, the Chipolo and Apple options both have bundles available where you can get packs of 4 trackers for a reduced price. Then you'll have one for every suitcase (depending on the size of your family).
If you're a hardened traveller or someone who checks expensive items into the hold, then a GPS tracker is the way to go. These will usually pinpoint the location to the nearest couple of metres, and don't require anyone to pass by with the right phone to find your lost luggage. They all have similar features, but we think the LandAirSea 54 is a probably the best blend of buying cost and subscriptions, plus it's waterproof and has a built-in magnet, making it quite easy to find the right place to put it in your case.
2.
Can I use a GPS tracker without a subscription?
All GPS trackers need a way to report their location to you. That's done using mobile data networks – the same sort your phone uses. Most GPS trackers have companion subscriptions to make it simple, but you could look for a GPS tracker that is SIM-free and pair it with a data SIM of your choosing, such as this one from Three that has a set amount of data that will last for up to three months. This means you can avoid the monthly recurring fees but have the GPS coverage whenever you're travelling.
3.
Are luggage trackers worth it?
They can be, yes. If your luggage is valuable, a GPS tracker could pay for itself quite quickly. Bluetooth trackers may not be as effective for finding lost luggage, since their range is relatively short – up to 200 feet or so.
The other thing to consider is that even with a GPS tracker: you will know only where your luggage is. It's then up to you (or perhaps the airline that mislaid it) to retrieve it. If it has been stolen, you should tell the police rather than attempting to reclaim it yourself.
4.
How to luggage trackers work?
They either use Bluetooth – a short range communication to your phone – or GPS, which uses a mobile data connection to the internet, which you can see on your phone via an app or web browser.
5.
Do luggage trackers have separation alerts?
Yes and no. It's important to understand that there is a distinction between your phone moving away from the item being tracked, and the item moving away from your phone. For example, if someone accidentally takes your suitcase off a shuttle bus and you're using a Tile Pro, you won't get a notification to tell you so.
Partly that's because Tile's Smart Alerts only warn you when you have left something behind when you leave a known place, such as home or work. They use geo-fencing to do this, and the feature also requires you to subscribe to Tile Premium, for a monthly or annual fee.
It's the same with an Apple AirTag. You can enable 'Notify when left behind' alerts, but again, you have to specify a location from which the item could be left behind.