At a glance
Expert's Rating
Pros
Swappable battery
Manoeuvrable
Great features
Cons
Can push larger debris around
No upholstery tool
Our Verdict
The Airgility Max is a great little cordless for its price point. We wouldn't recommend it for thick carpets or busy homes but it's a handy run-around with excellent features.
Price When Reviewed
$129.99
British brand Beldray (try saying that after a few Bellinis) became famous for its ironing boards in the 1960s and now makes all kind of handy domestic items, including a floorcare range that's notable for its affordability.
We're testing out the bargain Beldray cordless cleaner, the Airgility Max, which you can get in the UK for under £90.
Note that if you're reading this review from the US, the model that's available there (see it on Amazon) comes with a motorised pet tool that bumps up the price.
Although the higher price makes it less appealing, the additional tool makes it much more useful for anyone who wants to use this vacuum on upholstery – the model we're testing lacks a suitable upholstery cleaning head. In the UK, the equivalent model is the Pet Max (get it from Beldray), and it's £10-£20 more than the Airgility Max.
Design and build
Stick and handheld
Only has one additional cleaning accessory
Swappable battery
Headlights
The Airgility is a modular vacuum, which can be used either as a stick or handheld. It's black, with either rose gold or platinum accents, depending on which colourway you choose. If you have to store your vacuum cleaner in sight, it's a better option than many cleaners twice its price.
The cleaning accessories it comes with are bare bones. Apart from the main cleaning head, there's a second combination crevice tool/brush which can either be attached to the end of the wand for zapping ceiling cobwebs or to the main unit for cleaning in gaps and tricky spots.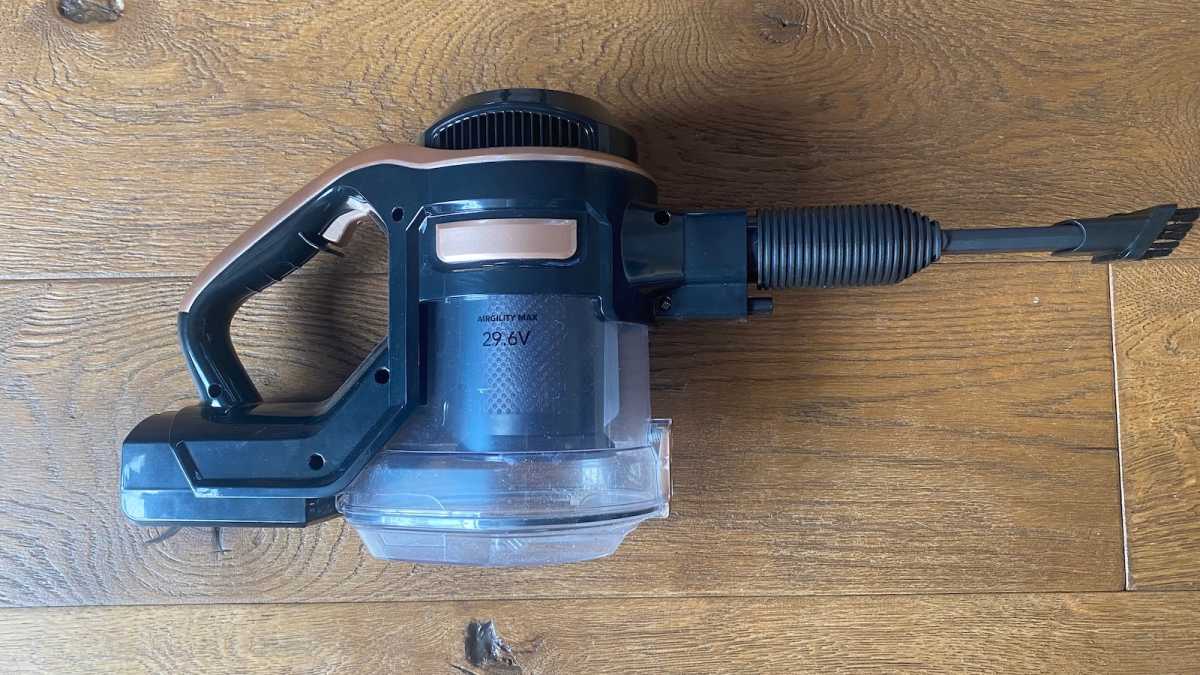 Emma Rowley / Foundry
However, the crevice tool has a tiny cleaning area, so it's not much use on larger areas of upholstery – if you were using it to remove pet hair from a sofa, you'd be there forever.
In the box, you'll also get a cord and plug, and a spare, washable HEPA filter.
But the Airgility balances out its lack of accessories with some very nice features.
It has a removable 2.96V battery. You'll get (up to) 50 minutes of cleaning time before it needs to charge and you can buy a second battery to keep topped up and swap in for just £29.99 from Beldray. We found that the battery life held up well in our test.
The battery display is simple but easy to read, comprising three bars that blink out as the battery runs out. These are mode-specific, as well – you might see that you only have one bar in boost mode, but two in standard.
Emma Rowley / Foundry
The only problem is that three bars don't provide a very precise measurement but once you get to the final bar, you know you'll need to plug it in pretty sharpish.
The battery takes around 5.5 hours to charge, which is too long to be ideal but won't be a problem if you invest in a second battery.
When you start vacuuming with the main head, you'll notice that it lights up with five LEDs to illuminate dust and hair in your path. These aren't as bright as some competitors' and notably less effective than Dyson's green laser, but are still enough to make vacuuming in a dim room, or in dark corners, much easier.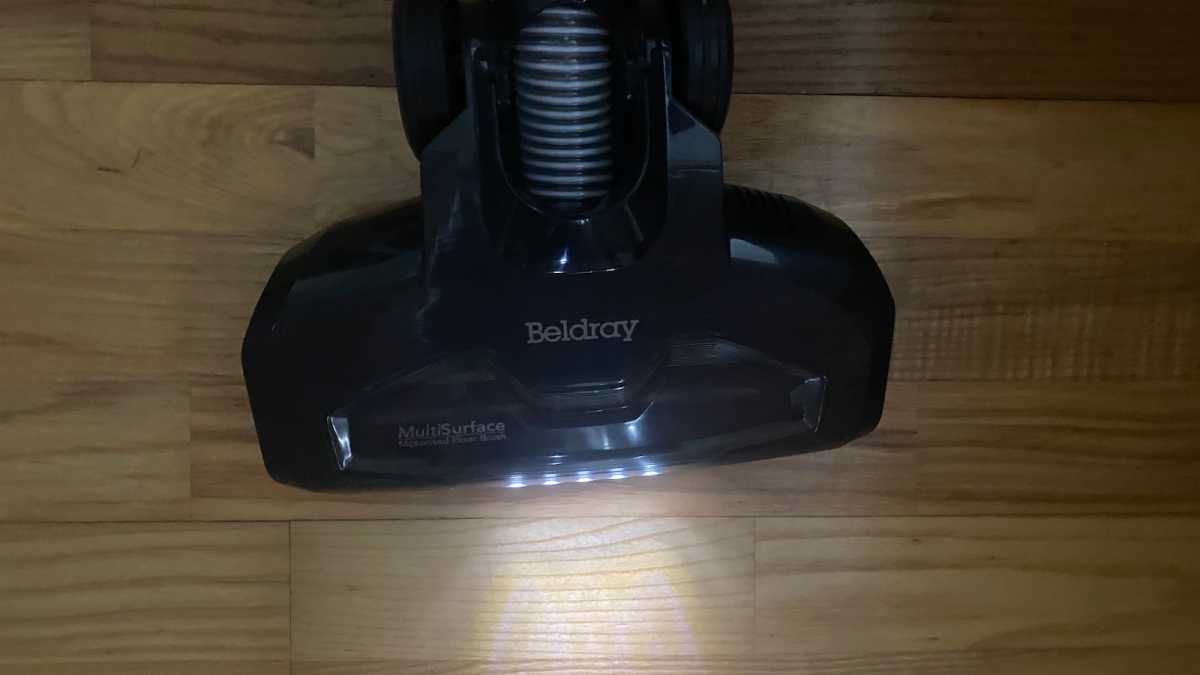 Emma Rowley / Foundry
It also has a large, 1.2 litre dustbin – comparing very favourably to the Dyson V15 Detect's 0.75 litres – which is easy to empty via a button at the base and has no corners for dust and hair to lodge, although they will wrap around the central filter.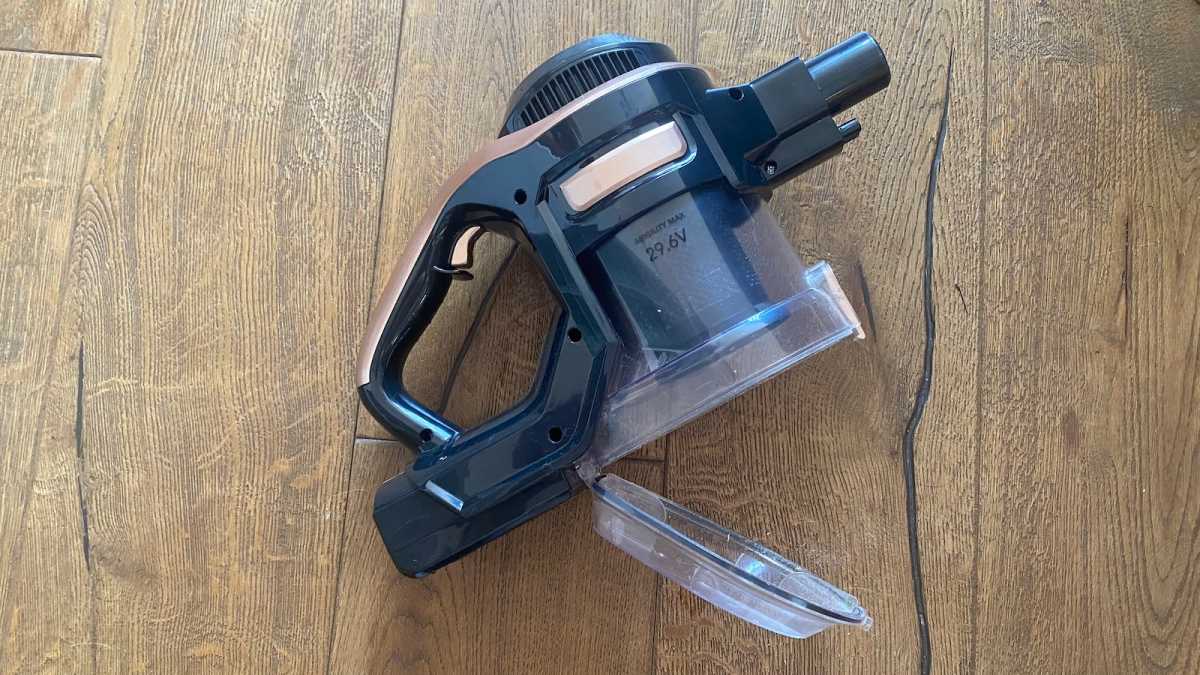 Emma Rowley / Foundry
Inside, there's a removable and washable HEPA filter. Like any bagless vacuum, its usefulness for people with a dust sensitivity has to be balanced by the fact that when you tip it into the bin, you'll inevitably create a small dust cloud.
The Airgility also has a handy storage mode, so it can be put away standing upright and taking up minimal space.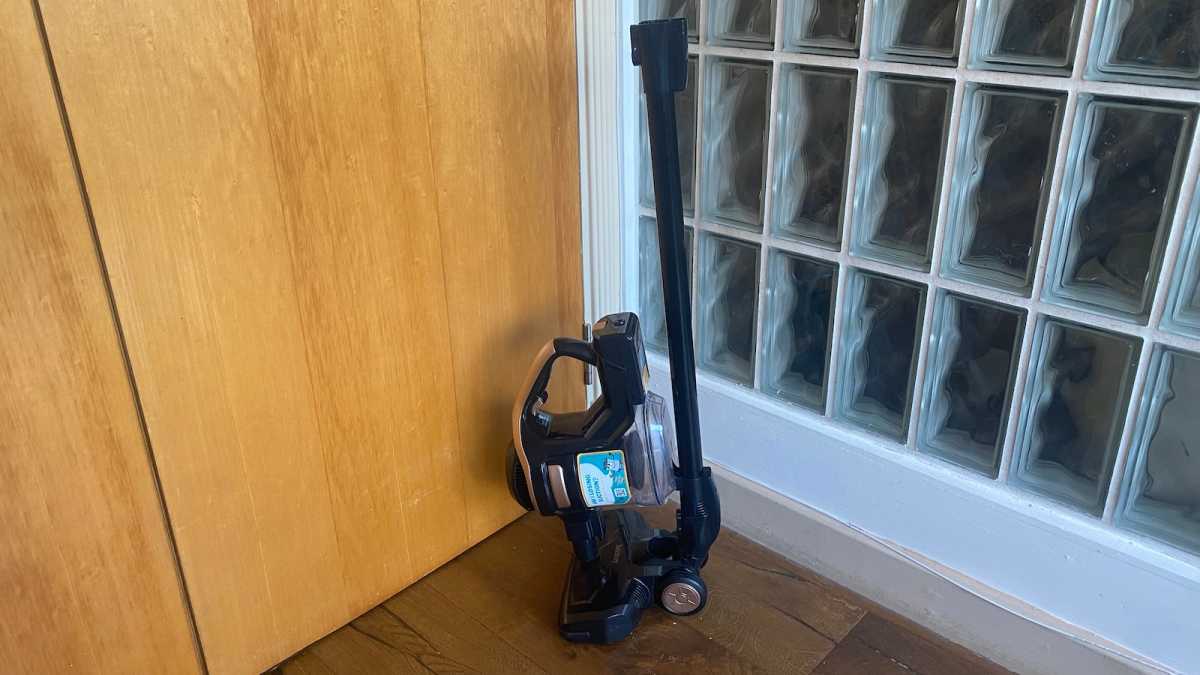 Emma Rowley / Foundry
These are features you'd expect to see on a much more expensive vacuum. You get a lot for your money with the Airgility Max.
Performance
Two cleaning modes
Manoeuvrable
Can push larger debris around
The Airgility has a comfortable grip and a trigger-style on switch. Fortunately, there's no need to keep it pressed down in use. Press the button once for the standard cleaning mode and twice for boost. The third press switches it off, which means there's the slightly annoying need to bump up into boost before you can turn it off.
It feels light in use although at 3.5kg/ 7.7lbs, it's actually a little heavier than the flagship Dyson V15 Detect. Its light feel is probably down to the fact that the vacuum bears a lot of its own weight and has four wheels on its base (two large ones at the back and two tiny rollers in front) that make it move effortlessly across the floor.
It's very manoeuvrable, with a twistable setting on the main head that allows it to turn well. It can't quite lie flat but you can get a long way under sofas with it.
It has good pickup of hair and dust but when it comes to larger debris – like cat litter – on hard flooring, it tends to push bits around before sucking them up, so you may find yourself sawing back and forth to get it all.
It's good at getting up surface dirt on carpets but, although Beldray doesn't say how strong the suction is, I doubt it would be strong enough to pull out ingrained dirt from deep-pile carpets.
The brush roll quickly tangled up with hair – as did the tiny wheels at the front which help to give it its manoeuvrability. It was easy to pop out the brush roll and cut away the hair but you'll need to do it regularly, because the fibres quickly get compressed when hair is wound around them and won't be much use. The small wheels were much harder to free up and it took a bit of faffing around with nail scissors.
The Airgility Max is a good all-rounder but you'll need another vacuum for heavy-duty work and upholstery.
Price and availability
At £89.99 from Currys or Amazon, this is a bargain buy that performs well against other cleaners at this price point.
Price does play a big part in our recommendation here and unfortunately in the US, it's not quite as affordable. But it does come with the pet tool, which you could use as a dedicated upholstery cleaner and which would give it a lot more versatility. You can buy it from Amazon.
Verdict
All-in-all, for a budget model, the Beldray Airgility Max is impressive. Throughout this review, I've compared it to the Dyson V15 Detect, which is unfair as the V15 costs several times as much as this one, but it's a useful yardstick of quality and the Airgility Max held up well.
When it comes to features – such as its headlights, swappable battery and large, easy-open bin with washable HEPA filter – the Airgility Max packs in a lot for its price point. The only thing its missing for day-to-day use is a dedicated upholstery cleaner. The crevice tool is just too small and most of us don't want to use our floor heads on beds and sofas.
It won't rival heavy-duty vacuums like the Henry, and as such I wouldn't recommend it for thick carpets or homes where regular deep cleaning is needed. But for smaller homes and light work, this is a great buy.
To see our most highly rated vacuum cleaners, have a look at our round-up of the best vacuum cleaners we've tested.
Specs
Battery: 2.96V battery
Cleaning time: Up to 50 minutes
Charging time: 5.5 hours
Weight: 3.5kg/ 7.7lbs