Dyson, the brand best known for its distinctive cordless vacuums, has also made substantial inroads into the luxury hair styling market. It's now building on the success of its existing products – the Supersonic hair dryer, the Corrale straightener and the Airwrap multi-styler – with the launch of a new styling tool, the Airstrait.
What is the Dyson Airstrait?
Dyson's Airstrait is a wet-to-dry hair straightener that uses hot air, rather than hot plates, to smooth and straighten hair without the use of a hair dryer first.
When will the Airstrait be available to buy?
If you're in the US, you can buy the Airstrait now. It's available from the US Dyson website in two colourways: nickel and copper, and copper and blue.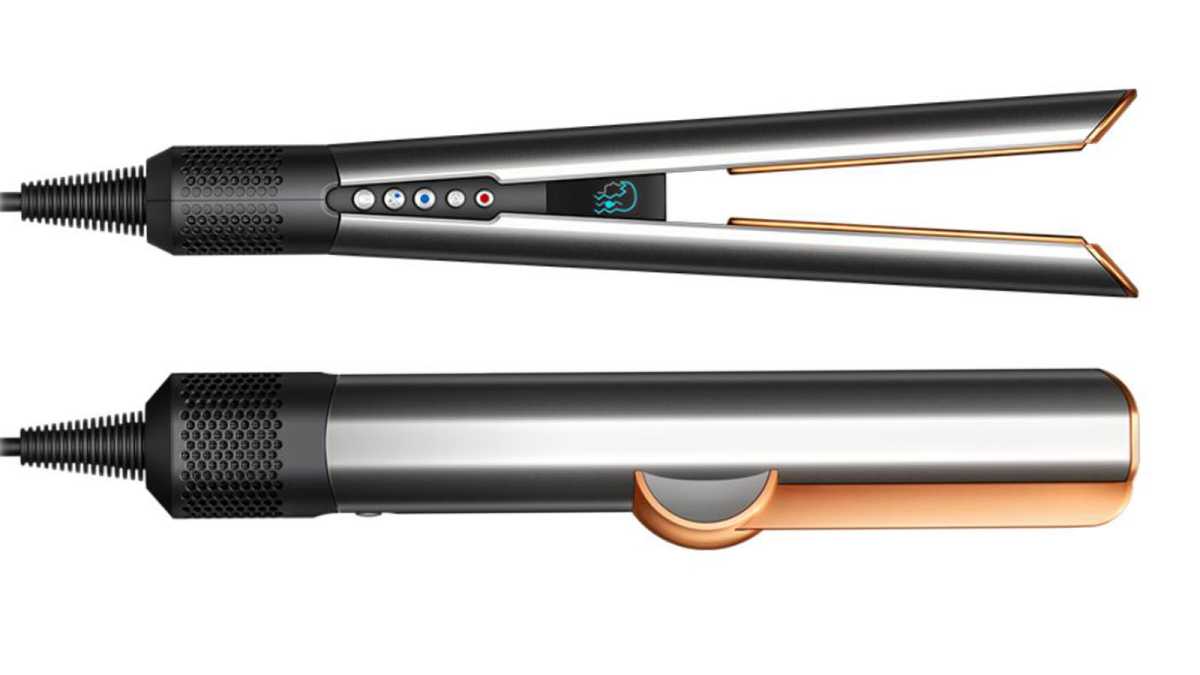 Dyson
It's not yet available in the UK, nor has Dyson announced a specific release date. You can sign up on its website to be notified when it arrives.
What will the Airstrait cost?
In the US, the Airstrait is priced at $499.99.
Dyson has not yet announced its UK price point, but given the £399.99 UK launch price of the Corrale, we'd expect a similar price point for the Airstrait.
What features does the Airstrait have?
The Airstrait looks a lot like a conventional corded straightener and you'd use it in the same way. But instead of heated plates on its arms, there are two 1.5mm vents, through which air is forced. The two streams of air converge to form a single jet which is projected down to simultaneously dry and straighten the hair. It's also ionising, so it'll emit negative ions to help smooth the hair.
The Airstrait features intelligent heat control, by which the airflow is measured 30 times per second to ensure that it stays at the correct temperature.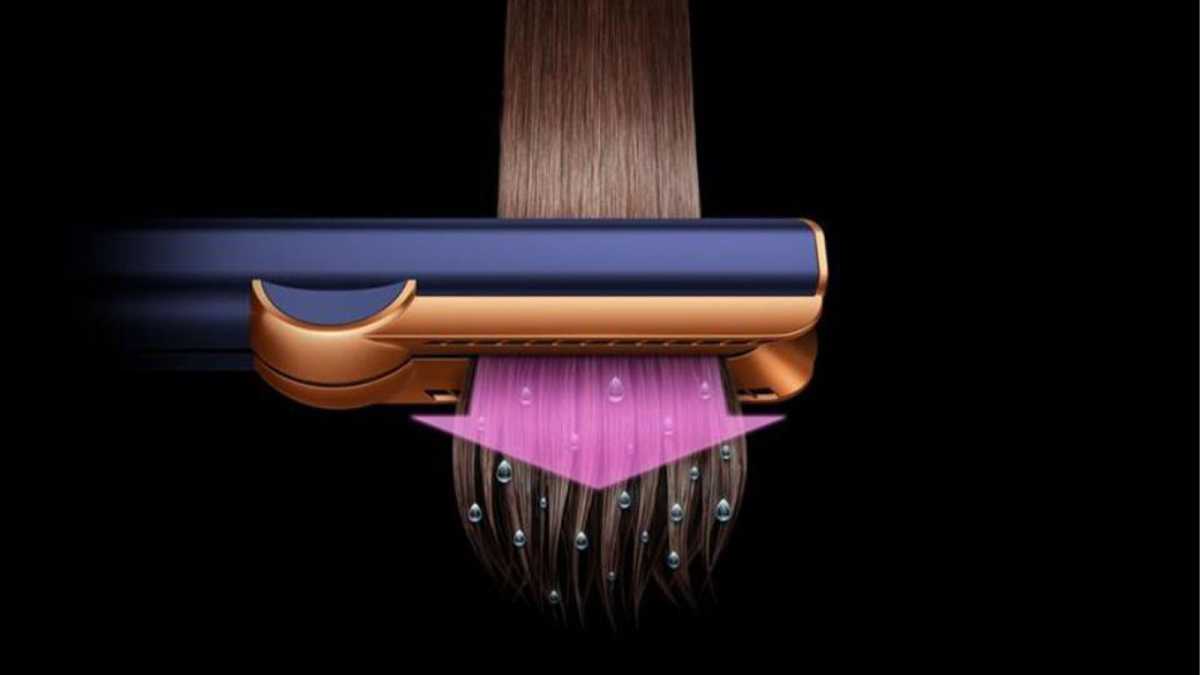 Dyson
It has two styling modes, plus a cool mode to set the style. Each mode has a choice of heat settings. In wet styling mode, the options are 80°C/ 175°F, 110°C/ 230°F and 140°C/ 285°F and in dry mode, they're 120°C/ 250°F and 140°C/ 285°F, plus a boost mode.
Dyson claims that the Airstrait will cause "no heat damage" but less heat damage seems more likely, as even the hot air from a hair dryer can cause breakage – and that's without pulling strands of hair taut at the same time.
The Airstrait gets much hotter than the Supersonic hair dryer, which has a top temperature of 105°C/221°F, but crucially, it stays below even the lowest temperature option of Dyson's own Corrale straightener, which has three heat settings: 165°C/ 330°F, 185°C/ 365°F and 210°C/ 410°F.
It has two speed settings (low and high flow), a cold shot and root drying mode.
All of this is made possible by Dyson's very small, very powerful Hyperdymium motor, which pushes over 11.9 litres of air per second through the machine.
It's also got some solid intelligent features. It can detect when there's a lock of hair between its arms and it'll automatically turn down the airflow when it's not needed. Plus, if you put it down while styling, it'll pause after three seconds and start up again when you move it.
In terms of the hardware, it seems typical of Dyson's high build quality, with features you might not expect on a straightener, such as a full-colour display.
It's heavy though. At 2.2lbs/ 998g, it's almost twice the weight of the already pretty hefty 1.24 lbs/ 568g Corrale – but we don't know how much of that is the plug and cord.
We're looking forward to reviewing it but in the meantime, you can check out our reviews of Dyson's other hair styling tools: the Supersonic hair dryer, the Corrale straightener and the Airwrap multi-styler. For more hair styling tech recommendations, have a look at our round-ups of the best hair dryers and best hair straighteners we've tested.