Whilst the main focus of Panasonic's 2023 TV launch was the top-spec OLED models, there is a product that may pique the interest of smart home enthusiasts.
The MX800 4K LED TV is Panasonic's first ever model to run on Amazon's Fire TV OS, and it comes with a bespoke (if slightly large) remote that has a few extra features designed to make navigation quicker and simpler, including a way to give a voice command without actually speaking.
Firstly, there is the 'My App' button, which current Panasonic TV users may already be familiar with. This is a customisable key that can be assigned as a shortcut to apps like Disney+, which is quite common – but what makes this feature stand out is the fact that it can remember voice commands for various features.
In a media demo to Tech Advisor in Berlin, a Panasonic representative used the microphone on the remote to say the command "go to profiles". The TV then stored this phrase, and the user was able to register the command to the 'My App' button quite easily.
This feature is also on the Alexa Voice Remote Pro, but this remote control is only available as an additional purchase (priced at £34.99 from Amazon), rather than included with any Fire TV devices as standard.
Voice control is also compatible with Alexa routines. So, if you have smart devices enabled around the house, you can use your chosen voice command on the remote (such as "Alexa, turn on the lights"), and then assign it to the My App button to control your devices with a simple click.
Another shortcut included on the Panasonic MX800 remote is a button for Picture Mode, so you can quickly alter the colours and settings on the HDR backlit panel to suit your preferences without diving into the settings menu. All the graphics on the panel are powered by Panasonic's HCX Processor.
For navigation, the MX800 boasts a universal TV guide that streamlines both linear TV channels and content from streaming services such as Amazon Prime Video and Freevee, keeping everything in one handy place.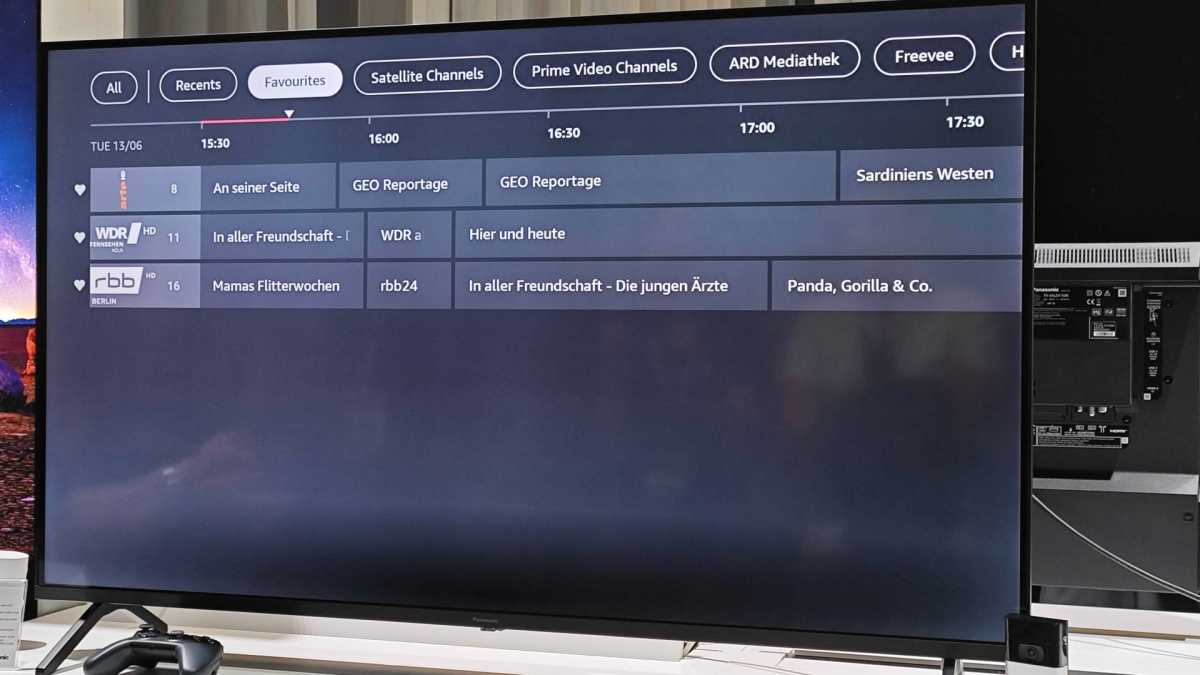 Hannah Cowton / Foundry
Whilst Fire TV is a very comprehensive OS, we have found it to be slightly heavy-handed in advertising Amazon content on other media players and TVs. If this isn't for you, then Panasonic also has a range of TVs which run on Google TV and its own OS, My Home Screen 8.0. The TV also comes with support for Dolby Vision, HDR10+ and Dolby Atmos.
Pricing for the MX800 is subject to change, but it is estimated to start from £599. We don't know when it will release, but when it does eventually hit shelves, it will be available in 43-, 50- 55-, 65-, 75-, and 85in sizes. Sadly, Panasonic TVs are not available in the US. You can also read up on why the MZ2000, MZ1500 and MZ980 are ideal TVs for gamers, as well as our roundup of the best TVs you can buy right now.