At a glance
Expert's Rating
Pros
Tiny versatile form factor
Amazingly fast performance
Decently affordable
Unmitigated five-year warranty
Cons
Writes slow to a crawl when secondary cache is depleted
Our Verdict
Sabrent's 30mm long Rocket Q4 fits in devices that can't handle a full 2280 SSD, but still provides up to 2TB of capacity. Even better, its real-world performance is shockingly excellent.
Price When Reviewed
$219.99 for 2TB
Best Prices Today: Sabrent Rocket Q4 NVMe SSD
Sabrent's Rocket Q4 is a half-sized (37.5% actually), 2230 (22mm wide, 30mm long) NVMe SSD. Because it's so small, it can be used in devices, such as a Steam Deck or Mini-PC, that lack space for a full 2280 SSD.
But the real news is that it's amazingly fast in the real world – even compared to PCIe 5.0 drives. Skeptical? We were. But when extended testing garnered the same exceptional results, we were more than pleasantly surprised.
Further reading: See our roundup of the best SSDs to learn about competing products
Design & Features
I've already mentioned the Q4's diminutive dimensions. It's also a PCIe 4.0, NVMe 1.4 SSD that utilizes Micron's brand-spanking-new N48 QLC NAND and Phison's latest E21T controller. I talk those up because they're the reason for the amazingly facile real-world transfers—far outpacing any previous PCIe 4.0 SSD we've tested.
The Q4 is also a DRAM-less, HMB (Host Memory Buffer) design. That is, it forgoes using DRAM for primary cache (there's really no place to fit it), and instead uses your system memory for that duty.
HMB is a relatively new cost-saving technology that's improving with every iteration. Of course, its efficiency will depend somewhat on the speed of your memory subsystem. Our new testbed with its faster 4,800MHz DDR5 memory will definitely deliver higher HMB numbers than the old 3,200MHz DDR4 system, so you can't directly compare results with our older HMB reviews.
On Amazon US and Amazon UK at the time of this writing the Q4 is available in $44.99/£49.99, $76.49/£69.99, $109.99/£149.99, and $219.99/£339.35 for 256GB, 512GB, 1TB and 2TB capacities with the largest on test here. That's hardly bargain bin, but it's not premium-priced either. Given the small form factor and performance, it's a fair deal.
Sabrent warranties the Q4 for an unqualified five years (two years without registration). Unqualified is a good thing because the TBW rating (terabytes that may be written) for the 2TB SSD is a minuscule 450TBW. That's a fair amount of data in the grand scheme, but less than half the norm.
If you're not familiar, the TBW rating can be used like the mileage in an automobile warranty, ending the coverage period early if it's exceeded.
In this case, Sabrent says it honors the warranty period without question, only denying users who try to run scams such as putting a Sabrent label on another, cheaper drive. Yes, there's always someone!
Performance
There was a huge discrepancy between the Q4's synthetic benchmark results, and its times in our 48GB and 450GB transfers. At least in the context of previous SSDs we've previously reviewed. The synthetics showed the Q4 to be what it ostensibly is–a mid-tier QLC PCIe 4.0 SSD.
However, the Q4 blew through our real-world 48GB and 450GB transfers almost as quickly as the fantastically facile PCIe 5.0 Crucial T700, and actually beat out the Gigabyte PCIe5 10000 by a healthy margin.
Talking to Phison, it seems that Micron's new N48 NAND is simply blazing in pSLC mode (pseudo Single Level Cell/1-bit) and the E21T controller itself improves HMB performance. Whatever the reason, we indeed saw real-world sustained transfer speeds from the Rocket Q4 that we've only seen with the latest PCIe 5.0 drives.
The CrystalDiskMark 8 numbers shown below are certainly nothing special, and hardly the best we've seen from a PCIe 4.0 SSD. Note how much faster the PCIe 4.0 WD SN850X would appear to be.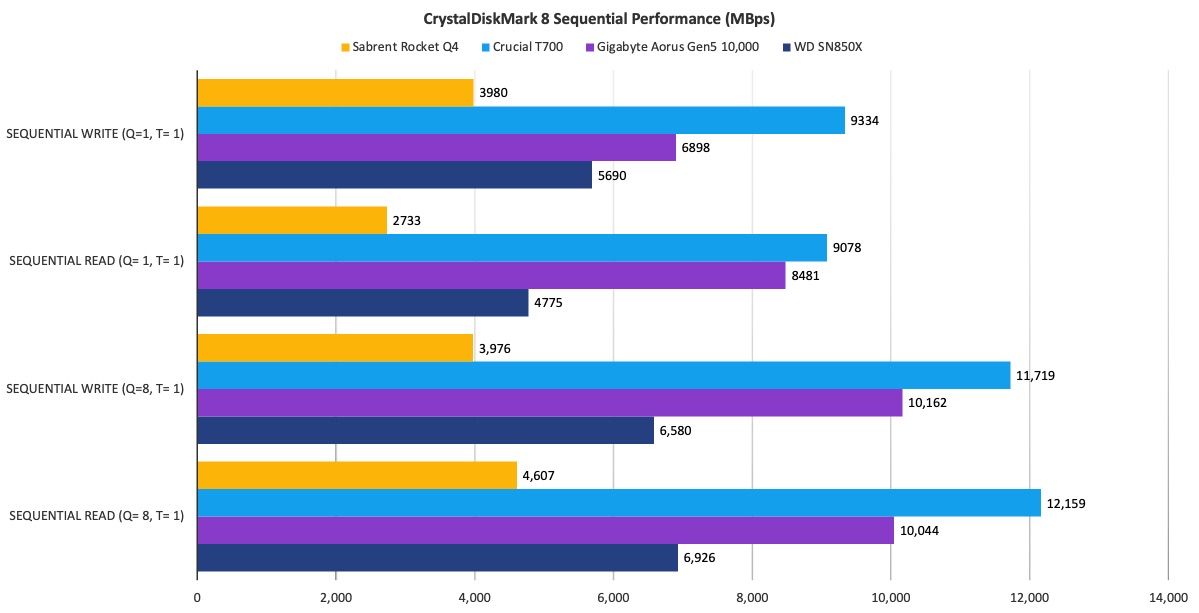 But our jaws nearly hit the floor when we ran the 48GB transfer tests. The Q4 took second place among all the drives we've tested–far outpacing the WD SN850X, our previous top PCIe 4.0 drive.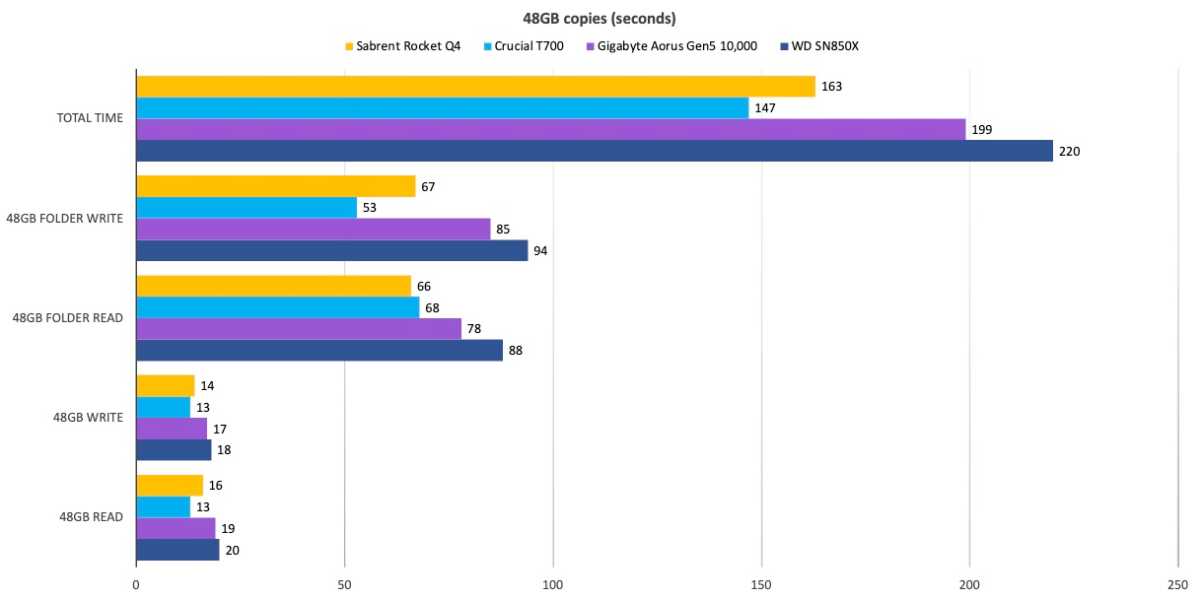 Jaws dropped even further when we saw the result of the 450GB write. The Q4 actually displaced the previously unbeaten T700. Yup. The Rocket Q4 is the fastest single SSD at this task we've ever tested. Stunning to say the least.
Note, however, that 450GB is generally not enough to exhaust secondary cache on a 2TB or greater SSD these days, so we resort to additional 450GB writes until secondary cache is exhausted. Despite the chart, the test is less about speed than to see how well secondary caching is handled, and the native write speed of the NAND once it runs out.
Also, the above results were all gathered using a pristine, empty 2TB drive. Any time the Q4 ran out of secondary cache (pSLC), writes dropped precipitously to below 100MBps. Yikes. That would be after after several long writes, and/or smaller writes with the drive not having time to clear cache by rewriting data in native QLC 4-bit mode. The drop-off will also occur significantly sooner with lower-capacity models.
The reason QLC is so deadly slow when writing natively is the finesse and error checking required to accurately store one of 16 voltage levels to a cell. But be aware that this is a write phenomenon only. Read speeds remain relatively consistent no matter how much data is on the drive.
Verdict
For those with average needs, and for most applications, the Sabrent Rocket Q4 is a marvelous drive with fantastically fast real-world sustained performance. At least in the 2TB capacity.
If you don't have PCIe 5.0, or don't write very large amounts of data constantly, it should absolutely be at the top of your short list–even if you have space for a 2280 model.
How we test:
Internal drive tests currently utilize Windows 11 64-bit running on an X790 (PCIe 4.0/5.0) motherboard/i5-12400 CPU combo with two Kingston Fury 32GB DDR5 4800MHz modules (64GB of memory total). Intel integrated graphics are employed. The 48GB transfer tests utilize an ImDisk RAM disk taking up 58GB of the 64GB of total memory. The 450GB file is transferred from a Samsung 990 Pro 2TB which also runs the OS.
Each test is performed on a newly formatted and TRIM'd drive so the results are optimal. Note that in normal use, as a drive fills up, performance will decrease due to less NAND for secondary caching, as well as other factors.
Caveat: The performance numbers shown apply only to the drive we were shipped and to the capacity tested. SSD performance can and will vary by capacity due to more or fewer chips to shotgun reads/writes across and the amount of NAND available for secondary caching. Vendors also occasionally swap components. If you ever notice a large discrepancy between the performance you experience and that which we report, by all means, let us know.