At a glance
Expert's Rating
Pros
3-way multipoint connections
ANC & Hi-Res support
Good battery life
Seven sets of ear tips
Cons
Slightly uncomfortable fit
More premium AZ80 are much better
Our Verdict
Taken on their own merits, the Technics EAH-AZ60M2 are a solid pair of true wireless earbuds, and a good option to consider. But with few changes from the original AZ60, and significant improvements found in the AZ80 upgrade, these feel lost in the middle.
Price When Reviewed
$249.99
Best Prices Today: Technics EAH-AZ60M2
The Technics EAH-AZ60M2 are an excellent pair of true wireless headphones that are only really let down by where they sit in Technics' own line-up.
The addition of wireless charging and 3-way multipoint connection feels like scant improvement from the original AZ60 earbuds, first launched in 2021, while the slightly more expensive AZ80 buds are miles better.
Still, if you can stomach the $249/£199 price then these are well worth considering: excellent audio quality, good noise-cancellation, and a decent set of smart features make these worthy rivals to AirPods and the like, even if not quite on a par with Technics' top model.
Design & build
Lightweight plastic build
IPX4 water-resistance
Choice of seven ear tip sizes
I've perhaps been spoilt by reviewing the AZ60M2 right after testing the more expensive AZ80 model, making it tricky for me not to compare the two.
It's probably because of this that the first thing I noticed about the AZ60M2 buds is how lightweight they feel, almost flimsy. The buds here actually weigh the same as the more premium pair (though the charging case is a good 5g lighter), but both are built from a slightly cheaper-feeling plastic.
The shape of the buds is also different, and – to my ears at least – less comfortable. After an hour or so of listening the AZ60M2s start to press against my ears, so these aren't ideal for longer listening, though everyone's ears are different, of course.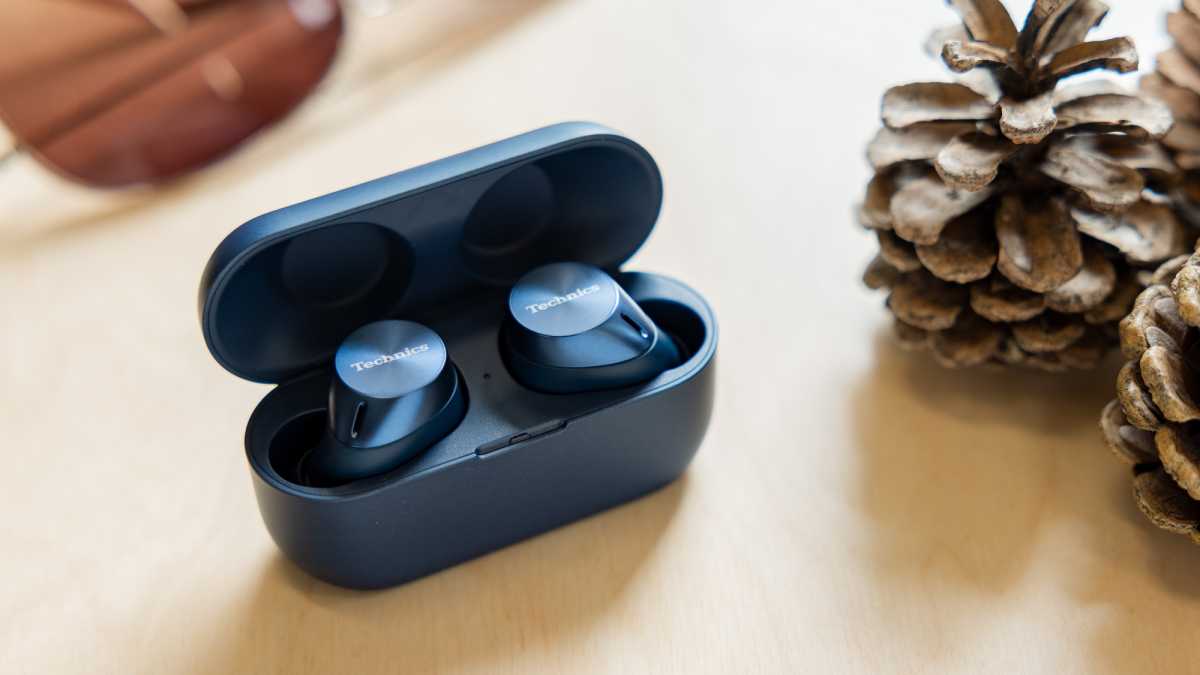 Dominik Tomaszewski / Foundry
They do look good though. Available in blue (pictured), black, or white, these are simply designed but attractive enough. They're hardly attention-grabbing, but they're not trying to be, and the compact shape won't stick out of your ears much.
They also fortunately carry over the best aspects of the more expensive buds. The first is the choice to include an impressive seven sets of silicone eartips in various sizes, meaning you're all-but guaranteed to find a fit for your ears that at least ensures the buds sit snugly and block outside noise well.
There's also an IPX4 rating, meaning the buds (though not case) can withstand rain, sweat, and other splashes of liquid – though aren't durable enough for a dunk in a swimming pool.
The case is a bit large, but can still slip into jean pockets or a purse if needed to. It's light, and the lid and hinge feel a touch flimsy, but the buds drop in neatly and feel securely held in place by the magnetic charging pins.
Specs & sound
Same 8mm drivers as the previous generation
Hi-Res audio support with LDAC
Good noise-cancellation
The first thing to know about the sonics from the AZ60M2 is that if you happen to own the older pair – or can find them cheap – then these use the exact same 8mm drivers, so the overall audio is largely unchanged.
That's no bad thing really, because the buds sound great. They offer a rich, open soundscape with impressive range. Bass is solid, and only occasionally do you get a little muddying of the mids in acoustic fare like Joanne Robertson.
It helps that you can use the accompanying Audio Connect app (more on that in a bit) to tweak the earbuds' EQ settings. Technics includes a selection of presets, but you also have the freedom to customise the five-band EQ to suit your tastes.
The buds also support Hi-Res audio using the LDAC codec, though you'll have to have compatible files (or a supported streaming service) to take advantage, and it doesn't work on iPhones at all (blame Apple for that one).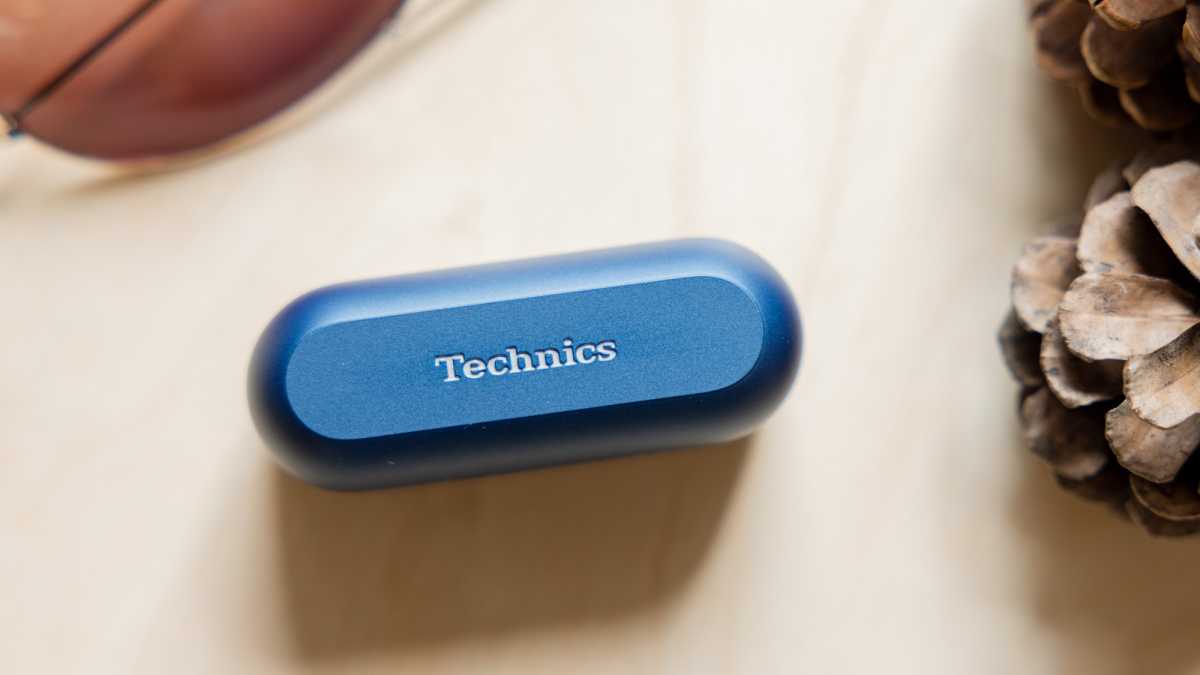 Dominik Tomaszewski / Foundry
Then there's the active noise cancellation (ANC). This is good, but definitely not best-in-class. Most outside interference is blocked out, but it can't stand up to the rigours of the London Underground or other especially noisy environments.
What does at least help is that thanks to that extra-large array of eartips, you're more likely to find a set that properly blocks outside noise, so the basic physical noise reduction is better than elsewhere.
There's also an ambient mode, which uses the buds' microphones to amplify outside noise so it sounds like you're not wearing buds at all – perfect when you need to hear what's around you or hold a conversation.
One of the other small tweaks from the first-gen model is that Technics has improved its noise cancellation and voice isolation tech for calls. Call quality in noisy environments is better here than on most other buds, making these a solid choice for remote workers who may have to take calls or meetings on the go.
Smart features & app
Clunky but comprehensive app
Connect to three devices at once
Fully customisable controls
The AZ60M2's smart features are handled by the aforementioned Audio Connect app, available on both iOS and Android.
This isn't the prettiest app in the world, and the layout can be a touch confusing, but it packs plenty of options. You can tweak the intensity of the ANC and ambient modes, adjust your EQ, or do a quick test of the 'JustMyVoice' tech to verify how clear you'll sound if you hop on a call.
Best of all is the option to fully customise the buds' touch controls, with unique options for each bud and for single, double, triple, and long touches – giving you eight control options in total.
You can also use the app to set a voice assistant – Amazon's Alexa comes built-in (though off by default), but you can use your phone's assistant through the buds if you prefer.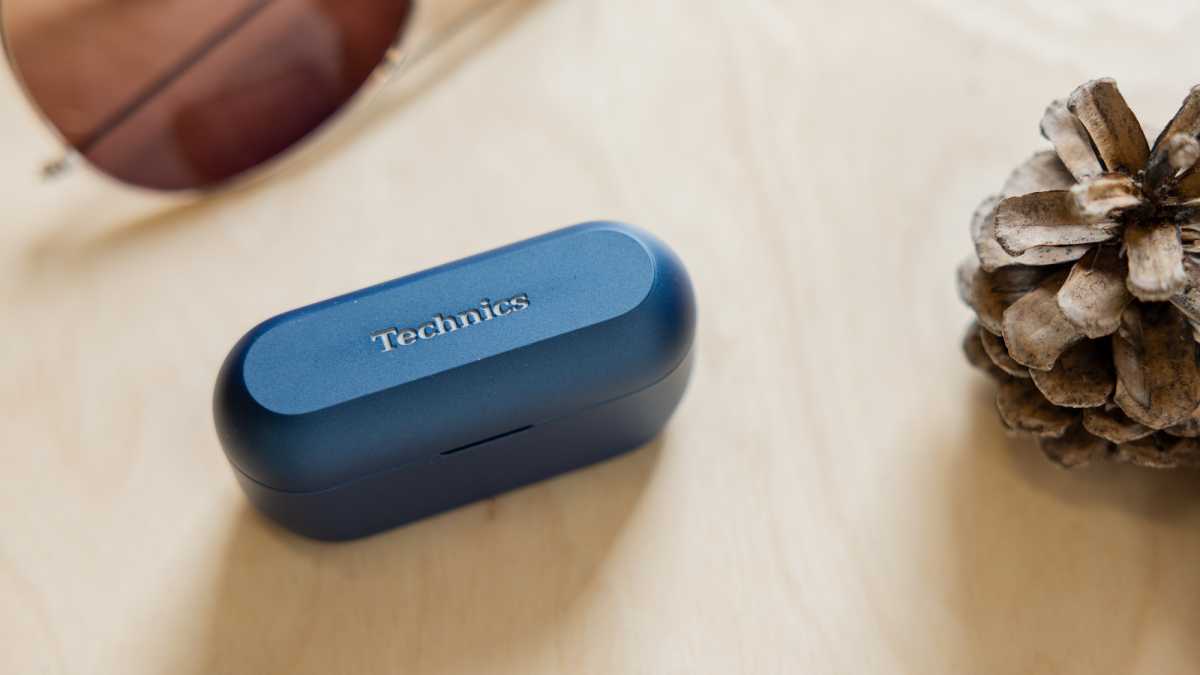 Dominik Tomaszewski / Foundry
Smartly, the AZ60M2 are also capable of connecting to up to three devices simultaneously, so there's no need to switch between (say) your phone, laptop, and Switch console, with the buds dynamically handling the audio from each at the same time.
This three-way multi-point connection is pretty much unique to Technics right now, but it does come with one caveat: because of bandwidth limitations you can't enable three devices and use the LDAC codec. If you want Hi-Res audio, you'll have to stick to two devices at a time.
It's also worth noting that I've had some oddly slow connectivity over the buds' Bluetooth. Once connected they're rock solid, but it takes up to 30 seconds for the buds to fully connect to my phone each time I take them out of the case, which is a slight irritation.
The only things really lacking are dynamic features that react to your use. While music will pause when you take a bud from your ear, they can't do smarter things like activate ambient mode when you start talking to someone, or adapt the ANC to only mute certain sounds while leaving others audible.
Battery & charging
Great multi-day battery life
Wireless charging
If there's one area where the AZ60M2 buds unequivocally match the more expensive AZ80 option, it's on battery.
These have the exact same battery life as the others despite the tweaked tech, with Technics promising that you can go seven hours on a single charge while using ANC but not LDAC, with a full 24 hours including the case.
Deactivating ANC extends that a bit further, while using LDAC Hi-Res will shorten it. Either way, battery life is excellent, and it's been backed up by my experience – using the buds for a few hours a day I've gone over a week before needing to worry about charging the case.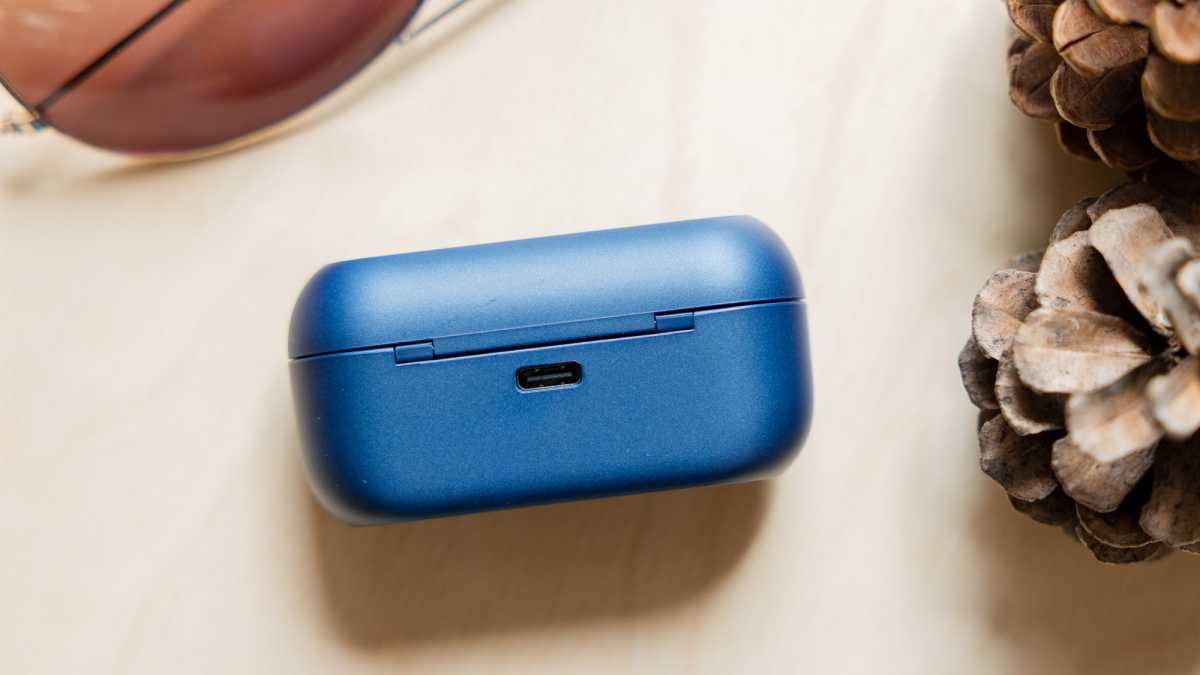 Dominik Tomaszewski / Foundry
If you use an Android phone, it will also handily display battery level for both buds and case within the operating system, taking the guesswork out of it.
Charging is great too, with both USB-C and a new wireless option, so it's always convenient to top them up.
Price & availability
The EAH-AZ60M2 are available now for $249/£199 from Amazon and elsewhere.
That's the same price that the original AZ60 earbuds launched at, though no doubt those will now be available for less while stocks last.
It puts these up against the likes of the Sony WF-1000XM4, Bose QuietComfort Earbuds II, and AirPods Pro 2 – but, perhaps more pertinently, Technics' own AZ80.
At $299/£259 these are a relatively small step up in price, but the jump is justified: audio quality is improved, as is the comfort of the fit and overall build quality.
Check out our full ranking of the best true wireless earbuds for more options out there.
Verdict
The AZ60M2 earbuds are a decent option that only suffer from their spot in a crowded market – and Technics' own lineup.
The buds deliver good audio quality and impressive (if slow to connect) connectivity and smart features, and are only really let down by a cheap feel and slightly uncomfortable fit.
The problem is just that the AZ80 offer a better all-round experience for not too much more, while the older AZ60 models don't miss much and are likely to get much cheaper soon.
The AZ60M2 earbuds sound good, but ultimately get a little lost in the mix.
Specs
8mm bio-cellulose drivers
SBC, AAC, and LDAC codecs
Bluetooth 5.3
Active Noise Cancellation (ANC)
Up to 7 hours battery with ANC
Up to 24 hours total battery with ANC
Wired (USB-C) and wireless charging
3-way multi-point pairing
IPX4 rating
7 sets of ear tips
73 mm x 38 mm x 28 mm charging case
7g per earbud
45g charging case
Best Prices Today: Technics EAH-AZ60M2