Panasonic's full range of 2023 OLED and LED TVs has been unveiled, and this year there are three models that could be the next key component to giving you an advantage with your gaming sessions.
The ones you should have your eye on are the MZ2000 (already debuted at CES 2023 back in January), the MZ1500 and the MZ980. All of these OLED TVs come with Panasonic's HCX Pro AI processor which enables support for a brand-new True Game Mode.
This technology gives improved colour accuracy, better HDR tone mapping and Portrait Displays' Calman Color calibration software, making shades more accurate to how they were intended by developers.
On top of this, these TVs feature HDMI 2.1 ports that support 4K resolution and up to 120Hz refresh rate, along with low latency and input lag. There is also AMD FreeSync Premium for VRR (variable refresh rate), and Dolby Vision support at 60Hz with Game Mode Extreme.
For PC gamers, these TVs are also Nvidia G-Sync Compatible – provided you have an Nvidia GeForce RTX 30 Series graphics card or later. If you do, it should automatically optimise input lag and VRR settings to make gaming silky smooth and tear-free.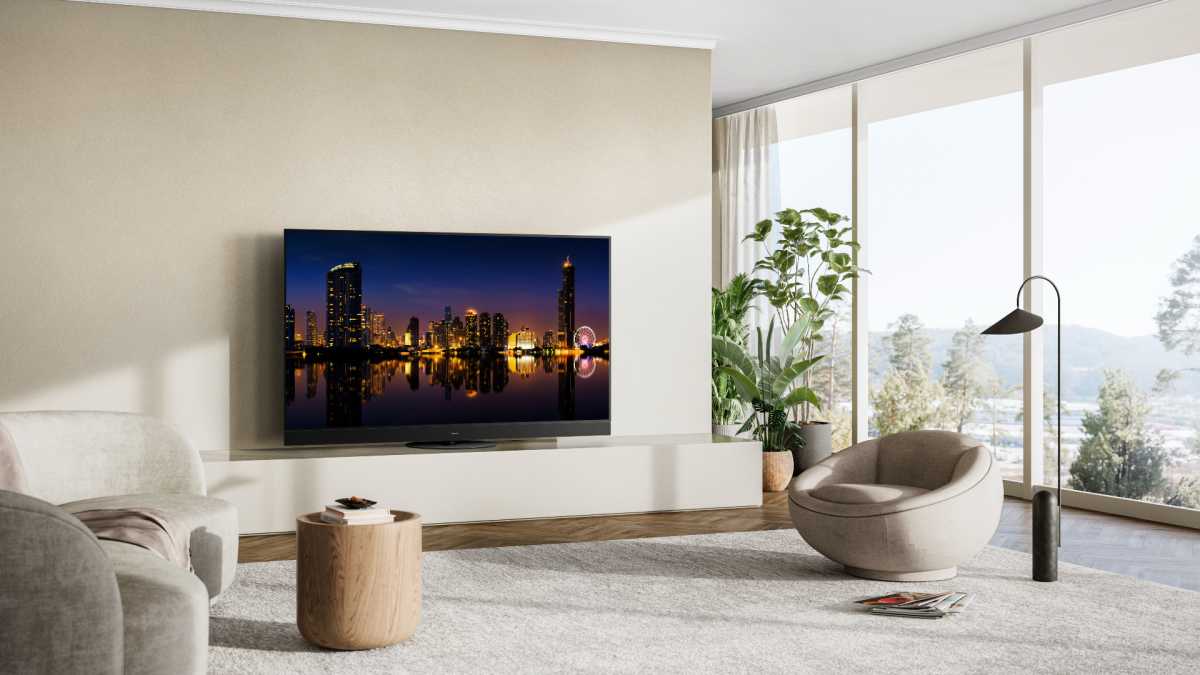 Panasonic
All these features make these models gaming rivals to LG's B3, C3 and G3 OLED models. We don't know the exact release dates for the TVs, but we do have estimated starting prices for the models (which is subject to change). This is £2699 for the MZ2000 (55in), £2199 for the MZ1500 (55in) and £1599 for the MZ980 (42in).
If you love a good endorsement, then Panasonic is the official TV partner for Diablo IV in EMEA.
Gaming isn't the only thing that the HCX Pro AI processor boosts. These TVs also feature a Filmmaker Mode for picture quality, which "ensures that viewers can enjoy their content exactly as the artist intended", according to Panasonic. It also features upgraded ambient colour temperature sensing, so tones can adjust depending on how warm or cool your lighting is.
The company collaborated with film colourist Stefan Sonnefeld to develop the Filmmaker Mode – he has previously worked on Top Gun: Maverick, Star Wars: The Force Awakens and Wonder Woman.
All three TVs come with support for Dolby Vision IQ, HDR10+ and Dolby Atmos. If you opt for the flagship MZ2000, then this is said to be Panasonic's brightest model yet – though we don't have exact figures to hand. Though, we measured its predecessor, the LZ2000, at an impressive 1000 nits.
The panel, like the LG G3, features Micro Lens Array panel technology, and a multi-layer heat management system to boost the brightness – though the latter feature is only available on the 55- and 65in models, and not the biggest 77in version.
The MZ1500 (available in 55- and 65in) comes with a Master OLED Pro panel module, which allegedly makes the panel brighter and improves dynamic contrast.
Panasonic
Panasonic claims that the MZ980's OLED panel (above) offers "silky blacks and stunning brightness", though this doesn't feature any new headline technologies like the other models. That said, this might be the best option if you want a smaller TV for gaming, as it is available in 42-, 48- and 55in sizes.
Alongside the TVs mentioned, Panasonic also unveiled the more affordable MZ800 (estimated to start from £1299) and MZ700 OLED (estimated to start from £599) models with Android TV, which are both available in 42-, 48-, 55-, and 65in sizes.
Alternatively, you could opt for the MX950 Mini LED panel with Quantum Dot tech (estimated to start from £1599), which comes in 55- and 65in sizes, or the more affordable MX800 4K LED Fire TV (estimated to start from £599) which is available in 43-, 50- 55-, 65- and 75in sizes.
If you're looking to upgrade your home entertainment set-up, then check out our charts of the best TVs and the best soundbars.