Working remotely, whether from home, from a hot desk, or on the move, is the new normal – and the new normal has thrown up new challenges.
DocSpace from OnlyOffice is a new web-based collaboration platform that's been built specifically for the new normal. It gives everyone the ability to better focus on the tasks at hand, as well as securely share ideas with staff, clients, freelancers and other collaborators.
It does this in a number of ways. First, DocSpace supports all common file formats, including DOCX, OTT, TXT, PPTX and PDF, meaning ideas can be sketched out and refined before being added to presentation slides, and final versions of contracts written as DOCXs saved as PDFs, and sent out to the relevant parties.
Second, there's an ever-expanding list of first- and third-party plugins, meaning you don't need to switch to other apps. As well as support for popular video-calling platforms such as Zoom, there are other productivity tools such as OCR, which quickly combs images for text and makes it editable, plus speech-to-text and text-to-speech plugins which let you type with your voice, and have your writing dictated back to you.
Third, as DocSpace is web-based, it'll work on virtually any device and any browser. There are dedicated apps for Windows, Mac, and popular Linux distros including Debian and Ubuntu, which allow you to edit documents offline as well.
Finally, and most importantly, DocSpace allows team leaders to manage projects using 'Rooms'.
DocSpace Rooms
Rooms are DocSpace's not-so-secret sauce. In a Room, you have control over who can access and edit what, allowing the different elements of your organisation to focus on getting things done, and you oversight of everything.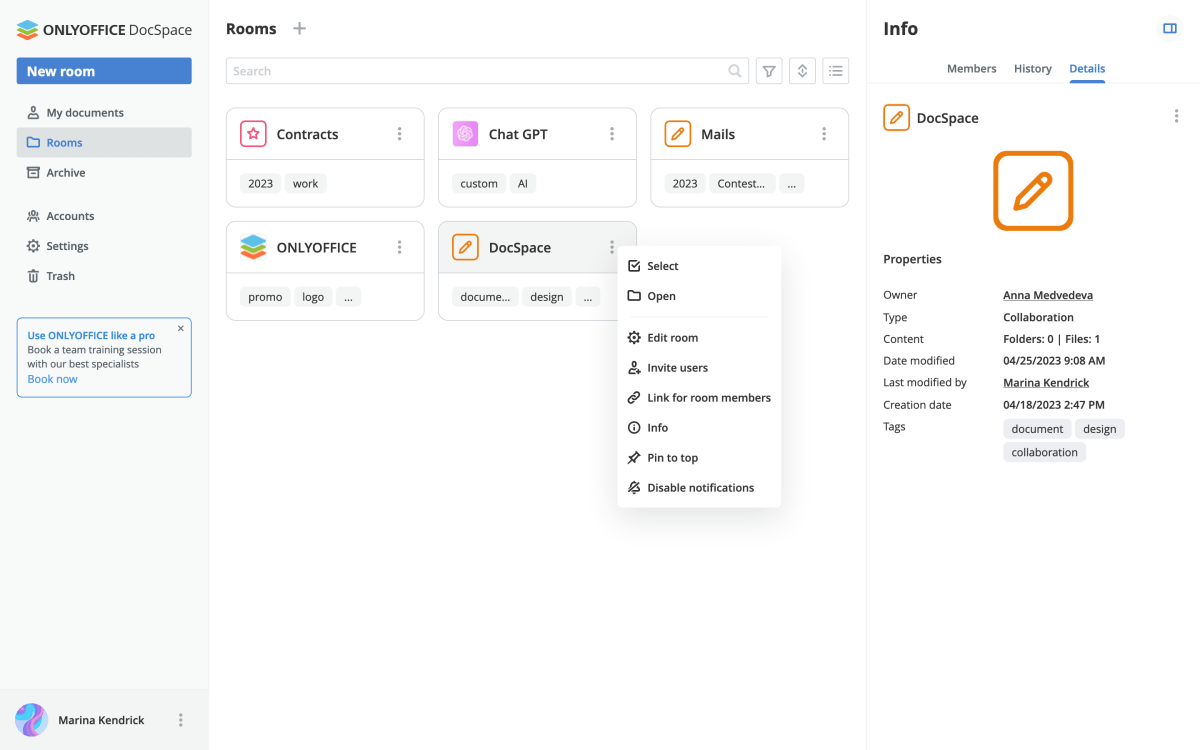 Sensitive documents containing end-of-year figures and contracts awaiting signatures can be stored in Private Rooms and only people who need to see them can be given access. Files created and stored within Private Rooms are automatically end-to-end encrypted and can't be copied or shared outside of a Room – users can download and decrypt files on their machines as and when they are ready to be shared with external third parties.
Here's an example of how DocSpace can streamline productivity.
Your organisation has pitched a potential client and wants to kick off with an internal brainstorming session.
Using DocSpace, the team leader, as a Room Admin, creates a collaboration room. The team leader opens a fresh Word document within the Room, and installs the Zoom plugin. The Speech Input plugin is also installed here, allowing staff members to dictate large sections of text.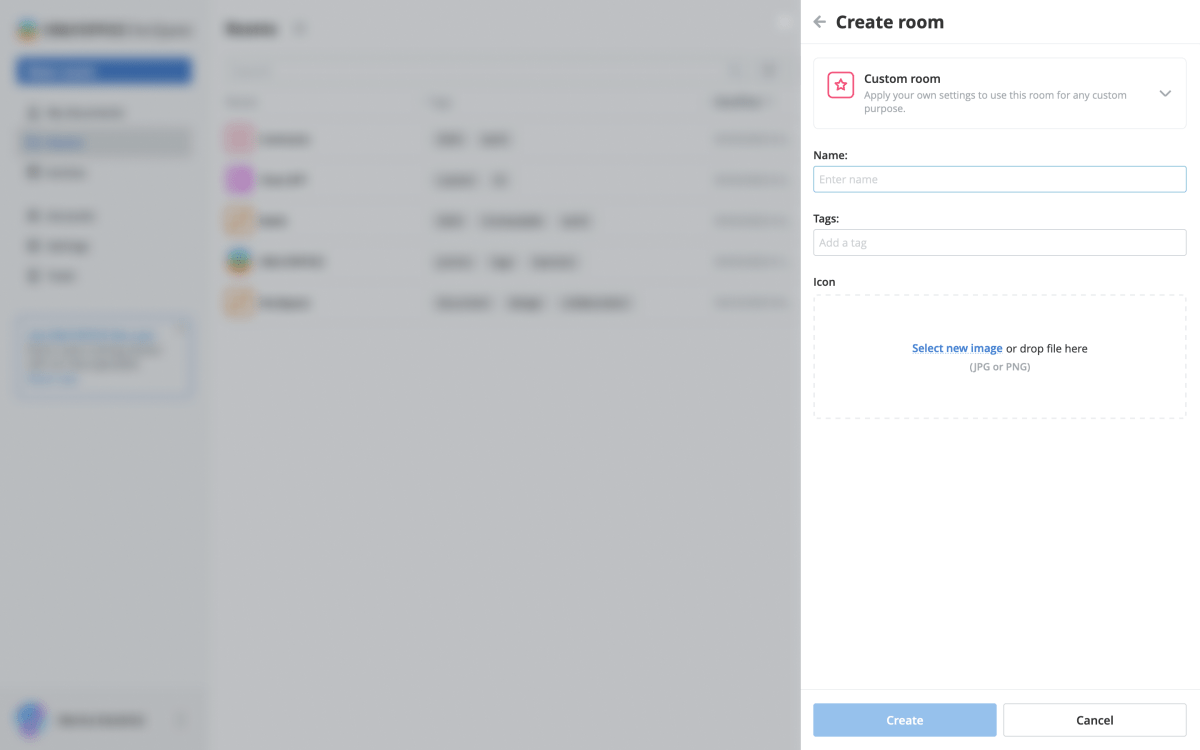 Once set up, the team leader then invites to the Room the relevant division heads, who all have Editor privileges, and line managers, who are all given Viewer status. This means that video and voice chat can happen in real time while participants can contribute ideas in text, all through one app.
With tasks delegated, the team leader creates separate Custom Rooms for all divisions, and gives each line manager Power User status, meaning that they can check the work of their teams against what was agreed upon in the initial meeting and make changes, feeding back to the team leader. Only Admins have the ability to create new Rooms.
Once the initial work is complete, the team leader creates a presentation deck for the client and creates a Private Room. A video call via Telegram, the client's preferred platform, is to take place, so the team leader quickly installs the Telegram plugin on DocSpace.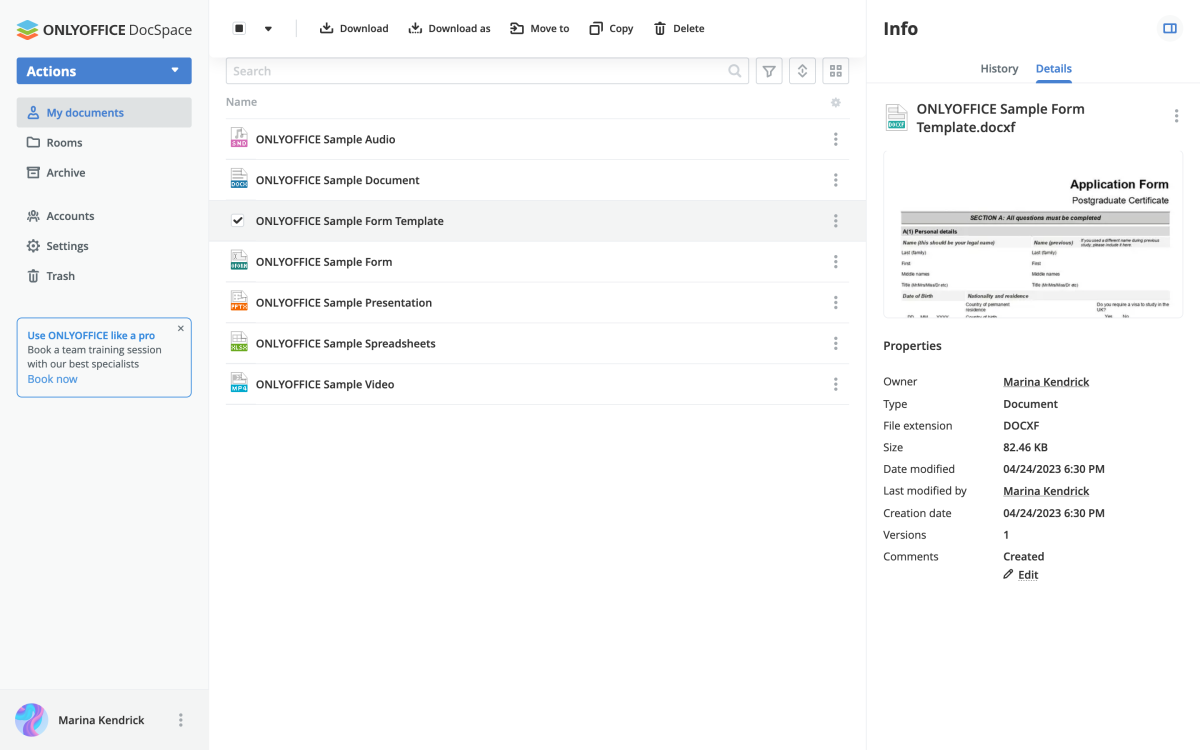 The client is pleased, and wants the work to begin. Contracts are emailed over in PDF format, which the team leader then uploads to a separate Private Room. Converting these to Word documents, allowing for digital signatures to be added, the team leader invites the relevant parties to sign. The contracts are then converted back to PDFs, and returned to the client.
Once the work is completed, your company can back up the work to use as a future case study. The team leader uses the Backup tool to connect your company's Dropbox account, and securely backs up all of the relevant Rooms for future review. The Rooms are then deleted from the DocSpace, as they're no longer needed.
Find out more
You can see how DocSpace can simplify the collaboration process, but to really get an idea of how it can work for your business, you can sign up for a free Start Up account right now.
This version of DocSpace allows for one Admin, two Power Users and up to 12 Rooms, with unlimited users and 2GB of storage for files.
If you need more, the Business version of DocSpace costs US$15 per admin, and allows for an unlimited number of users and rooms, gives you 100GB of storage.
To find out more about DocSpace, visit the OnlyOffice website.