At the WWDC keynote on June 5, 2023, Apple unveiled some of the new features coming in iOS 17 this fall. Among them a new app called Journal, Live Voicemail and a new way to use Stickers. Read on for the lowdown on all the new features and improvements coming to your iPhone later in 2023.
This free software update will bring a raft of interface tweaks, bug fixes, and new features. It's like getting a new iPhone without paying a penny. In this article, we discuss everything you need to know about iOS 17. We cover its release schedule and when you can expect the beta and final versions to come out; how to get it when it does; the models of iPhone that are likely to be able to run iOS; and the features we expect and hope to be added in the new OS.
iOS 17 release date: When will iOS 17 arrive?
iOS 17 was announced and demonstrated at WWDC 2023 on June 5 but it won't be rolled out to iPhones across the world until the fall, almost certainly in mid-September. (The last time an iOS update was released outside September was iOS 5 back in October 2011.) It's likely to follow closely on the heels of the iPhone 15 launch event. There was a gap of five days between the iPhone 14 and iOS 16 update in 2022, and six days in 2021. Over the past several years, the release of the new version of iOS has been fairly consistent:
iOS 16: Monday, 12 September 2022
iOS 15: Monday, 20 September 2021
iOS 14: Wednesday, 16 September 2020
iOS 13: Thursday, 19 September 2019
iOS 12: Monday, 17 September 2018
We therefore predict an iOS 17 launch date of Monday 11 September 2023.
iOS 17 beta release date: When will iOS 17 beta arrive?
Before the full version arrives in the fall, a series of beta versions of iOS 17 will be released to testers, beginning with the first developer beta likely released on the first day of WWDC 2023. Here's our expected timeline:
Early to mid-June 2023: iOS 17 is announced at WWDC, and the first developer beta is released.
July 2023: Apple releases the first public beta of iOS 17.
June to September 2023: Apple releases a series of additional developer and public betas.
Mid-September 2023: The final public version of iOS 17 is released.
iOS 17: How to install the beta and full version
Once the final release comes out, installing iOS 17 will be a breeze. Open the Settings app on your iPhone and go to General > Software Update; iOS will check for any available updates and guide you through the process of installing them. You simply have to follow the instructions. And it's easier still if you've turned on Automatic Updates, which you can do from the same screen.
But you can also install betas both leading up to the main release of iOS 17 and through the year following its release. There are two types—developer betas, which arrive first, and public betas, which generally show up a day or two later.
If you want to install a developer beta, you need, unsurprisingly, to be a registered Apple software developer. This costs $99 a year and will give you priority access to all of Apple's betas, including macOS, watchOS, and tvOS. A better option for most would be to go for the public beta instead: these come out later than the developer betas, but they are free, and still give you bragging rights with your friends. Apple has changed the way betas are installed in iOS 16.4, and they are now tied to Apple IDs rather than profiles, so the process is a little friendlier than before. You can sign up to receive betas at the Apple Beta Software Program site.
In either case, it's important to stress that betas are not finished software and are likely to contain bugs. That's kind of the point of testing them. So be prepared for things to go wrong, maybe catastrophically, and we don't recommend that you install a beta on your primary device. If that doesn't put you off, follow our iOS beta installation guide.
iOS 17 compatibility: Which iPhones will be able to run iOS 17?
iOS 17 will not support iPhone 8 and iPhone X. This matches our prediction before the event that the iPhone XS and later will be able to run iOS 17.
The iPhone 8 and 8 Plus, and the iPhone X all came out the same year. They are all be able to run iOS 16 though, so they should get Apple support for a few more years. iPhone 7, iPhone SE (2016), and earlier are not compatible
The following iPhones get support for iOS 17, although it is possible that not all of them will support all of the new features:
Here are the phones with which you'll be able to use iOS 17.
Phone 14
iPhone 14 Plus
iPhone 14 Pro
iPhone 14 Pro Max
iPhone 13
iPhone 13 mini
iPhone 13 Pro
iPhone 13 Pro Max
iPhone 12
iPhone 12 mini
iPhone 12 Pro
iPhone 12 Pro Max
iPhone 11
iPhone 11 Pro
iPhone 11 Pro Max
iPhone XS
iPhone XS Max
iPhone XR
iPhone SE(2nd gen or later)
Even if your chosen device is granted another year of software support, it's worth noting that older iPhones may not get the full range of new features. Last year, for example, the iPhone 8 and iPhone X missed out on a bunch of cool stuff due to its older processor.
iOS 17: New features
There were many new features in iOS 16, including a redesigned Lock Screen, unsending iMessages, and the iCloud Shared Photo Library, but what is coming in iOS 17? Rumours suggested that there would be "fewer major changes" than usual–is that the case? Here's what Apple has announced so far:
Journal
This is a brand new app that builds on Memories in Photos to bring a new way to relive special moments. New way to remember and write about experiences with text, location and photos and more. You chose what to include. Suggestions API for developers to use in their apps.
StandBy
This seems to borrow from the Apple Watch. Put the phone on a stand at night and see the time with a clock and a range of clock styles. Shuffles through best shots. Uses widgets. You can also see Live Activities, like game scores. StandBy adapts to red light – red tone to help you sleep.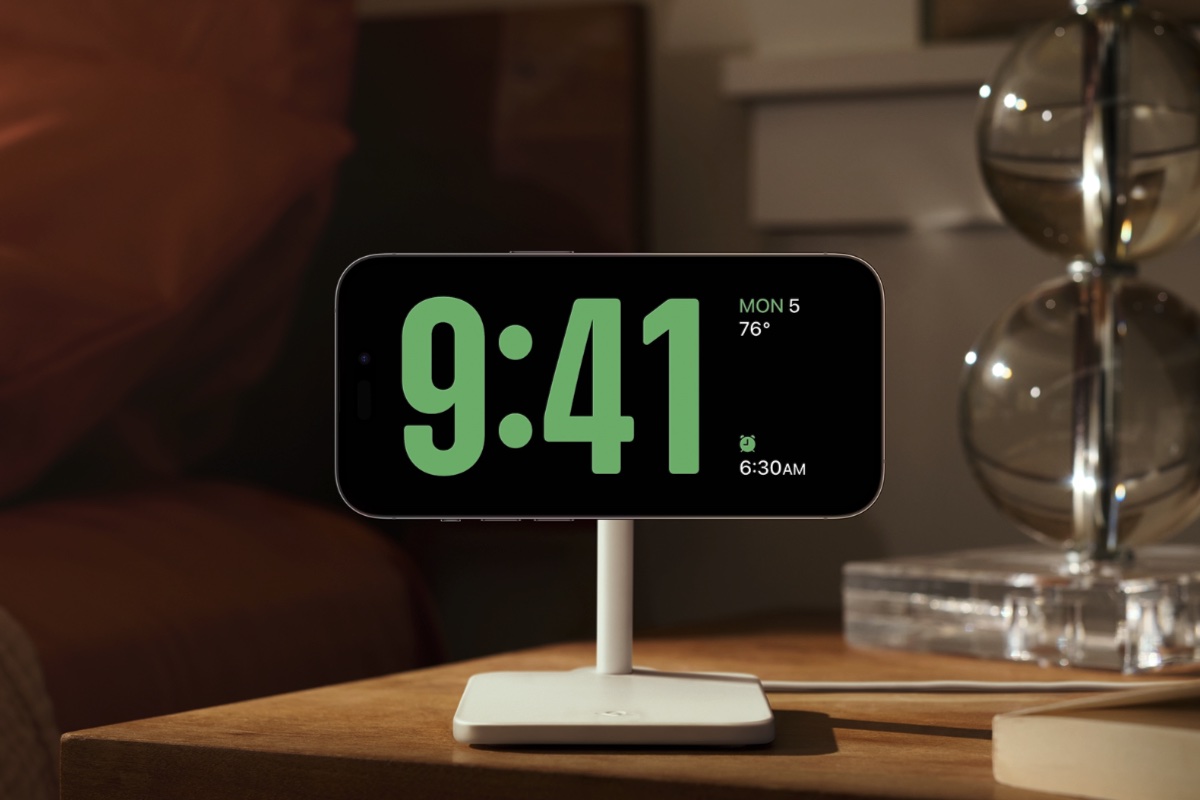 Apple
Contact Posters
This will let you personalise how you appear in calls and on your contact card. You can customise your poster with image, font and colour. This works with Call Kit so it can be used in third-party VOIP apps.
Apple
Live Voicemail
If someone calls and leaves a message you will see a live transcript as they speak. That way you can see if you want to answer it. When you know what the call is about you can decide whether to take it.
Apple
FaceTime
Is getting the ability to leave a message as as FaceTime video (or audio).
Apple
Messages
Will be faster and more convenient. Search filters will let you add terms to a search to narrow the results. Jump to the first message you haven't seen in a group chat. Swipe to reply on any bubble. Audio messages are transcribed.
You can also check in with a family member and friends via Messages to let them know you have left for home, and your progress as you head for home. After you set off it will recognise if you aren't making progress towards the destination and 'check in with you'. They can also see your battery level and cell status so they know if you can take a call. Sleek new look so you can see the things you see the most.
Stickers
You'll be able to see all the stickers in one place. All emoji are now stickers. You can peak and stick and resize it. Subjects from photos can be lifted out of photos and turned in to stickers. You can turn live animated photos into moving stickers for Live Stickers. Stickers have been added system-wide wherever you can access emoji.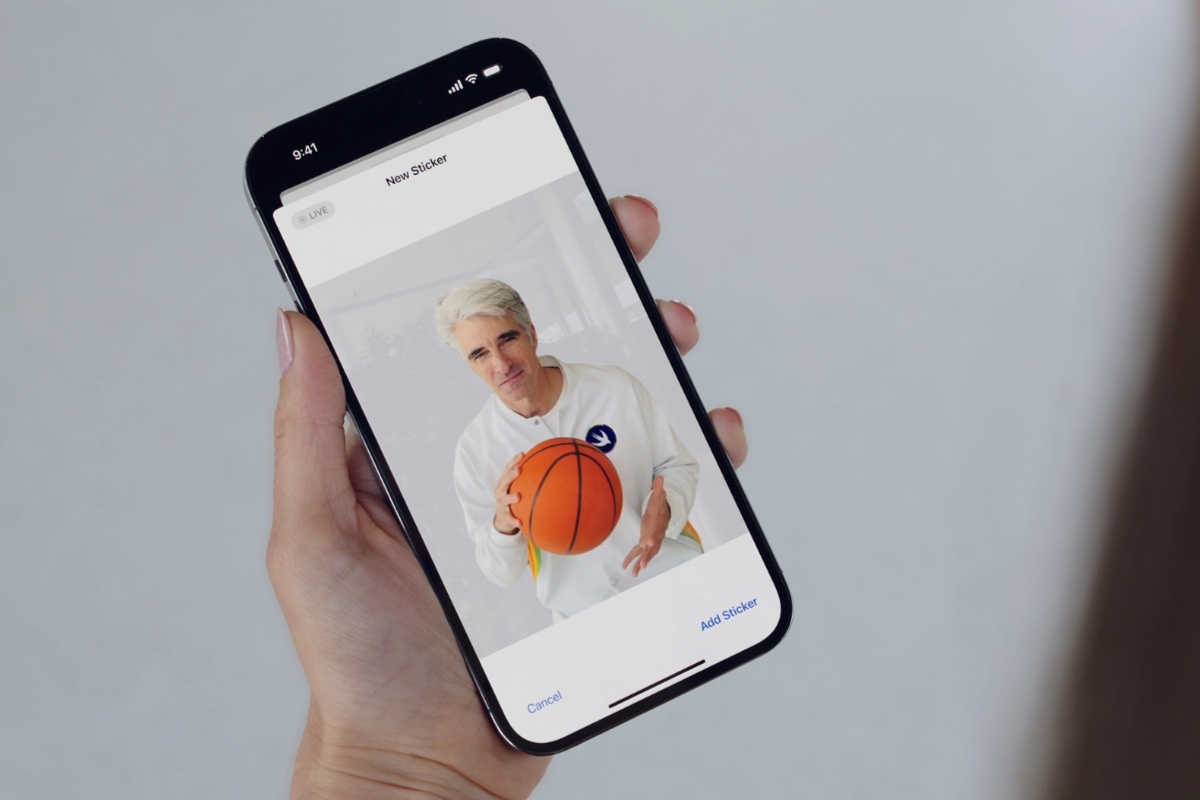 Apple
AirDrop
Apple is changing the way AirDrop works it will be much simpler to use. You only need to bring your phones close together and you will be able to share information. You cac easily chose the phone numbers and email addresses you want to share with. You can also share with an Apple Watch. For example, if you want to share photos, just bring phones close together and simply share. And if you step away the content will continue to share over the internet. This works with SharePlay too, so you can just bring phones together to share what you are watching.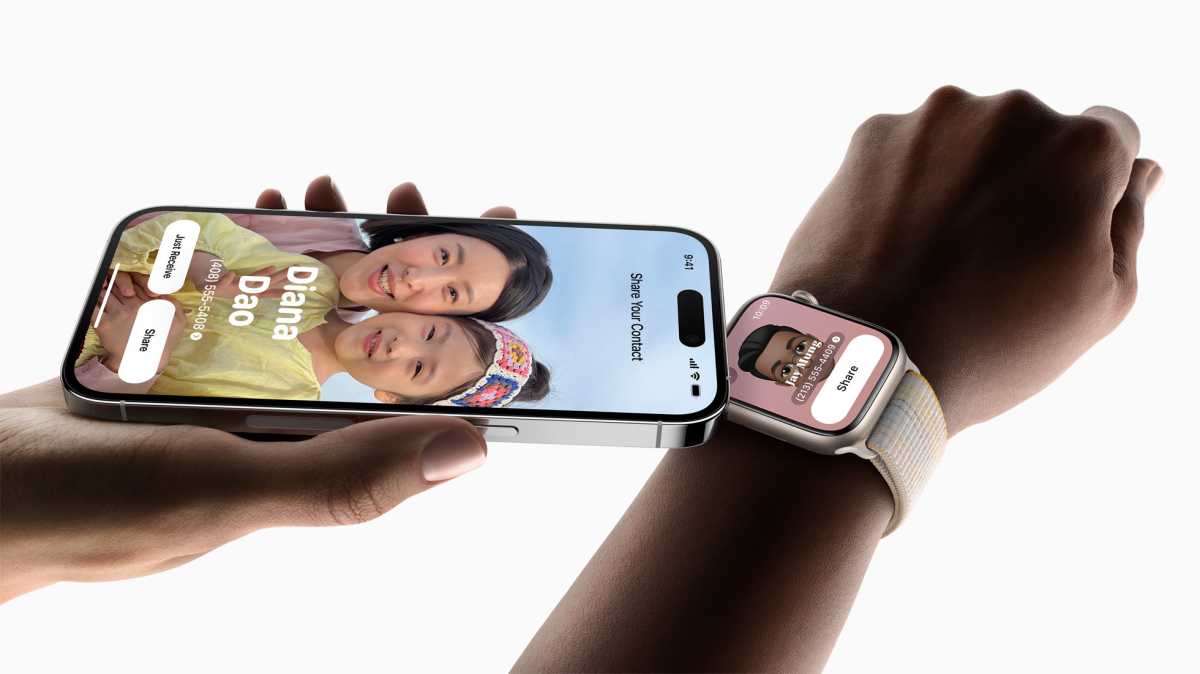 Apple
Keyboard
Autocorrect will be "more accurate than ever". Tap the underlined word to get the option to revet to the word you had typed. You can get predictions in line as you type and just tap the space bar to add them.
Dictation
Improvements.
Siri
There will be no need to say Hey every time! Just the first time.
Photos
iOS 17 will be able to identify cats and dogs that are part of your family.
iOS 17: Rumored features and our wishlist
This year's wishlist was focused on things we want to see improved in iOS 17—little tweaks that will make a big difference in how we use our phones.
For what it's worth, Apple actually delivered several of our iOS 16 Wishlist features, and if iOS 17 brings us more of the changes on this year's list, we'll consider that a success. Here's what we want to see this year:
Smart display mode
According to Bloomberg's Mark Gurman (a rather reliable source of leaks and rumors), iOS 17 will turn your iPhone into a smart display of sorts when locked and turned to a horizontal orientation. The feature will build on the lock screen widgets work from iOS 16, and use a dark background with bright text to make it easier to read. Apple is also working on a new horizontal iPad interface but that work is slower. Gurman also mentions changes to the Wallet app and its location services, a new journaling app, additions to the Health app, and upgrades to SharePlay and AirPlay.
Control Center
A MacRumors forum member says that iOS 17 will have substantial changes to Control Center, the first in many years. "Website forum member" is not typically strong providence for info leaks, but this same person has previously leaked accurate information about the Dynamic Island before its unveiling.
Camera and Health improvements
In April, a Twitter thread from prolific leaker @analyst941 detailed several new features they claim are from a development team insider. This leak is sketchy, but the individual reported updates are all vague and predictable enough that they seem likely. They include:
Major changes to the Control Center UI and customization
New features for the Dynamic Island
Additional always-on display settings
More Focus Mode filters
Health app UI changes
Camera app changes
Notification changes and additional options
Heavily improved Search/Spotlight
Lock Screen sharing
A post on Weibo from an account that accurately predicted the yellow iPhone 14 color (although at a fairly late date) details some supposed improvements in iOS 17. They include:
Control Center UI changes
App Library supports custom folders
Apple Music lyrics on the lock screen
Apple Music interface improvements
Infinitely adjustable flashlight brightness
Sharing lock screen setups
Font size adjustment for Lock screen and emoji wallpaper
Lock Screen Maps
Analyst941 on Twitter, who has made several prior iOS 17 leaks, shows a new lock screen interface for Maps that shows the time and notifications count, unlike the current full-screen takeover.
@analyst941
App Library overhaul
First introduced with iOS 14, the App Library is a good fundamental idea: Let your home screen be cluttered with only those apps you truly use every day and hide the dozens of other apps on your iPhone away from view.
It's just a bad design! Apps are stuffed automatically into category folders that don't always match up with what you'd expect. I have two Fender guitar apps on my iPhone. Fender Tune is in the Entertainment folder where it doesn't belong, and Fender Play is in Other. Intuitively, these belong in the same folder, which should probably be Creativity. Everyone I know has numerous examples like this.
The folders are represented by four icons, three of which are actual app icons that open the app when you tap on them and the fourth is a group of four more tiny app icons that open the folder. This is an interaction and interface model that doesn't exist anywhere else in iOS and iPadOS, and it's not intuitive. Oh, and all the folders and their contents move around and change so you can't develop muscle memory.
Apple
We have a few simple suggestions. Tapping the search box at the top of the App Library gives you an alphabetical list, which is a much simpler and intuitive way to find an app. It should be the default view—or be able to be set as the default view.
At the very least, make the folders in the App Library work like folders throughout iOS. Don't move them around, make them so you open the folder when you tap on them and never one of the apps within. And maybe incorporate a number showing how many apps are in the folder.
Third-party app stores
A recent report claims that Apple will start to open up the iPhone in iOS 17, allowing the distribution of apps outside of Apple's own App Store, the use of NFC for touchless payments beyond Apple Pay, browsers that don't have to use Apple's Webkit rendering engine, and more. It's all necessary to comply with the EU's new Digital Markets Act, and the expectation is that it will only apply to those iPhones running iOS 17 in the regions covered by EU law.
Apple should go ahead and make the changes–whatever they are–global. Naturally, we expect Apple to do the minimum possible to be in compliance with the Digital Markets Act, and we're probably going to be in for a round of hearings and lawsuits and such saying that Apple isn't in full compliance.
I still think whatever limited additional choice and freedom the EU iPhone users get will be a good thing, and would be good for users the world over, on balance. Moreover, it might be a smart move by Apple. The company is under antitrust scrutiny in several other markets, including the U.S. It could take a lot of heat off itself by offering the same solution that satisfied EU regulators, possibly preventing even stricter remedies in other regions.
It would also make iOS easier to maintain and test as a single cohesive release, rather than fragmenting iOS into regional variants.
Better Siri
Siri is definitely getting better with the news that we will only have to say Hey Siri the first time. Siri also got a nice set of improvements in iOS 15 and iOS 16. It finally got offline processing, which speeds things up a lot and improves privacy. It also got a bit smarter and more reliable and is a lot better about understanding what is on the screen and reacting to it.
But Siri simply isn't getting good enough fast enough. Not a day goes by that I don't ask my Google Assistant something to which I get a good answer, and then—just out of curiosity—I ask Siri as well, and Siri fails.
The emphasis on new large language models such as ChatGPT is moving the bar for how we expect to be able to converse with AI. Siri needs more than just a "20 percent better than last year!" update, it needs a big forward leap that you can hear and feel every time you use it. It needs to sound better, work better, do more, and be right more often. It needs to truly feel conversational.
Siri kicked off the first generation of smartphone AI and fell behind. Wouldn't it be great if Siri was the first true "next-generation" smartphone AI?
2FA for all
There's this awesome feature in iOS that takes 2FA authentication codes you receive via SMS and makes them an autofill option just above the keyboard. This allows you to fill in the code without jumping away from the app or website that requested it and back again.
The only problem is that this only works with 2FA codes from SMS or Apple's built-in Passwords feature.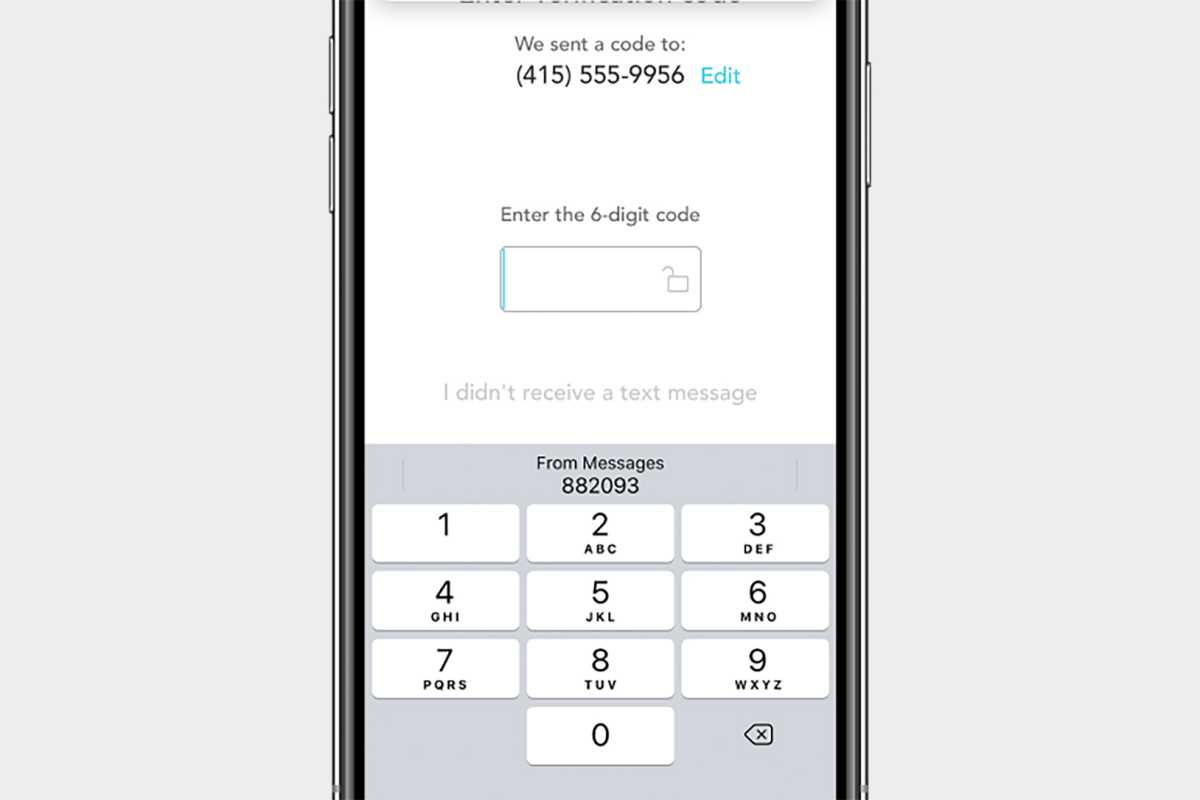 Apple
We don't suggest using SMS for 2FA codes unless you have to–they're not as secure as they should be. Using the built-in password manager to generate codes isn't a great option either because it really only works well on your iPhone–if you ever need to log in anywhere else, it's a real pain to jump three layers deep in Settings to get your code. And some businesses mandate the use of certain 2FA apps.
We'd love for Apple to provide a framework for one-time-password code generation apps such as Authy, Google Authenticator, Microsoft Authenticator, and others so they can securely autofill codes when requested just like Messages.
Call screening
Spam calls are out of control, and Apple should be using every tool in its arsenal to solve one of the biggest annoyances plaguing every smartphone user. For some time now, Google Assistant has been able to screen calls from unknown callers on Android phones. It can produce text transcripts and recordings, too.
This seems like a thing Siri should be able to do. In fact, Apple should go a step further and build an iCloud call spam service. These apps and services already exist, but they require you to set up a call-forwarding service–Apple, with low-level access to the operating system, could make this easy and seamless. Just like the iCloud Private Relay service, this should be an obvious feature for a company that bills itself as the "security and privacy" smartphone choice.
More Dynamic Island
The Dynamic Island is a wonderful interface convention that we expect to see on all four iPhone models this year. But it can do more!
New notifications should flow out of the Dynamic Island when they come in instead of just sliding down from the top of the screen, and the option to see how many unread notifications you have would be useful too. Maybe Siri could suggest new Live Activities based on the apps you use.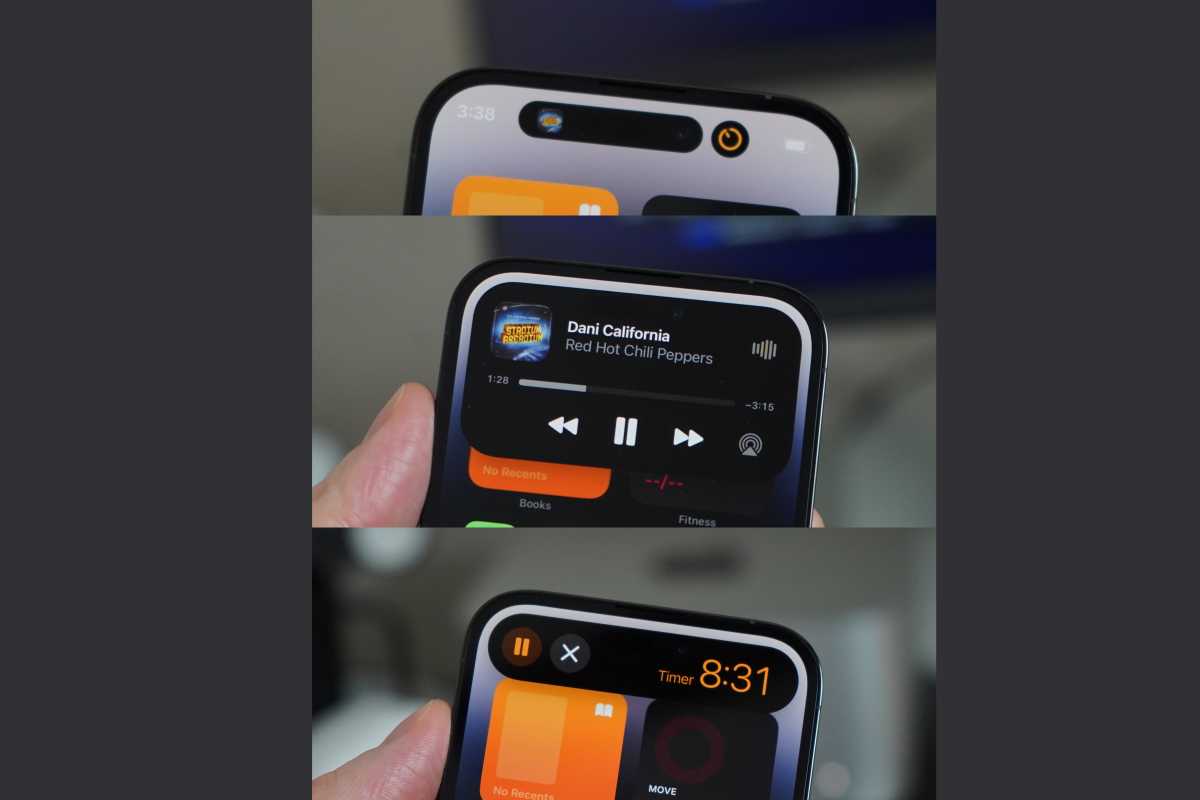 Foundry
But most importantly, the Dynamic Island should not be a place for notifications to live, just where they briefly appear when they first come in. The use of this area is clear: it's for persistent background activities and "here and then gone forever" toasts like the Face ID authentication or AirPods connecting.
This is only going to get worse when the Vision Pro headset is released and has visionOS 1 or something similar.
Just jump everything ahead to 17. Or better yet, version 20. Why not? After all, Apple skipped the iPhone 9 entirely, jumped tvOS to version 17 out of the blue, and kept macOS at version 10 for more than a decade..