The Ultion Nuki, the smart lock built for British doors, has had an upgrade. Hello Ultion Nuki Plus.
The new model has inbuilt Wi-Fi and a rechargeable battery. It's also had a bit of a design glow-up and comes in either black or white, with an aluminium control element.
You can buy the new Ultion Nuki Plus from Ultion and Amazon. It's priced from £379, depending on whether you opt to get the lock by itself, or with a fingerprint recognition keypad or Bluetooth fob.
Of all the new features, the biggest upgrade from the original Ultion Nuki has to be the inbuilt Wi-Fi. This will allow you to unlock your door remotely. It also means you can check on its status when out and reassure yourself that, yes, you did remember to lock the door before you left home.
These features were available on the original lock but only if you bought the Nuki Bridge separately (£89 from Nuki).
The battery upgrade is nice touch for convenience as well. When the battery runs low, you just eject the pack from the lock, plug it in straight into a USB-C lead and it'll recharge in 4-5 hours. You'll get plenty of warning in the app when the battery is running low, and most people just lock their door in the evening and charge the battery overnight.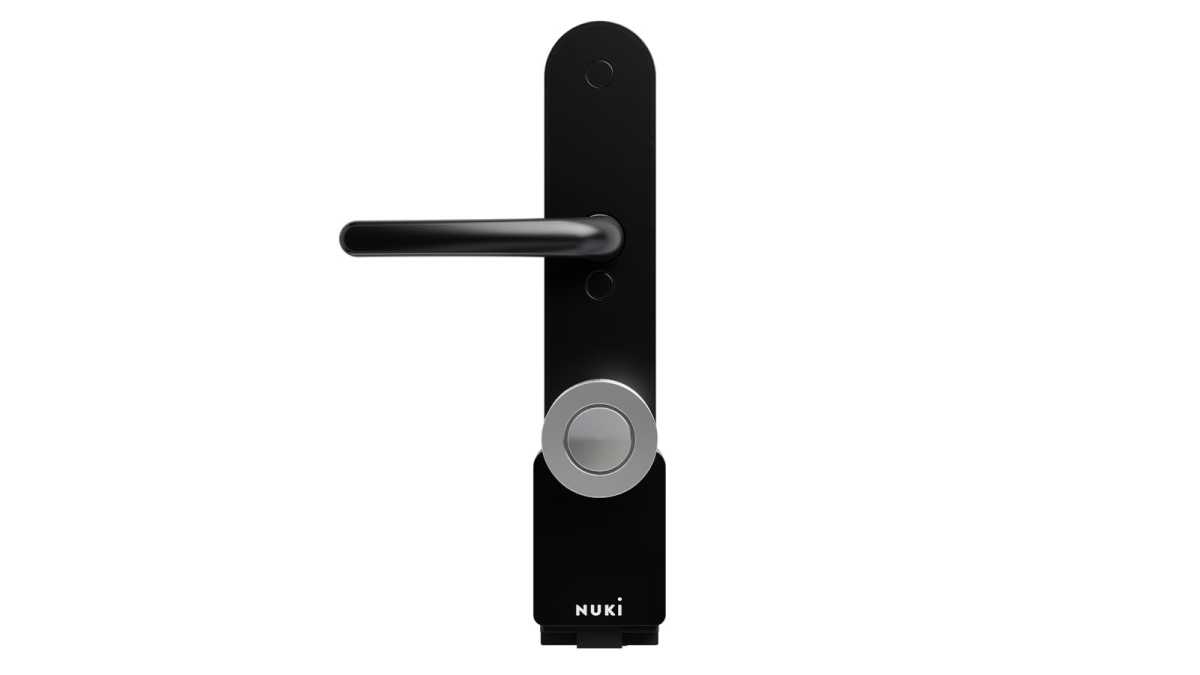 Ultion Nuki
The Ultion Nuki Plus is compatible with major smart home platforms, including Alexa, Google Home, Apple HomeKit and IFTTT, allowing you to do things like open or lock your door with a voice command (plus – for obvious security reasons – a PIN code). It also works with apps including Ring and Airbnb. Airbnb hosts can cut down on admin and hassle by choosing to automatically send an electronic key to guests when they book.
Owners can also issue time-specific digital keys to friends and family and will get a notification when they open or close the door.
In terms of the Ultion hardware, it has a 3-Star Plus Diamond Sold Secure rating, which means it's been tested above and beyond requirements for TS007 and has passed inspection by the Master Locksmiths Association.
And, just like its predecessor, the Plus can't be seen from the outside. Not only does this provide a security boost but it makes it a good choice for period homes where an ultra-modern lock might look out of place. You can keep your current door handle, or choose from one of the seven options Ultion provides.
It's made to be fitted in place of a standard lock – and installation can be completed by the owner, in just 5-10 minutes. No drilling or wiring is required: Ultion says it's a matter of changing three screws.
To widen its functionality, the Ultion Nuki Plus is compatible with accessories including a fingerprint recognition keypad (£145, Nuki), the Ultion Keytag with Apple Find My (£39, Ultion) and a Bluetooth fob (£49, Nuki).
We've tested the original Ultion Nuki. Find out what we thought of it in our comprehensive review.