At a glance
Expert's Rating
Pros
Decent audio in water
Good battery life
Can store a wide range of songs and podcasts
Cons
Fiddly controls
More instructions needed in app
Slightly uncomfortable after long periods of wear
Technical issues
Our Verdict
H2O Audio's Tri Pro Multi-Sport headphones are secure in the water and produce punchy audio via music streaming services, Bluetooth and from loading MP3 tracks – but there are some issues that need addressing.
Price When Reviewed
$159
Best Prices Today: H2O Audio Tri Pro Multi-Sport
Whilst many headphones come with some degree of water resistance, not many will be suitable for a proper dip in the pool. For that, you'll need some dedicated swimming audio gear, like the H2O Audio Tri Pro Multi-Sport.
These headphones support both offline listening for music streaming services and MP3 tracks as well as Bluetooth connectivity, though the latter isn't easy swimming. Nonetheless, you could also use these for other forms of exercise such as running and cycling as 'Multi-Sport' suggests.
Design and build
Bone conduction design
IPX8 rating with submersion of up to 12 feet
Suitable for pools, fresh water and the sea
The H2O Audio Tri Pro Multi-Sport has a bone conduction design, a common build for sports-based audio gear such as headphones from Shokz.
This means that the arms of the headphones hook over your ears, with the speakers pressed against your cheekbones so that music vibrates through to your ear canal. Your ears are left free, so you can stay aware of your surroundings. Naturally, this diminishes the sound quality somewhat compared to traditional types of headphones.
There is a pair of supplied earplugs if you want to block off outside noise when in the pool, though that does mean that you won't be as aware to hear any angry swimmers who you might accidentally be getting in the way of (sorry, Bob).
Overall, the build quality is solid and sturdy. They don't feel premium like a pair of wireless buds or over-the-ear headphones do, but they're discreet enough and can stand a few knocks or drops, should they arise.
Dominik Tomaszewski / Foundry
You've probably guessed that these headphones have some solid waterproofing, with an IPX8 rating and the ability to be submerged up to 12 feet. They can also be used in both fresh and salt water, should you prefer wild swimming to your local pool or want to use these for other water sports such as surfing.
Controls for the H2O Audio Tri Pro Multi-Sport are limited to just three buttons on the right-hand side. One is for power, playing/pausing and switching the mode between offline play and Bluetooth mode. The other two are for volume, skipping between tracks and additional functions such as loading music and skipping folders.
These buttons are small and hard to press at times, meaning that you must dig in hard to change the volume or pause your track, which can be annoying if you're in the swing of your workout.
This section also includes an LED light, which indicates the battery status and mode – turning blue when the Bluetooth connection is on, and white when offline playback is happening.
There is 8GB of storage on the device, giving you plenty of room for songs and long-form content.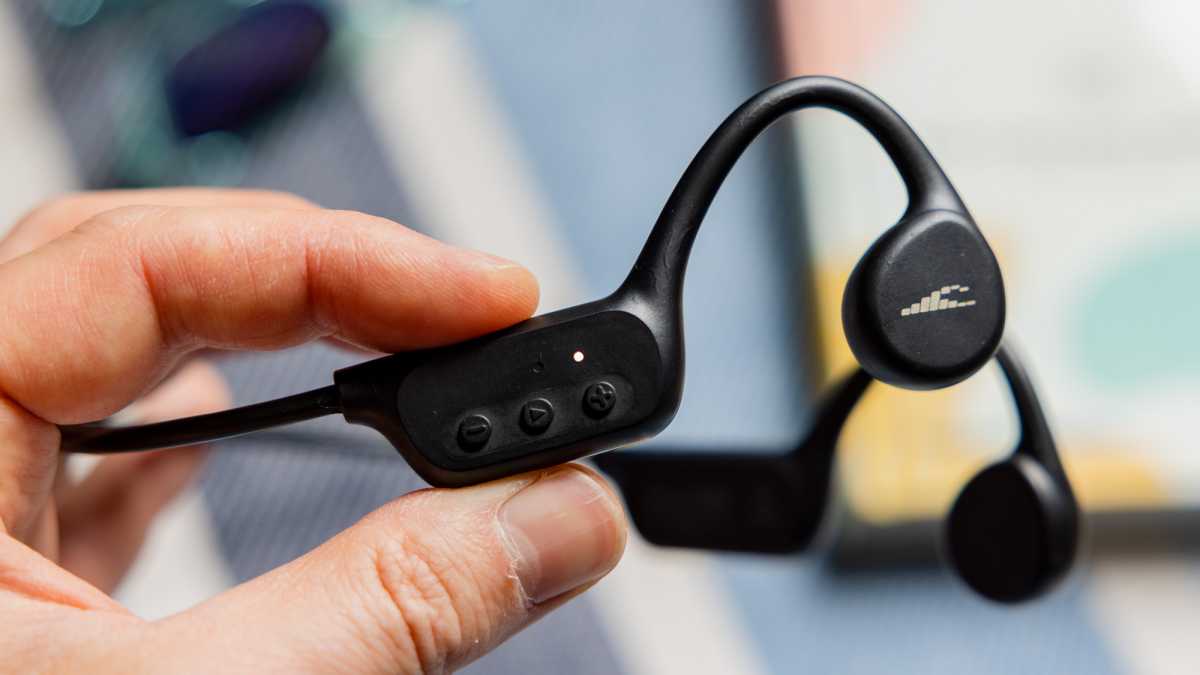 Dominik Tomaszewski / Foundry
Comfort and fit
Secure for multiple strokes
Slightly uncomfortable after long periods
Can be worn with a swim cap and goggles
The H2O Audio Tri Pro Multi-Sport weigh 32g, so they never feel heavy during use. However, after long periods of time, the speakers did leave the sides of my face feeling a bit sore.
In the water, I tested these headphones with breaststroke, front crawl and backstroke both with and without a swim cap, and the headphones stayed secure. Without a cap, the headphones did briefly slip when I set off rather vigorously, but a minor adjustment solved the issue.
The box includes a rubber band if you want to secure the headphones to your goggles.
Hannah Cowton / Foundry
The company advises you to wear your cap with your ears mostly showing, so that the headphones are free. Don't try wearing them under the swim cap, as otherwise the headphones will dig into your skull.
Outside of swimming, these headphones are still secure. I was able to use them during a HIIT (high intensity interval training) workout, and they stayed in place even with me jumping around the room.
Sound quality and performance
Quality at its best with earplugs
Punchy bass
Volume needed at higher levels mostly
Whilst you won't get the same quality as you would with in-ear wireless buds or over ear headphones, the audio on the H2O Audio Tri Pro Multi-Sport is largely clear. The bass is especially punchy, and whilst this is great for pop and indie tunes, having the volume at max sounds overpowering on heavier tracks.
Mids and vocals are also clear, though some highs and finer details are lost, and I had to keep the volume cranked up on some gentler tracks for the best quality. Of course, this is to be expected with headphones with this type of design.
Going in and out of the water, there is a difference in the audio. I didn't expect songs to sound even more powerful underwater. On land, audio is very much drowned out – especially in noisy environments like the underground, so I wouldn't recommend using these as your main pair of headphones.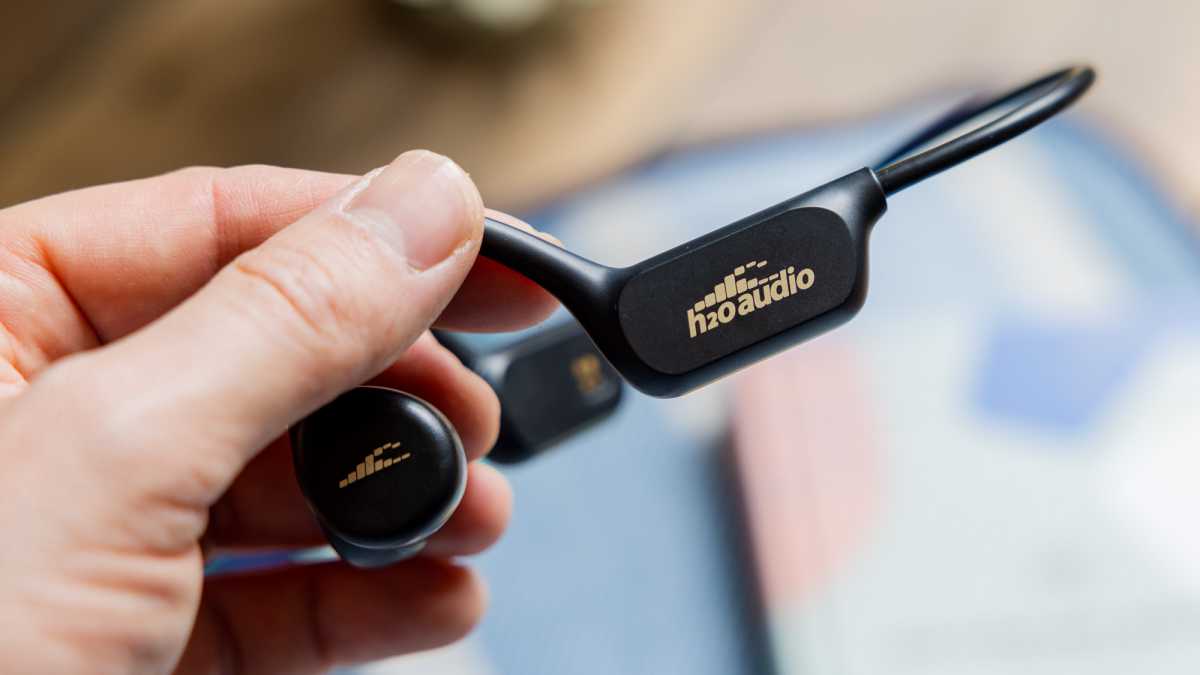 Dominik Tomaszewski / Foundry
If you want a more uninterrupted experience, then you should don the accompanying waterproof earplugs, as it vastly improves the clarity and power of the audio. Whilst I'm more than happy to equip these for a dip, I'm not a fan of having earplugs in as well as headphones when I'm wandering around the city.
Bluetooth will not work smoothly when you're swimming. This isn't an issue with the product, but rather physics. This type of connection does not work if you're submerged in water and your smartphone is poolside. Otherwise, the 10m land range means that it is perfectly fine for use across different storeys of your home.
H2O Audio does sell a clip for your Apple Watch that you can attach to your swimming cap, so you could in theory stream offline music and podcasts that are loaded onto your wearable. However, I wouldn't be comfortable swimming with a very expensive smartwatch clipped to my noggin.
App and usability
Accompanying app for loaded music
Bluetooth connectivity
MP3 and Playlist+ for offline listening
You can load tracks on Playlist+ and MP3 downloads using the accompanying H2O Audio app. The app displays the battery level of the H2O Audio Tri Pro Multi-Sport, as well as all the music you've loaded onto the device.
The key difference between this product and the Tri Multi-Sport headphones is that this includes the Playlist+ feature. This means that you can store music and podcasts from Spotify, Apple Music and more on your headphones and use them for offline playback, rather than just relying on what you have bought as an MP3 file.
This is especially useful for things like long-form podcasts, which I traditionally only listen to via Spotify.
According to H2O Audio, if users have received their music via streaming app that they've paid for, then it doesn't present a copyright issue, providing that they are just listening to songs for non-commercial or personal use. The same sentiment applies to MP3 audio – ie songs that users have purchased.
Hannah Cowton / Foundry
To load music, you must play something all the way through first and have it at the volume you'll want to listen to it, as the device is essentially recording the songs/podcasts that you're listening to. You can then name your files in the app and add them to your playlists.
This is long-winded, so I recommend leaving the headset loading whilst you work so you don't have to listen to things multiple times.
The recording does not automatically split tracks, so if you want these all as separate files (such as on shuffle play) then you'll have to start and stop the loading manually. The app does not allow you to edit any loaded recordings.
MP3 files are quicker to add to the headset – you simply connect it to your PC using the accompanying USB charging cable whilst the device is powered off, and then drag and drop your files over to the devices' memory.
Sadly, my first review unit failed to connect to any PCs or laptops via USB, despite me following the troubleshooting guides. H2O Audio did provide a replacement which worked successfully, but some digging from online reviews show that this problem has happened on other products from the brand.
Overall, the app isn't the most intuitive. Some of the folders are confusing, with no explanation of what they are. The manuals and website explain how to use the headphones, more detail and information in the app wouldn't go amiss.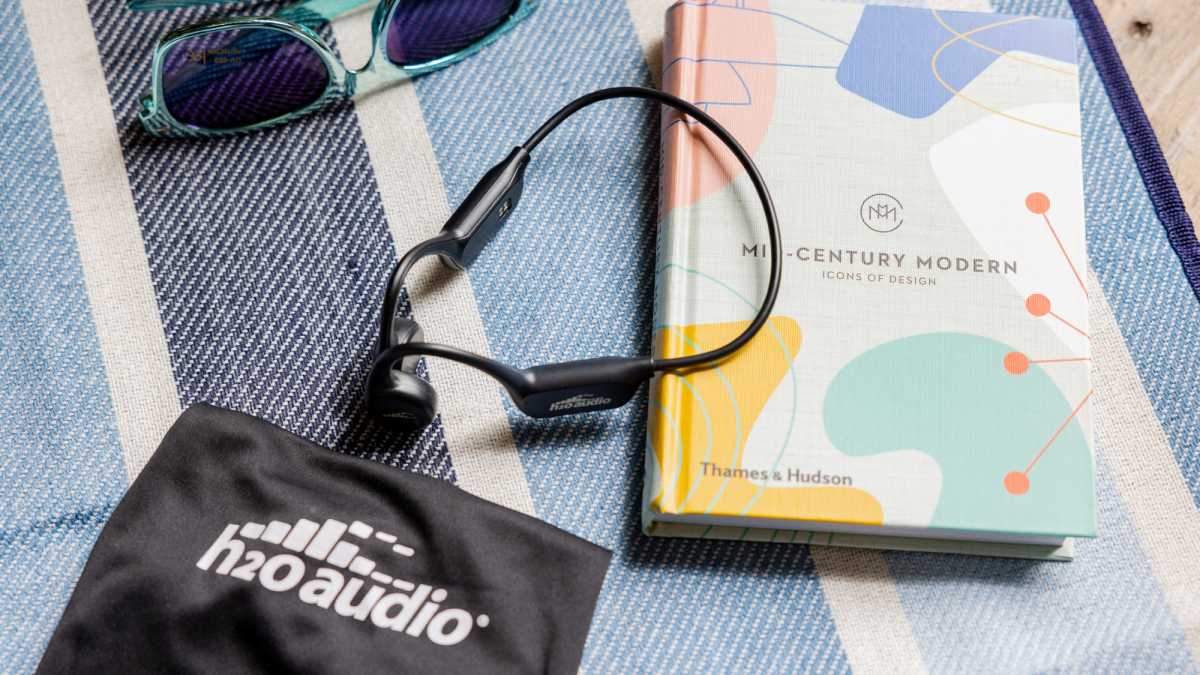 Dominik Tomaszewski / Foundry
Battery life and charging
Five hours of playback
Around one hour to charge from flat to full
The headphones are supposed to last for around five hours of playback, a claim that I found to be largely true. This is plenty enough for multiple sessions in the pool (providing you're not an elite athlete or doing a channel crossing).
Every time you turn on the headphones, the voice tells you how much juice is left. However, it only gives the battery level is in 25% increments – if you want a more accurate reading, connect the device to your phone and check it via your paired devices.
The headphones use a custom pin charging cable, which can charge them from flat to full in around an hour.
If you leave the headphones on pause for more than five minutes, then they will automatically power off.
Dominik Tomaszewski / Foundry
Price and availability
The H2O Audio Tri Pro Multi-Sport is priced at $159/£148, though they are currently discounted at the time of writing. You can buy them on the H2O Audio website and Amazon in the US.
Comparatively, that price is good against rivals. The Shokz Openswim headphones retail for $149/£169, but these don't offer any Bluetooth playback – only MP3 downloads. For something closer in price (and with Bluetooth), there's also the Naenka Runner Diver headphones for $149.99/£119, but these are slightly chunkier and don't offer Playlist+.
If you want to save some money, then you could also opt for the Tri Multi-Sport version for $149/£124 (also discounted at the time of writing).
This offers the same level of waterproofing as the Pro model, as well as both Bluetooth connectivity and MP3 downloads. However, these don't have the Playlist+ feature, and have a slightly thicker build and older speakers.
The technical issues I encountered with the headset and cable when loading MP3 tracks are a shame – though the company does offer a one-year warranty for your piece of mind. If you only plan on using Playlist+ to load your music, then the problems I had won't matter too much.
You can also read up on our best headphones for running, and the best headphones overall.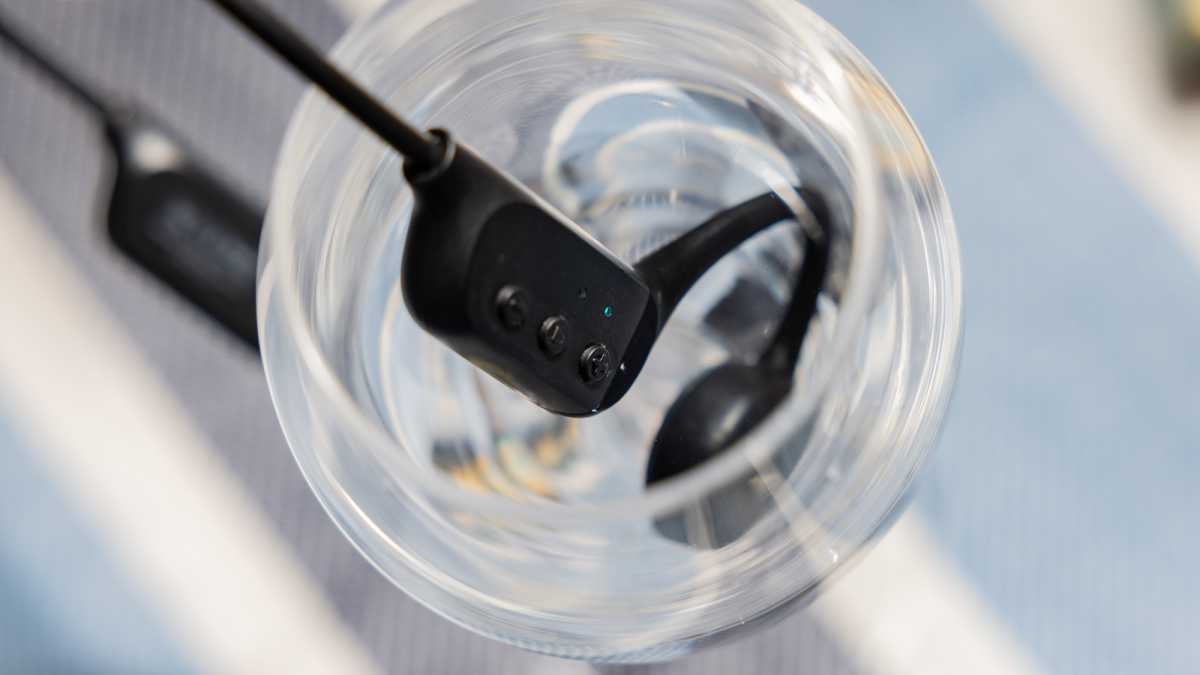 Dominik Tomaszewski / Foundry
Verdict
The H2O Audio Tri Pro Multi-Sport have been a welcome addition to my swimming sessions. The audio is quite impressive in the water, especially when you use the accompanying earplugs, and the battery life should last you several sessions in the pool.
There are faults though. The audio is only really suitable for exercise, the controls are fiddly and the headphones can feel slightly uncomfortable after long periods of wear. The accompanying app could also do with clearer copy and directions for users.
However, for something that offers a Bluetooth connection, can download MP3 files and the ability to play content from the likes of Spotify and Apple Music offline as well, this is a good price – providing you have no technical issues.
Specs
32g
Bone conduction speakers
IPX8 rating (submersion up to 12 feet)
Useable in pools, fresh water and salt water
8GB memory
Playlist+ for offline streaming
MP3 loading available
Bluetooth connection
Uses the H2O Audio app
Best Prices Today: H2O Audio Tri Pro Multi-Sport