The silicon arms race never sleeps and MediaTek is now expected to update its flagship Dimensity chipset with tech to rival the upcoming Snapdragon 8 Gen 3.
Here's all we know so far about the MediaTek Dimensity 9300.
When will the MediaTek Dimensity 9300 be released?
MediaTek has been quiet on the release date of its new Dimensity 9300 series SoC so far, but we've seen many sites confidently predicting that the chipset will make its debut in October 2023 – a little earlier than the November launch of last year's Dimensity 9200.
That's interesting timing, as we've already reported that the Snapdragon 8 Gen 3, which will be its direct rival, is also rumoured to arrive a little earlier than its traditional winter launch this year.
What new features will we see in the MediaTek Dimensity 9300 SoC?
We haven't seen a spec breakdown from MediaTek yet, as it's still some time until the new silicon will appear, but we have seen some rumours that, if true, mean that the Dimensity 9300 could be a true powerhouse.
CPU
We already know some of the cores to be found in the next Dimensity flagship's CPU.
A MediaTek spokesperson joined chip designer Arm for the launch of its new core line-up in May 2023 and confirmed that it will use the new Cortex-X4 and Coretex-A720 cores in its next flagship Dimensity SoC.
Curiously, MediaTek omitted to mention the less powerful A520 core, which we'd normally expect to see used as a power-efficient performance option in the chip. That may have been intentional though, as afterwards leaker Digital Chat Station took to Weibo and reported that MediaTek would be introducing an octa-core design in the Dimensity 9300 that would comprise four X4 cores and four A720.
This would be quite a move, as the Snapdragon 8 Gen 3 was reported by Digital Chat Station to be coming with a single X4 core and up to 5 Cortex-A720, alongside two of the power-efficient A520 cores.
All those performance cores leave little room for efficiency-focussed ones, and that means there could be issues with thermals and power consumption. So, the idea that the Dimensity 9300 would have even more high-performance cores does make us wonder how on earth MediaTek are going to stop the SoC from overheating when under heavy load. Of course, if it has somehow worked out sufficient cooling and a way to manage the power draw, then the Dimensity 9300 could be a seriously fast chipset.
For what it's worth however, NotebookCheck reports that the arrangement will be a little more conventional, with the 9300 made up of two X4, four A720, and two A520. So it seems to be anyone's guess at the moment when it comes to the configuration of the cluster.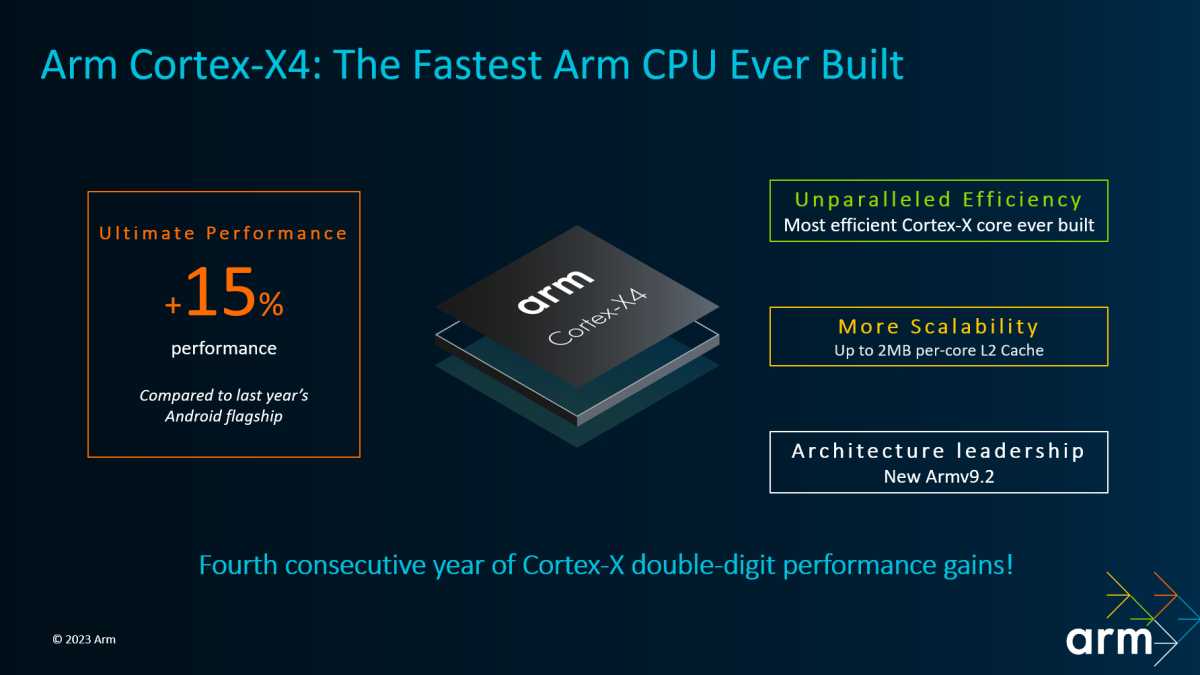 Arm
Arm states that the Cortex-X4 is 15% faster than the previous generation, so we can see why having more of them in the cluster could prove very tempting when it comes to sheer power. It should also be noted that Arm claims the X4 has 40% better power efficiency than the previous generation, so maybe some of the thermal control will be handled by those improvements.
That being said, Arm does seem to expect the power efficiency to be more in the realms of the Cortex-A720 and Cortex-A520. While the X4 is expected to deal with the single-thread processes, the A720 will most likely handle the bulk of the multi-thread ones, with the A520 there for background and low-intensity tasks. Arm says that the A720 is 20% more efficient than the A715 that preceded it, with the A520 doing even better at 22% more efficiency.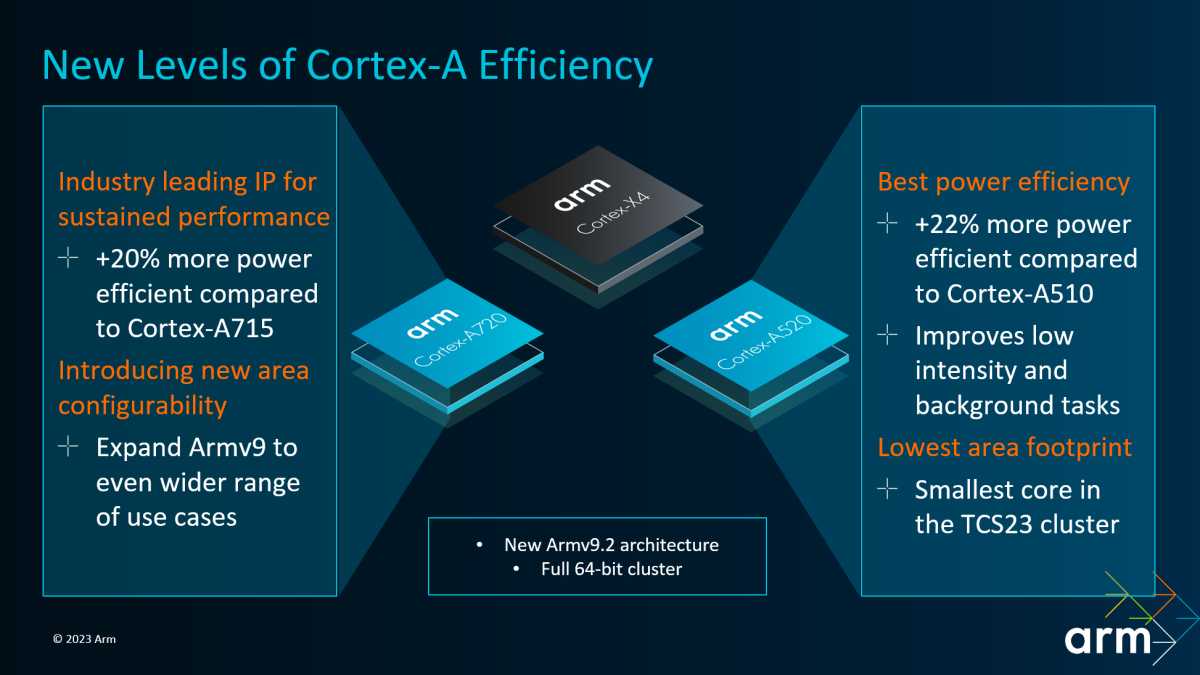 Arm
GPU
One thing we are confident about is that the GPU will be an Immortalis-G720, since the Dimensity 9200 used last year's Immortalis-G715. The G720 is the first to use Arm's new 5th generation GPU architecture and is stated by Arm to have improvements across the board.
The company says that the new architecture targets three key processing trends – scene complexity, better graphics, and memory system power. The first is handled by the introduction of the new deferred vertex shading (DVS) pipeline. It's all a bit technical, but the upshot of the innovation is improved FPS, with Arm reporting that early tests show 33% less bandwidth used on Genshin Impact and 26% on Fortnite.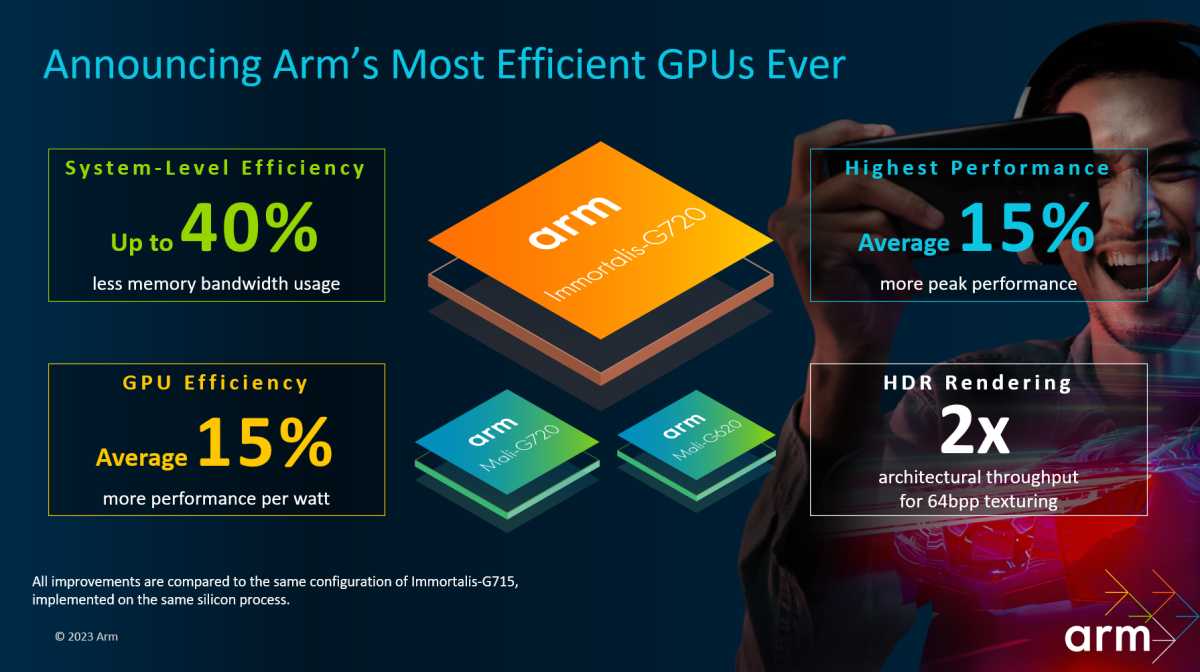 Arm
DVS is also being used to aid HDR in gaming, with more improvements in performance already reported by Arm – hence the better graphics aim. Finally, the memory system power aim is intended to make better use of system resources to not only improve performance but also help with efficiency and energy use. If it all works like Arm says it does, then the Dimensity 9300 could be a monster when it arrives.
Networking
So far leaks haven't pointed to any concrete details on MediaTek's plans for networking tech, but we can make a few educated guesses.
5G support is a given, and since the Dimensity 9200 offered integrated Sub-6 and mmWave support, it's very likely we'll see the same here – making this chip ready for the US market, if MediaTek can get manufacturers on board.
The 9200 was also Wi-Fi 7-ready, so that should be repeated, along with support for Bluetooth 5.3 – and possibly even the upcoming 5.4 standard, depending on when that is finalised.
Which phones will use the Dimensity 9300?
This is definitely too soon to call with any certainty.
The best bet is to look back at the Dimensity 9200, which featured in phones including the Vivo X90 Pro and Oppo Find X6, though struggled to break through Qualcomm's market dominance at the flagship level.
Expect Vivo and Oppo to feature the chip again somewhere, and Xiaomi is also likely to adopt it in at least one phone – but beyond that, it might not get much love.