At a glance
Expert's Rating
Pros
Lovely design
Great range of health features
Strong battery life
GPS
Cons
Can't reply to notifications
No NFC
Not the most accurate tracker
Our Verdict
A solid and aesthetically pleasing new entry from Amazfit. The GTS 4 Mini isn't the most accurate tracker I've used, but does well enough for most people's general needs. It's limited as a smartwatch, but as a classy looking tracker you can't go wrong for the price.
Price When Reviewed
$99.99
Best Prices Today: Amazfit GTS 4 Mini
Amazfit has updated its slimline smartwatch offering with the GTS 4 Mini. It sits a little lower down the price ladder from the larger Amazfit GTS 4 and GTR 4, but comes with many of the same features.
So, does size matter? Here's the Tech Advisor review of the Amazfit GTS 4 Mini.
Design and build
Light, compact chassis
Comfortable to wear
5 ATM water resistance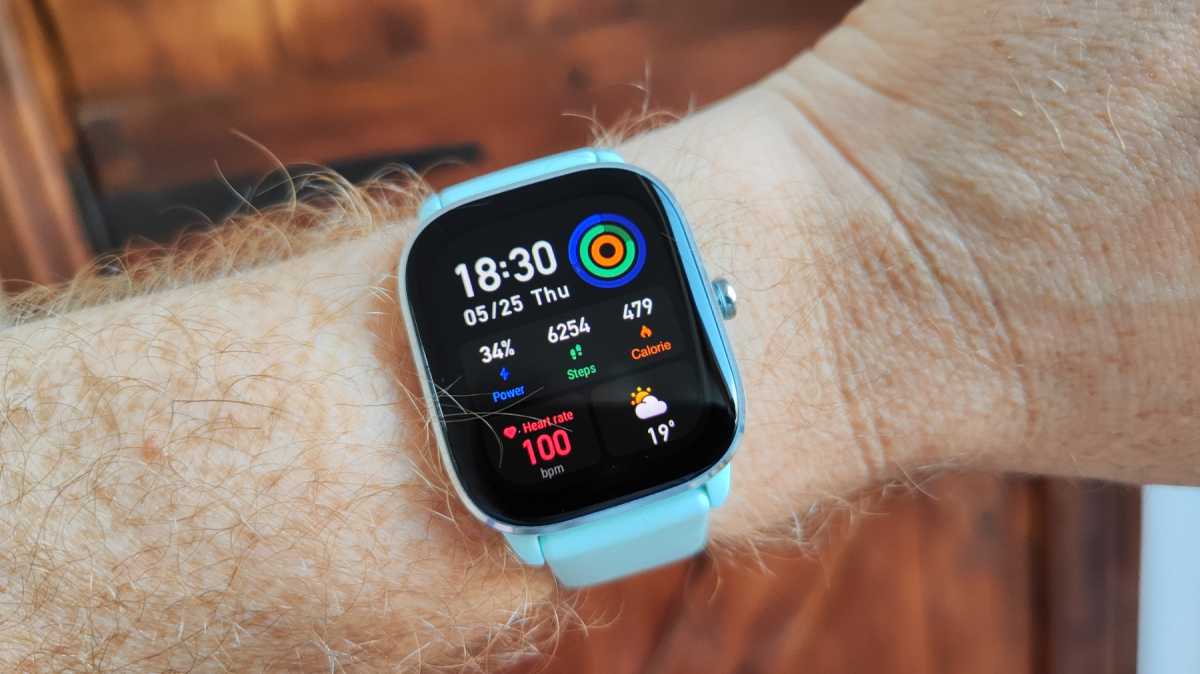 Martyn Casserly
Amazfit has stuck pretty close to the design ethic it used with the previous iteration of the Mini, which was confusingly called the GTS 2 Mini. It has a lovely slim metal casing that accommodates the 1.65-inch display. On the wrist there's a satisfyingly low 9.1mm profile, easily allowing the watch to slip under shirt cuffs, and the 19g weight means that you forget you're wearing it half the time.
One small complaint is the crown button on the right flank. Yes, it's in keeping with a classic watch design, and a certain one from Apple, but while the crown does turn it serves no purpose. The screen doesn't scroll up or down and there's no option to allocate a function to the action. Instead it's basically a button, so why not just make it a button rather than a crown?
Martyn Casserly
The silicon strap has a simple clasp design where you clip it in then thread the rest of the strap underneath. It's a 20mm width, so pretty standard, but even with my slim wrists I only had three holes left on the strap. With this in mind, you might want to avoid this particular model if you have plenty of girth on your wrists, or buy a longer strap.
Turning the GTS 4 Mini over reveals the circular plate that's home to the sensors as well as the contact points for the included proprietary charger. As is common these days, the lead on the charging cable is quite short, so you'll need to have a plug point nearby when you refuel the 270mAh battery.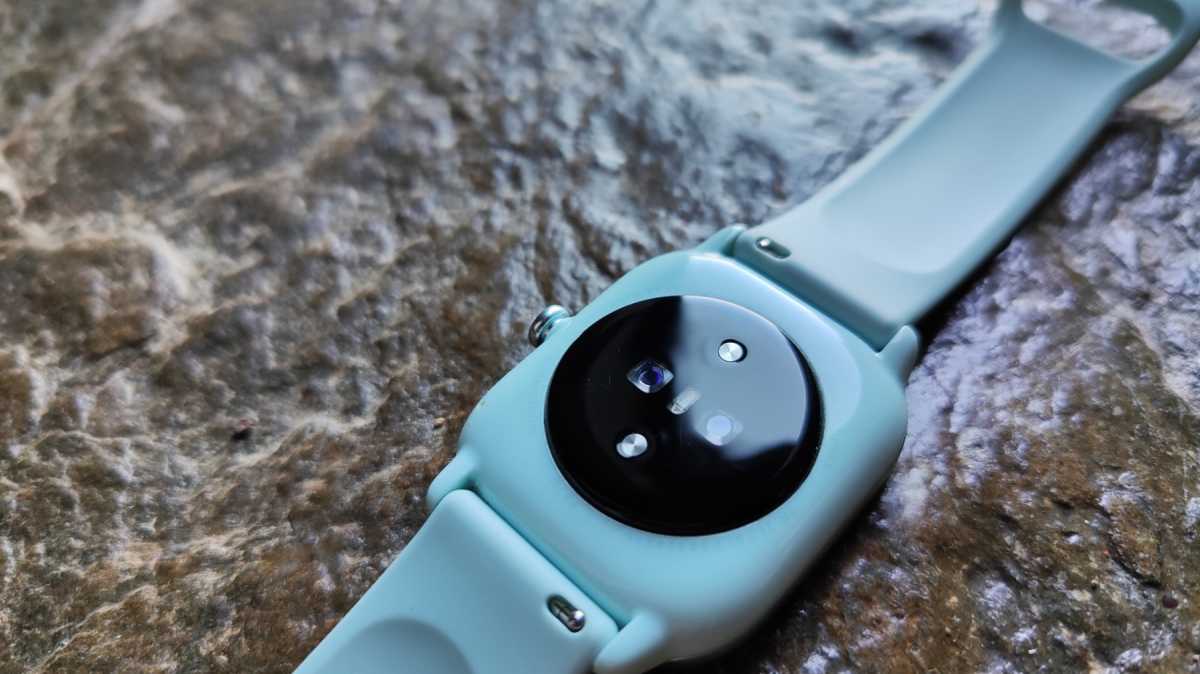 Martyn Casserly
My review sample was the Mint Blue variant, but Amazfit also offers the GTS 4 Mini in Midnight Black, Flamingo Pink and Moonlight White. I think this is the nicest livery though as it looks clean and modern while avoiding any falls into garishness.
It's a nice package that looks tasteful and smart, much like I thought with the previous version. The one big advantage the newer model has in its locker is a 5 ATM water resistance rating, meaning you can take it swimming and it will track your activities or survive doing the washing up.
Display
1.65-inch AMOLED display
336×384 resolution
Always-on display
The 1.65-inch AMOLED display is bright, clear and easy to read thanks to a 336×384 resolution, which equates to 309ppi. The size has increased slightly from the 1.55-inch panel on the GTS 2 Mini, and with a 70.2% screen-to-body ratio you get to use a decent proportion of the display.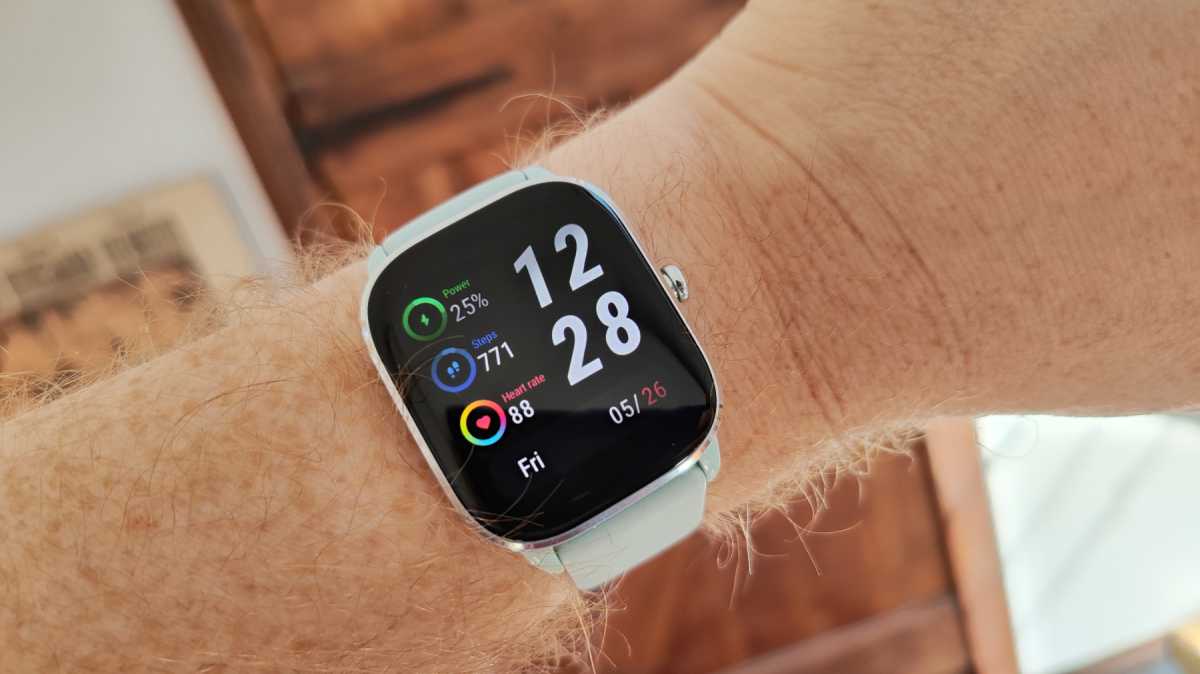 Martyn Casserly
The various watch faces available make it easy to pick how busy you want the information on the screen to be, and there's an always-on option you can enable so the time or other information without having to raise your wrist.
One thing I noticed though was that the touchscreen itself could be a little picky about when it responded to a tap. It was usually ok when sat at a desk, but on a number of occasions it proved more resistant when I was walking. This could be something to do with small touch targets and my inaccurate fingers, but it was disappointing.
Software and features
Zepp OS
Alexa built in
Limited third-party app support
No NFC
While the Amazfit GTS 4 Mini may look like an Apple Watch alternative, it's really more of a fitness band with ambitions. It does have some useful built-in features, but many of the popular third-party apps you see on other smartwatches aren't available.
The majority of things are controlled via the Zepp app, which allows you to download lots of watch faces (some you'll need to pay for), alter settings for tracking and things like that, plus rearrange the apps that appear on the watch, as well as their order. One useful option is to decide what happens when you long-press the crown button, but as I said before you can't assign any features for rotating it. Missed opportunity there.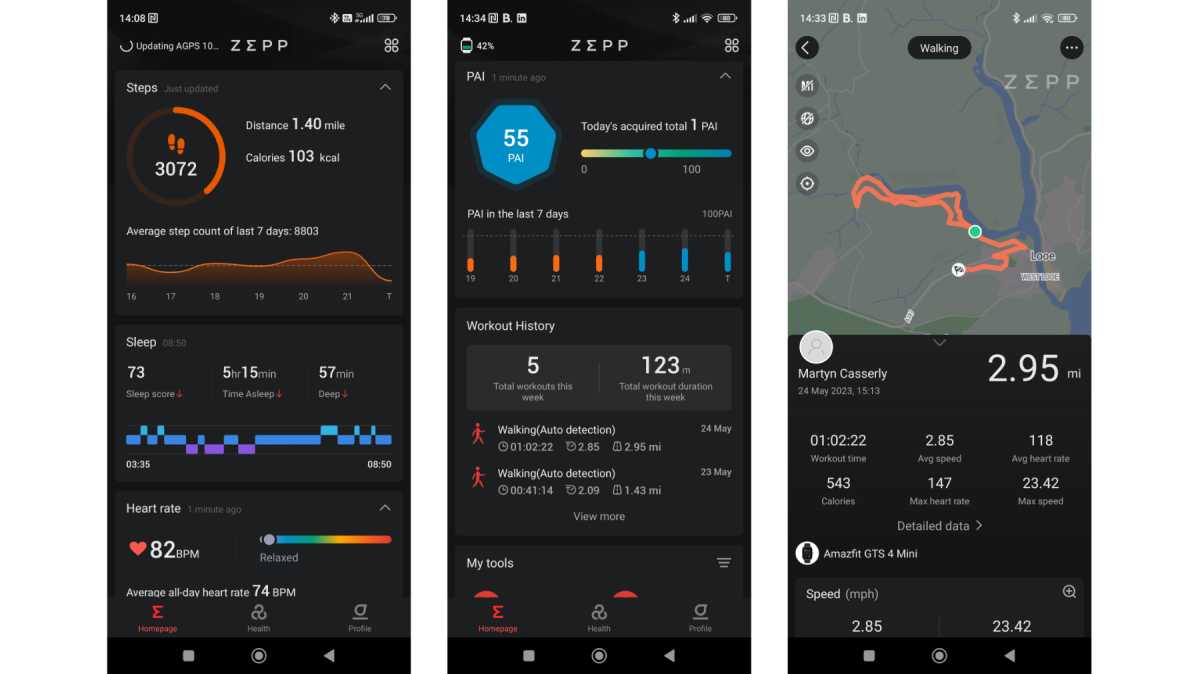 Martyn Casserly
The watch itself runs on the Zepp OS, which is quite responsive and reliable, plus it comes with some useful features to make up for the lack of app support. Alexa is built-in, so you can add things to your Amazon account or ask questions as you would with any Alexa enabled product. You can also use it to quickly set timers and reminders, which is something I found myself doing regularly as it was so handy.
There's also a music app, weather, to-do list, stopwatch, torch, alarms, and a Pomodoro timer. All pretty standard stuff.
You can't store files on the device itself, so no offline listening to music unless you have your phone. There's also no NFC capabilities, which means you can't use the GTS 4 Mini for contactless payments. This makes it less of a standalone device than some of its rivals, but it would be really impressive to have advanced features like those at this price point.
Third-party apps aren't available to download, aside from some random ones on the Zepp store, none of which are the mainstream ones you want. WhatsApp messages do appear as notifications, as will Facebook if you link your account, but you won't find an actual app. The same is true for the likes of Spotify, Audible and similar services, although you can use the generic Music app to control basic playback features and volume to any attached Bluetooth headphones thanks to the Bluetooth 5.2 connection.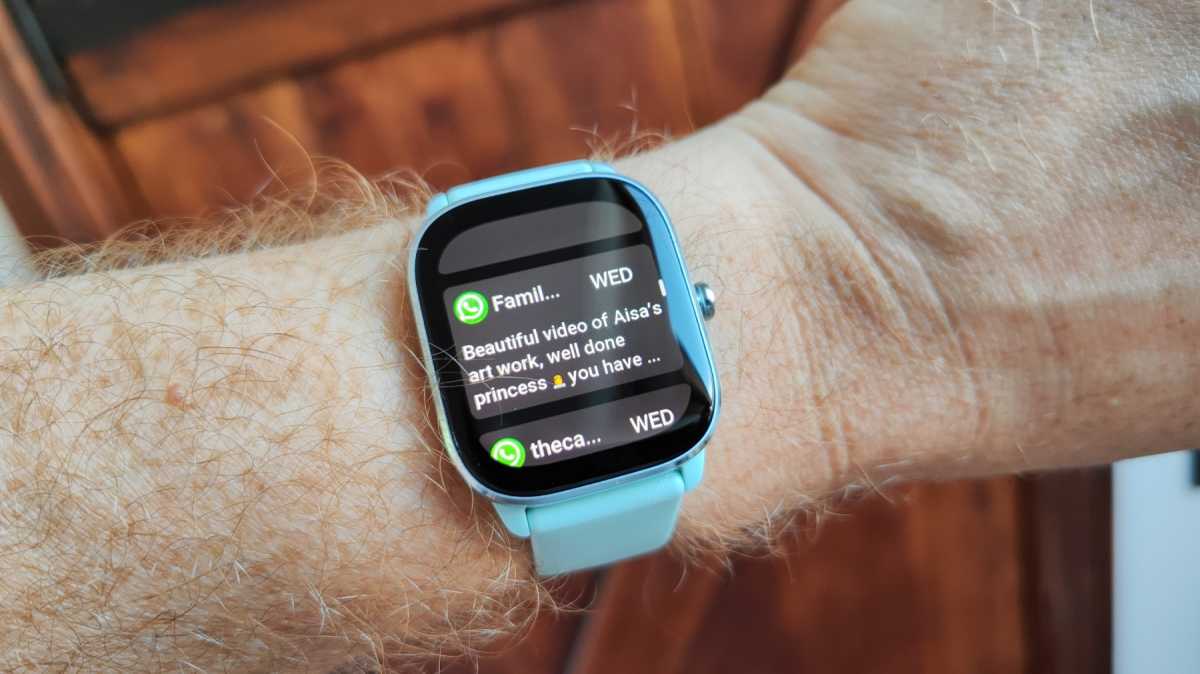 Martyn Casserly
One slight downside is that there are no preset answers you can use to reply to messages, so the GTS 4 Mini is only for reading them. If this could be changed so that a quick option for 'Ok', 'Yes' or 'No' or even a custom message was available it would be a real benefit. If this is a sticking point for you, then the Amazfit GTS 4 runs an updated Zepp OS2 and includes the ability to reply to messages, so that may be the watch you need.
Health and fitness tracking
120+ sports tracking modes
GPS
Rough guides rather than super accurate
As stated earlier, the GTS 4 Mini is at heart a fitness tracker rather than a fully-fledged smartwatch. That's no bad thing at all, and with Amazfit giving it over 120 different tracking modes, you should be able to find your activity of choice.
The most obvious one is step tracking and the GTS 4 Mini does a decent job of monitoring my steps throughout the day. You can get detailed reports on long treks, such as your cadence and stride, plus how hard your heart was working. All of these can count towards your personal activity intelligence (PAI) score, which gives you points for workouts and acts similarly to Apple's three rings on the Apple Watch.
Auto-tracking is only available for walking, indoor walking, outdoor running, treadmill, outdoor cycling, elliptical or rowing, so if you're swimming, lifting, doing a yoga session or one of the other myriad of activities available then you'll need to remember to start the workout monitoring manually.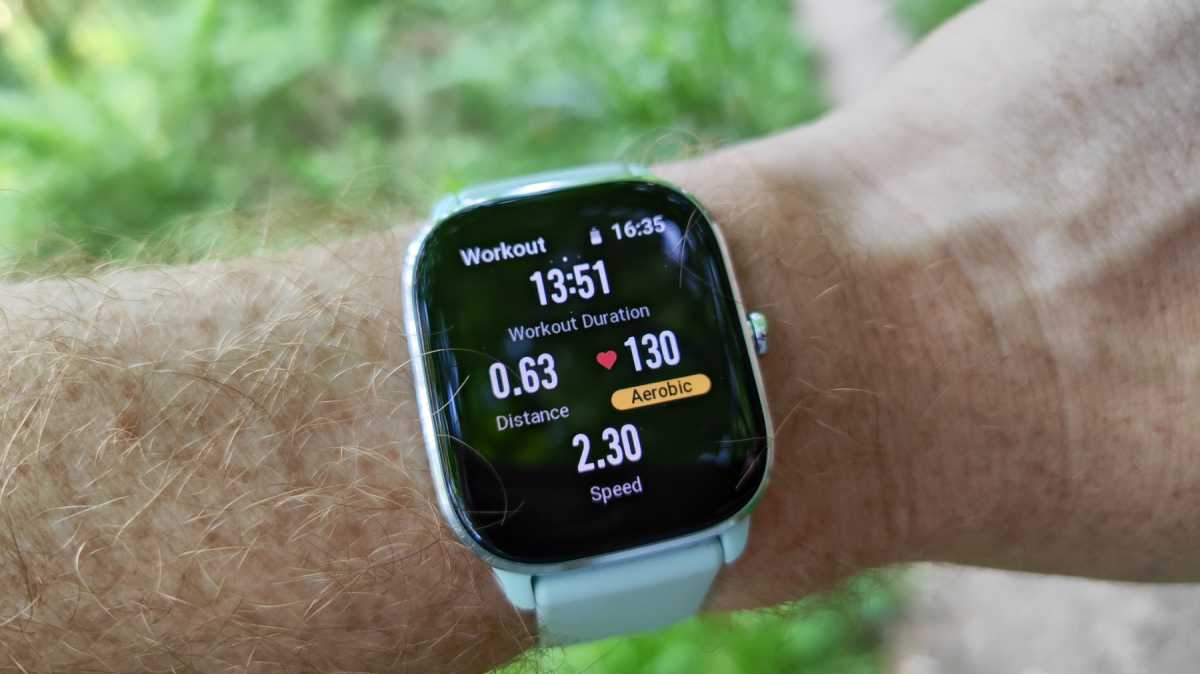 Martyn Casserly
Amazfit includes various assessment features that show how your workout will have affected your body, such as heart rate zones, aerobic and anaerobic monitoring that appears in the PeakBeat algorithm. There's also blood oxygen levels, stress and sleep tracking that saves plenty of information about your health in the Zepp app so you can look for patterns and areas of improvement.
Through the different activities I tried while wearing the watch, I think it's safe to say that the measurements recorded are more akin to a rough guide than super-accurate. If you're training for something like a marathon and need specific targets to be tracked, then you might want the Apple Watch SE or a Coros Apex 2 watch instead, but for most people that want to get active and not spend a fortune to monitor their exertions, I'd say the Amazfit GTS 4 Mini is certainly good enough.
There are some nice additions too, such as the virtual pacer that will challenge you to run at certain speeds during a session. You can link your Adidas Running, Relive or Strava accounts to the watch as well, plus there built-in GPS so you can map all of your outdoor routes. There's also a menstrual cycle tracker.
Sleep tracking didn't quite manage to always tell the difference between being sedentary and asleep, but again, if you're happy to get a ballpark figure of the hours you're in bed and the quality of your sleep, then you can't go wrong for the price.
Battery life and charging
270mAh battery
Well over a week of use in normal mode
Slow to recharge
Battery life on the Amazfit GTS 4 Mini is great. Using the device with the always-on display disabled and going gently on the rates of heartbeat tracking will get you around two weeks of life between charges. Even with the features mentioned enabled, you'll still get well over a week before needing to attach the magnetic charger once more.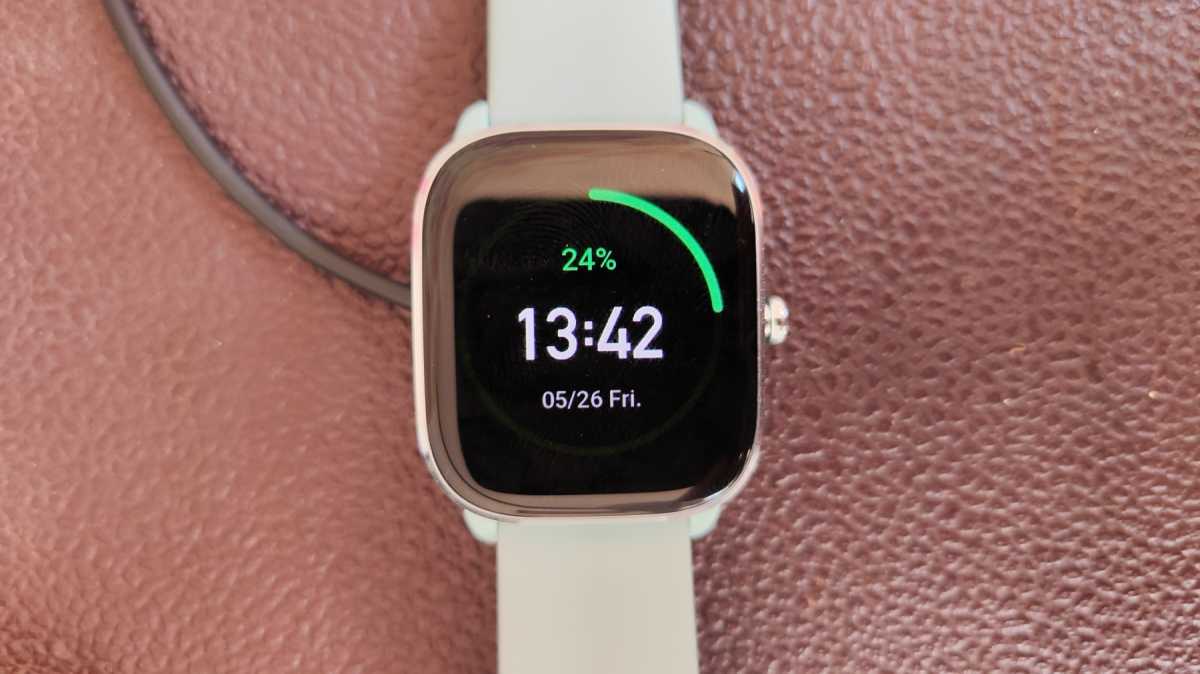 Martyn Casserly
The only feature that will drastically drain the 270mAh cell is using the GPS tracker. Once that's turned on, you'll get a maximum of 21 hours before the juice runs out. But, even that is impressive. Recharging the Amazfit GTS 4 Mini takes around two hours, so it's a good thing you don't need to do it very often.
Price and availability
The Amazfit GTS 4 Mini is available to buy direct from Amazfit for $99.99/£99.99/€99.99, which is a really good price for the features you get and the lovely design of the device.
For about the same money you can pick up the Fitbit Charge 5, which also has a GPS tracker and plenty of excellent health and fitness capabilities, although some are only available with a Fitbit Premium subscription.
If you like what you see with the Amazfit GTS 4 Mini but want more features and larger display, then the Amazfit GTS 4 is available for around $200/£199/€199.
Verdict
Amazfit has built a reputation for good quality, affordable trackers and the GTS 4 Mini keeps that tradition intact. It's a very nice looking device that's effortlessly comfortable to wear. The software and features available are excellent for the money, and the battery life means you won't be having to remove it every night like some other smartwatches.
The tracking isn't as accurate as more expensive models and I'd have preferred a more sensitive display, but it's hard to complain when you're getting a solid fitness tracker that has some smartwatch capabilities for less than $100/£100.
Specs
1.65-inch AMOLED display, 336×384 resolution, 309 ppi
Always-on display
BioTracker 3.0 PPG biometric sensor
Acceleration sensor
Geomagnetic sensor
Ambient light sensor
5 ATM water resistance
GPS
Bluetooth 5.2
270mAh battery
41.8 x 36.7 x 9.1mm
31.2g (including strap)
Best Prices Today: Amazfit GTS 4 Mini