Handheld games consoles are nothing new, but they've experienced something of a resurgence in recent years.
Nintendo's Switch was the only realistic option for a while, but it's since been joined by alternatives from the likes of Valve (Steam Deck), Asus (ROG Ally) and Logitech (G Cloud).
Sony is no stranger to handhelds, but its upcoming Project Q console will be the company's first attempt in well over a decade. It's also taking quite a different approach to rivals – here's everything you need to know.
When will the PlayStation Project Q be released?
Sony officially announced the Project Q device at its PlayStation Showcase on 24 May 2023.
At the event, PlayStation CEO Jim Ryan said it will be launching "later this year". The official announcement tweet doesn't give much away either, simply stating that there will be "more details to come in the months ahead".
Insider Gaming – a site that had correctly leaked details about the handheld prior to its announcement – reports that the hardware is "currently scheduled to release mid-late November 2023."
Is Project Q the final name?
Probably not. Sony likes to tease its hardware before it's finished with branding, so it's almost certain that the name will change before it actually launches.
What it will actually called, we don't know. PlayStation Portable has already been done – will it be something direct like PlayStation Stream?
How much will Sony's Project Q Cost?
As you might expect, pricing is something Sony isn't willing to disclose yet.
According to Tom Henderson at Insider Gaming (appearing on the Iron Lords podcast), it may cost around $200. That would significantly undercut its most obvious rival, the Logitech G Cloud, which will set you back $349.99 when paying full price. UK prices are unlikely to be direct conversions.
However, to use Project Q, you'll also need a PS5. If you don't already own one, prices start at $399/£389. Learn more in our separate article on where to buy the PS5.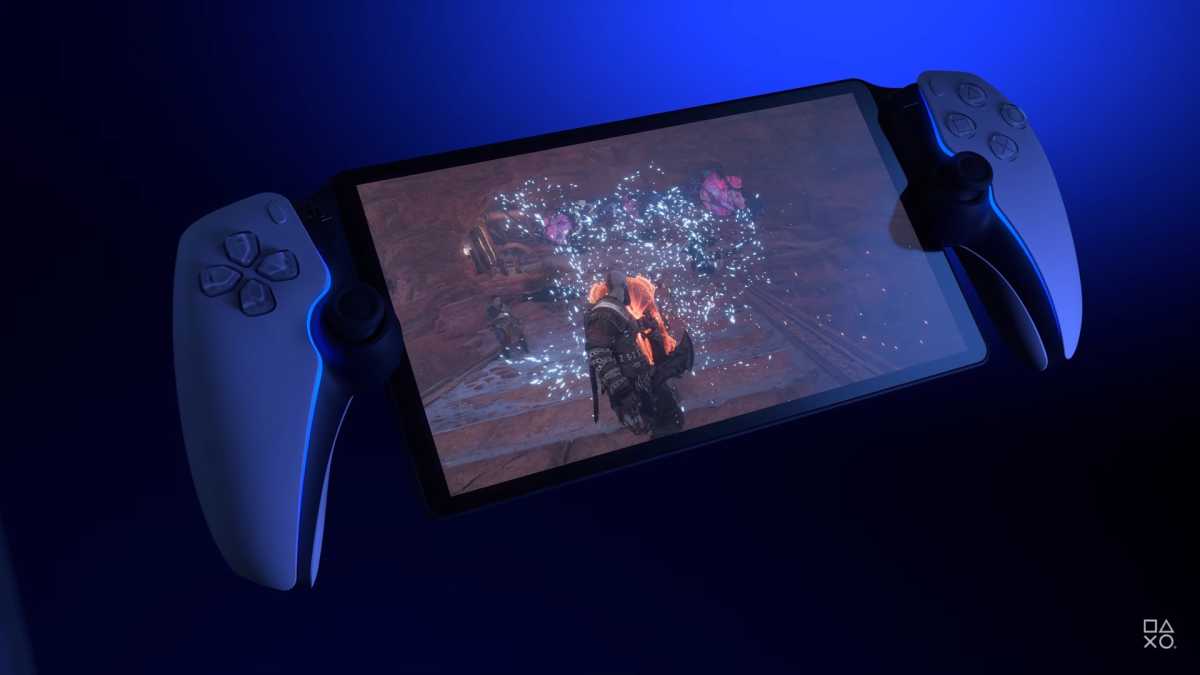 Sony
What about Sony Project Q's design and specs?
The first key thing to note is that Project Q won't be a standalone console. Instead, it'll allow you to stream games from your PS5 using Sony's existing Remote Play feature.
While not explicitly stated, it's expected to only support Wi-Fi. There's a small chance of cellular support, but the main intent here seems to be an extra screen so that you can continue gaming at home while someone else takes over the TV.
The design of the device itself is relatively straightforward. Essentially, you're looking at an 8in display with one half of the DualSense controller on either side – including the adaptive triggers, haptic feedback, and other unique features of the regular DualSense.
It's an LCD panel with an HD resolution, and Sony says it'll be capable of running 1080p games at up to 60fps.
Here's a look at what you can expect:
All PS5 games will be supported, aside from VR titles designed for the PlayStation VR2. All you'll need to do is make sure they're installed on the main console.
As you might have noticed in the video above, Sony will also be launching its first ever PlayStation Earbuds. These are wireless and likely to be compatible with Project Q, so the handheld will almost certainly support Bluetooth.
But other key details about Project Q are yet to be revealed. The teaser video didn't reveal which ports it includes, while battery life and charging speeds also remain unknown.
Of course, to get an idea of what the Project Q experience will be like, you don't have to wait for the device itself to launch. Remote Play has been around for years, and is compatible with most smartphones, tablets, laptops and PCs.