WhatsApp has officially announced the availability of a new edit feature that will be available to all users worldwide over the next few weeks.
"For the moments when you make a mistake, or simply change your mind, you can now edit your sent messages," a WhatsApp statement said. This edit function is only available 15 minutes after sending and messages changed are marked as "edited".
The Meta-owned messaging service is following the lead from other messaging apps such as Telegram and Apple's iMessage, which let you edit texts after they've been sent. The former allows a 48 hour window, the latter 15 minutes.
"Edited messages will display 'edited' alongside them, so those you're messaging are aware of the correction without showing edit history. As with all personal messages, media and calls, your messages and the edits you make are protected by end-to-end encryption," the statement said.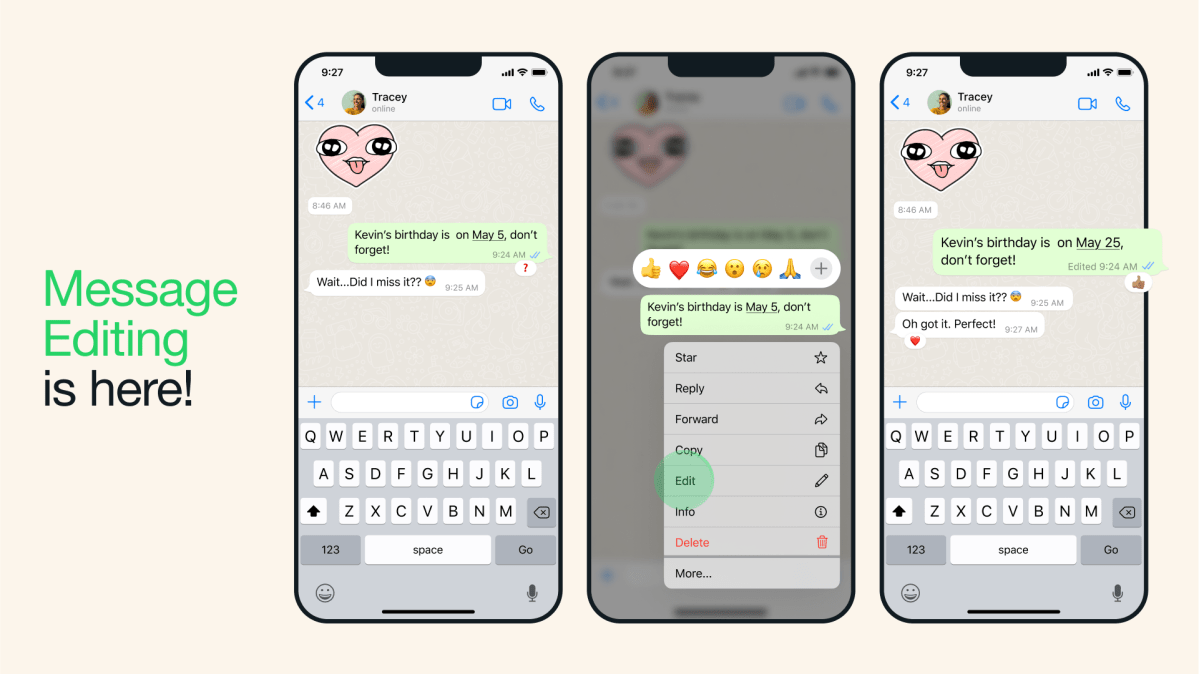 Meta
This is a notable new feature for WhatsApp. Until now, it has not been possible to change the content of a WhatsApp message that has already been sent unless you delete the message and send it again after correcting it. Currently, it can be embarrassing if a message contains too many spelling mistakes or typos. With the new edit function, the errors can be corrected quickly.
How the new edit function for WhatsApp messages works
There will be one important rule when using the new feature: A user will only have 15 minutes to correct a sent message. After this time, no more changes will be possible.
The first selected users can already try out the function in beta versions of WhatsApp. The editing function is available in the WhatsApp beta for Android smartphones and WhatsApp Web.
In practice, the function works as follows: The user selects the message that has already been sent and clicks on "Edit". They then correct the message and send it. The recipient is then informed that the content of the message was subsequently changed and exactly when this happened. After the 15-minute period has expired, it is no longer possible to make changes.
This article has been translated from an original posted on PCWelt.