Huawei took the lid off its new Huawei P60 and P60 Pro flagship phones, announcing their availability for the Chinese market alongside the company's newest Mate X3 foldable.
As well as these expected devices, Huawei also showed off the remarkable P60 Art (see above image), a smartphone with an asymmetrical camera array and pearlescent blue finish.
While these phones are China-only for now, available to buy in early April, a Huawei spokesperson confirmed to Tech Advisor that "overseas versions will be announced on 9 May in Munich". Which devices specifically was not disclosed.
It's been a while since the launch of the Huawei P50 Pro back in August 2021, and Huawei's move to an irregular release pattern mirrors that of the Mate 50 Pro, which came about two years after the Mate 40 Pro.
That's no bad thing – I've argued for the death of the annual update cycle. The wait has allowed Huawei's designers to get very creative.
These phones might not have Google services, but in China that doesn't matter, and Huawei is swinging for the fences here.
Huawei
The P60 Pro has a distinctive camera design that, like many P-series phones before it, is meant to be held in landscape orientation, highlighting the camera-first nature of the device. It also is available in a Rococo white finish, which has a marble look that Huawei says is unique and different on every device.
Mate X3
Foldable and Samsung Galaxy Z Fold 4 rival the Mate X3 also looks incredibly premium with a huge 7.85in folding internal display and a 6.4in outer display with barely any bezel. Both have a 120Hz refresh rate, and like the Honor Magic Vs and Oppo Find N2 Flip, the Mate X3 closes completely flat.
The Mate X3, regular P60, P60 Pro and P60 Art all run on the Qualcomm Snapdragon 8+ Gen 1, a chip launched in 2022. Because of Huawei's ongoing trade ban with the US, this chip is restricted to 4G only – no 5G here.
The P60 Art is the most high-end P60 model with the same dual 48Mp main and telephoto sensors as the P60 Pro, but with a superior 40Mp ultra-wide lens compared to the Pro's 13Mp.
That's reflected in the pricing, with the P60 Art costing from ¥8,988 ($1,320/£1,070) for 512GB storage and going up to ¥10,988 ($1,600/£1,300) for 1TB. The folding Mate X3 starts at a hefty ¥12,999 ($1,900/£1,550).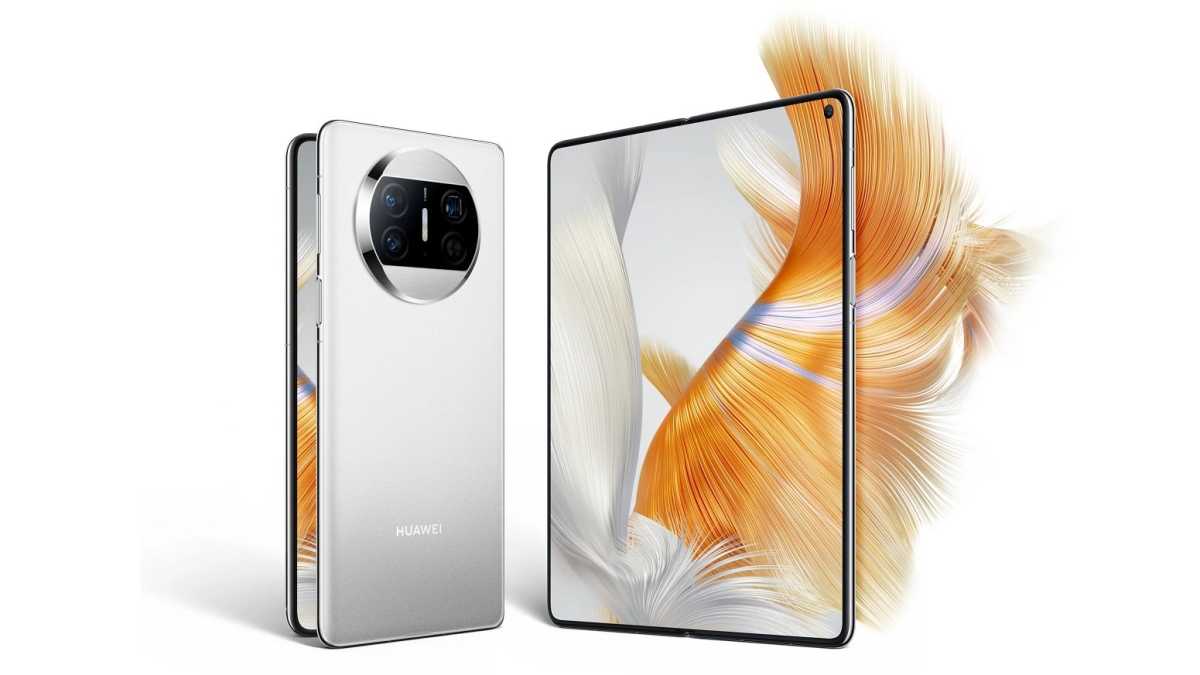 Huawei
Like the Mate 50 Pro before it, the 48Mp main sensor has physical variable aperture, with moving parts allowing you to choose from f/1.4 to f/4.0 in ten different steps.
All three P60s have the same 6.67in 120Hz OLED panel but the regular P60 dials back the cameras with the same variable aperture 48Mp main lens flanked by a 12Mp telephoto and a 13Mp ultra-wide.
But though that telephoto camera has a lower-resolution sensor, curiously the P60 has 5x optical zoom whereas the P60 Pro and P60 Art only offer 3.5x. The latter two can zoom further digitally, though, up to 200x with Huawei's new 'super spotlight night-vision telephoto'.
These small details show how incremental updates and differences between the best smartphones in 2023 have got. All these new Huawei phones look like solid choices for the Chinese market, particularly given the regular P60's ¥4,488 ($650/£530) starting price.
The larger 5,100mAh battery in the P60 Art is notably a silicon-carbon cell rather than the traditional lithium-ion batteries used in the other P60s and all other smartphones. The tech supposedly has a higher energy density for better longevity.
It's creeping into phones in Asia including the recent China-only version of the Honor Magic 5 Pro.