Huawei says its new extreme sports smartwatch, the Huawei Watch Ultimate, can be worn as a diver's watch down to 110 meters.
That makes the watch compliant with a host of international diving standards in a move that appears designed to one-up other premium smartwatches such as the Apple Watch Ultra.
The chassis of the high-end wearable is made from 'liquid metal', which Huawei says is a zirconium-based amorphous alloy. It's a type of titanium that is apparently two and a half times harder than stainless steel. Take that, aluminium.
On the side of the fancy casing is a rotating crown for navigating the software, a function button, and an 'ultimate mode' button that opens either the diving or expedition apps built into the watch.
When is the Huawei Watch Ultimate release date?
The Huawei Watch Ultimate goes on sale in the UK and Europe on 3 April. There's no US release.
How much does the Huawei Watch Ultimate cost?
There's no pricing information yet on the Watch Ultimate. We expect it to be pricy, though.
What are the Huawei Watch Ultimate features and specs?
Whichever you opt for, you get a ceramic bezel with tachymeter design circling a round 1.5in AMOLED screen that can allegedly reach 1,000 nits in brightness. The sapphire glass on the display is 2.35mm thick, adding to a relatively chunky case height of 13mm overall.
Despite holes for speakers and the general fragility of a smartwatch, the Watch Ultimate has an ISO 22810 water resistance rating and the EN13319 diving equipment standard.
There's also an electrocardiogram sensor, all-day heart rate tracking, all-day blood oxygen monitoring (SpO2) and stress measurement.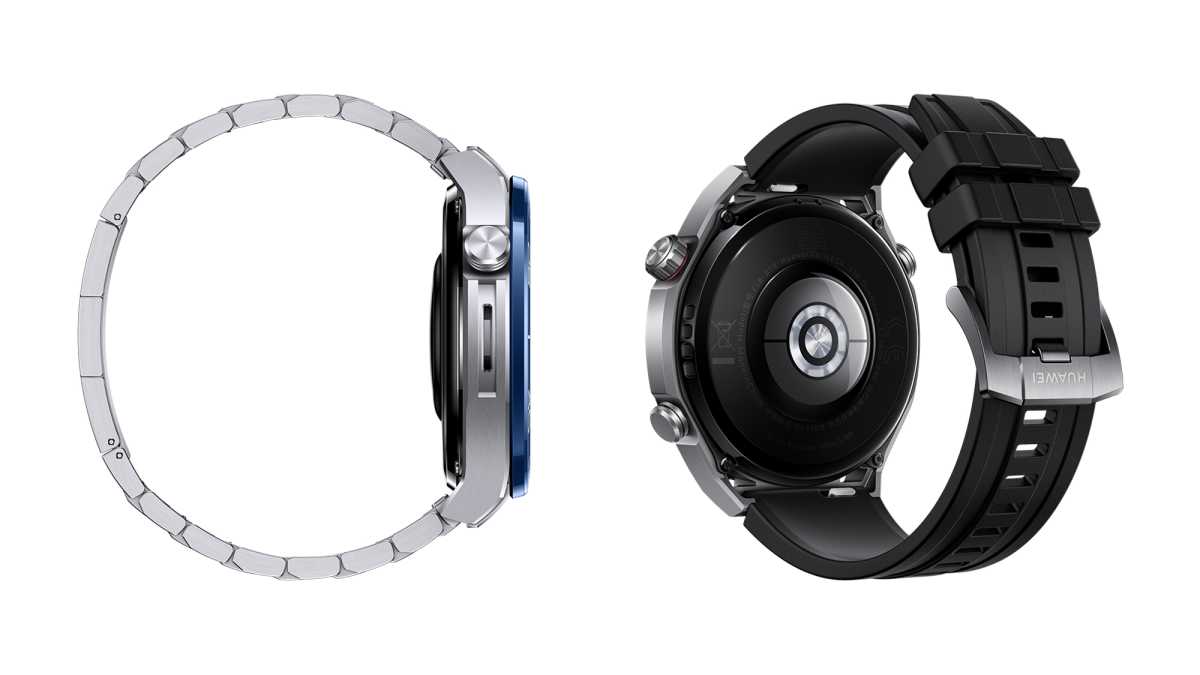 Huawei
If you can bear to wear the chonky thing to bed then it will also track your sleep.
The software packs in four diving modes of recreational, technical, free dive, and gauge, while for more firm ground activities there is access to five satellite systems including GPS for close-to worldwide coverage.
The watch supports tracking of tons of the usual sports and activities and adds in a few others such as desert off-roading – but realistically the sensors on the watch are always tracking your position, heart rate, and cadence.
The presence of so many specific sports on the device is really so you can track your specific sports and differentiate activities in the Huawei Health app, and the watch works with Android phones or iPhones.
When I've reviewed previous Huawei watches, I've had to download the Huawei AppGallery app store to get them to work, as the latest version of Huawei Health in the Google Play Store would not play nice with the devices.
I asked Huawei if this would be required for the Watch Ultimate but they have not yet responded. I'll update this article if they do.
On iOS compatibility, a Huawei spokesperson told me that: "iOS does not support some functions such as SMS reply, voice assistant, and Huawei Share OneHop."
Even with all that functionality in one small(ish) device, Huawei claims the Huawei Watch Ultimate can last for two weeks on a charge. Using the watch more than casually will surely eat into this, but it's better than the one day of most Apple Watches.
Fast charging is said to top up the watch fully from dead in 60 minutes, with 25% reached in just 10.
Though Huawei phones are all but DOA for Western buyers nowadays thanks to a lack of Google, this watch could help get Huawei back on people's wearable radar.
Check out our roundup of the best smartwatches to see what it's up against.