Back in the 1990s, pub quizzes included the question, "Computers can get viruses: true or false?" These days virtually everyone knows the answer is true and that you need good antivirus software to protect your laptop and PC.
What a lot of people don't know is that Windows 10 and 11 come with perfectly good antivirus software. The built-in Microsoft Defender is just as effective as a lot of free and paid-for antivirus software in stopping both "known" viruses and brand-new "unknown" ones.
However, by itself antivirus software doesn't protect you from every threat. We recommend installing a security app that can also protect you from scams, phishing and fake websites, because these aren't viruses and rely on tricking you into giving criminals your passwords, personal information and even your bank account or credit card details.
The most comprehensive security suites include extras such as password manager, VPN service, parental controls and even identity protection, and will warn you of a hack involving your data way before the company concerned announces it to the world. And that can give you crucial time to change passwords and freeze credit or debit cards.
It is possible to get decent protection for free, but do bear in mind that most free antivirus is more basic than a paid-for package and it tends to nag you into upgrading.
We've thoroughly tested all the software here, so whether you're looking for a complete security suite or just want to know what is the current best antivirus for Windows, you'll find everything you need to know right here.
It's worth knowing that all the software here is a good choice for Windows and the best for you will depend upon which features you're after. Also, the amount you'll pay will vary according to how many devices you need to install it on, and note that subscriptions usually cover Android, iPhone and Mac as well.
Free & Paid Antivirus Software for Windows
1. Norton 360 Deluxe
Pros
Cloud backup included
Great value if you have five devices
Unlimited-use VPN
Cons
Parental controls not as good as we'd like
ID restoration not included in Deluxe
Price When Reviewed:
$49.99 (1 year, 5 devices), $104.99 subsequent years
Norton is a well-known name in antivirus and is now one of the biggest companies that produces security software thanks to a recent merging of NortonLifeLock and Avast. The LifeLock part might not be part of the official company name any longer, but it's important because it represents the identity protection portion of Norton 360 Advanced.
However, even if you don't choose Advanced (the most comprehensive package Norton offers) there's still excellent malware protection in 360 Deluxe, Standard and the entry-level Norton Antivirus Plus.
Not only do features increase as you go up the range: so does the number of devices the subscription will protect. And since Deluxe is barely more expensive than Standard, it remains the sweet-spot.
You get a smart firewall, phishing protection, ransomware protection and – unlike others here – cloud storage (50GB of it) to back up your most important files.
On top of that there's dark web monitoring to help protect you from breaches and leaks when other companies get hacked, a password manager and a no-limits VPN service that adds privacy and a bit of extra security when you browse the web.
Read our full
Norton 360 Deluxe review
2. McAfee Total Protection
Pros
No-limits VPN
Friendly, easy-to-use interface
Cons
Identity monitoring more basic than in McAfee+
No cloud storage included
Price When Reviewed:
US$39.99 per year (2 years, 5 devices), $119.99 subsequent years
McAfee is another huge name in security and also offers a range of options from Total Protection Basic and Plus, through McAfee+ Premium right up to Advanced.
McAfee+ is a rather confusing naming scheme which bundles Total Protection with identity protection and data removal. You can read our McAfee+ review to see if these high-end packages are right for you.
Total Protection (the Basic and Plus tiers in McAfee's lineup) represents a sensible middle ground, including solid malware protection, an unlimited-use VPN service, identity monitoring (more basic than in McAfee+) and a password manager.
The only difference between Basic and Plus is the number of devices they cover, so if you have just one PC or laptop, you need pay only for Basic. Plus covers five, which could be all laptops or PCs, but you can also use those licenses on Android, iPhone and Macs.
McAfee's antivirus is top notch, protecting you from all sorts of malware – including ransomware – and it's easy to use and understand even if you don't know a Trojan from a worm.
If you don't need Norton's cloud backup, it's an excellent choice.
Read our full
McAfee Total Protection review
3. Bitdefender Total Security
Pros
Clear, intuitive interface
Effective antivirus
Cons
VPN limited to 200MB per day
No identity monitoring or password manager
Price When Reviewed:
$39.98 (1 year, 5 devices), $89.999 subsequent years
Recently, Bitdefender significantly improved its VPN service and also launched a new package called Premium Security Plus which includes identity protection and a score that helps you see at a glance whether your identity is safe or at risk.
The only trouble with Premium Security Plus is the cost: it's relatively expensive in its first year when, like others here, it's discounted. After that it gets very expensive, but if you're willing to pay, it really is an excellent choice because it's a bundle of all Bitdefender's products.
Total Security, despite the name, doesn't include identity protection or even Bitdefender's password manager. You can use the VPN, but only 200MB per day. With Premium Security, that limit is removed.
As ever, Bitdefender's antivirus protection is very hard to beat, offering reassurance that your laptop and PC is as safe as it can be from malware attacks. You do get a lot of other features, including phishing / social media protection, parental control with web filtering, anti-theft (for laptops), a gaming mode, a secure wallet for sensitive data plus warnings when apps try to access your microphone and webcam.
You can sign up for one, two or three years and all plans cover at least five devices, though you can pay a little more to cover 10 if you need to.
Read our full
Bitdefender Total Security review
4. Avast One
Pros
Friendly interface
Great antivirus
Cons
Free version is almost as good
ID protection reserved for Platinum
Price When Reviewed:
$29.99 / 5 devices I $48.99 / 30 devices
Avast One is an easy-to-understand antivirus app that is free if you opt for the Essentials version. For free you get antivirus, firewall, ransomware protection, home network scanner, email attachment scanning.
You also get 5GB of data per week to use Avast's VPN, but you don't get to choose a location.
Upgrade to Premium and all VPN limits are removed (and a kill switch added), and you also get a fairly long list of additional features such as flagging of suspicious emails, warnings of fake and dangerous websites, dark web monitoring for five email addresses (or 30 with the Family plan), anti-tracking tech, webcam protection, plus automatic app and driver updates.
You don't get full blown ID protection as you do with Platinum, and the real question is whether the list of extras is enough to persuade you that Premium is worth paying for over using Essentials for free. If the VPN looks tempting, then know that there are much better options out there with more features and better unblocking of streaming services.
5. Microsoft Defender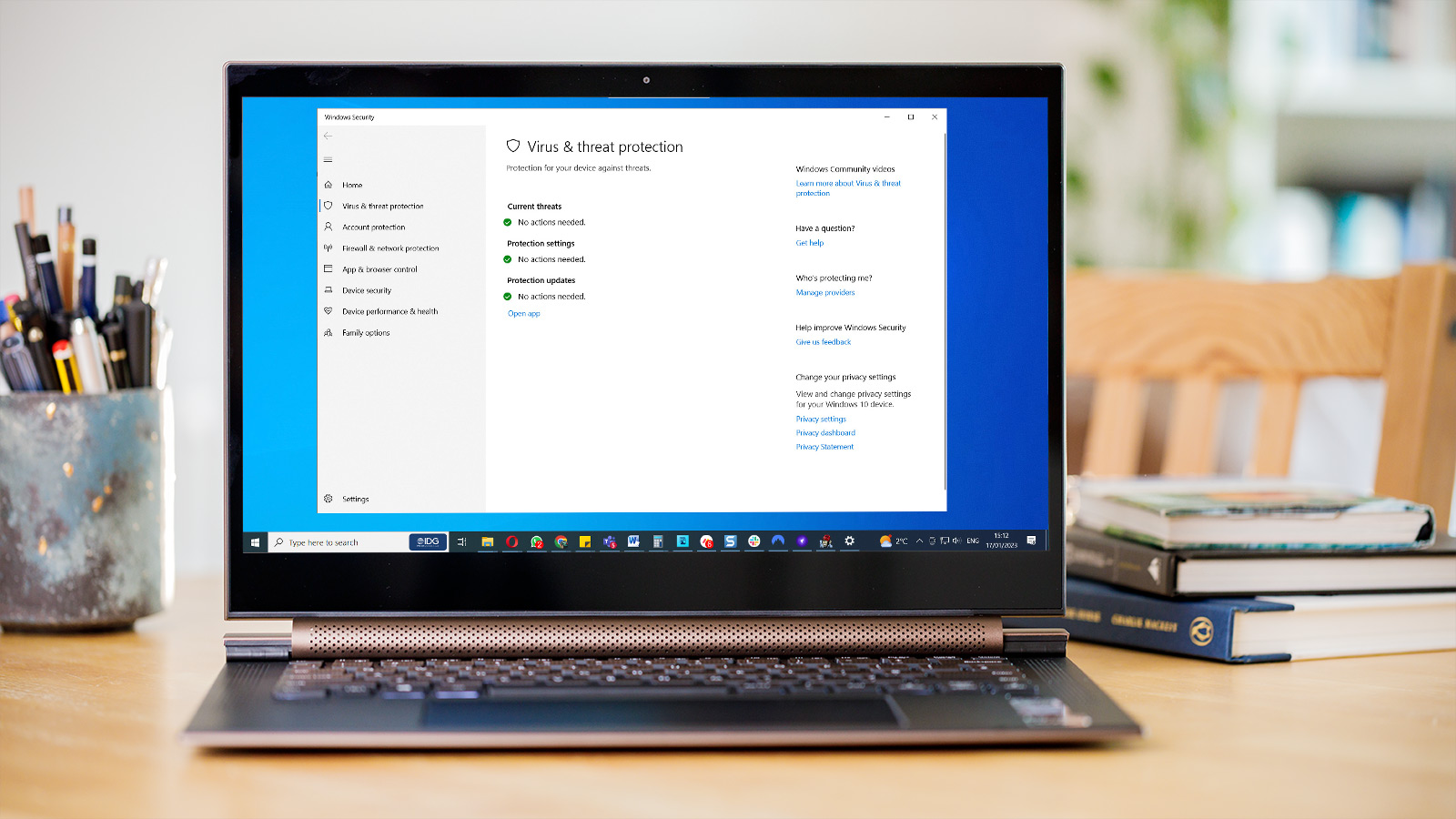 Pros
Built into Windows
Provides reliable malware protection
Cons
Doesn't help to protect your identity
No phishing / scam protection
Price When Reviewed:
Free
It's easy to assume that any virus defences that are part of Windows can't possibly be as good as antivirus software you pay for. But they are, and the various independent test labs routinely rate Defender as highly as Bitdefender, McAfee, Norton and others.
You don't have to install it on your laptop or PC, and there's no need to even configure it: it runs automatically in the background.
If you want ransomware protection, that needs to be set up by choosing which folders you want protected, but that's the case with most antivirus software anyway.
Windows also has a built-in firewall which also does a good job of blocking attacks, too.
What you don't get is all the extras that a security suite includes, such as warnings of dangerous websites, phishing emails and messages, alerts if apps try to use your webcam and microphone and features such as a password manager and VPN.
Naturally, you can get a lot of those missing features by choosing your own VPN, password manager and installing a free browser extension that'll tell you whether websites are safe or not. It just means extra work for you.
FAQ
---
1.
Which antivirus is 100% effective?
No antivirus can offer a cast-iron guarantee that it will block 100% of threats. The performance of all antivirus software varies from month to month, but you can look at performance over, say, the past 12 months as a good indication of which antivirus offers the best protection. Some companies, notably Norton and McAfee, do offer a guarantee that they will remove a virus from your laptop or PC if it does get infected while running their software.
2.
Is Windows Defender an antivirus?
Yes, it's built into Windows 10 and 11 and automatically protects your PCs and laptops from viruses and other types of malware. It is just as good as a lot of paid-for antivirus software, too.
3.
What is the top antivirus?
Norton 360 Deluxe is the best all-round antivirus for most people because it offers a comprehensive set of features and will protect five devices. Unlike others, it provides automatic cloud backup to keep your files safe from ransomware.
4.
Do I need a VPN with antivirus?
VPNs are different from antivirus and offer additional protection while you browse, shop, send emails and messages and do other things online. A VPN won't make antivirus more effective so you don't need one: it's simply another security tool.
Related stories