The Hunger Games franchise dominated the 2010's, and now you can relieve the adventures all over again on Netflix – but you don't have long left.
Jennifer Lawrence stars as Katniss Everdeen, a desperate young woman who will go to any lengths to save the ones she loves – even competing in a televised fight to the death.
There are four films in The Hunger Games series, and they have all climbed to the most-watched list in America over the last few weeks.
But how long do you have left to watch them? Here is what you need to know.
When do The Hunger Games films leave Netflix?
In the US, The Hunger Games, Catching Fire, Mockingjay – Part 1 and Mockingjay – Part 2 will leave Netflix on 31 March. Therefore, the last day to watch them is today, 30 March 2023.
In the UK, the four films are also available on Netflix, but aren't showing as leaving at the end of March. Should this change, we'll update this article.
Where can I watch The Hunger Games films after they leave Netflix?
If you're based in America, then all the films are also available on AMC+ on Apple TV. We don't know yet if they will also be leaving the service at the end of this month – we'll update this article when we have more information.
Alternatively, you could still watch The Hunger Games on Netflix after they leave. As far as we know, the movies will still be available on Netflix UK, so you can use a VPN (virtual private network) to access the British version of Netflix from America.
VPNs reroute your IP address, connecting your server to another around the world. If you connect to a UK one, then the Netflix website should think you're based in this country, and not the US.
We have previously used NordVPN to access different Netflix libraries from different countries. NordVPN offers a range of servers, as well as affordable pricing if you lock in for a multi-year plan. You can find further options in our list of the best VPNs for streaming.
After you've subscribed to your VPN of choice and downloaded it, here is what you need to do:
Time to complete:

5 minutes

Tools required: Laptop or PC, VPN
1.
Connect to a US server on your VPN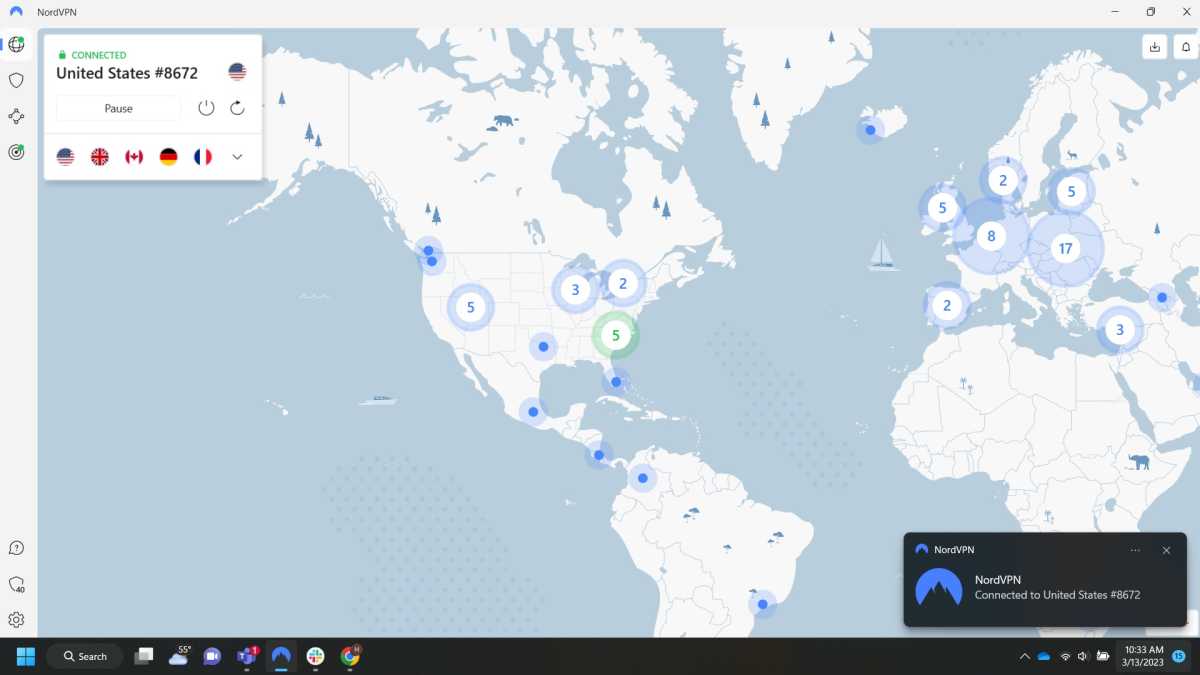 Hannah Cowton / Foundry
There are lots of different US servers to choose from, but NordVPN will connect you to the fastest
2.
Hannah Cowton / Foundry
Sign in to your Netflix account if you haven't already
3.
Search for The Hunger Games films
Hannah Cowton / Foundry
Netflix sometimes blocks VPNs, but you can get around this by connecting to a different server, or waiting a few hours before trying again
Keep in mind that this is technically against Netflix's terms of service, so your account could be terminated – proceed at your own risk.
UK viewers don't have a time limit on streaming The Hunger Games films on Netflix. However, they are also available on Amazon Prime Video.
You can also check out the best TV shows and best movies on Netflix right now and see our comparison of the Netflix plans.