OnePlus showed off its first ever tablet at MWC 2023, simply called the OnePlus Pad. After a hands-on session, I reckon it could be a worthy Android rival to the iPad Air – providing it manages to undercut Apple's tablet in price.
A spokesperson for the company confirmed that pre-orders for the OnePlus Pad will begin this April, and that information is also on the official UK listing page for the new slate. But there's no official word on the release date or the pricing.
There is no doubt that this is an impressive and premium-looking device. The 'Halo Green' colourway is a matt finish reminiscent of the blue and green pastel tones typically seen on OnePlus phones. It also shares the same striking circular camera module as the OnePlus 11, and though it's smaller on the Pad I reckon it could have been subtler.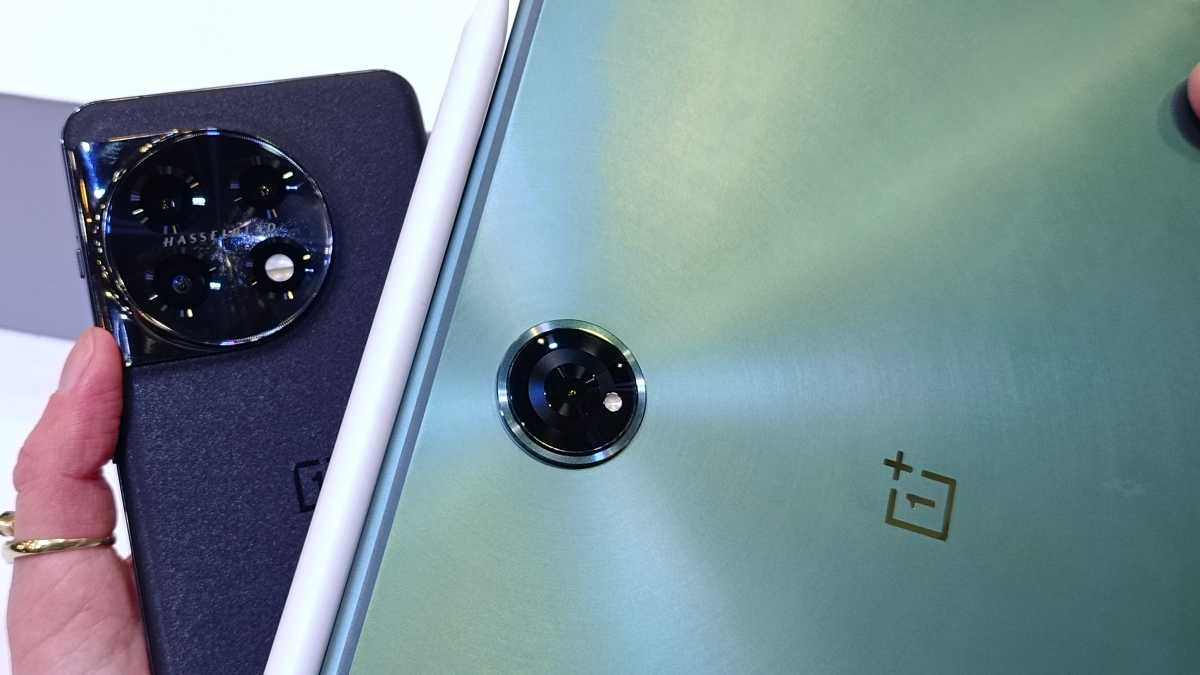 Hannah Cowton / Foundry
While holding the slim tablet swiping between apps and navigation was speedy, though this is as expected with the inclusion of a Dimensity 9000 processor paired with 12GB RAM. This is a more powerful processor than what we've seen in some other Android tablet rivals like the Xiaomi Pad 5, which gives it an extra edge but could suggest a price similar to the $599/£669 iPad Air.
The aluminium alloy body is lightweight and super slim at 6.54mm, despite the tablet's slightly larger size. The display measures 11.6in, which is 0.7 inches bigger than the iPad Air's. Plus, with a maximum 144Hz refresh rate and Dolby Vision, it should be a treat for streaming videos on. The iPad Air only has a 60Hz refresh rate.
The Pad has a split-screen mode that's cleverly activated by dragging down two fingers on the middle of the display. I had a few hiccups with this, but my colleague didn't – I'll blame my shaky hands on this occasion.
I was impressed by the punchy audio, which still sounded great whilst being surrounded by thousands of convention attendees blathering on about the latest tech news. This is thanks to the quad speakers, which also come with Dolby Atmos support.
Hannah Cowton / Foundry
The OnePlus Pad has a 9510mAh battery, which OnePlus claims can give 12.4 hours of continuous video watching. It also has speedy 67W fast charging. This means charging and battery could be two big wins over the iPad Air, which only has a 7600mAh battery and a 20W charger included.
The Pad also had a stylus with a pressure sensor (great for the artists out there), as well as a premium-feeling keyboard with decent travel press. However, OnePlus has confirmed neither of these products will come with the tablet out of the box, and instead be available as additional purchases. That'll push the cost up if you want the full package.
Of course, we can't feasibly know just how good value for money this tablet is without a price. The iPad Air starts from $599/£669, so there is an opportunity to undercut Apple here with what appears to be a solid tablet. The Android market is crying out for one, and it looks like the OnePlus Pad will beat the Google Pixel Tablet to market.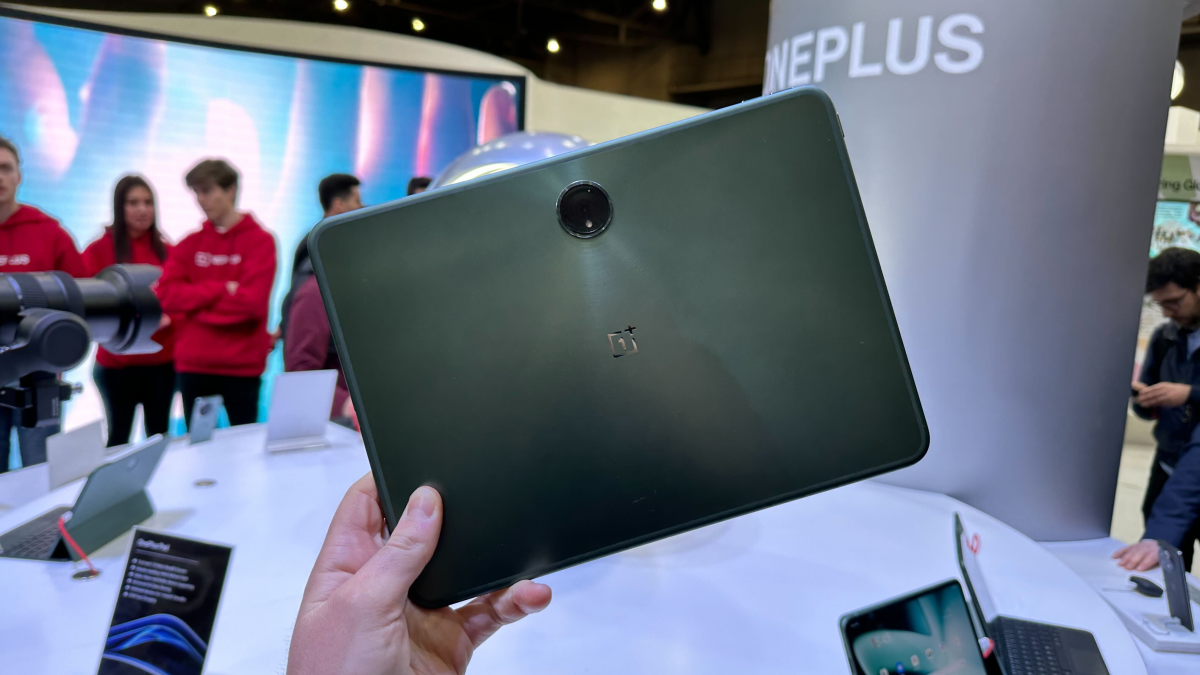 Henry Burrell / Foundry
And it's not just Apple that OnePlus could challenge – the Samsung Galaxy Tab S8 comes with premium specs that are relatively comparable to the OnePlus Pad, but clocks in at a heftier price of £649/$699 – though that is with a stylus included.
Nonetheless, OnePlus is known for being the flagship killer in the smartphone space, so why not apply the same sentiment to the tablet market as well? We'll hopefully find out more in the coming weeks.
For more of the latest tech news you can check out the rollable phone and laptop concepts from Lenovo and Motorola also shown off at MWC.