Lenovo – and its smartphone subsidiary Motorola – is ready to roll.
Alongside a set of concrete product launches at this year's MWC trade show in Barcelona, the company has unveiled a pair of concept devices with a similar theme: a rollable Motorola phone, and a rollable Lenovo laptop.
Neither has a name, and neither is going on sale, but they're proof of concept for tech that's been skirting the edges of consumer tech for a few years now, and looks set to follow foldables before too long.
We've actually seen them both before – but only briefly. They featured in a short promo clip for the Lenovo Tech World event late last year, but this is the first time that the press have been able to get a look at either in-person.
Let's start with the phone. What at first looks to be a fairly stocky smartphone with a 5in display in a squat 15:9 aspect ratio can in fact roll up to reveal a full 6.5in screen in a more traditional 22:9 form.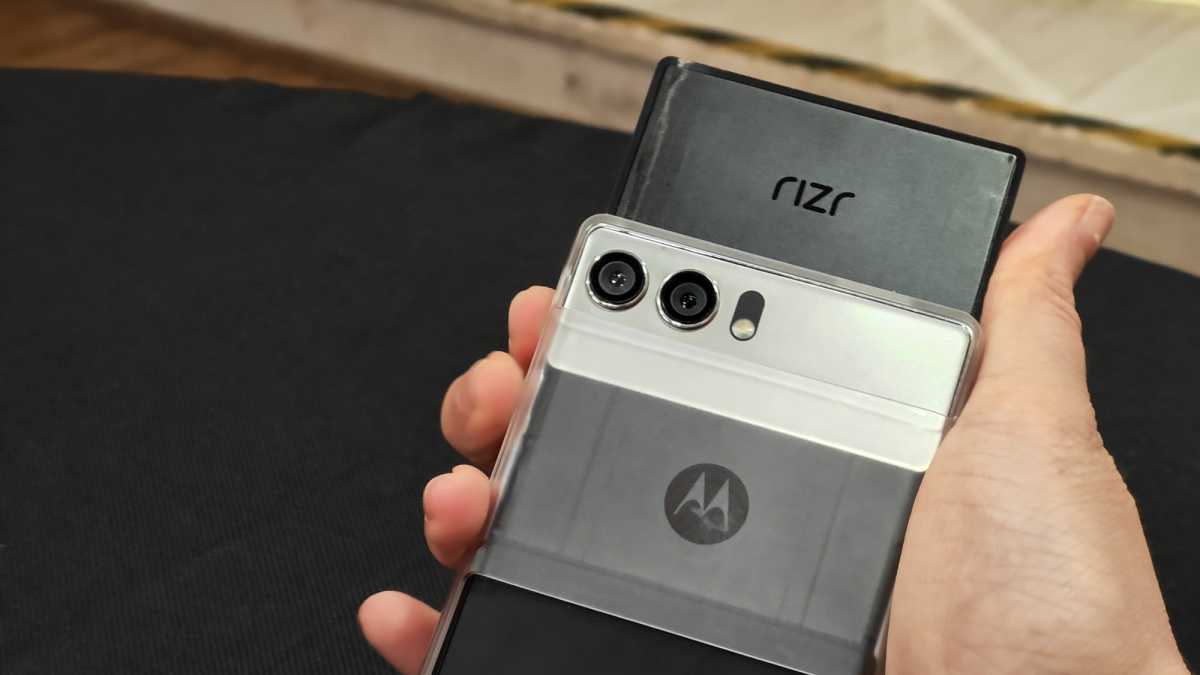 Dominic Preston / Foundry
When fully extended the extra screen hangs slightly alarmingly off the top of the device – as someone who's scuffed his fair share of foldables, this is a phone I really wouldn't want to drop – revealing on the rear its unofficial name: the Rizr, both a play on the Razr foldable and a nod to the company's line of T3 slider phones in the noughties.
Meanwhile, when the phone is 'closed' the spare screen wraps around the rear, giving you an extra mini-display. Motorola showed this off running an always-on display, a viewfinder for the camera, and fun animations and widgets – much like the cover display on last year's Razr phone.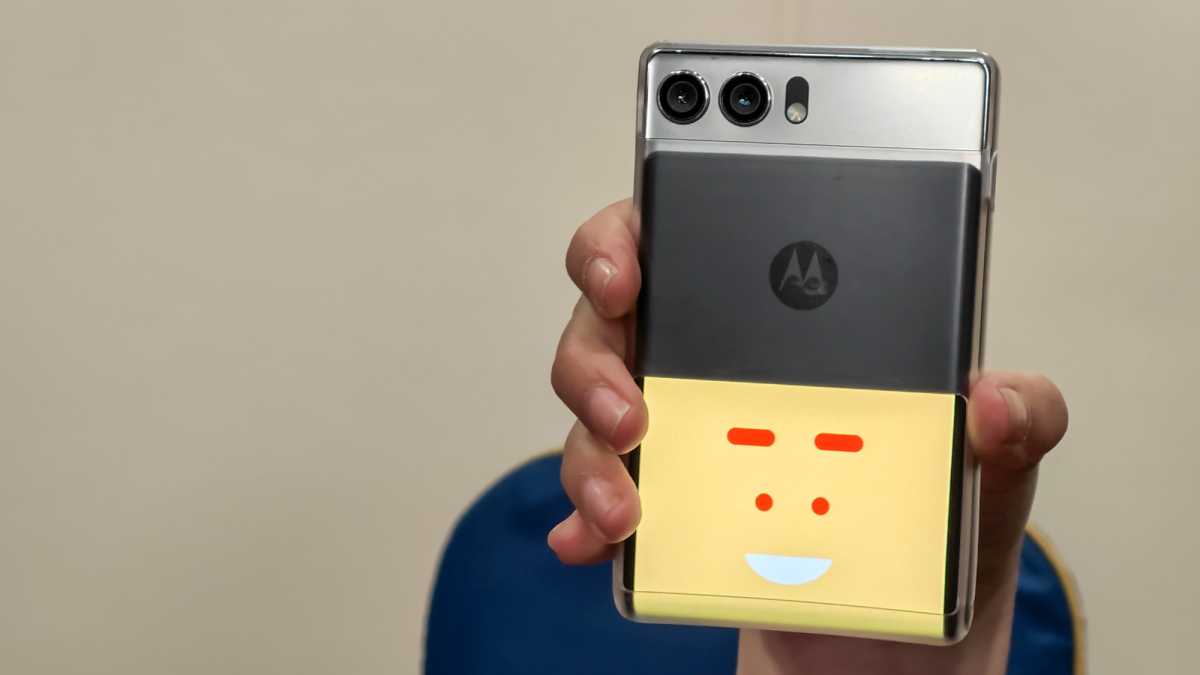 Dominic Preston / Foundry
What's probably most impressive about the 'Rizr' is how seamlessly it seems to work. You can manually roll and unroll the screen with a tap of a button, but it's also smart enough to figure things out for itself.
Try to watch a video in landscape mode and it'll automatically expand to give you the full widescreen view. Or open an email in portrait mode, and as the keyboard pops up so will the rest of the panel to give you a little more space to compose your thoughts.
It'll also roll down a fraction whenever you need to access the selfie camera or the earpiece for phone calls, as both are hidden out of sight, just behind the top of the panel.
Dominic Preston / Foundry
Similar tech is found in the company's rollable laptop prototype. Shown off in a ThinkBook chassis – though, again, this isn't a concrete product just yet – the laptop's 12.7in display can expand upwards to a full 15.3in panel.
When fully extended the laptop looks a little ungainly, but you can see the appeal for programmers and others who dual-screen with portrait monitors.
Dominic Preston / Foundry
When unextended, the flexible OLED panel slides underneath the keyboard, and right now it's such early days that the pixels don't even turn off when it does so – though that's one of the changes the company would introduce for any future retail model. Similarly, right now it's not a touchscreen, but that's an obvious addition for an eventual product.
It would also need to be able to survive 20-30,000 roll cycles to meet Lenovo's standards, though the company rep didn't say how durable the current iteration is.
Lenovo wouldn't let us go hands-on with either of its rollable concepts, and was careful to insist – repeatedly – that these aren't products, and won't ever be, at least not in this exact form. Nor would company reps be drawn on when retail versions might appear.
We've seen plenty of other rollable concepts over the years, from the LG Rollable and Oppo X 2021 smartphones, to Samsung's Flex Hybrid, a concept tablet that both folds and rolls, shown off at CES just last month. Hopefully before too long someone will let us actually buy one.