Thunderbolt 5 is expected to be released in 2023 and deliver up to 3x speeds over Thunderbolt 4 with data-transfer rates of up to 120Gbps.
It will be released in conjunction with the similar but not identical next version of USB4.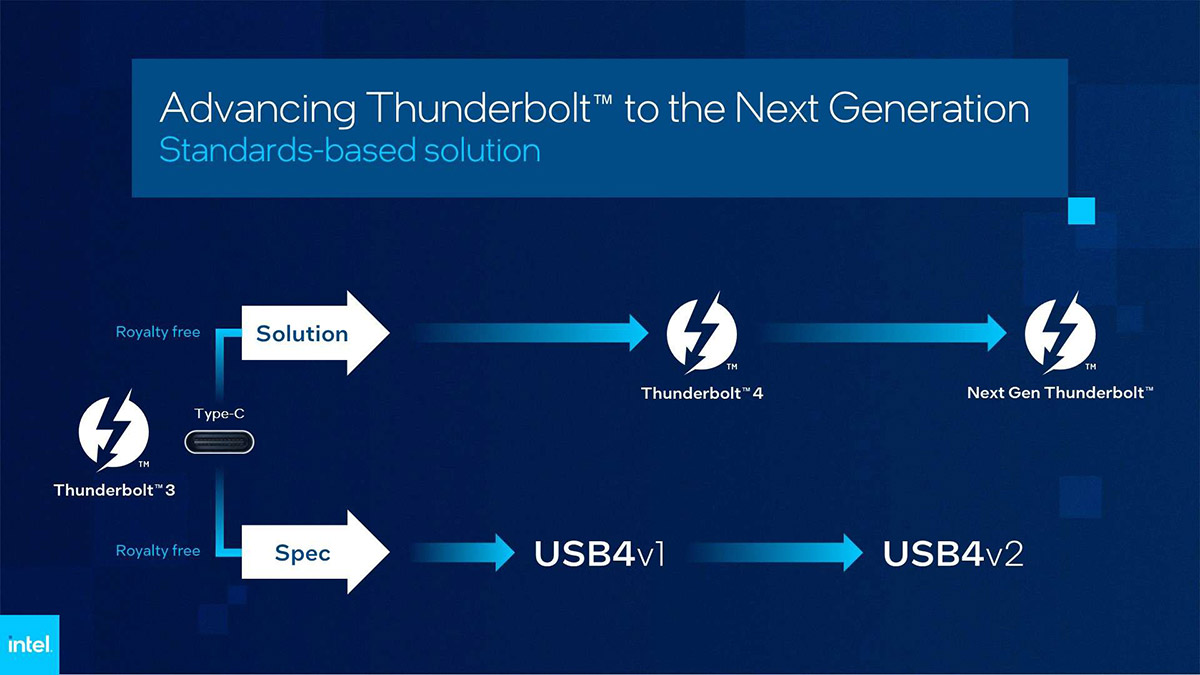 Intel
Intel says that the Thunderbolt 5 speed increase is required to meet "the growing needs of content creators and gamers," so it isn't really for mortal Office or Chrome jockeys.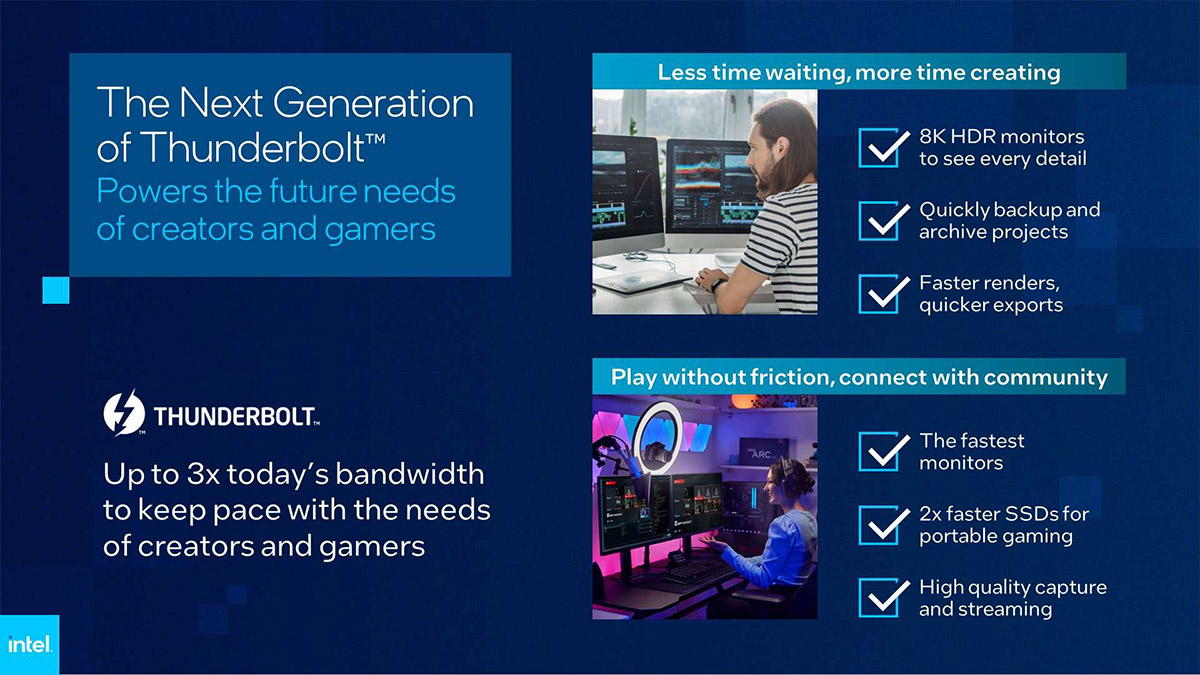 Intel
Such blistering speeds will enable super-resolution displays, low-latency visuals for immersive gaming, and the backup or transfer of huge video and data files. Thunderbolt 5 should support much higher refresh rates for 4K and 8K monitors.
Intel
FAQ
---
1.
What will the next-generation Thunderbolt be called?
Neither the "next generation of Thunderbolt" nor USB has been given an official name yet, but it is expected that the names will be Thunderbolt 5 and possibly USB5.
Frankly, Intel would be mad to call such a massive capability jump Thunderbolt 4.1 or anything other than Thunderbolt 5.
Thunderbolt's naming convention seems to be ordered and predictable compared to the previous holy mess of USB numbering (basically everything is called version 3.1 or 3.2).
Currently, developer Intel is calling them "next-generation Thunderbolt" and "USB4 v2".
In October 2022, Intel demonstrated an early prototype of its next-generation Thunderbolt in action with the USB Implementers Forum's (USB-IF) release of the USB4 v2 specification.
2.
When will Thunderbolt 5 be released?
In October 2022, Jason Ziller, general manager of the Client Connectivity Division at Intel, described the next generation of Thunderbolt as in the "early phases of development".
At the earliest, it will appear with the next generation of Intel processors—possibly this year but maybe 2024—and inside premium Intel and Apple Silicon computers.
As with any new technology, manufacturers will take time to catch up, but once it's in the newest computers, we can expect Thunderbolt 5 accessories such as Thunderbolt docking stations and external SSDs. While backwards compatible with Thunderbolt 4, to make full use of Thunderbolt 5, your devices will need to be certified to support it.
3.
How fast is Thunderbolt 5?
Intel has stated that this next-generation Thunderbolt will deliver 80Gbps (gigabits per second) of bi-directional bandwidth (40Gbps + 40Gbps) and, when across three lanes at 40Gbps each, would enable up to 120Gbps for the best video-intensive display experience.
Thunderbolt 5's new speeds are therefore up to three times that of Thunderbolt 4.
This is an especially significant increase, given that Thunderbolt 4 didn't even nudge up bandwidth when it succeeded Thunderbolt 3 in 2020. Thunderbolt 4 was more about setting common standards than speed increases.
See also: Thunderbolt 4 vs Thunderbolt 3 vs USB-C
According to Intel's Ziller, next Thunderbolt will automatically switch from 80Gbps operation to 120Gbps only when connected to a display requiring more than 80Gbps—for example with 8K HDR monitors or a 4K display at 240Hz.
A bandwidth-hungry display is "really the most important thing that's going to have very high bandwidth needs that are only going in one direction," said Ziller. Storage data transfer is typically bidirectional in nature.
Intel has previously mentioned using "80G PHY Technology", which refers to the physical layer.
Getting more technical, the PHY is based on "a novel PAM-3 modulation technology".
This is all about how the 0 and 1s are transmitted. Traditional NRZ encoding allows for a 0 or a 1 to be transmitted (that is, a single bit). A scheme that allows two bits to be transferred is called PAM-4 (Pulse Amplitude Modulation).
However, what Intel is working on is "PAM-3", which is a technology where the data line can carry either a -1, a 0, or a +1. PAM-3 signal encoding uses three bits of data per clock cycle instead of two bits.
80-120Gbps is pretty special when you consider that the average data speed of USB-C is 5Gbps and a million miles from USB 2.0's 480Mbps.
4.
Will PCI Express get faster with Thunderbolt 5?
The new connectivity standard will offer twice the PCI Express data throughput for faster storage and external graphics.  
Thunderbolt 5 will double PCIe data throughput from Thunderbolt 4's 32Gbps to 64Gbps. This doubling matches TB4's 2x increase over Thunderbolt 3's 16Gbps.
Such an increase would push external SSDs to almost the speeds currently only seen with internal SSDs. It would help not just faster storage, such as moving giant amounts of data back and forth between an external SSD; it could also improve external graphics card (eGPU) performance.
5.
What connector will Thunderbolt 5 use?
Thunderbolt 5 will use the same familiar, reversible USB-C connector as Thunderbolts 3 and 4, and, well, plain old USB-C.
Intel has stated that "USB 80G is targeted to support the existing USB-C ecosystem".
That stability and status quo is good news for everyone—users and device manufacturers alike.
6.
Will Thunderbolt 5 be backwards compatible with Thunderbolt 4, Thunderbolt 3 and USB-C?
Like their immediate predecessors, Thunderbolt 5 and USB5 will maintain compatibility with previous versions of Thunderbolt and USB, says Intel.
Passive Thunderbolt 4 cables up to one metre in length will support Thunderbolt 5.
7.
Which version of DisplayPort will Thunderbolt 5 support?
Thunderbolt 5 will support the newly released VESA DisplayPort 2.1 for a superior display experience.  
Version 2.1 improves DisplayPort over USB Type-C (DisplayPort Alt Mode) and USB4 compatibility.
Manufacturers will have to meet the requirements for DisplayPort 2.1 to be certified for it.
VESA has said that DisplayPort 2.1 is "backward compatible with and supersedes the previous version of DisplayPort (DisplayPort 2.0)".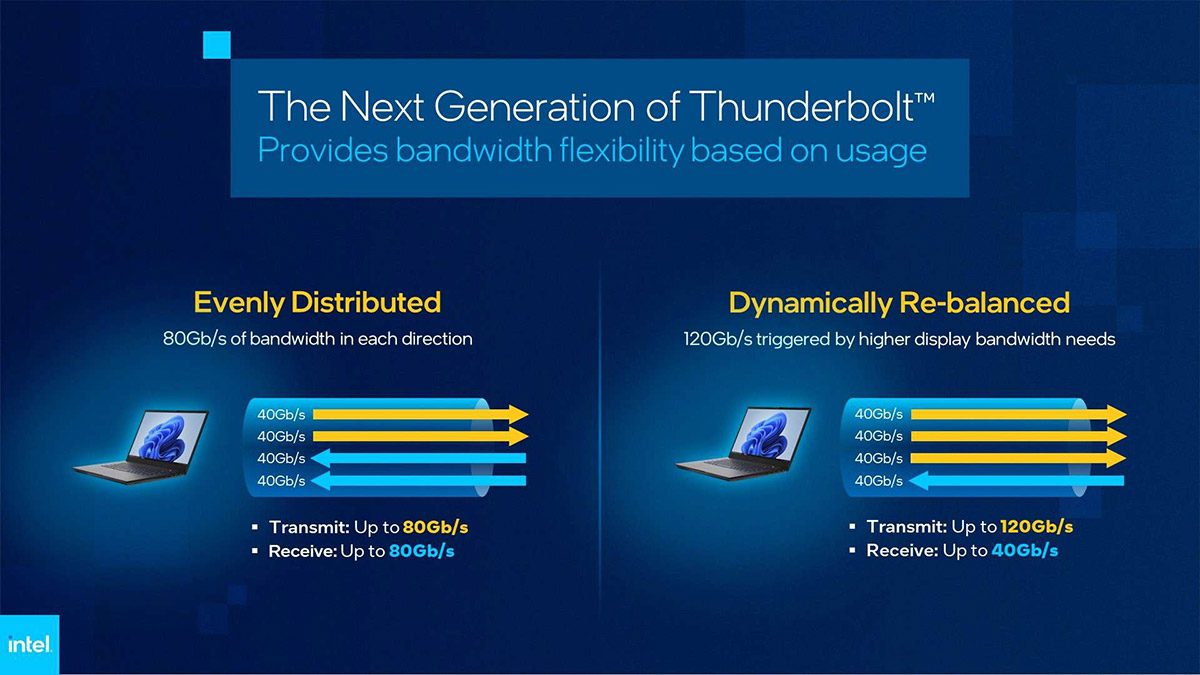 Intel