If you've spent the winter watching as customers of other energy providers were able to make savings on their energy bills by cutting energy use at peak time, there's good news. As long as you have smart meters and an in-home display, you can now sign up for a money back scheme and get up to to £3 per kWh saved.
But, as we found out, you might still find you can't complete the process.
The scheme, by Uswitch, is running until 31 March, so you'll need to be quick if you want to earn some cash. It also means that the amount you'll make will be limited: it might be enough to buy yourself a pizza.
Follow the steps below to see if you can sign up.
Bear in mind that, if you've already signed up to a scheme through your energy supplier, you won't be able to join this one. You can only take part in one scheme at a time.
How to sign up for the Utrack money back scheme
The first step is to download the Uswitch app. It's available for iOS and Android and is free to use. Once you've installed the app, you'll need to create an account.
When you make your account, you'll be prompted to add your address. This will allow Uswitch will find your smart meter.
Once your account is ready to go – when you've verified your email – you'll then need to "connect your smart meter" by entering the code from your smart meter's in-home display.
This is where we had problems. In actuality, you're not connecting your smart meter at all – you'll be connecting the smart display and if you have older hardware, you might not be able to join. After finding the MAC code buried in the settings of our British Gas display, no data showed up in the app.
The app said it might be because the firmware was "out of date", and to contact British Gas to update it.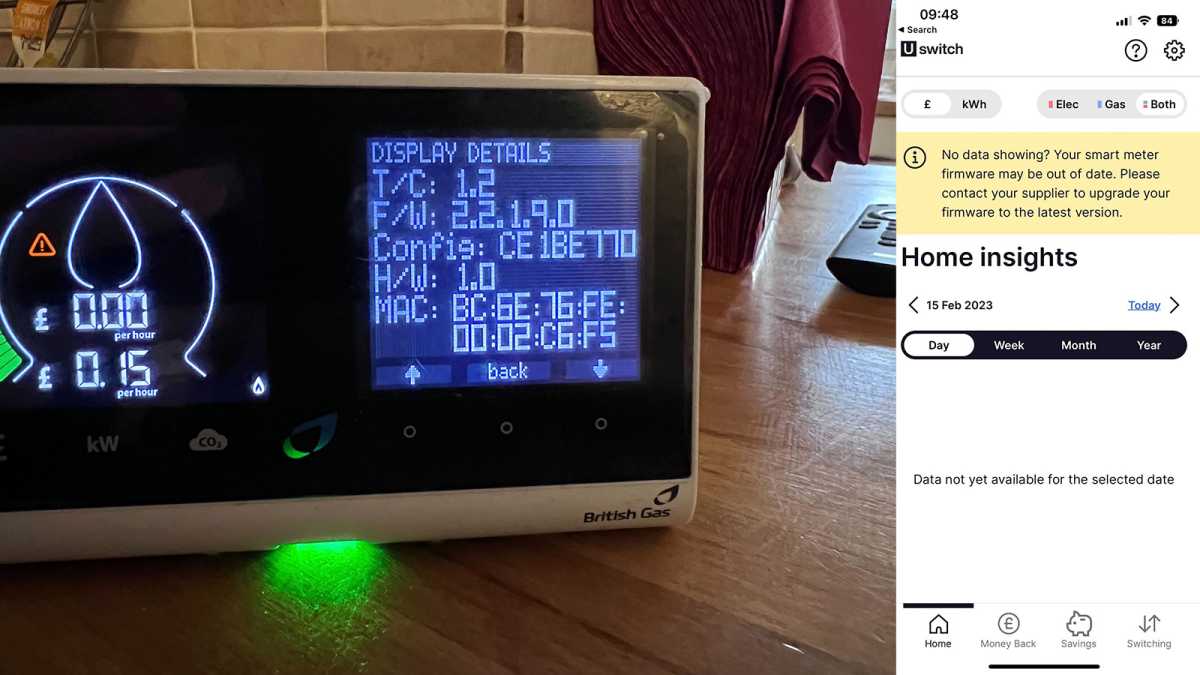 Jim Martin / Foundry
If that isn't possible, you might need to request an up-to-date display, which might not arrive much before the scheme ends. At least these 'IHDs' are free, so won't cost you more than you might stand to save.
If you are able to join Utrack, then just look out for a tab marked "Money Back". There's a button there you'll need to click to join the scheme. Make sure that push notifications are enabled and that you're signed up to emails from Uswitch, so you'll be notified when savings sessions come along.
When you have signed up successfully, you'll also be able see your savings and how much you reduced your electricity use during savings sessions in the same tab.
How much money will I get back?
You can get up to £3 back for every kWh of energy saved. But the amount you'll get doesn't just depend on how little energy you use during the savings sessions – it depends on how much less you use than you would ordinarily.
So, the people who will get the most money back will be those that normally use a lot of electricity at this time and are able to cut right back.
When will the savings sessions occur?
Uswitch expects there to be two sessions a month until the end of March. People taking part in the scheme will be notified in advance via email or a push notification.
How do I earn money back?
When Uswitch contacts you to let you know about a session, which will be during the peak electricity use period (somewhere between 4pm and 7pm on a weekday) you should minimise the amount of electricity you use at that time.
That doesn't mean sitting in the dark – that will make very little difference, except to your comfort and enjoyment of the evening. Instead, you should avoid using your oven, dishwasher, washing machine and tumble dryer at this time. Uswitch also recommends not opening the fridge or switching on the kettle.
Looking for more energy saving advice? The first step to saving money on your electricity bills is to discover which appliances and devices use the most power in your home. Here's how to find out what your electronics cost to run.
You can also find out if smart heating could save you money and then see recommendations in our round-up of the best smart thermostats we've tested.