When it comes to content, HBO Max is in a very solid place right now.
It's the home of one of the biggest shows on TV right now, The Last of Us, which was the network's second-most watched series premiere in over ten years. It has more to come too, with the imminent return of the critically acclaimed Succession for its fourth season.
Both series are in line with what HBO is known for: high-quality drama with bulky budgets, just as we've seen with Game of Thrones, The Sopranos, and The Wire.
However, behind the screen the platform is currently going through a crisis sparked by the long-anticipated merger with Discovery+, and a confusing rebranding process that could put an end to its good fortune.
Warner Bros. Discovery
The Wall Street Journal reports that, in contrast to earlier expectations, whilst most Discovery+ content will be available on HBO Max when the merger completes, the standalone streaming service Discovery+ will remain.
That means that any current subscribers of the service (which focusses on documentaries, reality TV, and sports) will not be forced to sign up for the new merged streaming service, which is expected to be more expensive.
From a business perspective, the rationale is understandable. Discovery+ has around 20 million subscribers, with plans starting as low as $4.99 per month for ad-supported viewing, and $6.99 for ad-free.
HBO Max, meanwhile, costs $9.99 per month for ad-supported streaming and $15.99 per month for ad-free – significantly more than Discovery+.
It's likely that many Discovery+ members would drop off with such a price increase, especially since the final bill could be even higher – it's largely expected that the new super-sized combined streaming service will increase its prices further due to the influx of new content that HBO Max users didn't even sign up for in the first place.
The company also clearly sees the two services as having different audiences, as revealed by this briefing slide with a bizarre understanding of its target demographics for HBO Max and Discovery+: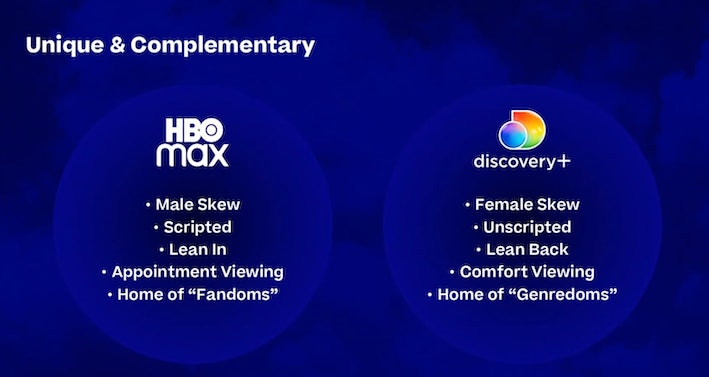 Warner Bros. Discovery
There's a lot to unpack here. How does one 'lean in' or 'lean back' into a series? Why is Warner separating its two streaming services into the blue and pink aisles? And most of all, what the hell is a 'Genredom'?
HBO Max has over three times as many subscribers as Discovery+, with an audience base of over 70 million subscribers in 2022 – a number that may well have increased since The Last of Us started dropping new episodes.
Whilst Warner Bros. Discovery can't afford to drop subscribers from Discovery+, it certainly stands more to lose by not offering a lower plan to current HBO Max members.
Complicating things further, HBO Max has been rumoured to be getting a re-brand. The new name that's been rumoured is simply 'Max', dropping HBO out of the equation altogether. That's right, the days of "It's Not TV, It's HBO" may be over.
Casey Bloys, Chairman & CEO of HBO Max, spoke to Parrot Analytics and claimed that the HBO name could be dropped from the new streaming service because of the connotations of it not being family friendly enough, something that is apparently a priority for Warner:
That's all well and good… until you remember that only last year, Warner made devastating cuts across the board to animation projects, with children's shows being the largest casualty.
This could potentially be a huge misstep. For one, the brand HBO carries a strong identity for audiences. You know what type of quality to expect from it, and the most popular recent shows have kept within the traditional HBO parameters.
Seeking Alpha argues that one of the biggest factors in the decision to drop the HBO name is to appeal to audiences outside of the US, which does make sense. HBO certainly doesn't have the same brand recognition in several countries, the UK included.
But having no label attached and simply co-opting 'Max' destroys any sense of identity. Most other major streaming services have brands at the forefront, like Disney+, Apple TV+ and Amazon Prime Video. 'Max' may, ironically enough, be too minimalist.
If the streaming service truly wants to move away from its HBO roots, then it could easily have broader appeal by swapping 'HBO Max' for 'Warner Max'. Warner Bros. has a long and rich history in animation, blockbusters, and acclaimed movies, so it would be a natural fit – and ticks the 'family-friendly' box that the studio is seemingly concerned about.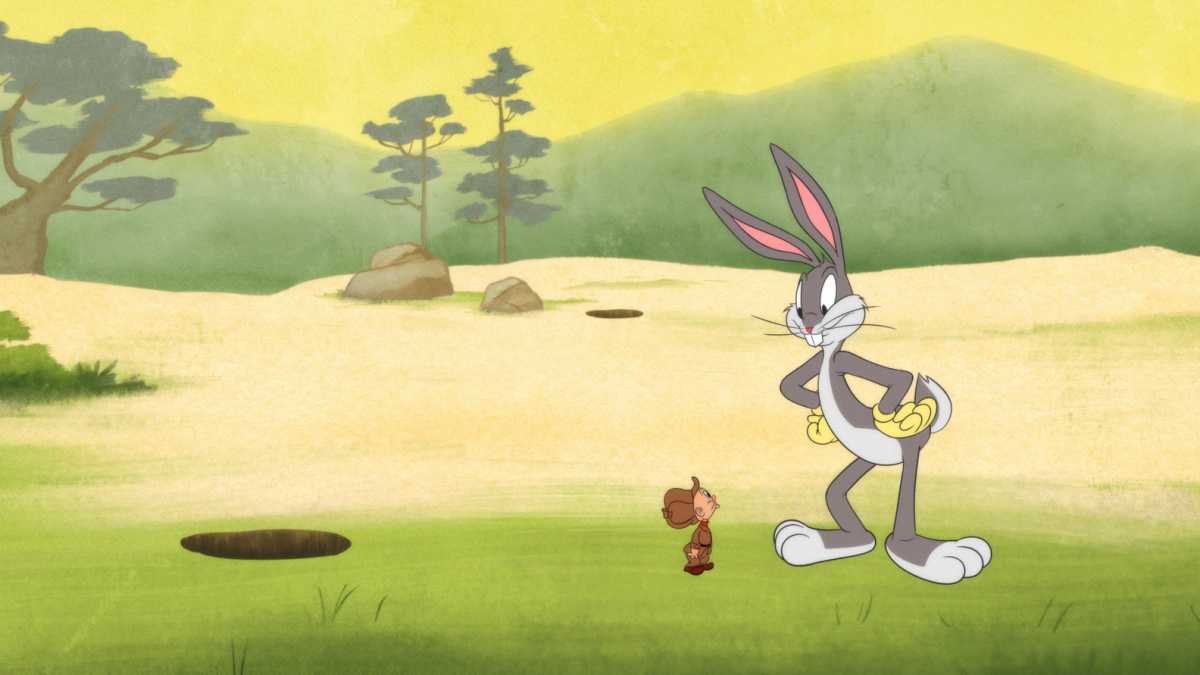 Warner Bros. Discovery
But of course, I keep coming back to the fact that right now, HBO Max is doing well, and it feels like any major brand identity changes – and significant price hikes – can only really do damage at this point.
With subscribers quitting Netflix in droves after its password-sharing crackdown plans emerged, HBO Max is almost certainly swallowing up new members. Why risk possibly losing them again?
What I'm watching this week
I've been making my way slowly through Channel 4's Taskmaster, of which there are a whopping 14 seasons available.
If you've never caught the gameshow before, Taskmaster brings on five comedians/TV personalities, and pits them against each other in a series of strange and unusual tasks, created and umpired by Alex Horne. They are then judged on their performances and awarded points by Greg Davies.
I'd like to give a particular shoutout to series seven starring James Acaster and Rhod Gilbert – the contestants gel incredibly well together and are both hilarious and hopeless.
If you're not in the UK, you can still catch Taskmaster by using our guide for watching Channel 4 abroad.