Segway, the company best known for its now-discontinued, two-wheeled personal transporter, is today launching its award-winning smart robotic lawnmower, the Navimow, in the UK.
The Navimow was made available to buy across 12 European countries last year, and has finally made its way across the channel. As yet, there is no news on if or when the company plans a US launch.
There are four different models in the Navimow series, with prices ranging from £1,299 to £2,299, depending on the lithium-ion battery size and therefore its recommending cutting area, which starts at 500m2 and goes up to 3,000m2.
To be clear, the Navimow is not a ride-on device. It's essentially a robot vacuum cleaner for your garden, except that it mows the lawn instead of vacuuming the floor. But while robot vacuums have become relatively common in the UK, robot lawnmowers are still quite rare.
Unlike some competitors, the Navimow does not require users to set up physical boundary cords or strips. Instead, virtual boundaries are established via the accompanying app.
Once the app, which is available for both Apple and Android, has been downloaded and the robot paired, the user creates a map and delineates boundaries. Segway estimates that the entire set up process will take 20-30 minutes.
Once it's ready to go, the user can set mowing schedules, remotely operate the Navimow and check on its progress via the app. There's also the option to fine-tune the mowing process, precisely adjusting the cutting blade height for grass length between 30 and 60mm.
The Navimow navigates via GPS using what Segway calls its Exact Fusion Locating System (EFLS), which also allows it to identify and avoid obstacles like flowerpots. It'll follow a precise mowing path that should allow for a healthy lawn.
It's got some other nice features as well, like the anti-theft alarm you can set remotely, its IPX6 waterproof rating, so you can just hose it down to clean it, and its industry-best 54dB quiet operation.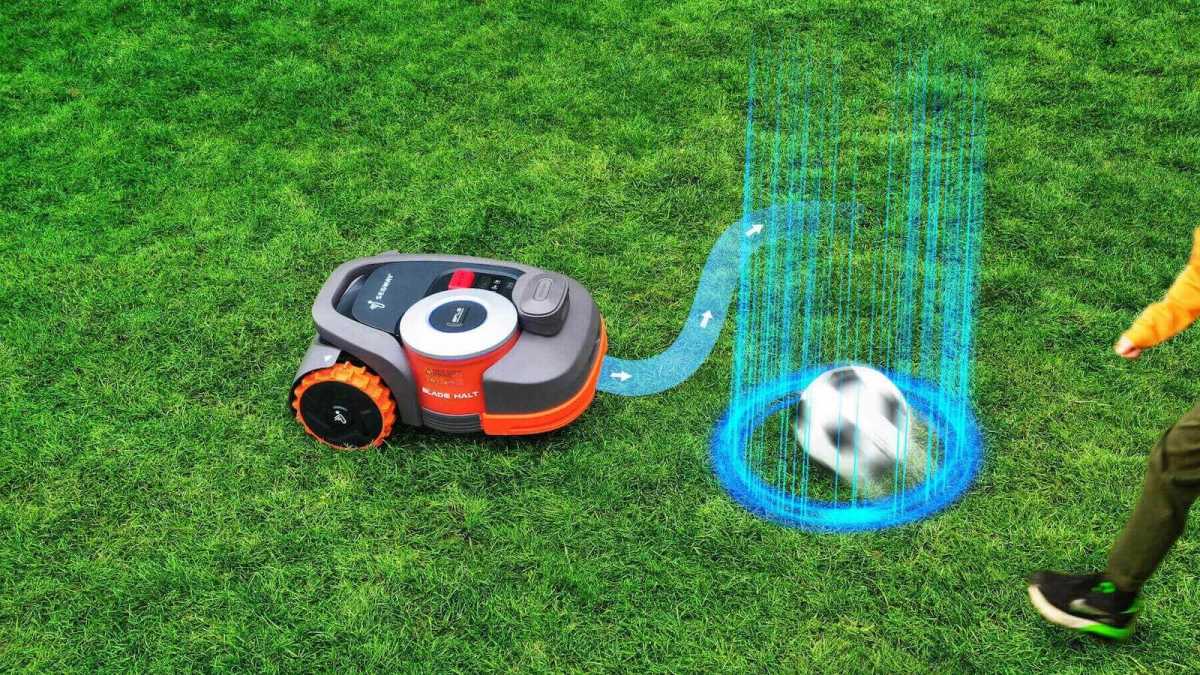 Segway Navimow
Segway Navimow BU's CEO George Ren said: "Navimow's advanced understanding of its surroundings and ability to adapt to unexpected scenarios make the user's life as simple as possible, as they barely lift a finger to achieve the perfect lawn."
And, if the thought of letting a blade-equipped robot loose on your garden makes you wince, its safety measures include including the BladeHalt, which will stop the mower when a sensor is triggered, and its moving object detection, which will help it avoid any small animals unfortunate enough to cross its path.
If your garden layout is more complicated or you have poor satellite reception, you may need the VisionFence Sensor as an add-on. It has a dedicated AI chip and visual recognition algorithm that will soup up the robot's ability to navigate around and detect and avoid obstacles. It's a pricey accessory, at £269.99, but there's a garden checklist you'll be offered before you buy that will let you know if you need it.
Buy before the end of May and you'll be able to get the VisionFence Sensor at the discounted price of £169.99.
The Navimow is available to buy now from the Segway Navimow website, where you'll be able to find a full list of local dealerships.