It's one thing to make a list of resolutions for the new year. It's quite another to stick to them during the darkest, coldest months.
But if keeping your home clean and tidy is on your list, the best hack is to invest in one of the new breed of robot vacuums which will vacuum, mop, avoid abandoned shoes and snoozing pets, empty its own bin, and clean and dry its own mop heads. ECOVACS' X1e OMNI robot vacuum does all this and more, so you can simply schedule the cleaning jobs you want done around the house and then forget all about it.
If the name ECOVACS is new to you, you should know that it's one of the largest and most trusted robot vacuum brands in the world. It has put state-of-the-art cleaning robots into 20 million homes worldwide.
Now is a great time to buy – not only to be all set for your spring clean – but to catch the X1e OMNI at launch and take advantage of the huge launch discount. Buy it from 27 January to 5 February and you'll get a whopping £550 off.
If you're in the US, the X1e is called the T10 OMNI. It will be available to buy from 6 March onwards.
The X1e OMNI has many of the same top-of-the-line specs as the ECOVACS flagship robot vacuum, the X1 OMNI, but in a more compact, budget-friendly package. It's the best of both worlds.
If you have an older robot vacuum, or you've never tried one out, you'll be surprised at how much the X1e OMNI can do. Here are some of its best features:
It's great for carpets as well as hard flooring: at 5000Pa, the X1e OMNI has among the strongest suction available.
It responds to voice commands: its voice assistant, YIKO, works straight out the box. There's no need to link it to your home assistant or perform any additional set-up. This means you can call for your robot to start cleaning, from the comfort of your sofa, without even opening the app.
Targeted cleaning: thanks to TrueMapping 2.0, you can create accurate maps of your home, including 3D maps. These will allow you to respond to a spill with a targeted clean under the sofa or set up a scheduled clean around the kitchen table every day after dinner.
Virtual no-go zones: if you're organising your home and a room – or even just part of one – isn't ready for a clean, you can amend the schedule without abandoning the clean. Just mark up no-go zones on the map and your robot will avoid them completely.
Long battery life: its large, 5200 mAh battery capacity means it can clean for 4 hours and 20 minutes before it needs to return to the dock and recharge.
It mops floors as well. Not only can you schedule your floors to be mopped when you need it most (like after the kids' bath time), but it has powerful, dual spinning mop pads for an effective clean.
There's no mop cleaning needed. You won't need to be home to rinse out or dry the mop heads after the X1e OMNI has cleaned. When the robot returns to the station to recharge, the mopping pads will be cleaned and dried automatically. That means no mouldy smells and that it's ready for the next day's schedule.
You won't even need to empty the bin. Set-and-forget cleaning is only possible if you don't have to empty the onboard bin every time. Inside the OMNI station is a 3L bag. The station uses strong suction to clean out the robot's onboard bin whenever it returns to recharge, so all you'll need to do is change the bag in the station every 1-2 months. This system also protects you from breathing in dust when emptying the bin.
It will vacuum around your shoes – and your cat. The AIVI 3.0 object detection system can identify and avoid lots of common household objects, so you don't have to waste time rescuing your robot vacuum. Plus, you can use its onboard camera to check in on your cat when you're away from home.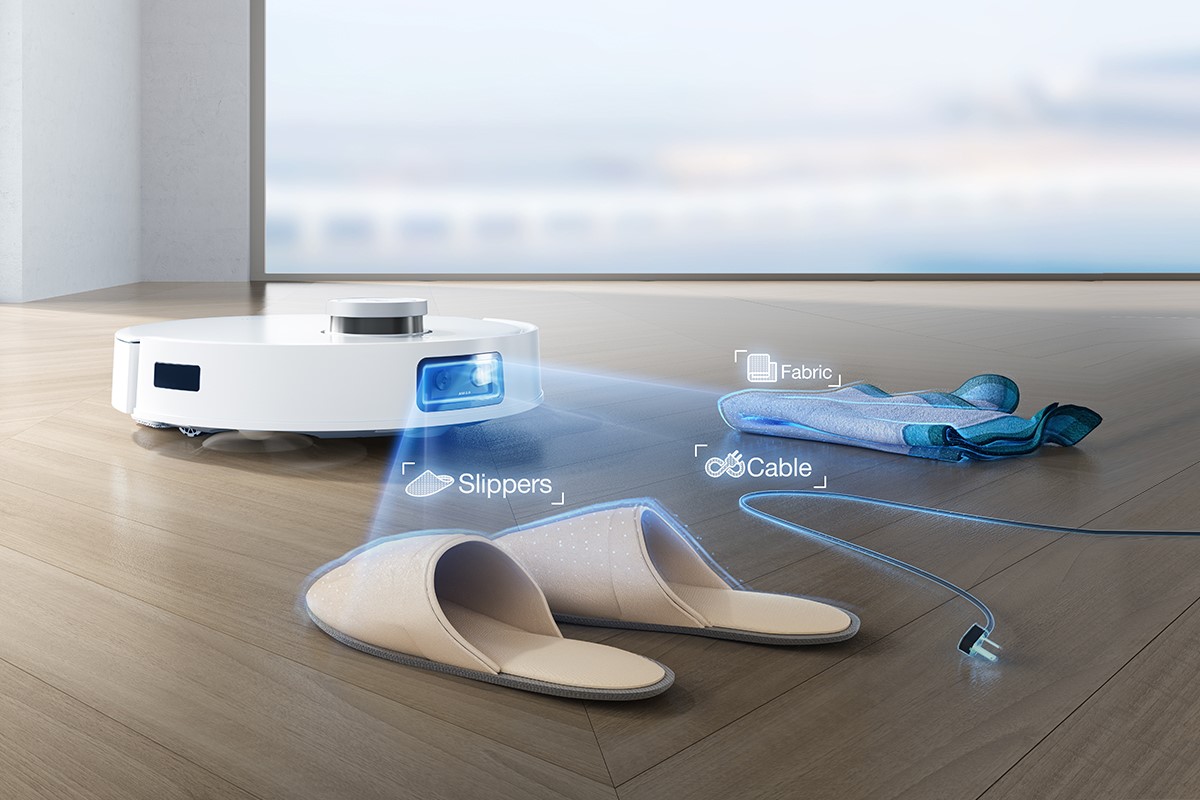 Ecovacs
Buy the X1e OMNI from Amazon from 27 January-5 February and you'll get 39% off. You'll pay just £849, instead of £1,399, saving a massive £550.
US buyers can get their hands on the equivalent robot vacuum – the T10 OMNI – from 6 March. In addition, if you purchase in the first three days (from 27-29 January), you'll get an Amazon gift card worth £50. Complete your purchase and contact ECOVACS and they'll send you an electronic discount code. Plus, there's a limited number of accessory gift sets valued at £115, which include an additional auto-empty station dust bag, a DEEBOT Buddy Kit, a 1 litre bottle of ECOVACS DEEBOT cleaning solution and an additional washable mopping pad.