News is beginning to emerge about the next flagship phone series from Chinese manufacturer Honor, the Magic 5. It's been almost a year since the last generation arrived, so it's no surprise that a launch is now confirmed to be coming soon.
Here's all we've discovered so far about the Honor Magic 5.
When will the Honor Magic 5 be released?
Honor has now confirmed that it will launch the Magic 5 – along with the Magic Vs foldable's European debut – at the MWC tradeshow in Barcelona, with an event set for 27 February. The event will take place at 1:30pm local time, which is 12:30pm GMT / 7:30am ET / 4:30am PT.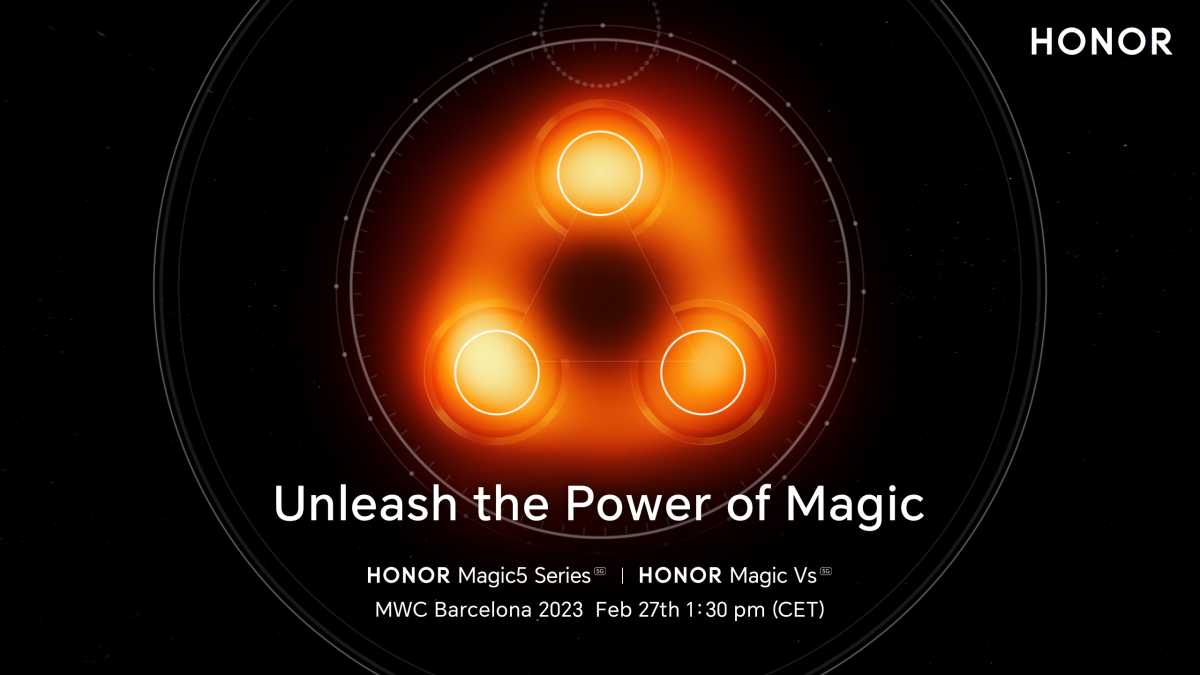 Honor
The launch timing makes sense given that the Honor Magic 4 was revealed almost exactly the same time at MWC last year. Despite that European launch event, only a couple of models come to Europe and other territories, but the standard and Ultimate models remained only available in China. As with previous models, you most likely won't be able to buy the Magic 5 in North America.
How much will the Honor Magic 5 cost?
There's no official word from Honor about the price of the upcoming models, so we need to consider how much the previous generations cost:
Honor Magic 4 – ¥6,725 (approx. $999/£818/€922)
Honor Magic 4 Pro – £949/€1,099 (approx. $1,159)
Honor Magic 4 Lite 5G – £299/€349 (approx. $365)
Honor Magic 4 Ultimate – ¥8,677 (approx. $1,289/£1,055/€1,190)
Honor Magic 3 – €899 (approx. $973/£797)
Honor Magic 3 Pro – €1,099 (approx. $1,189/£975)
Honor Magic 3 Pro Plus – €1,499 (approx $1,622/£1,328)
This list above makes for confusing reading, as we have a mixture of currencies which might not take into account local taxes and suchlike. Honor announced the Magic 3 range with prices in Euros, although it then didn't release the phones in that territory. The Magic 4 phones had two western models, and two that remained in China, with the prices reflecting that.
Piecing it all together, and assuming that Honor mimics the lineup of the Magic 4 generation, here's the rough prices we think you'll be likely to see when the Magic 5 models appear:
Honor Magic 5 – $999/£799/€899
Honor Magic 5 Pro – $1,149/£949/€1,099
Honor Magic 5 Ultimate – $1,299/£1,049/€1,199
Honor Magic 5 Lite – $369/£299/€349
Obviously these prices are speculative, but we think they should be in the right ballpark. We have seen one report online that featured a supposed spec sheet for the new models (the details of which we cover below) and that had three models with the following prices:
Honor Magic 5 – ¥4,999 (approx $740/£599/€679)
Honor Magic 5 Pro – ¥5,999 (approx $888/£719/€819)
Honor Magic 5 Prestige – ¥7,999 (approx $1,185/£959/€1,093)
These appear cheaper, which would be a welcome change in these days of ever increasing price tags.
What features will we see in the Honor Magic 5?
As with the other sections in this article, we're still awaiting announcements from Honor about the specs on its upcoming handsets. But, a few leaks have already made their way out in the public, and there's some educating calculations we can make about what the Magic 5 range will look like.
There have been a few design renders appearing, with this one from Twitter leaker @rodent950 being the most fleshed out. It shows a similar layout to the Magic 4 generation of devices, with the circular camera section the main feature on the back. Tellingly, the cameras here closely match the design of the official launch poster above, so it's likely this design is accurate.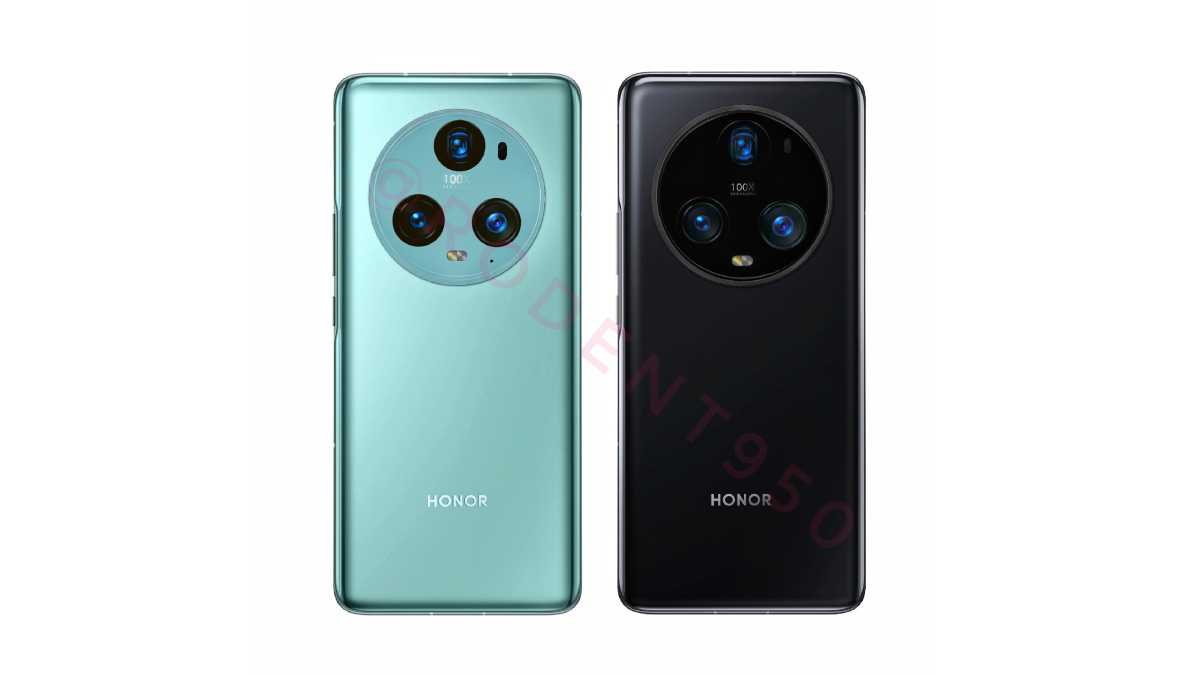 @Rodent950
A recent post on Weibo from the wonderfully named The Factory Manager is Classmate Guan also seems to outline what the three potential Magic 5 devices will include. In a leaked spec sheet shown in the post, it details that there will be a Magic 5, Magic 5 Pro, and Magic 5 Prestige – which seems to be this year's version of the Pro+ or Ultimate.
All will feature Snapdragon 8 Gen 2 chipsets, 6.8in LTPO AMOLED panels with variable refresh rates from 1-120Hz, 2160Hz high-frequency dimming, HDR10+, 480Hz touch rate, under-display fingerprint sensors, and a maximum brightness of 1,100nits. Not bad at all.
The Magic 5 and Magic 5 Pro will come in 8+256GB, 12+256GB, and 12+512GB configurations, while the Magic 5 Prestige offers a solitary 12+512GB model. Memory is LPDDR5X and storage is UFS 4.0.
Front cameras are the same across the range, with a 13Mp Sony IMX688 sensor, but there are a few differences in the rear arrays. The Magic 5 should come with a triple line-up of a 54Mp Sony IMX800 primary, 50Mp Sony IMX758, and 64Mp OmniVision OV64B.
There are a few tweaks with the Magic 5 Pro, which is listed as featuring a new Sony IMX878 sensor that comes with OIS support. The OmniVision OV64B reappears, but this time it's joined by a Sony IMX516 sensor. For the Magic 5 Prestige the listing has the 1in Sony IMX989 sensor with OIS, a 50Mp Sony IMX758, a Sony IMX516 sensor, plus an additional unspecified camera.
Battery life should be good, with a 5000mAh battery fitted in the Magic 5 and 4800mAh batteries for both the Pro and Prestige.
Charging should also impress – we're expecting the regular Magic 5 to support 66W wired charging (since verified by the phone's 3C certification in China), while the Pro and Prestige are supposed to include faster 100W wired speeds plus 50W wireless charging too.
A few other differences include IPX54 waterproofing for the Magic 5 and IP68 for the others, while the Magic 5 will get 2D facial recognition with the two remaining models using superior 3D recognition capabilities.
Many of the rest of the specs are standard across all three models, including Wi-Fi 7, Bluetooth 5.3, USB 3.1, NFC, and MagicOS 7.0.
It won't be long until we can see the Honor Magic 5 devices for ourselves, but until then you can check out our guide to the best smartphones to see which models the range will have to overcome, along with the best phones coming out in 2023.