At a glance
Expert's Rating
Pros
Simple, attractive design
No screen or distracting notifications
Recovery-focussed tracking
Cons
Expensive
Almost useless without a paid subscription
Limited workout tracking
Our Verdict
The Oura Ring is a compact fitness tracker free from distracting bells and whistles. Not everyone will love the focus on recovery and readiness over workout tracking, but the high price and ongoing subscription fee are its biggest obstacles to success.
Price When Reviewed
From $299
Best Prices Today: Oura Ring Gen 3
Most fitness trackers sit on your wrist, but the Oura is the leader in a growing trend towards smart rings – smaller, more compact devices that save you from distracting notifications and let you wear a traditional watch (or none at all).
The Gen 3 is a significant step for Oura because it not only upgrades the company's tracking tech, but also moves to a controversial subscription model which means that to get the most out of Oura you'll have to follow the up-front cost with a $5.99 monthly membership fee.
I've been wearing the Gen 3 daily for over a year now, and have been hugely impressed with how seamlessly and unobtrusively it handles fitness tracking.
On the other hand, I've benefited from a free subscription provided to me by Oura, and suspect that most people will find this doesn't do enough to justify the exorbitant long-term cost, and is far too limited without the membership to be worth it at all.
Design & build
Range of colours and finishes
Two shapes to choose from
Eight sizes – with free sizing kit
Scratches easily
The look of the Oura Ring is pretty simple: it's, well, a ring. At a glance it's designed to look like classic jewellery, with a simple design that's not far off a classic wedding band.
Dominik Tomaszewski / Foundry
The original shape – dubbed 'Heritage' – is circular but with a flat edge on one side, though for $50 more you can get the 'Horizon' version that's perfectly round except for a small dimple on the underside.
That model also adds the exclusive option of a rose gold finish, though either way you can also choose from gold, silver, black, or a matt black finish called 'Stealth'.
Despite the names, and the fact that Oura charges a $100-200 premium for the stealth, gold, and rose gold models, all the rings are made from the same combination of plastic and titanium with a coloured coating, so you really are just picking a colour.
It's also worth knowing that the coating scratches easily. A year in and my Oura is riddled with small scratches and abrasions on every side. This doesn't really bother me, and in fairness Oura warns that "With daily wear, the ring may develop scratches," but go in prepared that this won't remain flawless for long.
As it's a ring, you'll also have to make sure to order the right size – fortunately, Oura will ship you a free sizing kit with a set of plastic rings to help you figure out your ring size and make sure you order the right one. The company recommends you wear the ring on your first finger for optimal tracking, though elsewhere works fine if you prefer.
Much as the Oura looks like a 'real' ring, it is notably thicker than most jewellery – enough so for other people to notice and comment on it – so you probably shouldn't expect this to pass as a traditional ring, except at a glance.
That's especially true in the moments where the sensors on the ring's inside light up, often casting a faint green or red glow that's usually easy to ignore, though a touch distracting if you catch a glimpse of it at night while trying to sleep.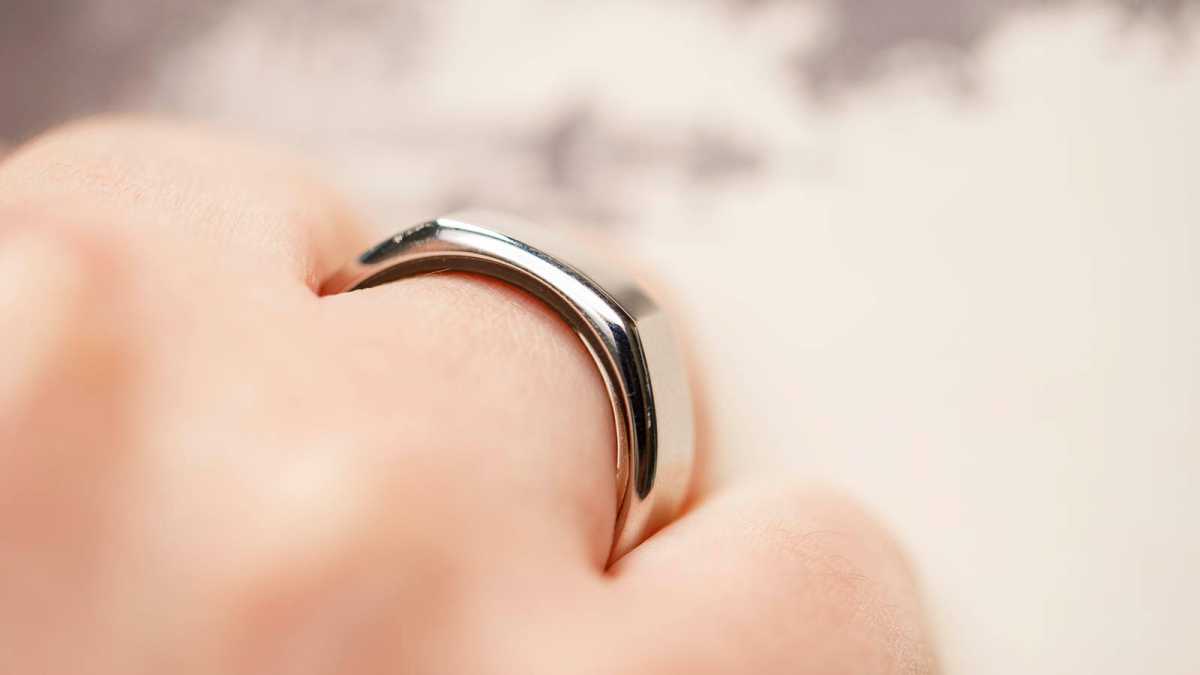 Dominik Tomaszewski / Foundry
Oura has also made sure that the ring is water-resistant, apparently up to 100m. I'd be nervous swimming in it, because even with the right fit it's prone to slipping off my finger when wet, but it means I don't think twice about wearing it while showering or washing my hands.
Combined with the sleep tracking functionality, that means this is a ring you're really expected to wear 24/7, except when it's charging. Fortunately it's comfortable enough that this works. You might worry about the three small raised dimples on the inside that help create space for the sensors to work best, but they've never bothered me, and if anything help hold the ring in place.
Ultimately, I find the Oura much more comfortable to wear all day, every day than I would most wrist-based trackers, and especially while sleeping – this is much easier to ignore than a bulky wristwatch.
In fact the only time the Oura gets on my nerves is, unfortunately, when working out. It's fine for most exercise, from running to yoga, but I can't wear it at all while bouldering or weightlifting, where your grip is paramount. That's true of most rings of course, but is a reason to consider a traditional wrist tracker if either of those are typical workouts for you.
Fitness & tracking
Daily heart rate and sleep tracking
Very basic exercise monitoring
Focus on rest and recovery
Oura takes an unusual approach to health tracking, with a focus not on what you do, but on how well you recover from it.
With that in mind, the focus isn't on fitness tracking. Yes, the ring will track your step count for the day, record your heart rate during workouts, and give you a daily activity score. But it won't attempt to log hundreds of different exercises, record run routes, recognise weight lifting moves, or anything else along those lines.
Instead the focus is on rest, recovery, and a wider view of physical wellbeing. That's why the first thing you see when you open the app is a score out of 100 for 'Readiness'. Based primarily on your resting heart rate, this is intended to be a measure of how ready your body is for exercise and activity, guiding you on whether you should take today easy or throw yourself into exercise.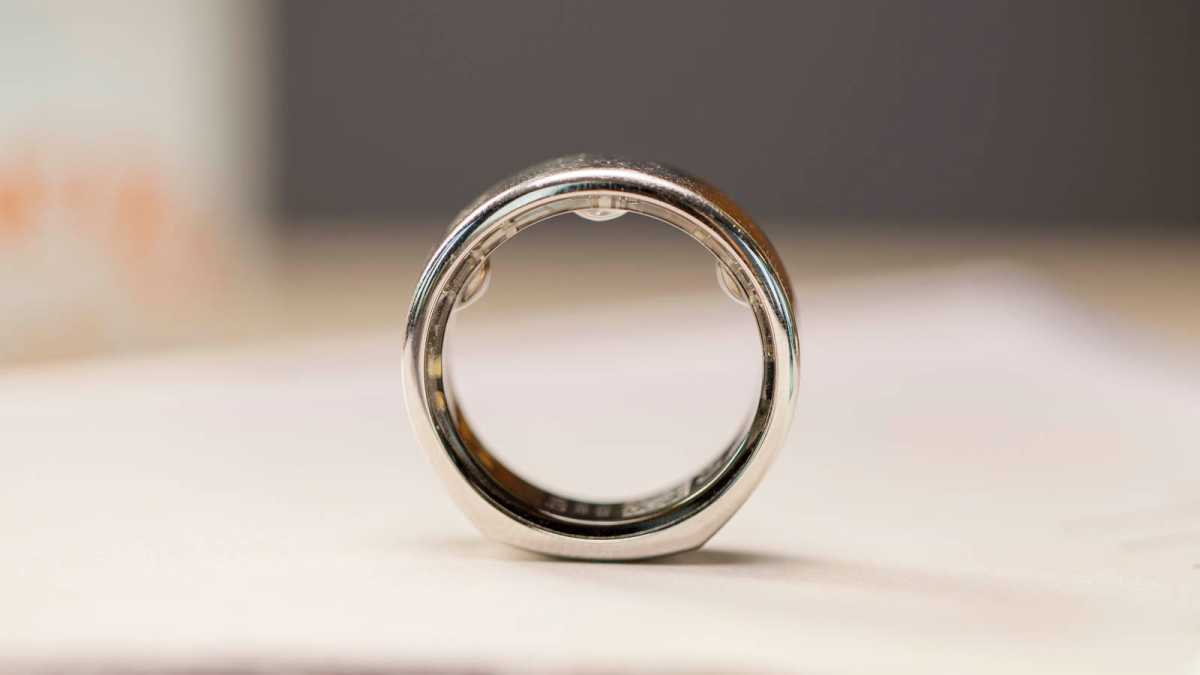 Dominik Tomaszewski / Foundry
It's a great idea in theory, though in practice I'm not sure how much it helps. I work out based on a pretty strict routine, so a low readiness score one day won't stop me hitting the gym – though might help me excuse myself for a bad session. If you have a more flexible schedule you might get more benefit, taking each day as it comes according to what your body's ready for.
Readiness is followed by a sleep score, which is more familiar. This takes into account the length of your sleep plus interruptions, depth, and your heart rate and blood oxygen levels overnight, and the score is paired with advice on how to improve your rest going forwards.
I've definitely noticed some inaccuracies with the sleep tracking, mostly with it over-measuring my time asleep – time spent lying in bed while awake often gets counted in the overall sleep metric. But for the most part, tracking lines up with what I see from my other tech and my own intuitions about how well I've slept.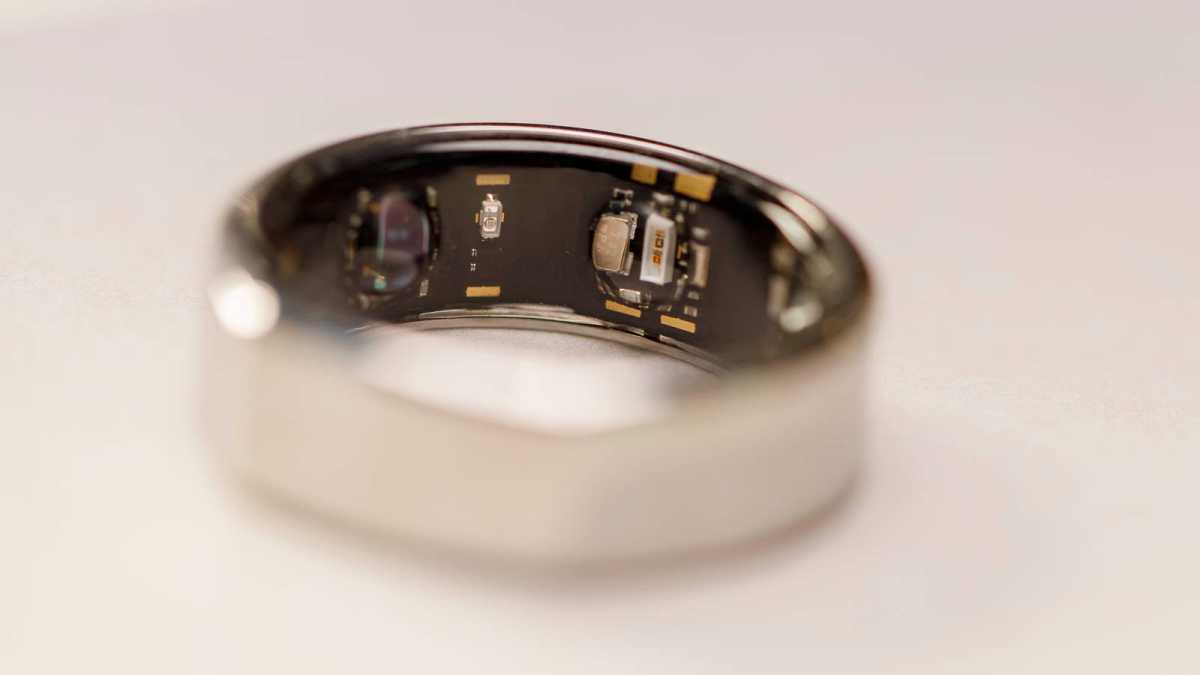 Dominik Tomaszewski / Foundry
Finally, thanks to skin temperature sensors there's also an option for period tracking, though since I don't have periods I haven't been able to test that myself.
Software & features
Simple app with loads of data
Unreliable notifications
Far too limited without a membership
All that tracking data is found in the Oura app, which is available for both Android and iOS and free to install. It presents you data day-by-day, led by the big three scores (Readiness, Sleep, and Activity), giving you the option to dive down further into the raw data for each category if you want to.
That means the app can be as simple or complex as you'd like it to. If you opt for the latter, it really is refreshingly in-depth, with reams of data and the option to pull up charts and graphs showing changes over time for almost every individual, granular score. Not many apps let you do that.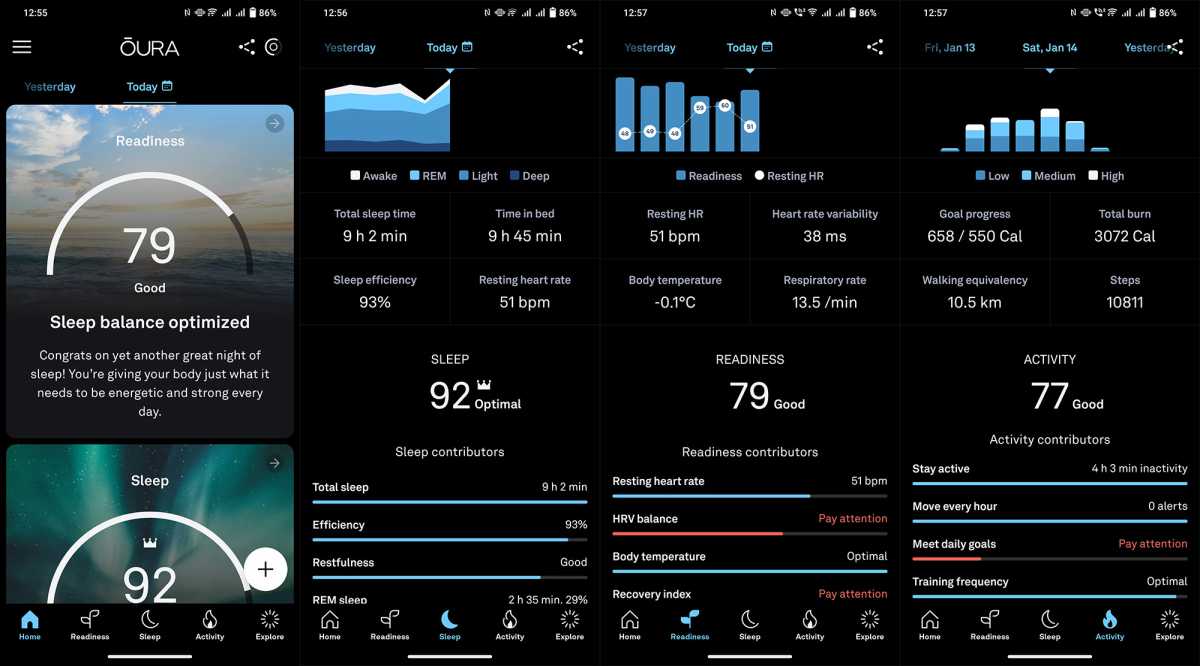 Dominic Preston / Foundry
The downside is that you only get all that data if you pay for Oura's $5.99 monthly membership. If you're not willing to commit to a monthly fee then all you get is the three main scores. That's it – no deeper data, nothing to drill into, not even your heart rate or step count.
It's embarrassingly limited, making the Oura almost useless without a membership. That's in contrast to the way Fitbit has handled its Premium subscription, which adds deeper data for those who need it, while still allowing basic users access to the core tracking they'd expect.
Scour Reddit and you'll find some users reporting that they managed to access more info without paying by linking their Oura app to Google Fit or Apple Health to get at the info in those apps, but results sound inconsistent, so I wouldn't bank on that as a way to circumvent Oura's monthly fee.
It doesn't help my good will that the app is a little inconsistent in sending notifications. I've enabled all its permissions on my Android phone, and yet I only occasionally get the promised alerts on my daily readiness or when I should head to bed.
More damningly, it almost never gives me a 'low battery' notification, meaning I often discover too late that the ring has died and I've missed hours or even days of tracking for no good reason. With no display or other alerts on the ring to help here, the app simply has to be better.
Battery & charging
Up to seven-day battery
Compact charger
The good news is that this notification gripe has come up so often in part because the battery life here is good enough to make charging easy to forget – when new the ring can run for a full week on a single charge, and even a year in I've found it still makes it most of the way there before it runs into trouble.
That's important for a device you're expected to use around the clock, and it runs for longer than many more advanced wrist trackers – though if this is your main motivation, some watches from Withings and other companies still have the Oura beat on battery.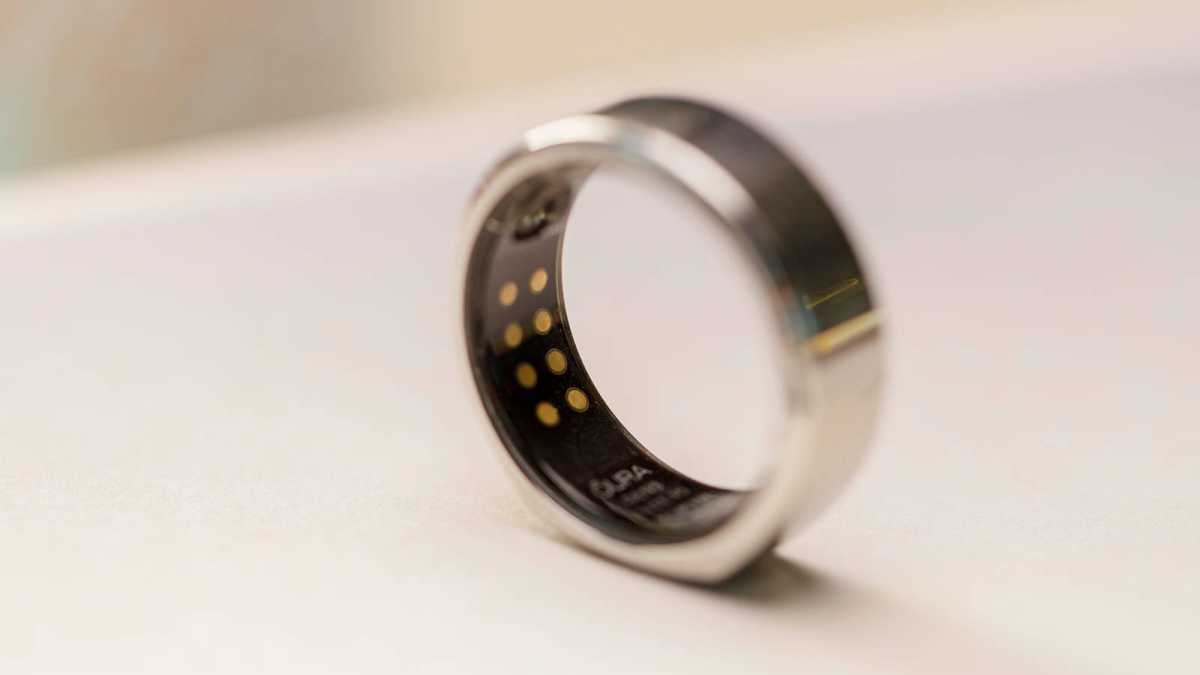 Dominik Tomaszewski / Foundry
Charging is handled by a small circular charging puck with a raised pillar to hold the ring in place while it charges. It's compact enough to travel with, and needs only a USB port for power, making it easy to keep by a PC or on bedside table if you have USB available nearby.
A full charge takes a little over an hour, so you will have to make the effort to find time for it, though you won't have to give up a whole night of sleep tracking to charge it overnight unless you want to.
Price & availability
And here's the rub. The Oura Ring Gen 3 is expensive. The cheapest you can get it is $299 for the Heritage shape in silver or black, but prices rise all the way to $549 for the Horizon in rose gold.
(Side note: despite the US pricing, Oura does ship the ring worldwide, so don't be put off by that.)
That means that even the cheapest Oura is undercut by the $249 Apple Watch SE, while at $399 the latest Apple Watch 8 is cheaper than several of Oura's options. Almost every Fitbit on the market costs less, with only the $299 Sense 2 coming in at the same price as the cheapest Oura.
And that's before we get into the $5.99 monthly subscription charge. Apple Watch users get full functionality with no added charges, and while the $9.99 Fitbit Premium tier is admittedly more expensive, it's also more optional – plenty of basic data is available without a membership fee, unlike the absurdly limited Oura experience.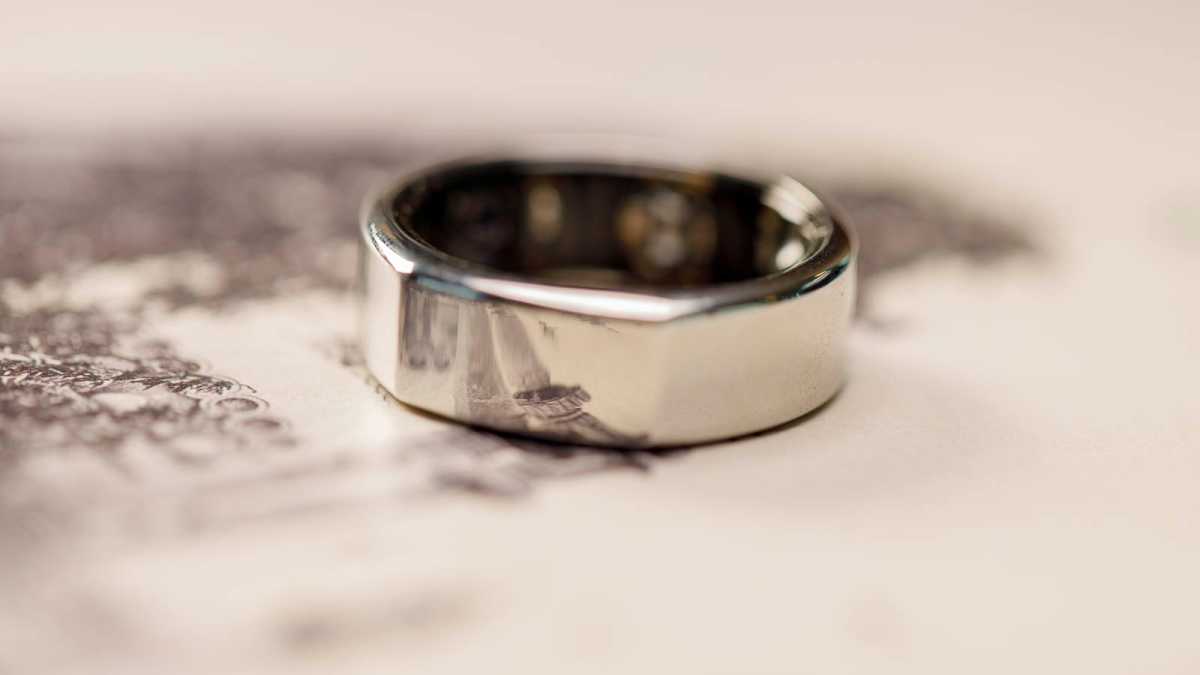 Dominik Tomaszewski / Foundry
Another option is the unusual Whoop tracker. Like the Oura this has no display of any kind, and its tracking is focussed on heart rate and recovery. It also requires an expensive subscription – more than Oura's – but the tracker itself is included free, as are upgrades to new hardware versions whenever they launch.
Check out our ranking of the best fitness trackers for a few more options beyond those brands.
Verdict
The Oura Ring Gen 3 is a fantastic piece of hardware stymied by an aggressive pricing model.
If you can afford the outlay of both hundreds of bucks up front and an ongoing monthly charge then you'll get a simple, discreet fitness tracker that's easy to use and packs loads of data.
It won't suit you if your main interest is tracking your actual exercise, but plenty may prefer the more holistic approach, with its focus on rest and recuperation over hitting new PRs.
The problem is simply that the Ring Gen 3 would be an expensive tracker even without the subscription fee. Factor that in and it feels like extortion, especially since the minimal data made available without a membership makes the ring nearly useless.
If money's no object and you really want a ring-based tracker then the Oura is great. But everyone else would do better keeping their data on their wrist.
Specs
Titanium and plastic
Water-resistant to 100m
Heart rate sensor
Blood oxygen sensor
Infrared photoplethysmography (PPG) sensors
Skin temperature sensors
Up to 7 days battery
4-6g
Best Prices Today: Oura Ring Gen 3