At a glance
Expert's Rating
Pros
Biodegradable filters
Well-designed app
Low energy use
Cons
Pricey
No air quality indicators
Only one base colour
Our Verdict
Briiv's low environmental impact air filter is beautifully designed, simple to use and smells wonderful. We loved it – but it's a luxury item for gentle day-to-day use only.
Price When Reviewed
$360 approx
Best Prices Today: Briiv air filter
An open glass jar, sitting atop a black base, housing a thick coconut mat underneath a spongy morass of forest green reindeer moss: you could be forgiven for thinking that the Briiv is some sort of botanical experiment.
But it isn't – it's an air filter that's attempting to provide an alternative to the increasing numbers of plastic components and HEPA filters that end up in landfill every year, with no way to be broken down.
Instead of "greening" a domestic air purifier that's simply industrial tech made small, Briiv has come up with a new approach: using biodegradable organic materials for filters, over a low-wattage appliance (it's just 5W).
It's a wonderful thing to look at, touch, and smell. The reindeer moss is so enticing, you find yourself picking it up just to roll it around in your fingers, so if you have small children, beware. They won't be able to leave it alone.
Let's take a closer look.
Set up
Briiv is slightly larger than a kettle
Simple to set up
Connects via Wi-Fi
The Briiv consists of a black plastic base, three organic filters, a glass jar, a manual, a power cable and a power adapter.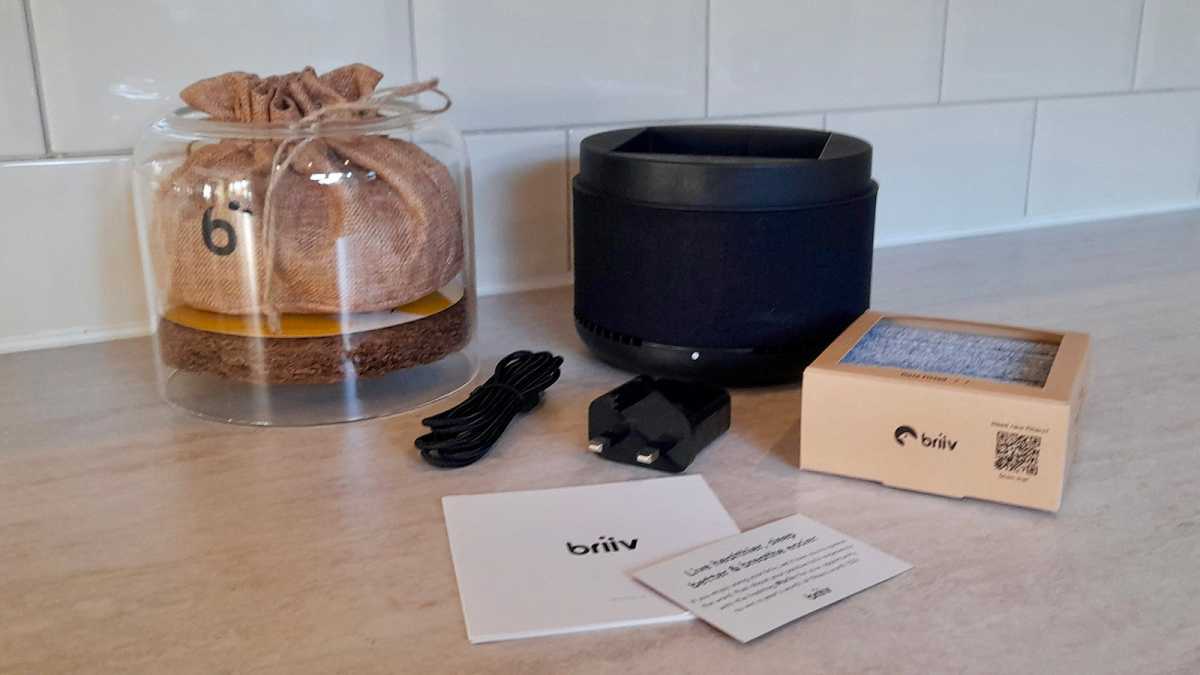 Alex Greenwood / Foundry
The base measures 16cm in diameter. It's wider than a domestic kettle, so you need a reasonable-sized surface for it – it will more than dominate a bedside table, for example, but it will do fine on a sideboard or chest of drawers.
This base is 11.5cm high, and has the USB port for the supplied power adapter at the back. A black fabric filter wraps around the air output.
Into this base, you place the 10cm x10cm cardboard matrix filter that lasts three months. This filter, with an activated carbon accordion in it, can trap matter down to PM2.5, including fine particles and VOCs (volatile organic compounds: think emissions from paint, printers, glue, permanent markers – that kind of thing).
The coconut filter goes on top. This lasts for one year and is made of waste coconut husk that has been repurposed into filtration fibre. It's a dense spongy mesh that smells faintly of toast, and targets PM5 particles, including dirt, dust and smoke.
Then you place the glass jar over the top, which comes down the side of the coconut filter, holding it in place, and fits onto the base. It's reminiscent of a Victorian bell jar.
Next, you add the dark forest-green reindeer moss, which comes in a woven hessian drawstring bag. This part of the set-up feels wonderfully medieval, as though you are a 13th century apothecary pulling out natural ingredients for a poultice.
Alex Greenwood / Foundry
You get about 80 grams of moss, and it lasts for one year. Briiv says it is naturally grown, ethically harvested, and will remove PM10 particles like pollen and pet dander.
All these filters are biodegradable, which is very much the point of the product.
The entire height of the Briiv is about 23cm, and it comes with a woven black USB cable, 140cm long, which plugs into the base, so you have some leeway over positioning near a power socket.
Operation
Simple on-filter touch controls
In-app controls
You operate the Briiv through the touch-activated control zone on the front of the base or through the app.
The control zone on the front of the base is very simple: a scale of one to four dots with a plus and minus point to scale up or down. Next to this is the touch button for the one-hour boost, which is a cleanse mode that will clear a 6m x 6m space in an hour, although the filter will work at a maximum during this time.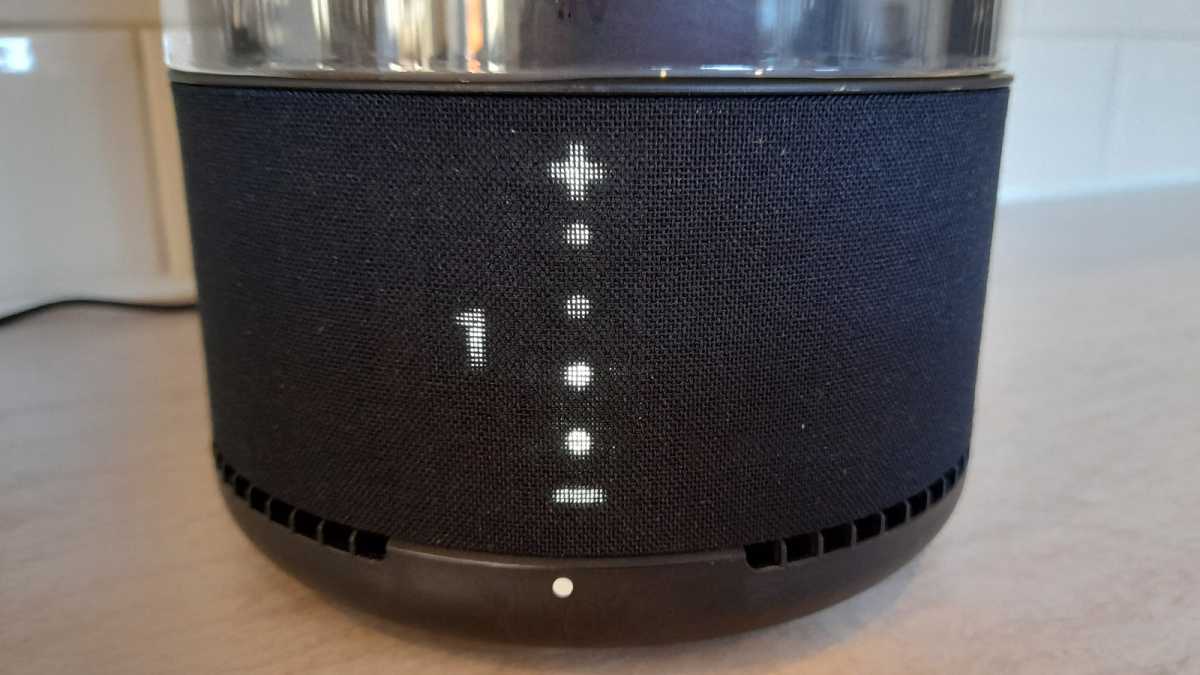 Alex Greenwood / Foundry
If you want to use the app, which is available for Apple and Android, you download it via your app store or scan the QR code in the manual. You set up your Briiv account, supplying an email address and password, and you'll be sent a verification code to your email. Then you can add the device.
To do so, you press the one-hour touch button on the Briiv for 8 seconds to put the purifier in configuration mode. Then you navigate to your phone's Wi-Fi settings and connect with the Briiv network that appears there. At this point, the app will ask you to key in your Wi-Fi network name and password and it connects the Briiv through your Wi-Fi in that way.
The app itself is simple and well-designed. There's a button to turn the Briiv off, a button to increase the output by four stages and a button to decrease it. You can schedule the Briiv to come on and turn off at specific times and speeds on certain days, there's a tab for filter health, and a one-hour boost button.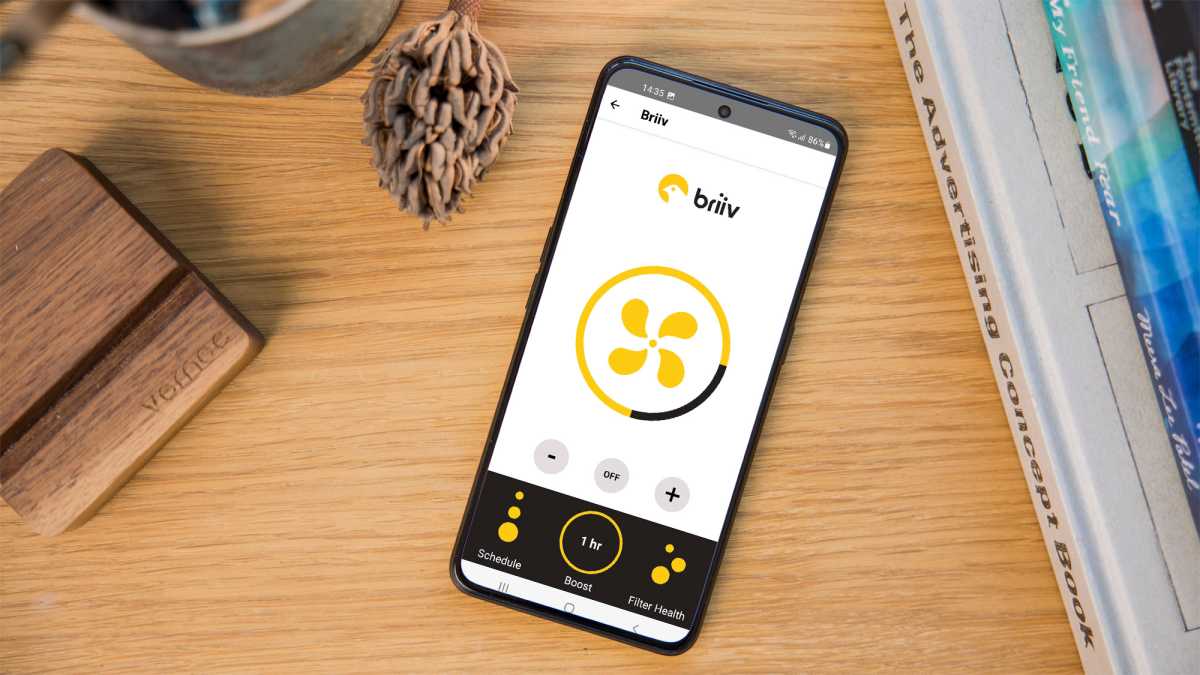 Dominik Tomaszewski / Foundry
Performance
Briiv is not silent in operation
Four speed options
Distinct, natural smell
At dot one speed, the Briiv is barely audible. You can definitely sleep while this mode is operating, and indeed, we tried it overnight and it did not disturb us at all.
Speed two is audible (Briiv says 45dB), with a slight buzz, and you can sense the air movement from 80cm away.
Speed three is significant. Speed four is powerful, similar to a table fan sound level. On the Briiv site, it's categorised as being no louder than 70dB – the same as a washing machine or shower – which is pretty noisy. You can feel the air movement from 120cm away.
So much for how it looks and sounds. The question is: does it work?
Briiv's claim is that the air filter is as powerful as 3,043 medium size houseplants – except, presumably, with added airflow. This is impossible to check and not particularly helpful if you're trying to decide whether to buy this or another air purifier.
In the site FAQs, Briiv says that on its maximum setting it delivers 53 cubic feet per minute of purified air. This equates to a CADR of 90 cubic metres per hour. Our top-rated air purifier, the Jya Fjord, has a CADR of 450m3 per hour, so the Briiv only has 20% of its air cleaning power.
If you burn a pan in the kitchen, it won't have the power to quickly clear the hanging smoke from your home. But what it can do is freshen up a dusty or a stuffy room.
As the Briiv doesn't feature any air quality indicators, there's nothing apart from the smell and your sense of air movement to tell you that anything is happening.
What we can say is that we tested the Briiv overnight for several nights in a row, during winter with closed windows, and found our sleep deeper and more refreshing, and we woke up without that muffled head you often get when sleeping in a sealed environment with central heating on. We felt noticeably sharper, and clearer-minded, and this was in a testing environment with excellent external air quality, so if you live in an urban environment, the difference may be even more noticeable.
Briiv's filtered air makes your room smell as though it is either outside or full of plants. During testing, we had a variety of different perspectives on it: "It's a lawn in Spring." "It's like walking into a florist." "It's seaweed on a beach." "It smells like making up a hanging basket" (that'll be the moss). "It's like walking through a woodland in May." "It's like one of the glass houses at Kew Gardens."
You get the picture. Suffice to say, it genuinely changes the atmosphere in a room.
Price and availability
There's no getting around the price: the Briiv is an expensive piece of kit.
If you're in the US, it costs from around $360 upwards (at the time of writing, Goop has the best price), with a year's worth of replacement filters available for $42.
In the UK it generally costs £329, although the best price we've found is from Appliance City, where it's £299.99. Replacement filters aren't too bad at £34.99 for the one-year moss matrix set. This includes one moss filter, one replacement coconut filter and four nano matrix filters (the cardboard square with the accordion in it).
If you're in the UK, Briiv also makes a black edition for VOC and odour removal (Briiv, £334) It uses uses bamboo carbon blocks instead of moss and could be a useful alternative if you have more of a modern, industrial style in your home.
Verdict
The Briiv is lovely. On all sorts of levels. At this price point, it is definitely a luxury item, but we do think it's worth it if what you're after is gentle air purifying. It's fascinating to look at, it makes your room smell like a woodland dell, and it's a really special object to interact with – we couldn't keep ourselves from occasionally touching the moss in the jar and picking it up to smell.
Moreover, it plays into something deep down in the human psyche. We've been using moss for thousands of years, and it just feels weirdly right to have some so nearby, and to use this natural product again today. If the Briiv is an indicator of the future of "green tech", we can look forward to some fascinating hybrid innovations.
For more air purifying options and to see which appliances we rate the highest, have a look at our round-up of the best air purifiers we've tested.
Best Prices Today: Briiv air filter