The Surface Pro turns 10 this year, and Microsoft is expected to mark the occasion with a new device.
Its flagship 2-in-1 has come a long way since 2013's original – an updated version of the very first Surface from a few months earlier. However, it's retained the same core design throughout that time, consisting of a large tablet with optional detachable keyboard.
But with mixed reviews of last year's Surface Pro 9, will Microsoft make any big changes on its successor? Here's everything we know about a potential Surface Pro 10 at this early stage.
When will the Surface Pro 10 be released?
Microsoft appears to have settled into an annual update cycle for the Surface Pro, with the two-year gap between the Pro 7 and Pro 8 the only recent exception:
Surface Pro 9 – October 2022
Surface Pro 8 – September 2021
Surface Pro 7 – October 2019
Surface Pro 6 – October 2018
With that in mind, it's likely the Surface Pro 10 will launch in late 2023. Microsoft usually holds an event in September or October, with the device on sale a couple of weeks later.
Of course, the company may decide to do something different this year or wait until 2024 instead. In the case of the latter, it could be timed to coincide with a potential Windows 12 launch.
However, a 2023 release remains the most likely scenario at this stage.
How much will the Surface Pro 10 cost?
Again, the pricing of recent Surface Pro devices serves as a useful guide for the Pro 10:
Surface Pro 9 (Intel) – from $999.99/£1,099.99
Surface Pro 9 (5G) – from $1,299.99/£1,299
Surface Pro 8 – from $1,099/£999
Surface Pro 7 – from $749/£799
Surface Pro 6 – from $699/£749
As you can see, prices have been rising steadily in the last few years. Considering the current rate of inflation in many countries, further hikes are possible on the Pro 10 – even if there's only minor upgrades.
It's likely you'll still pay a premium for the ARM-based 5G models, despite Intel versions being a better buy for most people right now.
And remember, the prices you see above are just for the tablet itself. Adding the Type Cover keyboard to the Pro 9 (a required purchase to get the most out of it) will cost at least $129.99/£124.99. The full experience, including a stylus, costs $299.99/£259.99.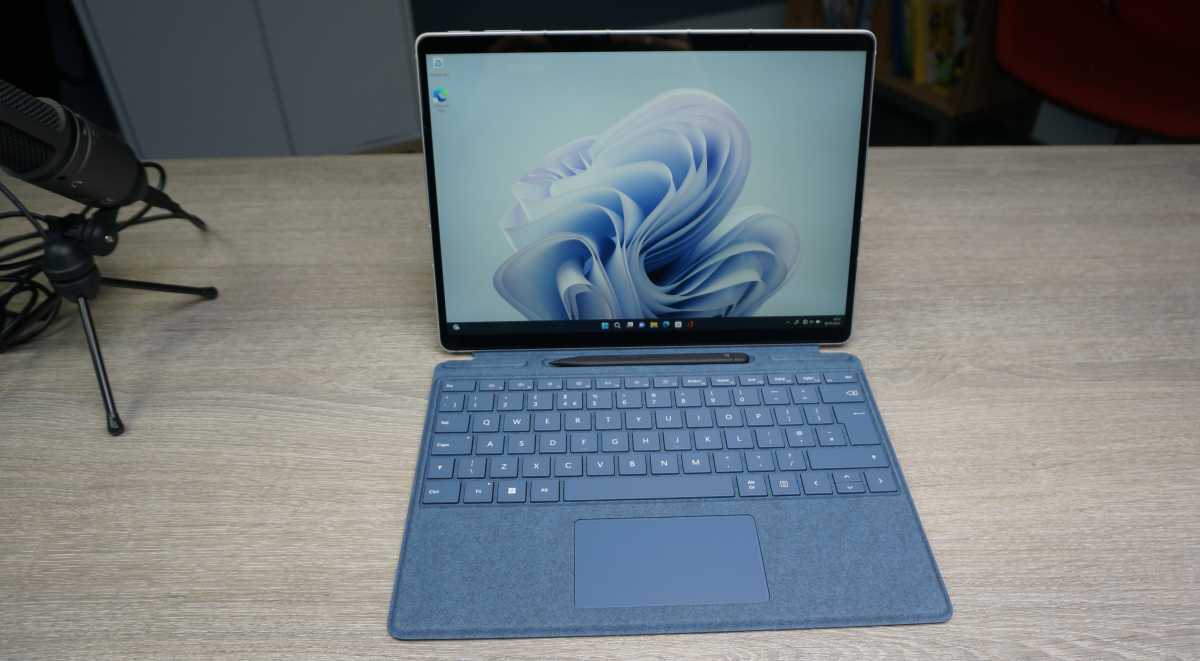 Anyron Copeman / Foundry
It would make sense to keep the same accessories on the Pro 10, but hopefully this is the year a Type Cover is finally included in the price – it's already expensive enough.
What about the Surface Pro 10 specs and design?
There are no concrete rumours regarding the Surface Pro 10 at this early stage, but we still have a fairly good idea of what to expect.
There'll almost certainly be new processors, likely from the 13th-gen Raptor Lake range on the Intel side. Judging by previous models, you'll probably have a choice of Core i5 or i7 from the least powerful U-Series. However, that should still be enough for excellent everyday performance.
Things are less clear on the ARM side, although we may still see an update to the SQ3 chip found in the Pro 9. That's based on Qualcomm's Snapdragon 8cx Gen 3, so it's logical to expect something based on the upcoming 8cx Gen 4. However, that all depends on whether Qualcomm launches it in time.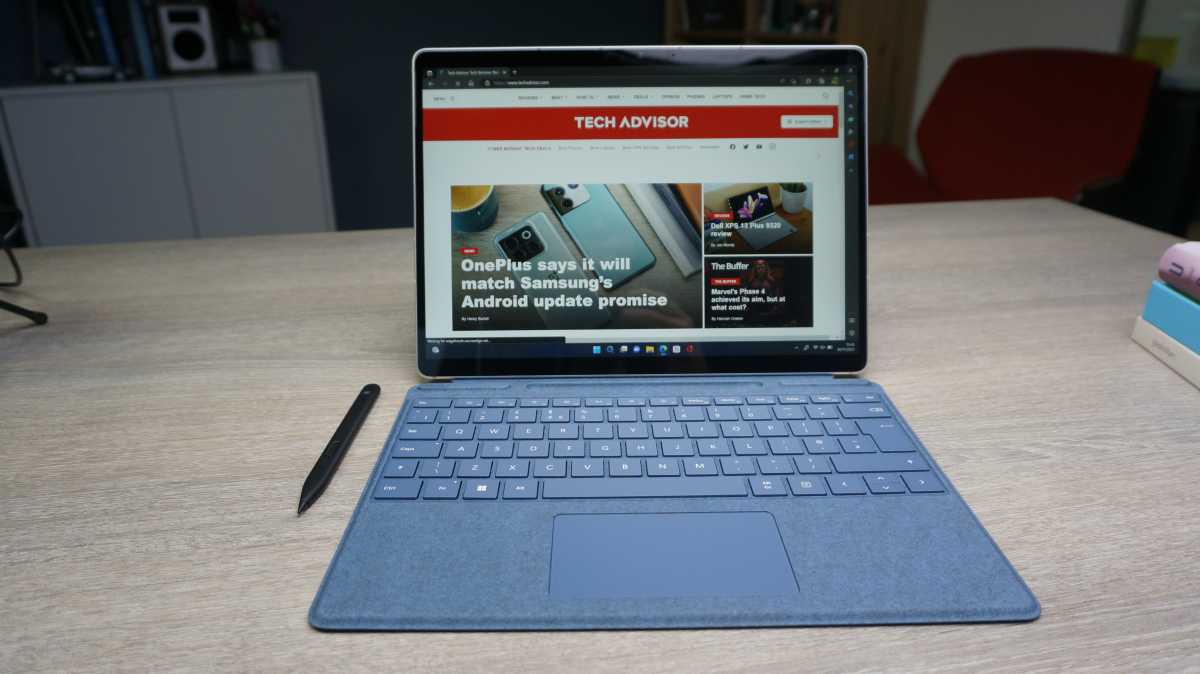 Anyron Copeman / Foundry
Microsoft will still probably keep 5G support exclusive to the ARM model, but hopefully the NPU (neural processing unit) will make its way into Intel versions. That would enable some of the useful video calling features introduced on the Pro 9.
Similarly, an SQ4 processor would allow for the faster USB4 standard, something the Snapdragon 8cx Gen 3 doesn't support. But Thunderbolt 4 is Intel technology, so it won't be available.
There'll probably only be the option for integrated graphics across the lineup once again, but a discrete GPU from Nvidia would make a big difference on high-end models.
Ports are another area that needs attention. There's just two USB-C and Surface Connect for charging on the Pro 9, meaning most people need an adapter or hub. At least one USB-A and HDMI would make a big difference.
It'd be nice to see an upgrade to the 13in display, potentially to OLED or even Mini LED. But the PixelSense (IPS LCD) panels on recent Surface Pro devices are still excellent. There's also no need to go beyond the 120Hz refresh rate available on the Pro 9.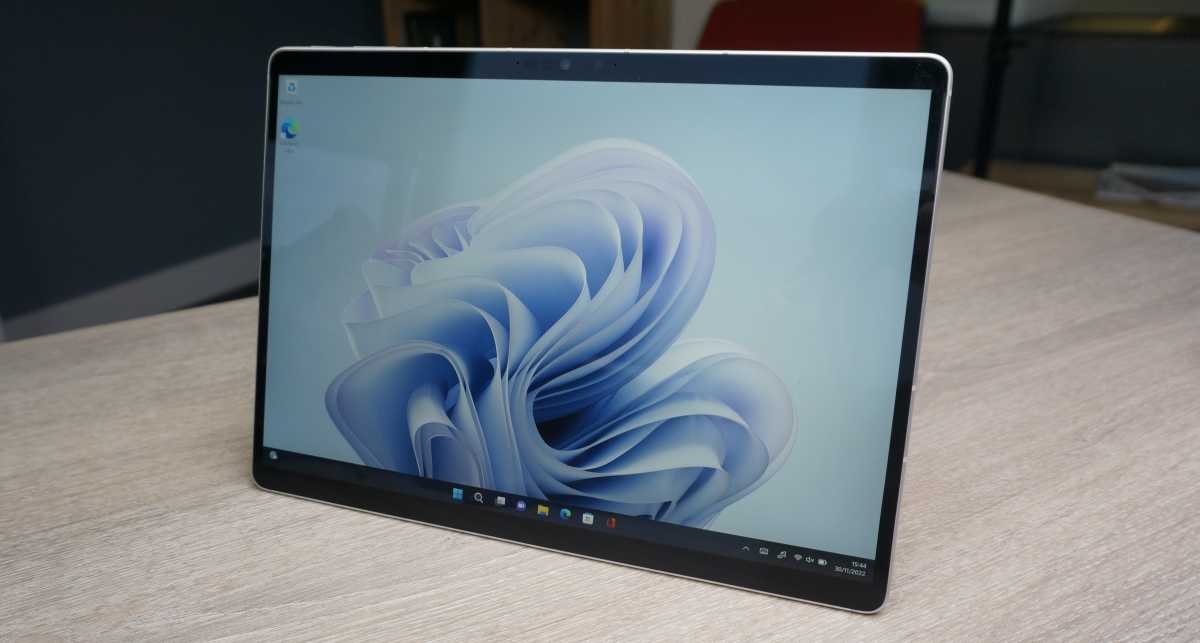 Anyron Copeman / Foundry
Slimming the bezels further feels unnecessary, especially when the Full HD webcam and separate IR sensor should remain. A fingerprint sensor on the Type Cover would be nice, and at least one version of the keyboard accessory could be made thicker to allow for a more convincing typing experience.
Battery life is already solid on the Intel model and excellent on the ARM version, so increasing the total capacity isn't necessary.
Improvements to Windows 11 to make it more suitable for tablets would be appreciated, although several updates will have taken place before the Pro 10's expected launch.
We'll update this article once more is revealed about the Surface Pro 10.
Related articles