At a glance
Expert's Rating
Pros
Sleek, stylish design
All-year-round usage
Can destroy formaldehyde in the air
App and virtual assistant smarts
Our Verdict
The Dyson Purifier HP09 Hot & Cool Formaldehyde may be one of the most expensive purifiers around, but with added heating and cooling capabilities in a small package, it's the only product you'll need all year round.
Price When Reviewed
$769.99
Best Prices Today: Dyson Purifier HP09 Hot+Cool Formaldehyde
Dyson is a household name not only in the world of vacuum cleaners but, more recently, air purification, and the top-end Dyson Purifier HP09 Hot+Cool Formaldehyde is the pinnacle of its collection.
The HP09 not only purifies the room but it can generate plumes of hot or cold air on command and, most impressively, it's one of the vanishingly few purifiers on the market that can break down formaldehyde – and it does so in a fairly compact package.
The catch? It's also one of the most expensive purifiers in Dyson's collection. But, with an impressive feature set and great performance, it goes a way to justify that top-end price tag.
Design & build
Signature Dyson design
Fairly compact footprint
Curved remote attaches magnetically
The Dyson Purifier HP09 Hot+Cool Formaldehyde is instantly recognisable as a Dyson fan, sporting the same design philosophy as previous entries in Dyson's bladeless fan collection. Its elegant design and complementary colour scheme help the fan stand out from a sea of tower fans, with a gorgeous white, silver and bronze/gold combination that'll look good in any room.
It's not quite as tall as some might expect, measuring in shorter than the 1005mm tall Dyson Purifier Cool Autoreact at just 764mm, and with a relatively compact 200 x 248mm footprint, it doesn't take up too much space. That means it's fine to put on a desk or table if you don't want to leave it on the floor, with a 1.8m cable providing some space between it and the nearest plug.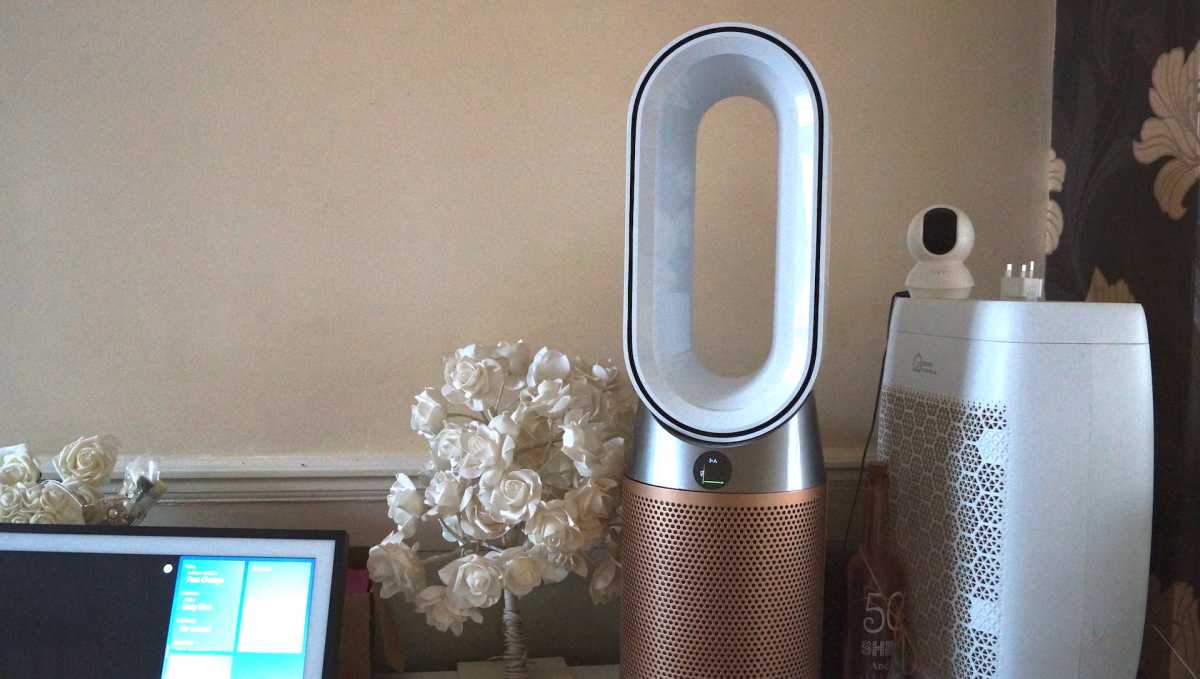 Lewis Painter / Foundry
The whole system sits on a swivelling base that'll rotate up to 350 degrees to heat, cool or purify an entire room instead of a specific area, and in true Dyson form, it's completely silent as it moves. None of that annoying squeaking you'll find with cheaper fans here!
It can be locked into place using the bundled remote, or you can use the app to select the specific angle you'd like it to face – but more on the app a little later. It can also be tilted upwards and downwards to further direct the flow of air, a plus compared to some Dyson purifiers in the collection.
The iconic Bladeless loop is present and accounted for, delivering purified air either forwards or backwards depending on your preference with not a single moving part in view, making it safe for children.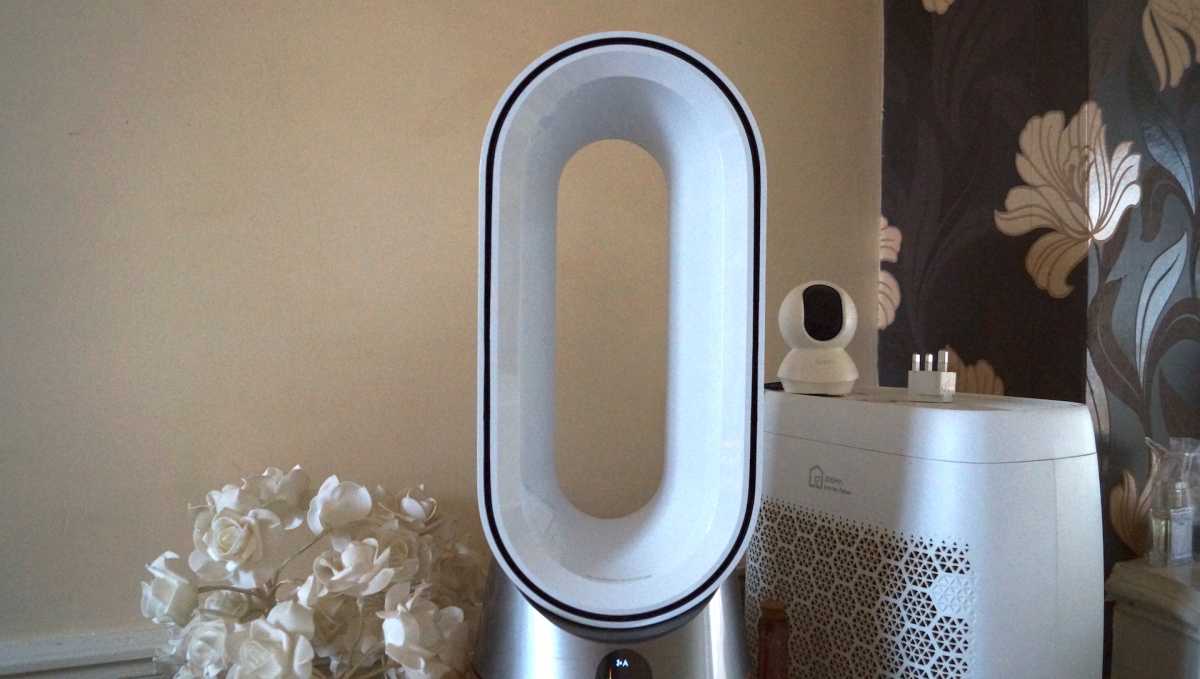 Lewis Painter / Foundry
Sat beneath the loop is the familiar cylindrical body with a smattering of holes that lets the fan draw in air from the environment. That air is then run through a filtration system to clean it before it's delivered back into the room – but more on the purification prowess in a bit.
There's a small circular LCD display mounted in the front that'll show purification data as well as the current status of the fan, though it's not as important as with 'dumb' Dyson fans as the HP09 is compatible with the Dyson app, letting you delve deep into the purification data, control the device and more via your smartphone.
Lewis Painter / Foundry
There's also a curved remote in the same bronze finish as the body that provides access to key functions on the fan, and built-in magnets allow it to snap into place atop the bladeless loop when not in use. Be warned though; it's still rather easily knocked off.
Overall then, the Dyson Purifier HP09 Hot+Cool Formaldehyde is an elegantly designed fan, heater and purifier in a fairly compact form that stands out from a sea of basic white purifiers, heaters and tower fans.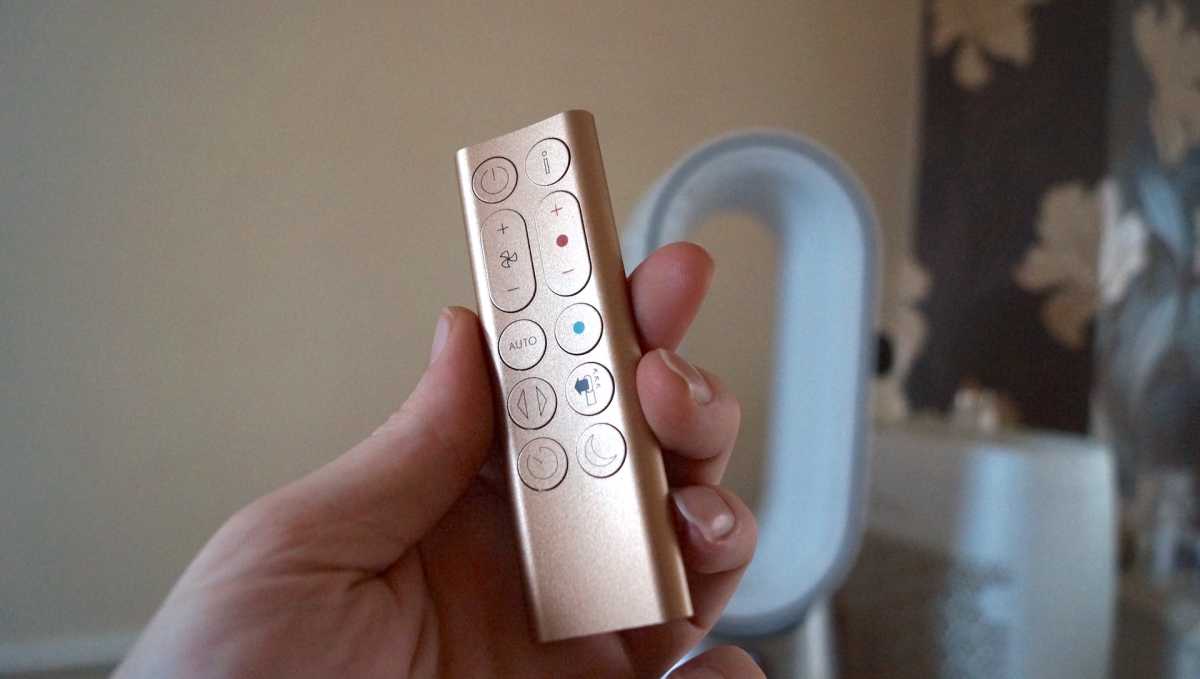 Lewis Painter / Foundry
Features & performance
Impressive heating and cooling capabilities
Great air purification including formaldehyde
Much smarter than older Dyson purifiers
The main features of the Dyson Purifier HP09 Hot+Cool Formaldehyde are in the name: it'll heat, cool and purify the air from dust and other particulates (including formaldehyde) using a suite of built-in sensors and an advanced filtration system.
It's essentially an all-in-one that is just as effective in the winter as it is in the summer with added air purification benefits, letting you to ditch the separate machines throughout the year.
That said, it is among the priciest in Dyson's purifier collection and if you're just after a Dyson-branded heater, fan, or air purifier then there are slightly cheaper options tailored to each separately. For me, however, the convenience of all having all three functions in one device makes it worth the extra spend.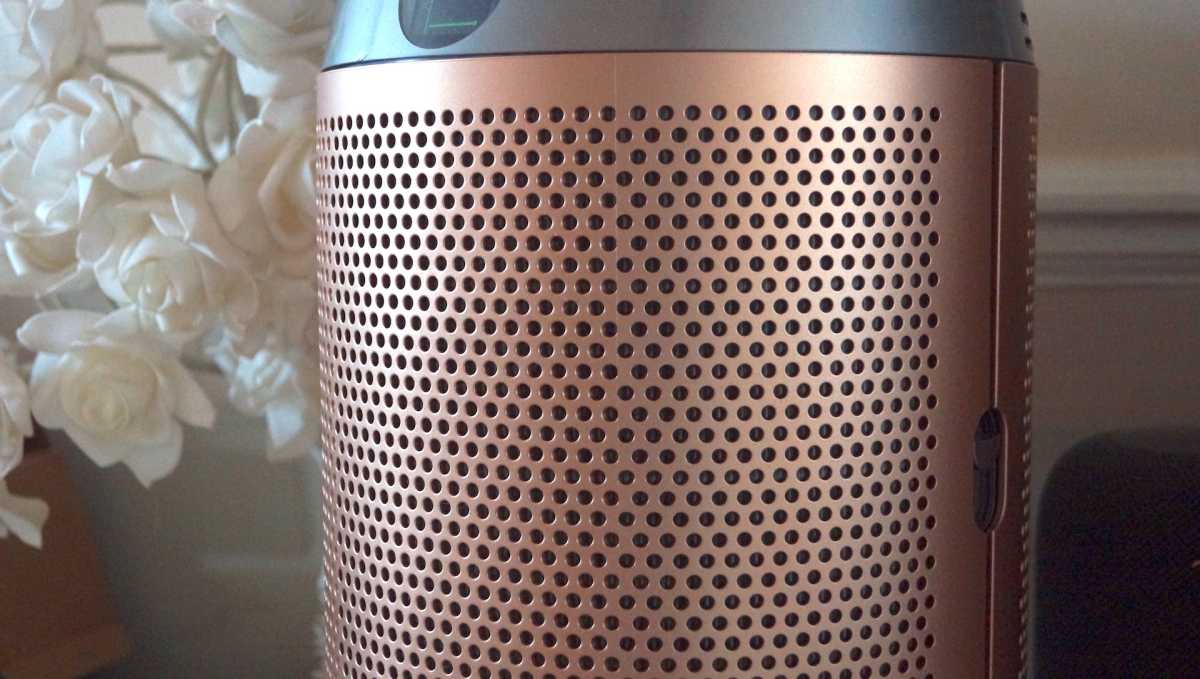 Lewis Painter / Foundry
Dyson's patented air multiplier technology is the star of the show. It funnels air in front of the fan to provide consistent airflow with 10 fan settings to choose from, ranging from a gentle breeze to a powerful stream of air, regardless of whether you're heating or cooling the environment. The airflow is fairly direct too, meaning you can point it at yourself without blowing air into empty space where there's no one to benefit.
The heating is rapid, reaching a comfortable temperature of 22 degrees Celsius in my home office within a few minutes of turning the fan on, and to save on power, it'll automatically turn itself off once it has reached the desired temperature (up to 30 degrees Celsius). It's a real boon during the winter months, helping to take the edge off on cold mornings and evenings.
The cooling feature won't actually cool the entire room down in summer months – it's not an air conditioner, after all. It instead relies on evaporative cooling, which essentially means it'll do a good job at cooling the people it blows air on but not the environment itself. That's basically the same as any standard fan, so it's not a negative point, just something I felt needed pointing out.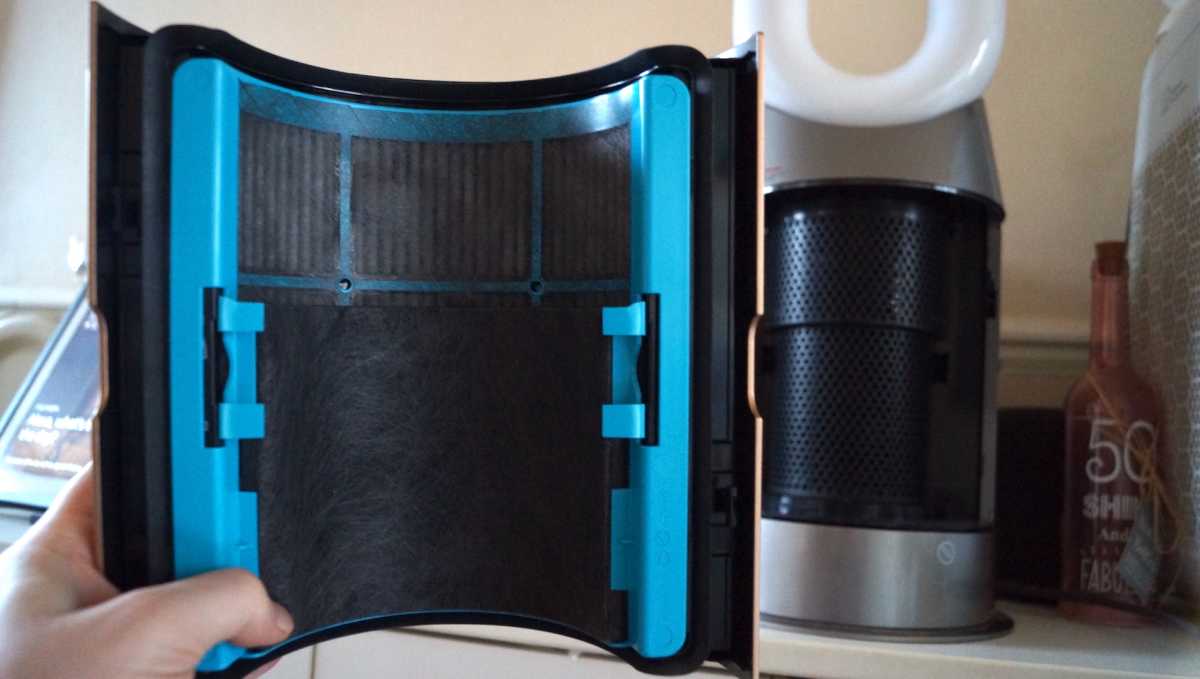 Lewis Painter / Foundry
Regardless of whether you're heating or cooling a room, the Dyson Purifier HP09 Hot+Cool Formaldehyde will deliver clean, purified air. Air is pulled in from the body of the unit where it's filtered via HEPA H13 and activated carbon filters designed to capture particulates as small as 0.1 microns and neutralise odours and gases including volatile organic compounds (VOCs). If you want to find out more about VOCs and how they wind up in the air in your home, have a look at our explainer on indoor air quality.
It'll also detect and track PM2.5, PM10, VOC, NO2 and HCHO levels in real-time, displaying the current levels via the LCD display. A dedicated automatic fan speed setting will ramp up and down depending on the levels detected, with a special diffuse mode blowing air out of the rear of the unit to stop you from getting cold in winter months.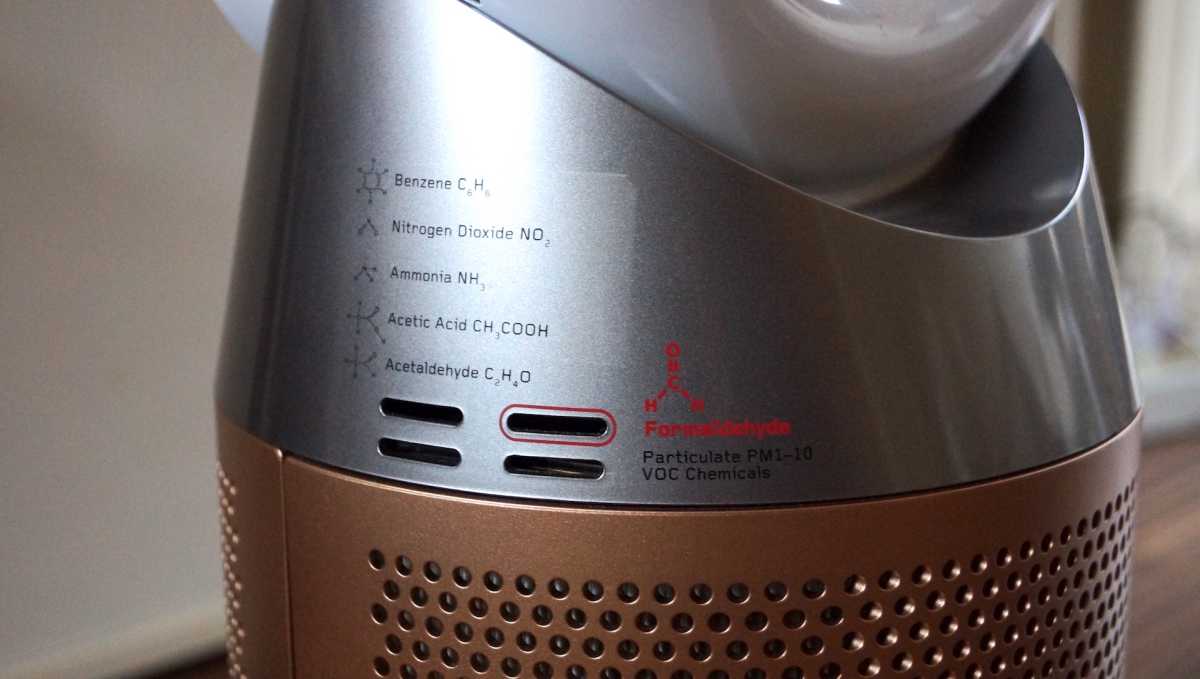 Lewis Painter / Foundry
As well as purifying the air of common particulates and gases, Dyson is the only manufacturer of purifiers also designed to break down and destroy formaldehyde using a dedicated catalytic filter. It'll also never need replacing as it automatically regenerates during the process, unlike the HEPA and carbon filters that'll need swapping out after around 4000 hours of use.
It's impressive technology considering that formaldehyde gas is 500 times smaller than the particles trapped by the main filter and that it needs to be destroyed rather than captured. If you really care about air quality in your home environment, you won't find much better than Dyson's HP09 in 2023.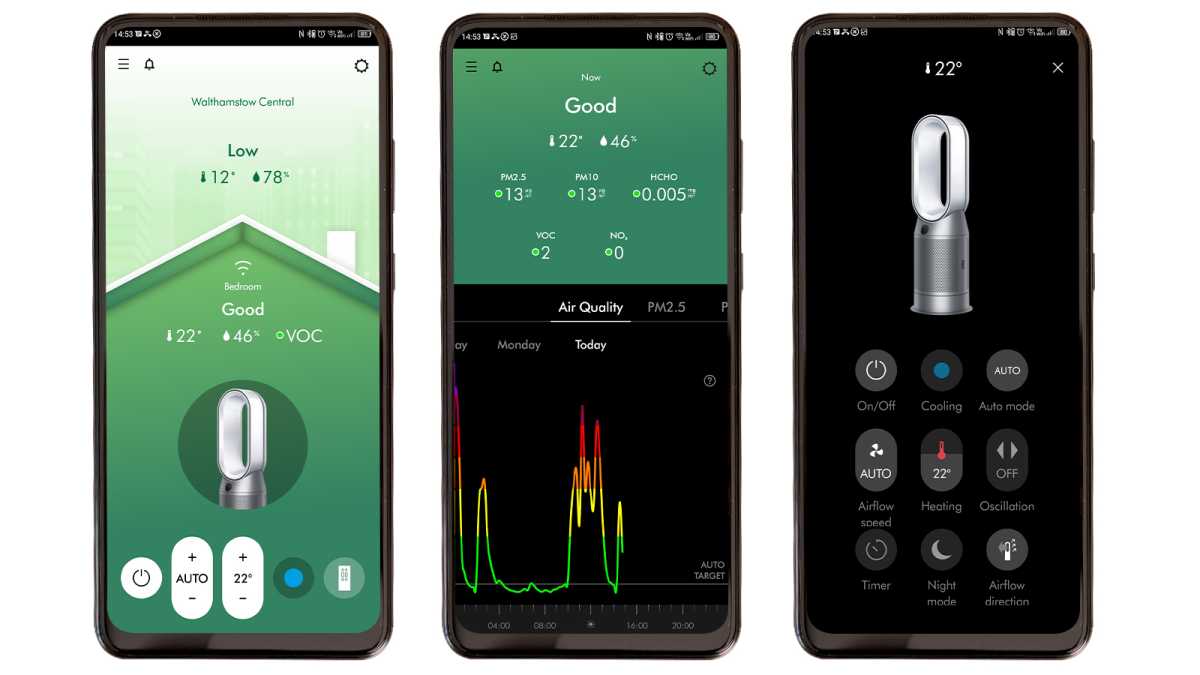 Lewis Painter / Foundry
There's also smarts on offer from the all-in-one system, boasting compatibility with the MyDyson app for iOS and Android. The app is polished and easy to use compared to much of the competition, providing at-a-glance information about the current air quality in the room along with the ability to control the unit itself.
It's easy to change modes, adjust the fan speed, turn it on or off and, a personal favourite of mine, get granular control over the oscillation. The latter lets me control the exact angle of the fan with a swipe, allowing me to direct airflow toward myself wherever I am in the room without moving. Yes, I'm very lazy, I know.
You can also delve into the plethora of air quality graphs available in the app, giving you an overall breakdown of air quality as well as dedicated graphs tracking the levels of PM2.5, PM10, VOC, NO2 and HCHO in the environment.
It's also compatible with virtual assistants like Amazon Alexa, which allowed me to set up a routine that'd heat my home office 10 minutes before I start work, ensuring I'm toasty from the get-go. It's super convenient, though it is a feature available on plenty of premium alternatives.
Lewis Painter / Foundry
Pricing & availability
As hinted at throughout this review, the Dyson Purifier HP09 Hot+Cool Formaldehyde is undoubtedly a high-end product with a price tag to match, coming in at $769/£599.
While that's expensive compared to most air purifiers, fans and heaters, it is an 'all-in-one' device that'll get constant use throughout the year, and it's among the most technically advanced around. For some, that'll be enough justification.
If you're tempted, you can buy the Dyson Purifier HP09 Hot+Cool Formaldehyde from Dyson in the US and UK along with the likes of Amazon in the US and Argos in the UK.
If you want to see how it compares to the competition, take a look at our selection of the best air purifiers, as well as the best heaters and the best fans.
Verdict
The Dyson Purifier HP09 Hot+Cool Formaldehyde is a premium product with a price tag to match, but the experience is flawless, offering heating, cooling and purification in a single product, with a dedicated system to break down formaldehyde – and there aren't many that can do that.
The multi-use nature of the HP09 means it's essentially a year-round product, heating you in the winter and cooling you in the summer, while also delivering purified air. It's well-built, sleek in operation and the compatible My Dyson app is a joy to use, providing insightful air quality graphs and handy remote controls.
Importantly, it doesn't really have a weak spot – it's just as effective as heating as it is cooling, and the air purification is surprisingly fast in a decently sized room. So yes, it's expensive, but it's a worthwhile purchase if you can afford it.
Best Prices Today: Dyson Purifier HP09 Hot+Cool Formaldehyde