At a glance
Expert's Rating
Pros
Classy design
Decent stereo speakers
Strong battery life
Cons
No fingerprint sensor
Middling performance
ColorOS not the best UI
Our Verdict
Just as well built as the Samsung Galaxy Tab A8 but with a better display, the Oppo Pad Air is a fine casual or secondary tablet. While it's no performance whiz, and could do with a fingerprint sensor, Oppo's western tablet debut is ideal for anyone shopping on a budget.
Price When Reviewed
Not available in the US
Oppo has clearly thought long and hard about how to make its tablet debut here in the West. Rather than rushing in with an all-singing, all dancing flagship tablet – as it's clearly capable of doing – the Oppo Pad Air turns out to be a highly affordable rival to the Samsung Galaxy Tab A8.
With the Apple iPad range mopping up at the top of the market, all of the potential is further down the ladder, with few outstanding contenders for the £200-ish tablet throne. So is the Oppo Pad Air in with a shout?
With a refined design, a decent display, and competent performance, it certainly makes a good first impression. Let's take a look at how it all comes together.
Design & build
Slim and light design
Plain colours
No fingerprint sensor
You wouldn't necessarily guess that the Oppo Pad Air is a £239 tablet simply from seeing and holding it. This is a classy bit of kit, with a slim (6.9mm) all-metal construction and attractively iPad-esque flat edges. In that sense, it's very much like the Samsung Galaxy Tab A8.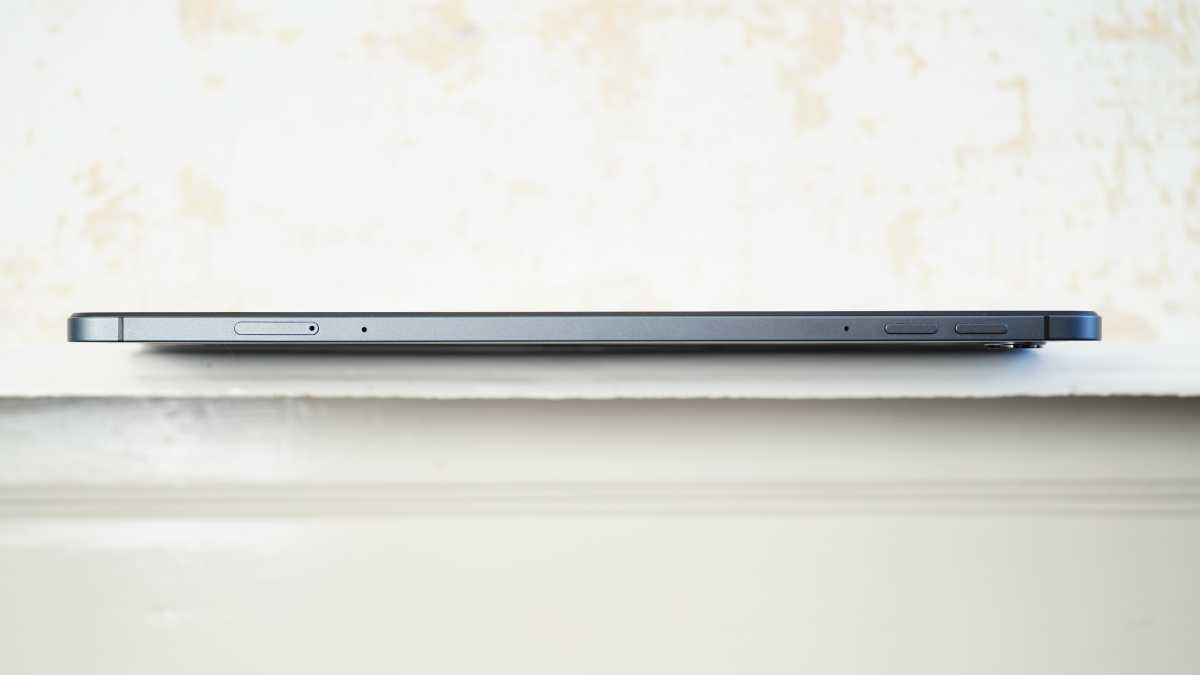 Jon Mundy / Foundry
What helps the Oppo Pad Air stand out from its Android tablet rival is the little visual flourish on the top half of its rear section. The gently undulating texture of this plastic panel is both distinctive and attractive, as well as being pleasant to grip when holding the tablet in portrait view.
Talking of holding the Oppo Pad Air, it's also quite a bit lighter than the Samsung Galaxy Tab A8 at 440g (vs 509g). This is bound to tell over extended reading, web browsing, or gaming sessions.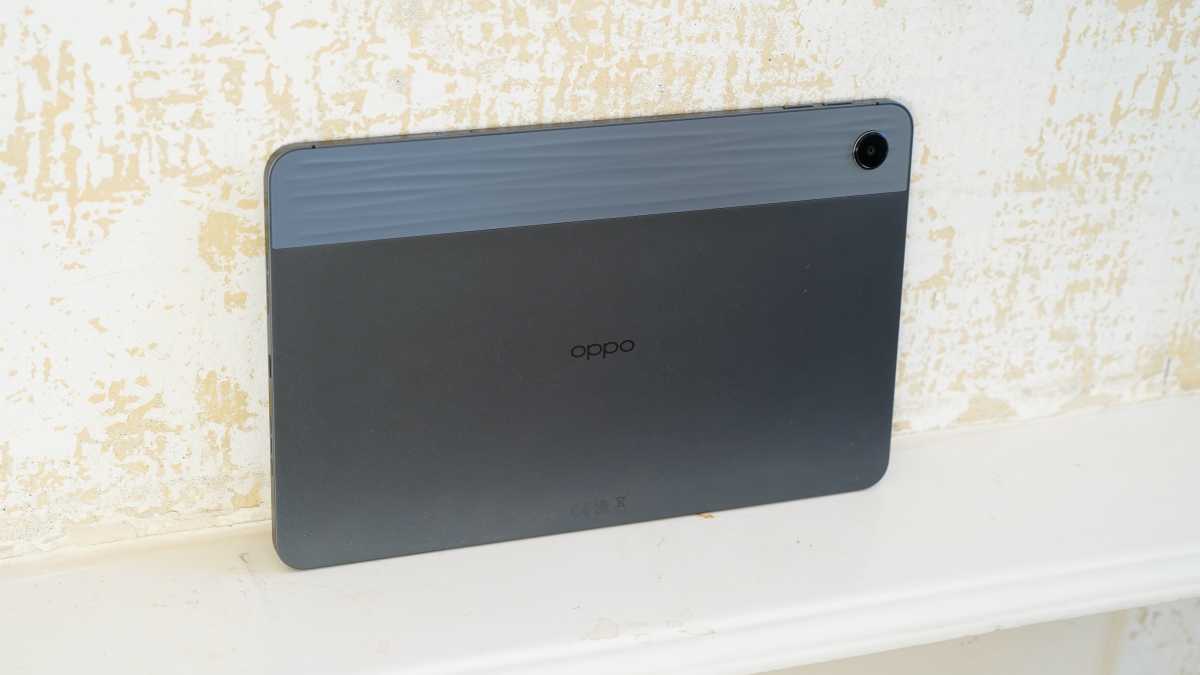 Jon Mundy / Foundry
The choice of colours is a little underwhelming – either Grey or Silver – but the overall impression this conveys is of a sober, professional tablet for adults rather than the 'my first tablet' vibes of some other affordable options.
The Pad Air's budget nature peeks through with the lack of a fingerprint sensor. It shares this omission with the Galaxy Tab A8, but it's still a shame that this basic biometric feature wasn't included. You'll need to rely on a rudimentary facial recognition system, which is neither particularly secure nor wholly reliable in lower lighting.
Screen & speakers
Vibrant LCD display
Only 60Hz refresh rate
Four stereo speakers
The Oppo Pad Air features a 10.36in IPS LCD with a 2000 x 1200 resolution. That's quite the step up from the Samsung Galaxy Tab A8's inferior TFT and 1920 x 1080 resolution, with more vibrant colours and better viewing angles.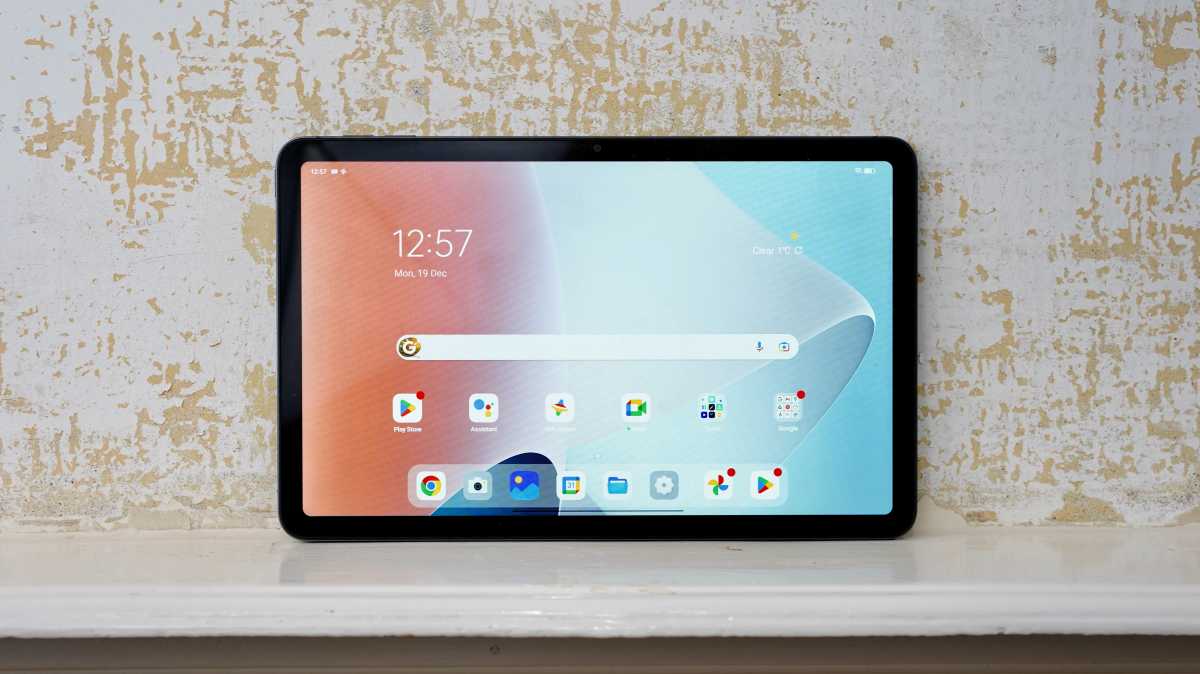 Jon Mundy / Foundry
It gets up to 355 nits of brightness, which isn't particularly bright at all, though this again beats out its Samsung rival. Colour accuracy isn't astounding either, but a gamut coverage of 89% sRGB and 64.5% Adobe RGB tops the Galaxy Tab A8, and an average Delta E of 2.74 – while far from exemplary – also comfortably outdoes its low-end rival.
It's a shame the display's refresh rate doesn't exceed 60Hz, but that's honestly not something we'd expect from such an affordable tablet at this point. Apple still supplies its iPad and iPad Air with such a spec, and they sell for hundreds more. With that said, the Redmi Pad has launched with a 90Hz screen for just a little more money (£269).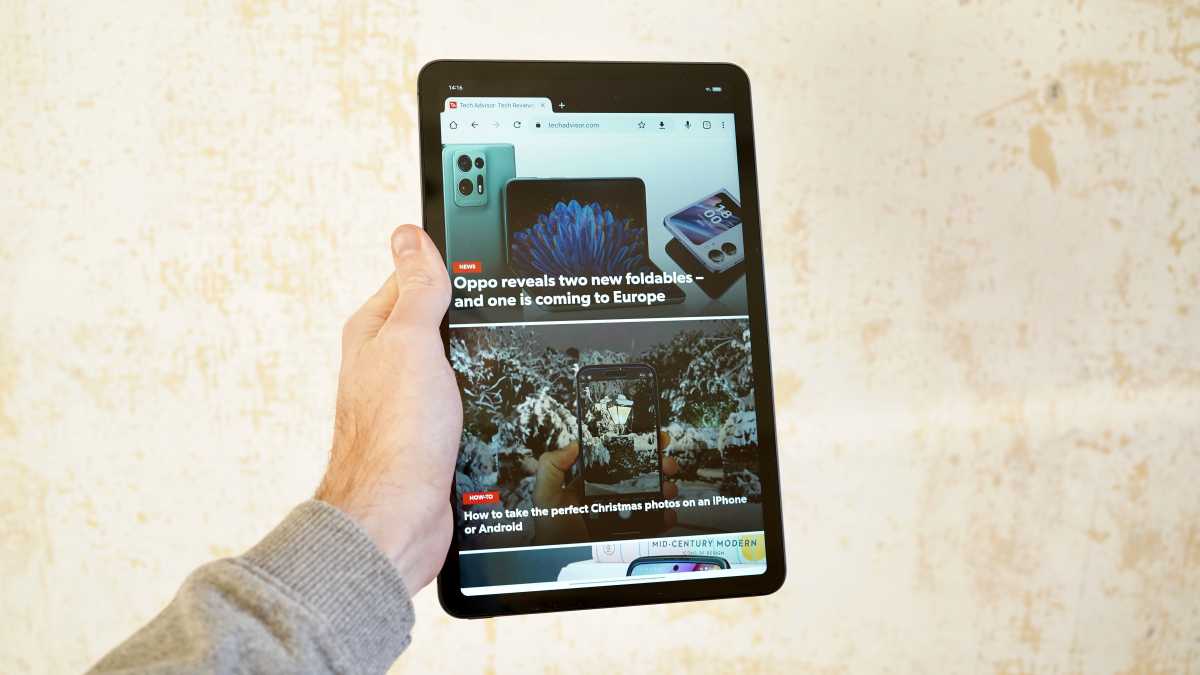 Jon Mundy / Foundry
All in all, it's a solid canvas for video and web-based media content. That's further enhanced by the Oppo Pad Air's stereo speakers. There are four of the things, with two on either edge when held in landscape, and they sound good for the money.
Specs & performance
Basic Snapdragon chipset
Handles simple gaming
64GB base storage
Oppo has equipped its tablet with a Snapdragon 680 4G processor, which is a chip we're accustomed to seeing in budget phones like the Realme 9 4G and the Redmi Note 11.
It's not a hugely powerful component, but it doesn't need to be. There's no pretence of this being a power user's tool, nor does the processor have to drive a high refresh rate display.
In benchmarking terms, the Oppo Pad Air comfortably out-performs the Samsung Galaxy Tab A8 on the CPU-focused Geekbench 5, but loses out in all of the GPU-focused GFXBench tests. With the latter, it's worth remembering that the Oppo Pad Air is driving a higher-resolution display than its affordable rival, which undoubtedly takes its toll. It scores higher than the Nokia T20 across the board.
When it comes to gaming, the Oppo Pad Air is better suited to lighter 2D fare. Even when running the likes of Slay the Spire you'll receive that tell-tale pause when you hit the moment of death which reliably lets you know you're playing on humble hardware. If you need more power, the next best bet on Android is the Xiaomi Pad 5, which starts from £369.
Aside from the Snapdragon 680 4G, the Oppo Pad Air comes equipped with 4GB of RAM and 64GB of storage. That entry level storage provision is double that provided by the Galaxy Tab A8, which is another tick in Oppo's favour. Other territories have 4+128GB and 6+128GB options as well.
Camera
Rubbish 8Mp rear camera
Basic 5Mp selfie camera
Alright for video calls, not much else
We can sum up the Oppo Pad Air's solitary 8Mp rear camera easily: it's pretty terrible, but you shouldn't worry about it.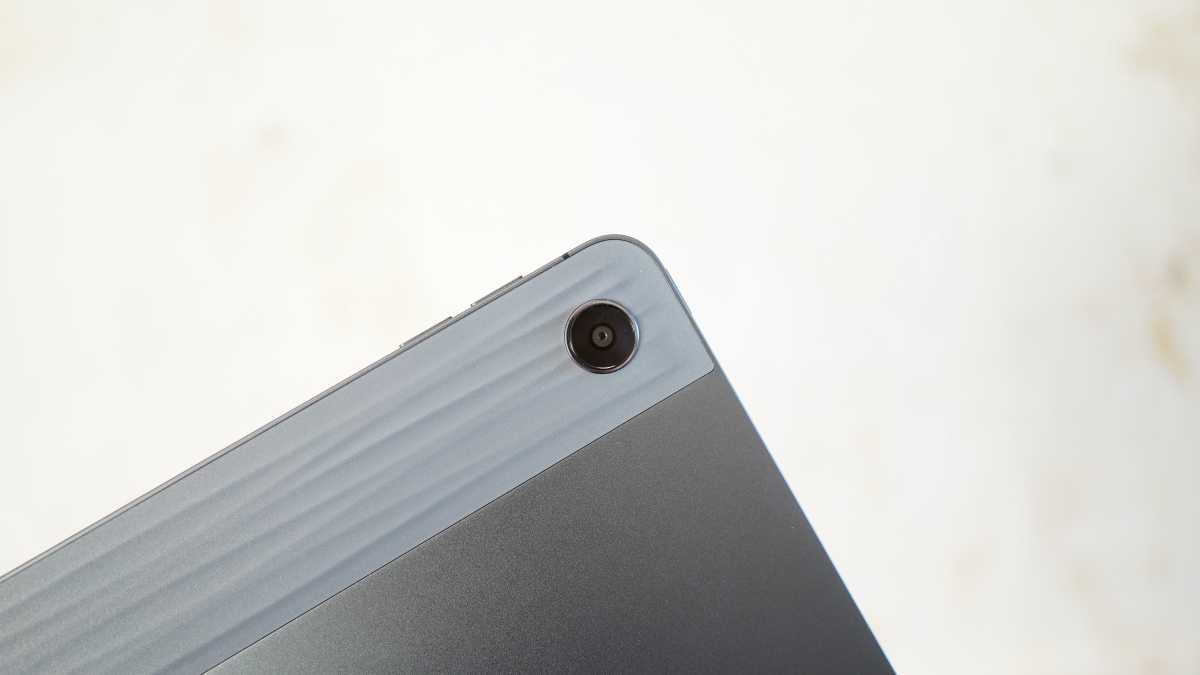 Jon Mundy / Foundry
Unlike with smartphones, the camera is just about the least important component of any tablet, especially when it comes to an affordable tablet like this. Most people don't go around taking snaps with their 10in tablet, so the bare minimum is acceptable.
Which is good news, because the bare minimum is precisely what you're getting here. In the handful of snaps I took with the Oppo Pad Air's camera detail proved poor, exposure was off, and the sensor struggled with dynamic range. It also failed to focus correctly from time to time.
Elsewhere there's no dedicated night mode, and shooting in anything less than optimal lighting will yield lots of noise. You won't find any flash here either.
There's a 5Mp selfie camera around front, but you really shouldn't be relying on it for anything other than video calls.
Battery life & charging
Big battery for the price
Faster charging than other budget rivals
The Oppo Pad Air's 7040 mAh battery is a decent size for such a humble 10in tablet. If you're a light user it'll last you days between charges, and I was impressed at how little power it consumed when I left it more or less untouched for a couple of days. This is an excellent tablet for occasional casual usage.
Our usual PCMark 3.0 battery life test wouldn't complete on the Pad Air, seemingly due to an annoying low battery notification causing the app to quit out at the key moment. However, a glance at the Battery Settings menu revealed that the tablet appeared to last between 8 hours and 8 hours 30 on this looping test.
Jon Mundy / Foundry
This would place it a little behind the Samsung Galaxy Tab A8, well ahead of the Nokia T20, and about level with the Samsung Galaxy Tab S6 Lite.
Oppo supplies its tablet with an 18W wired charger, which is good for getting the tablet from 0 to 23% in 30 minutes. That's hardly snappy, but is a good deal faster than the Galaxy Tab A8.
Software
Ships with Android 12
Runs Oppo's heavy ColorOS skin
Oppo has fitted its tablet out with Android 12. That's no longer the latest version of Google's OS, but it doesn't matter all that much with Oppo's heavy ColorOS 12 skin slathered on top.
ColorOS isn't too objectionable, with a fairly clean design and simple icons. But it strays a little further from stock Android than we'd prefer, with a heavily modified notification bar and Settings menus.
Jon Mundy / Foundry
Mercifully, it doesn't go too heavy on the bloatware. Aside from the usual suite of home-brewed tool apps (Calculator, Compass etc.), it's pretty much free of extraneous provisions. You get Netflix pre-installed, but that's a justifiable inclusion on a device that's pretty much built for casual video streaming.
Price & availability
The Oppo Pad Air is available to purchase now from Oppo's own website and from Amazon. At the time of writing, it's on sale from Oppo for £199, but the RRP stands at £239.
We're only seeing the 64GB model available to buy in the UK, but Oppo's UK website does list a 128GB option in its spec list.
There don't appear to be any plans to launch the Oppo Pad Air in the US, but we'll update this review if that changes at any point.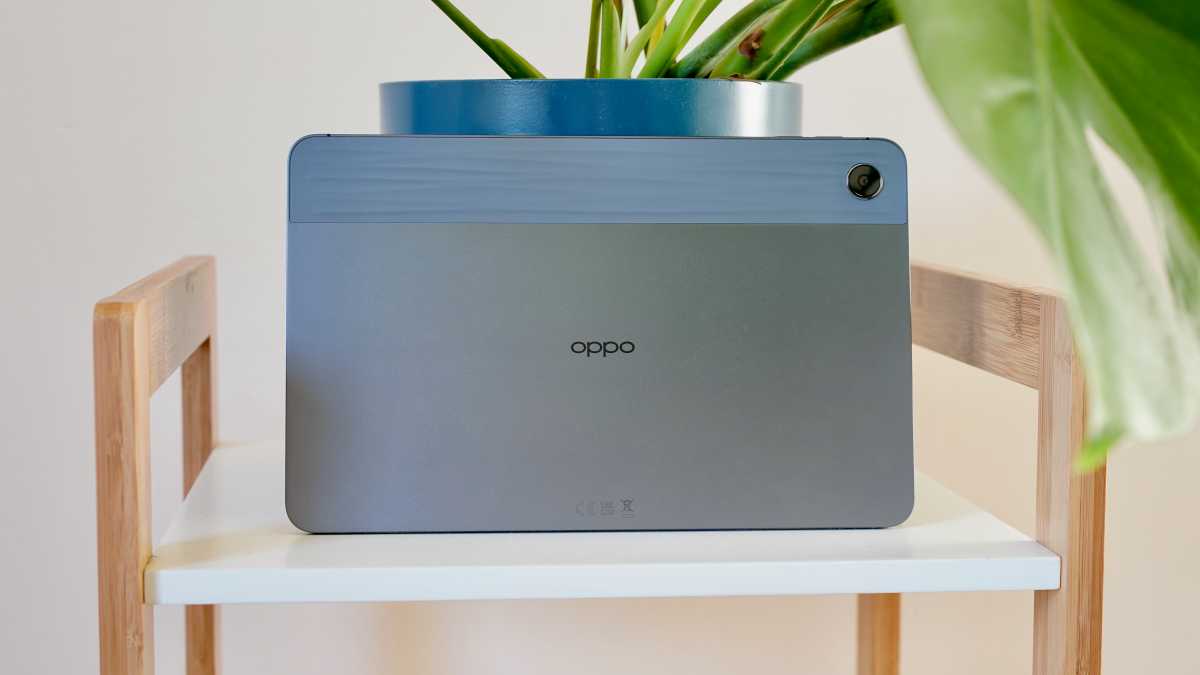 Jon Mundy / Foundry
If you're not sure yet, check out our ranking of the best budget tablets to see what else is out there.
Verdict
The Oppo Pad Air is an excellent full-sized budget tablet that matches its key rival, the Samsung Galaxy Tab A8, in a number ways and tops it in others. Its design feels every bit as accomplished, with a sturdy all-metal body and quad stereo speakers.
However, its IPS LCD display is sharper and of superior quality, making everything from media playback to web surfing and gaming look and feel better on Oppo's tablet. Performance is fairly mediocre, but it's perfectly up to the casual tasks that you'll be requiring of the Pad Air.
Battery life is strong, and the Oppo Pad Air has the impressive ability to sip the juice while not in use, making it a reliable tablet to have to hand for occasional use. If you have less than £250 to spend on your next tablet, the Oppo Pad Air will do the job with a fair amount of poise.
Specs
Android 12 with ColorOS 12
10.36in, 2K, IPS LCD, 60Hz, flat display
Qualcomm Snapdragon 680 4G
4GB LPDDR4X RAM
64/128GB storage
8Mp, f/2.0 main camera
5Mp front-facing camera
4 x stereo speakers
Wi-Fi 802.11 a/b/g/n/ac
Bluetooth 5.1
7100mAh battery
18W charging
245.08 x 154.84 x 6.94 mm
440g
Launch colours: Grey, Silver