At a glance
Expert's Rating
Pros
16 ports

Supports four 4K displays

2.5Gb Ethernet
Cons
No downstream TB4 ports
Macs limited to dual display
Our Verdict
This powerful dock is made for the screen hungry with each of the two DisplayPort and HDMI ports able to support a 60Hz 4K external display on Thunderbolt 4 Windows laptops.
Price When Reviewed
$299
Best Prices Today: Plugable Thunderbolt 4 & USB4 Quad Display Docking Station
Most Thunderbolt docking stations have at least one downstream Thunderbolt port as well as the upstream Thunderbolt port that connects to the host (laptop).
Plugable's Thunderbolt 4 & USB4 Quad Display Docking Station (TBT4-UDZ ) has 16 ports but just the one upstream TB4 port, and it bucks the trend but with a very good reason: it's built for multiple-screen setups using both HDMI and DisplayPort rather than Thunderbolt/USB-C monitor connections.
The other 11 ports include super-fast 2.5Gb Ethernet, fast SD, audio and seven USB connectors.
It's available to pre-order now, with sales starting on January 17.
Specs and features
The TBT4-UDZ has 16 ports, which makes it one of the most loaded docks we've tested—although Caldigit's Thunderbolt Station 4 (TS4) goes two better.
One upstream Thunderbolt 4 port (40Gbps, 98W)
Two DisplayPort 1.2 video ports
Two HDMI 2.0 video ports
Three USB-A ports (10Gbps, 4.5W)
Two USB-A ports (5Gbps, 4.5W)
One USB-A ports (480MBbps, 7.5W)
One USB-C port (10Gbps, 7.5W)
2.5 Gigabit Ethernet
UHS-II SD and microSD card readers (320MBps)
3.5mm combo audio jack (front)
135W power supply
Aside from the DisplayPort and HDMI connections, the TBT4-UDZ boasts seven USB ports: six USB-A and one USB-C.
While there are plenty of USB-A devices still out there, we'd have preferred a more even divide between type C and type A USB ports, especially as there are no downstream Thunderbolt 4 ports on the back and USB-C is certainly the future.
Two of the seven USB ports (one type A and one type C) can charge devices at 7.5W, while the others are weaker at 4.5W. With the power supply at 135W and a decent laptop demanding much of the 98W from the upstream connection, this is sensible.
However, Caldigit's TS4 boasts a whopping 230W power supply so can offer seven USB ports at 7.5W and one at 20W.
But the TBT4-UDZ and the TS4 are aimed at different users, with the TS4 supporting just the two 4K 60Hz external displays.
If you want more, then the TBT4-UDZ is built for your needs.
Like the TS4, Plugable's TBT4-UDZ boasts 2.5Gb Ethernet, 2.5x faster than standard Gigabit ethernet. Note that to take advantage of this speed, your connected device needs to support 2.5GbE or above. This could be a router/network switch that has a 2.5GbE port or higher, or you can connect a NAS storage device that has a 2.5GbE port or higher.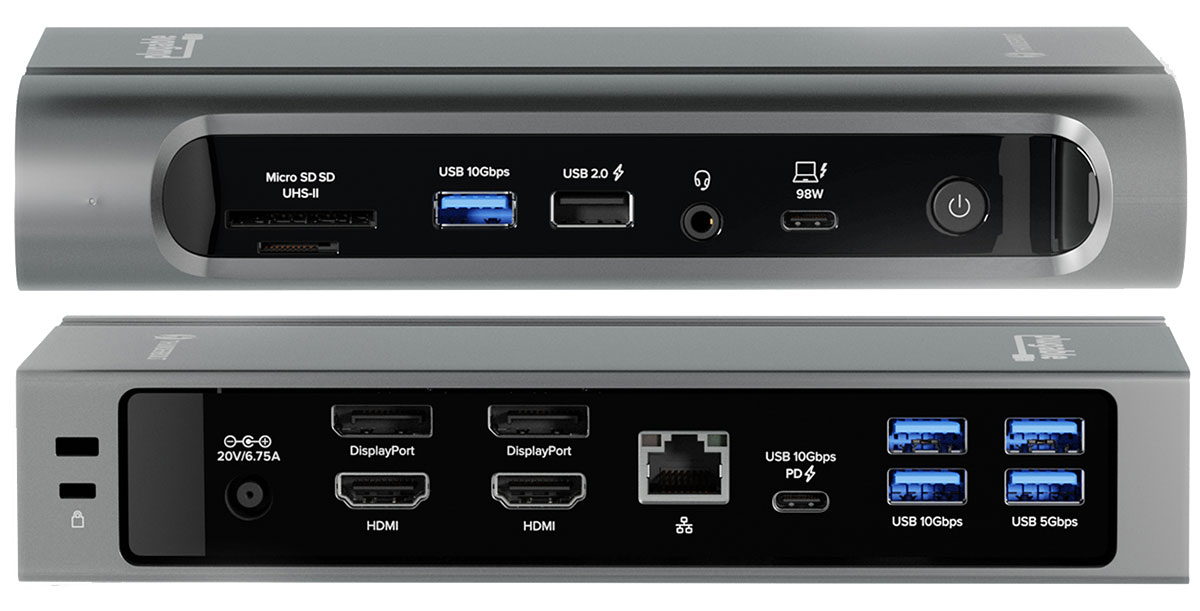 Plugable
Quad display dock
Mac users look away, Windows users with Thunderbolt 4 and many USB4 laptops can connect up to four 4K (3840×2160) 60Hz displays using this dock, mixing the display connectors as they see fit.
MacBook Pro (M1 Pro and M1 Max) users and owners of less advanced Windows laptops, on the other hand, are limited to at most two 4K 60Hz displays.
And plain M1 or M2 MacBooks are limited to just the one external display, although there are ways that M1/M2 Macs can support multiple monitors.
The TBT4-UDZ's DisplayPorts are 1.2 rather than 1.4, so can't connect a single display at 5K, 6K or 8K (unlike the TS4 that does). This dock is for multiple high-resolution displays rather than fewer super-resolution screens.
Advancements with DisplayPort video technologies, such as DisplayPort 1.4 HBR3 (High Bit Rate 3) with DSC (Display Stream Compression), there is enough bandwidth when using the TBT4-UDZ to achieve the four 4K 60Hz extended displays via the 40Gbps Thunderbolt 4 and USB4 on Windows systems.
Most Thunderbolt 4/USB4 laptops with Intel UHD or Intel Iris based graphics chipsets will have this support—including Intel Evo platform-based laptops such as the MSI Prestige 14 Evo, Dell XPS 9520 and Acer Predator Triton 500 SE.
What's certain is that your laptop needs to have Thunderbolt 4 or USB4, rather than USB-C or Thunderbolt 3 if you want to connect four displays. USB4 system support may vary depending on system manufacturer specifications.
Note that many TB4 Windows laptops will require the internal display to be disconnected in the Windows Display Settings to enable four external extended displays.
Design
The good-looking TBT4-UDZ docking station can lie horizontal or stand upright. Plugable includes a weighty stand for added stability when the dock is vertical.
The upstream Thunderbolt 4 port is situated at the front, which is not to our liking but seems to be the way most manufacturers design their docks. We'd prefer the one cable that is always connected to be placed at the back out of the way, with all the messy display cables.
It does make it easier when connecting and disconnecting, and therefore perfect for hot-desking environments but why should the single user who connects maybe just once in the day or is connected 247 have that cable poking out at them all day?
This, of course, is a minor quibble, and does not detract from the functionality at all.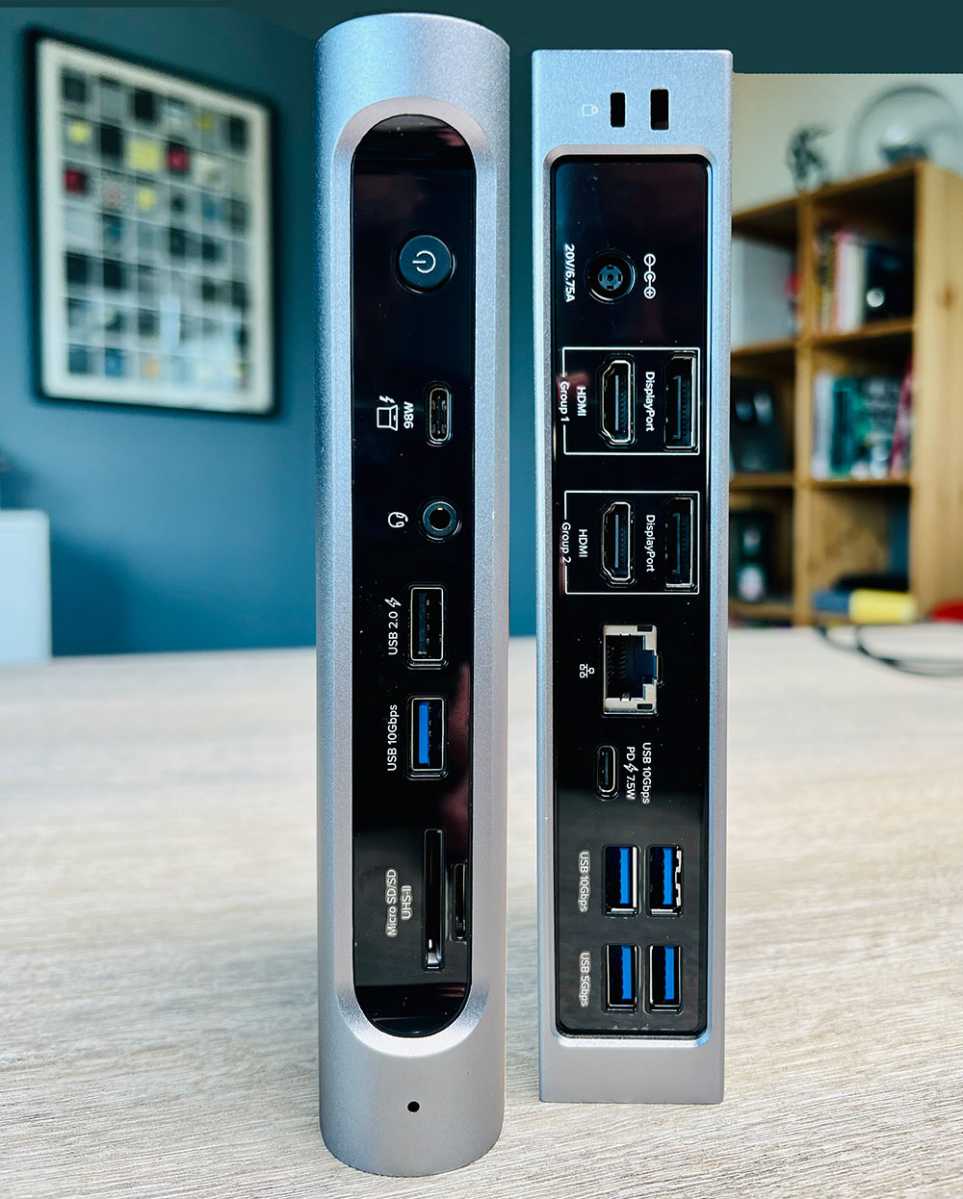 Foundry
Thunderbolt 4 compatibility
Suprisingly this is Plugable's first Thunderbolt 4 docking station. The company has a full roster of quality USB-C and Thunderbolt 3 docks and one of our favorite Thunderbolt 4 hubs but until now now full TB4 docking station.
Even now, however, some might argue that it hasn't included enough TB4 ports—indeed it has none except for the connection to the host computer.
This is because of the four display connections that require all that bandwidth for themselves.
The Caldigit TS4 has two downstream Thunderbolt 4 ports, and few have three—the Kensington SD5700T and Alogic Thunderbolt 4 Blaze being exceptions.
If you want multiple TB4 ports, then one of the many Thunderbolt 4 hubs supply this flexibility of choice. Read our roundup of the best Thunderbolt 4 docks and hubs for comparisons.
Price
The TBT4-UDZ is priced at $299; at the moment its available in the US only.
This makes it one of the more affordable Thunderbolt 4 docks—a full $100 cheaper than the Caldigit TS4 that is limited to just two external displays but offers a similar set of ports to this impressive Plugable docking station.
Verdict
The Plugable Thunderbolt 4 & USB4 Quad Display Docking Station is a powerful dock built for users who need maximum screen space—creatives, traders or analysts maybe.
The built-in four display connections mean there's no need for adapters and the mix of DisplayPort and HDMI suits gives the user choice.
Alongside the unrivalled display prowess are a generous spread of other ports, including 2.5Gb Ethernet, that make the TBT4-UDZ is strong option for the screen hungry.
Best Prices Today: Plugable Thunderbolt 4 & USB4 Quad Display Docking Station