Lenovo's new Yoga Book 9i is, the company claims, the world's first full-size dual screen laptop. It certainly has two screens.
Announced at CES 2023, the device adopts a traditional clamshell form factor. But instead of a physical keyboard, it has a full secondary 13.3in 2.8K OLED display that's identical to the main one, attached via a 360° hinge.
When used with the laptop's keyboard and stand accessory (included in the box), it can be used like a regular laptop or in the two orientations shown above: as a laptop with two stacked landscape displays or in book-like form with two portrait screens side by side. When sitting like a laptop, the bottom screen is attached to a slightly thicker base to accommodate the battery, internals and ports.
The idea is you will be able to show more over two screens when necessary, or multi-task with two apps (or more) over both displays. It looks crazy at first, but I think this might just work.
One example Lenovo gives is putting the laptop in tent mode for a presentation. This would allow for one screen facing you for control, while the other mirroring yours for people to watch as you present. Even having two landscape screens stacked doesn't look not too outlandish for everyday use. People commonly use two monitors, after all.
It certainly all makes more sense to me than Lenovo's ThinkPad X1 Fold, a 13.3in tablet that folds in half.
The detachable keyboard folio has a stand to keep the flexible laptop in position and connects for typing use via Bluetooth. When laid on top of the bottom display to act like a regular laptop, the keyboard leaves some screen visible, leaving the door open for developers to put the slice of screen above it to use in apps – though this might not happen if the 9i remains a niche product.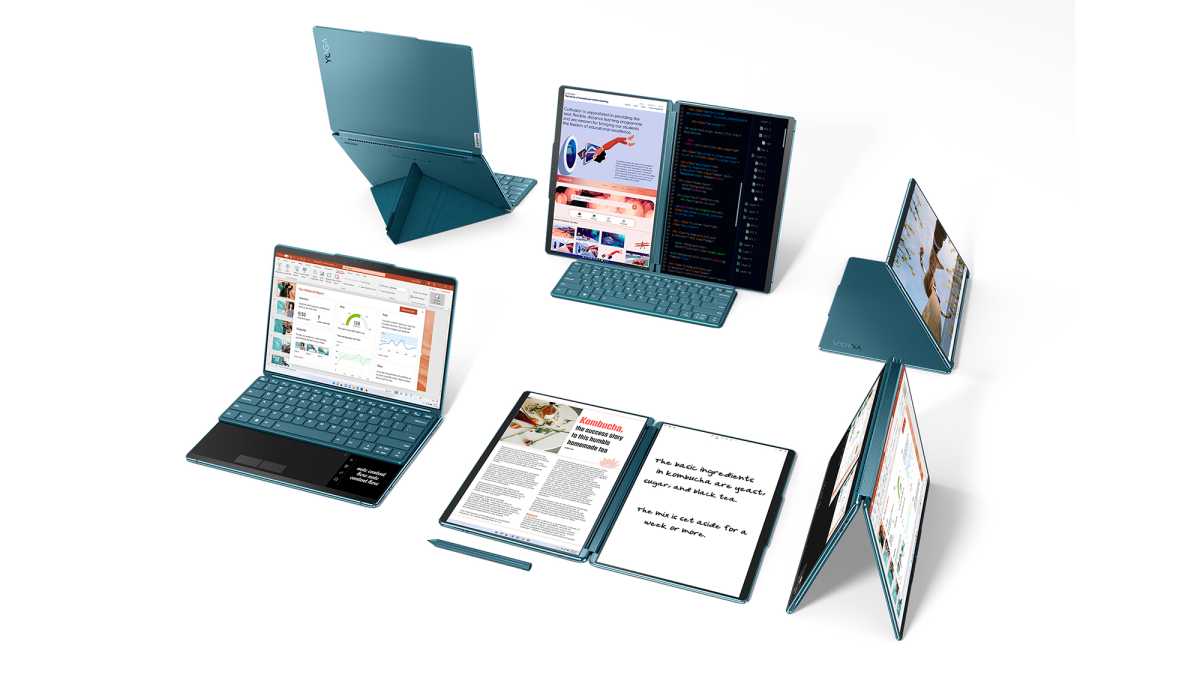 Lenovo
If you want a trackpad below the keyboard in the traditional place, you can move the keyboard up and software will give you a virtual one there.
It's not the first we've seen of dual screen devices, though it's one of the first laptops in the category. Microsoft's Surface Duo and Surface Duo 2 smartphones prefer a two-screen approach with a focus on multi-tasking, but we never saw a retail version of the Surface Neo, the equivalent larger-screen device.
The Yoga Book 9i is a larger version of the device Microsoft teased (which had two 9in screens), while Lenovo's device supports pen input – unlike the Neo.
The Yoga Book is powered by Intel Evo-certified processors, with up to Intel Core i7-U15 from the new 13th-gen range. available running Windows 11 Home or 11 Pro. It has 16GB of LPDDR5X RAM, either 512GB or 1TB PCle SSD Gen4 storage, Bowers & Wilkins speakers with Dolby Atmos support, an 80WHr battery that Lenovo says lasts 10 hours when using both screens, three Thunderbolt 4.0 USB-C ports, Wi-Fi 6E support and Bluetooth 5.1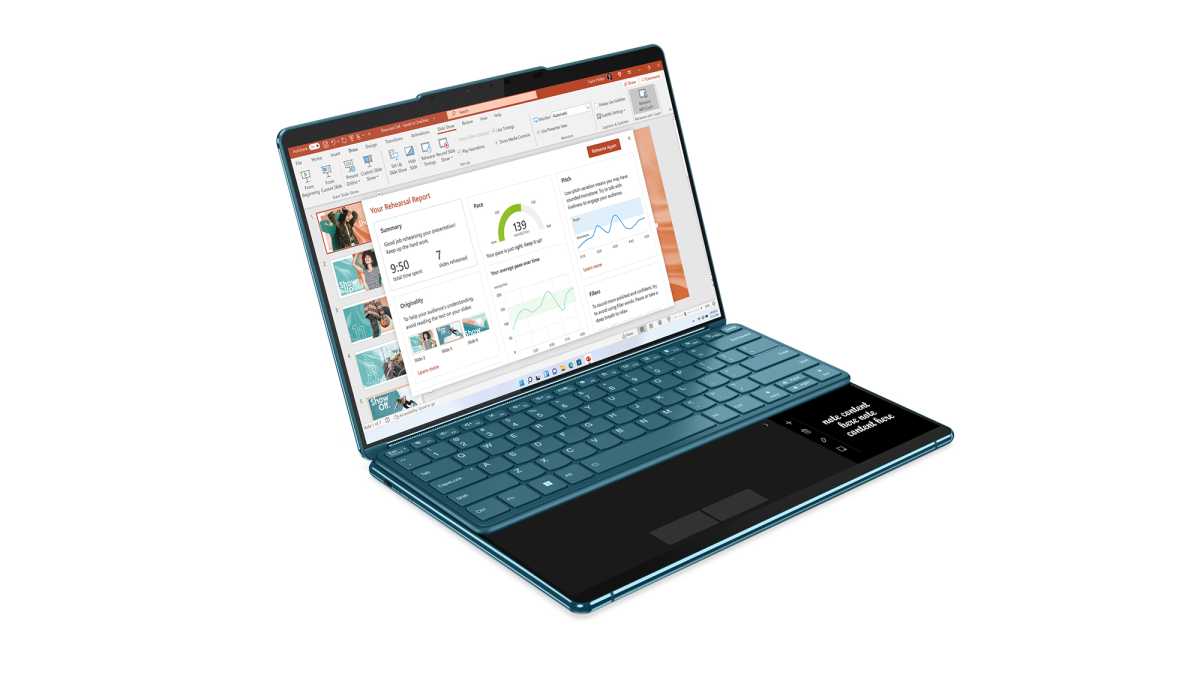 Lenovo
Lenovo makes tons of laptops and not all are design masterprices but at the high-end consumer level where the 9i sits, the company certainly knows how to make an attractive piece of kit.
The laptop comes in an attractive teal colour and is pretty thin considering it's all display, with a thickness of 15.95mm. It only weighs 1.38kg, too.
Though Lenovo calls it a laptop – it has a keyboard and runs Windows, after all – I think the Yoga Book 9i is best thought of as a tablet that you can use like a laptop. It's like having a Surface Pro but with double the screens and more ways to use it.
Whether or not the myriad different ways to set it up will actually help you get more (or any) work done remains to be seen, but at least you'll feel like you're from the future while you try not to double screen Twitter and Reddit.
The Yoga Book 9i will be available from June starting at $2,099.99/€1,899. UK pricing is yet to be announced.