CES remains the biggest trade show in the tech calendar, as the industry descends on Las Vegas every January to unveil the latest and greatest in smart home, automotive, and PC tech – and more besides.
It's rarely the most eventful week for smartphone launches, but for just about everything else with wires (or without, as wireless tech keeps on improving) it doesn't get better than this.
Tech Advisor couldn't make it out to Vegas in person this year, but we've still been covering everything unveiled at the show, and there are some clear standouts. So without further ado, meet our Best in Show Award winners for CES 2023.
Asus ProArt Studiobook 16 3D OLED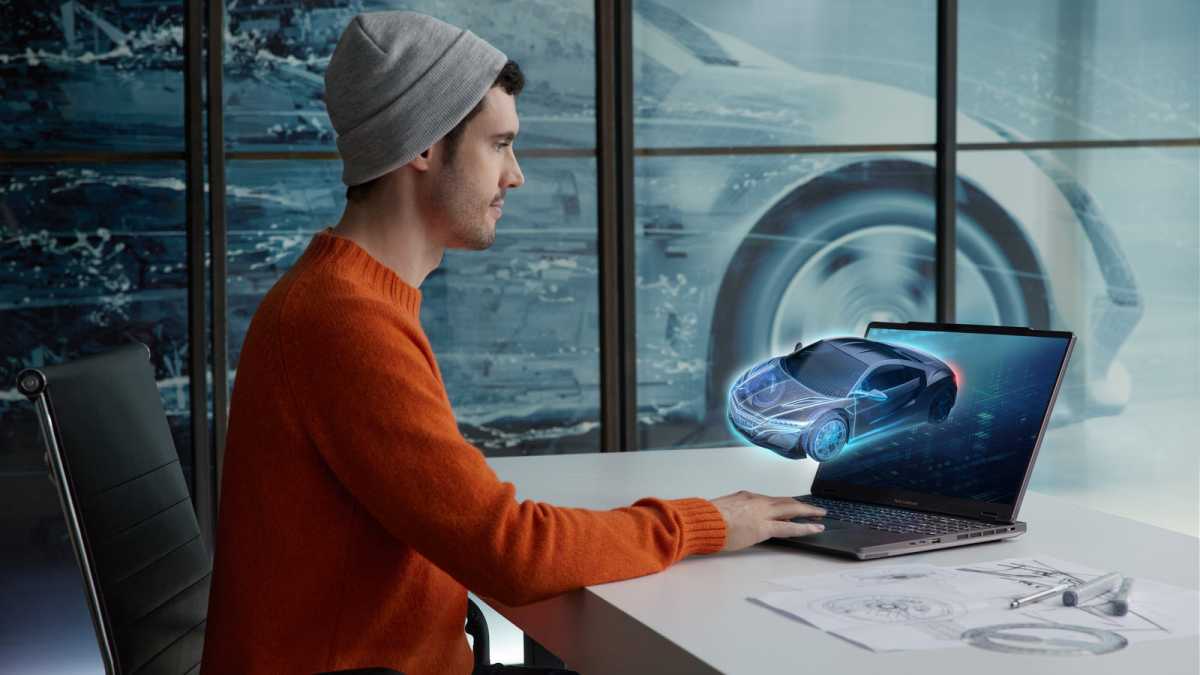 Asus
Thought 3D tech was a thing of the past? Think again. Asus has new laptops with the technology built in, although this time you don't need to wear glasses.
The ProArt Studiobook 16 3D OLED lets you switch between 2D and 3D modes at the touch of a button, with the latter genuinely impressive during our testing. Alongside a 120Hz OLED screen and top-of-the-line performance specs, it feels like a laptop from the future.
It's also worth mentioning the Vivobook Pro 16X 3D OLED, which is functionally identical aside from a haptic trackpad and physical dial – and a slightly lower price.
HTC Vive XR Elite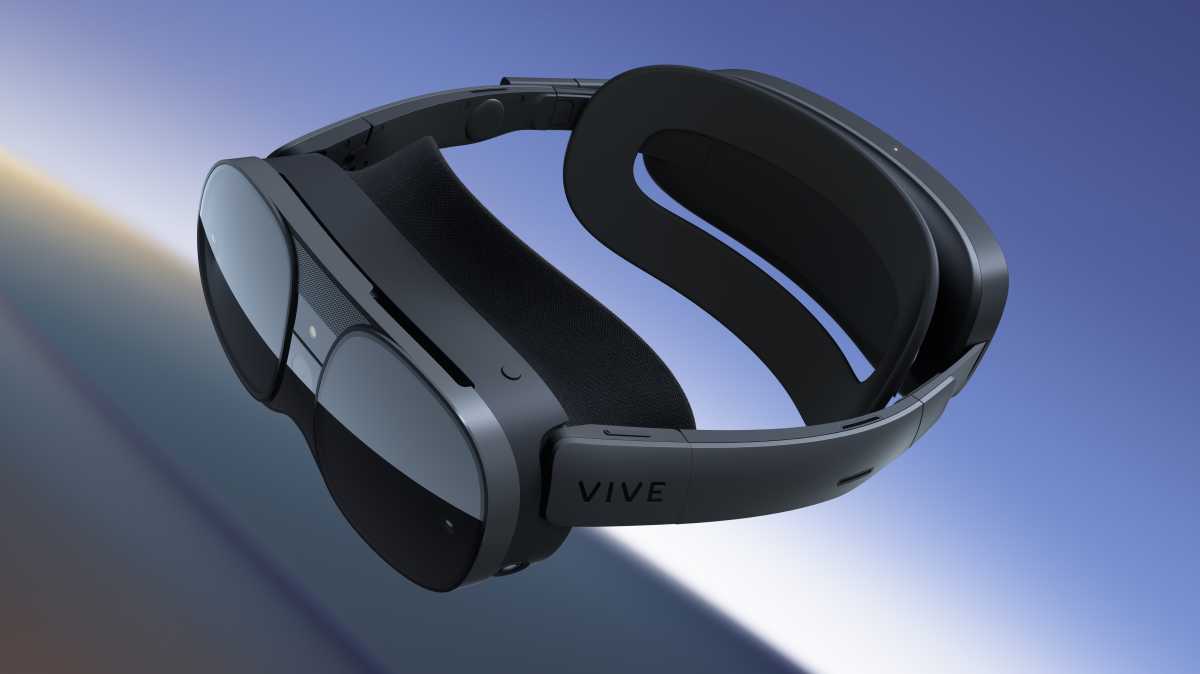 HTC
The HTC Vive XR Elite has the Meta Quest Pro in its sights, offering a standalone VR and AR headset with hardware like a dedicated depth sensor that could allow for more accurate positioning than Meta's option.
It also boasts a modular design that allows it to switch from a standard VR headset to a pair of sunglasses like the Vive Flow, and the battery is hot-swappable to take you beyond the rated two hours of use too. HTC is planning to produce extra tracking modules later this year, so you can save some cash and only get the upgrades that matter most to you.
Our only concern is content, with HTC's Viverse lagging behind the massive library of apps and games in the Meta Store, even with a promise of 100 new apps and games to coincide with its launch in a couple of months.
Sony PlayStation Project Leonardo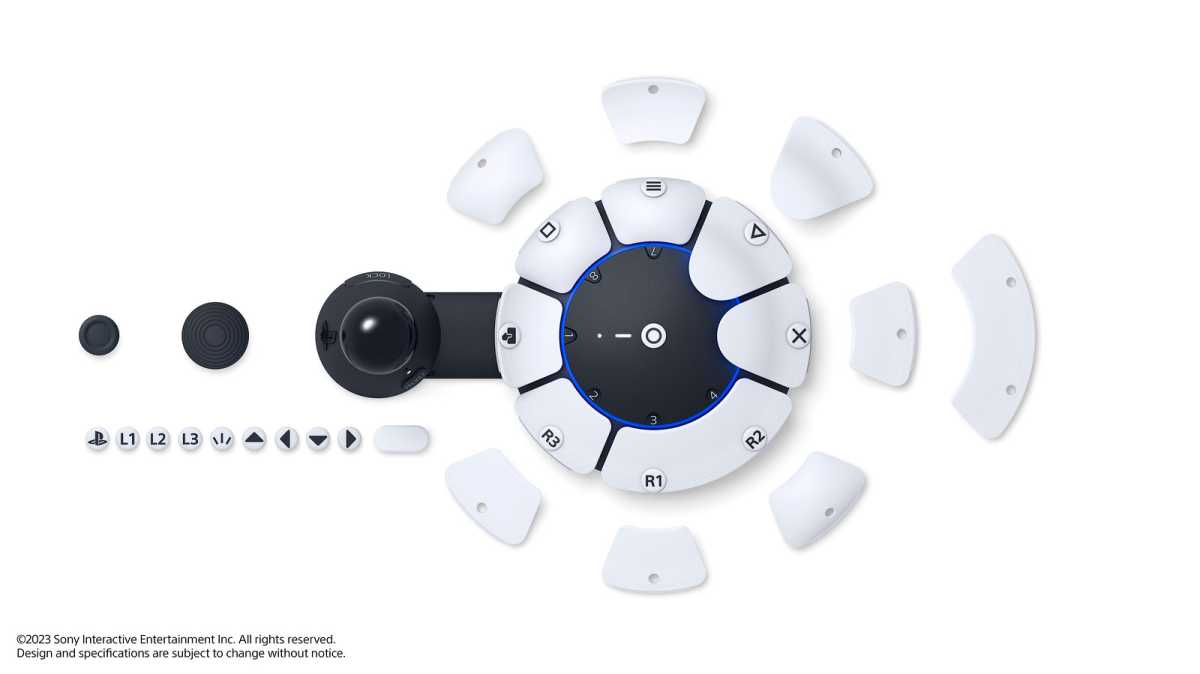 Sony
Better late than never, Sony has finally revealed its answer to the Xbox Adaptive Controller, a gamepad designed to improve accessibility: Project Leonardo.
As the name suggests, this is a work-in-progress, and final features (not to mention release date and pricing) are still up in the air. But what we can see so far is promising, with a controller that can sit flat on a variety of surfaces, features customisable and remappable buttons, and allows external inputs to be connected too.
Best of all, as pointed out by accessibility advocate Steven Spohn, this is a totally different approach to Microsoft's – which isn't to say one is better, but that this now opens new ways for people to play, which can only be a good thing.
LG Gram Style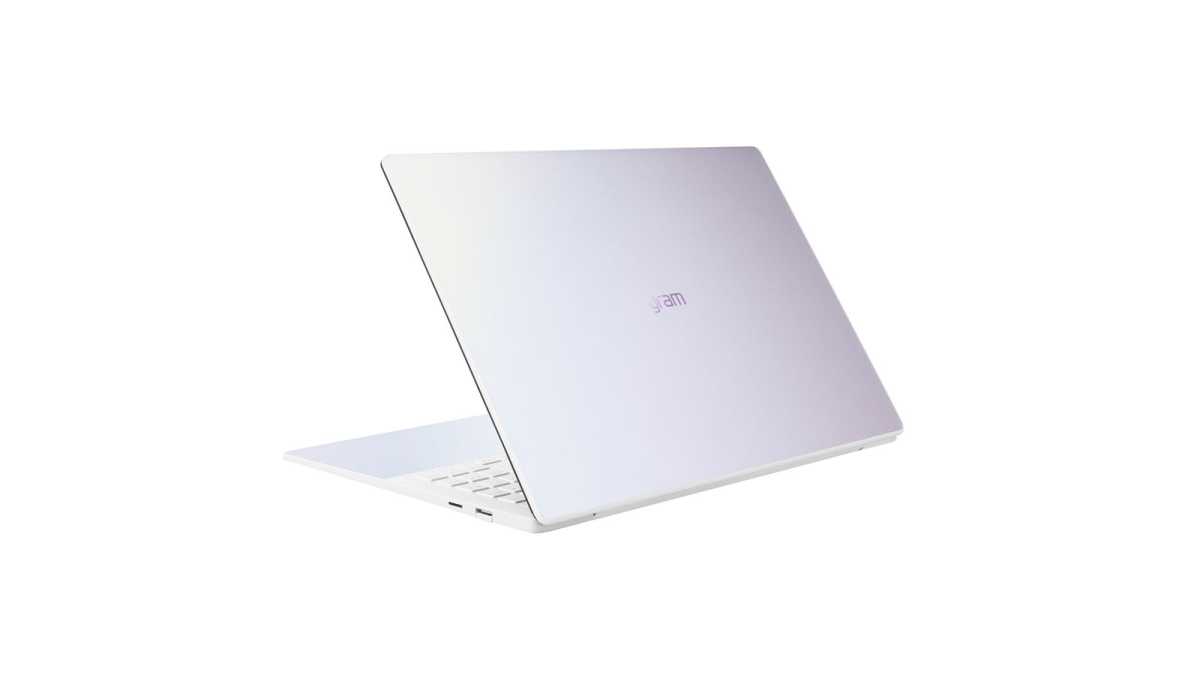 LG
In a world where so many clamshell laptops look the same, LG's brand-new Gram Style dares to be different.
Available in 14in and 16in models, iridescent glass on the rear and keyboard gives it an attractive colour-changing appearance when moved. The haptic trackpad is also completely hidden, lighting up only when you touch it.
Combined with detailed OLED displays at 90- or 120Hz and new Intel CPUs (also announced at CES), the Gram Style isn't making compromises elsewhere.
Ring Car Cam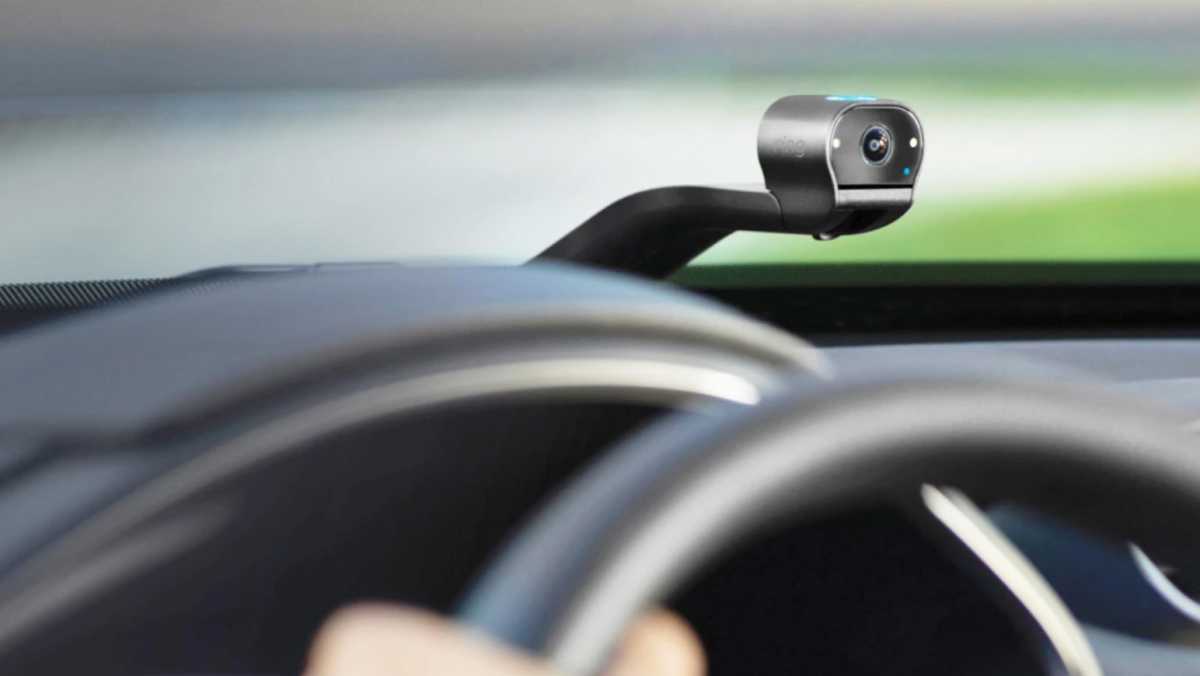 Ring
Announced over two years ago, the Ring Car Cam is finally a real product and is now available to pre-order in the US.
Even though it might look like one, it isn't a dash cam. Instead, like other Ring Cams, this gadget is a security camera for your car. It sits on your dashboard and has both front- and rear-facing cameras which give close to a 360° view around your vehicle.
Recordings are stored locally, but what differentiates the Car Cam from most traditional dash cams is an optional LTE connection which means you can get real-time alerts on your phone and watch the video remotely, just like a smart home security camera. So if someone reverses into your car or tries to break in, you'll know straight away.
Nanoleaf's Sense+ Controls and Nala Learning Bridge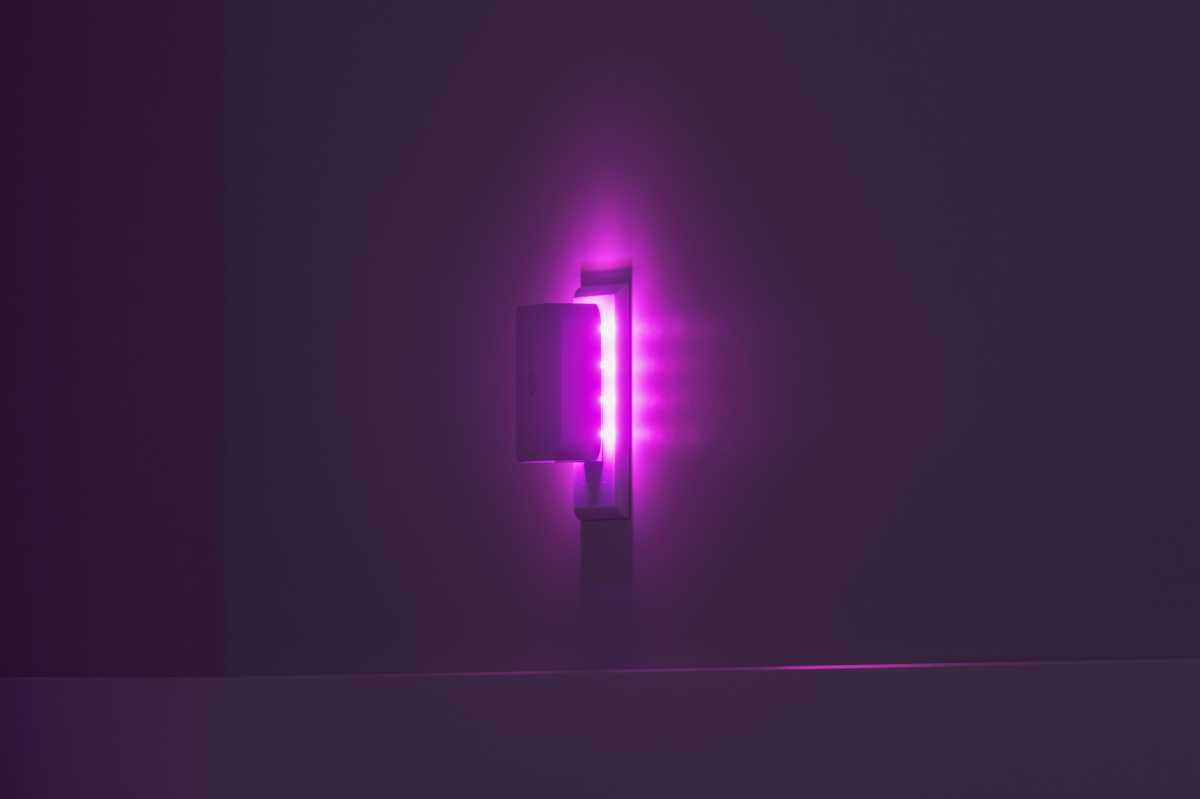 Nanoleaf
Nanoleaf is best known for its decorative wall lights, but as the last few months has proved, there's much more to the brand. Back in November, it was one of the first companies to debut Matter-certified smart lights.
Now it's launched another first: a truly intelligent smart lighting system (that's also Matter-friendly). Among the new product launches are Nanoleaf 4D, a TV screen mirror set-up; wired and wireless smart light switches; and a modular ceiling light. But what sets it apart from other systems is Nanoleaf's Automated Learning Assistant, Nala.
Get the Nala Learning Bridge, which doubles as a night light, and you can not only control all your Nanoleaf lights together – yes, including your decorative wall panels, which will receive a software update – but Nala will also learn your habits and predict lighting you'll enjoy. Nanoleaf calls it "the world's first ever hands-free smart lighting experience".
Lenovo Yoga Book 9i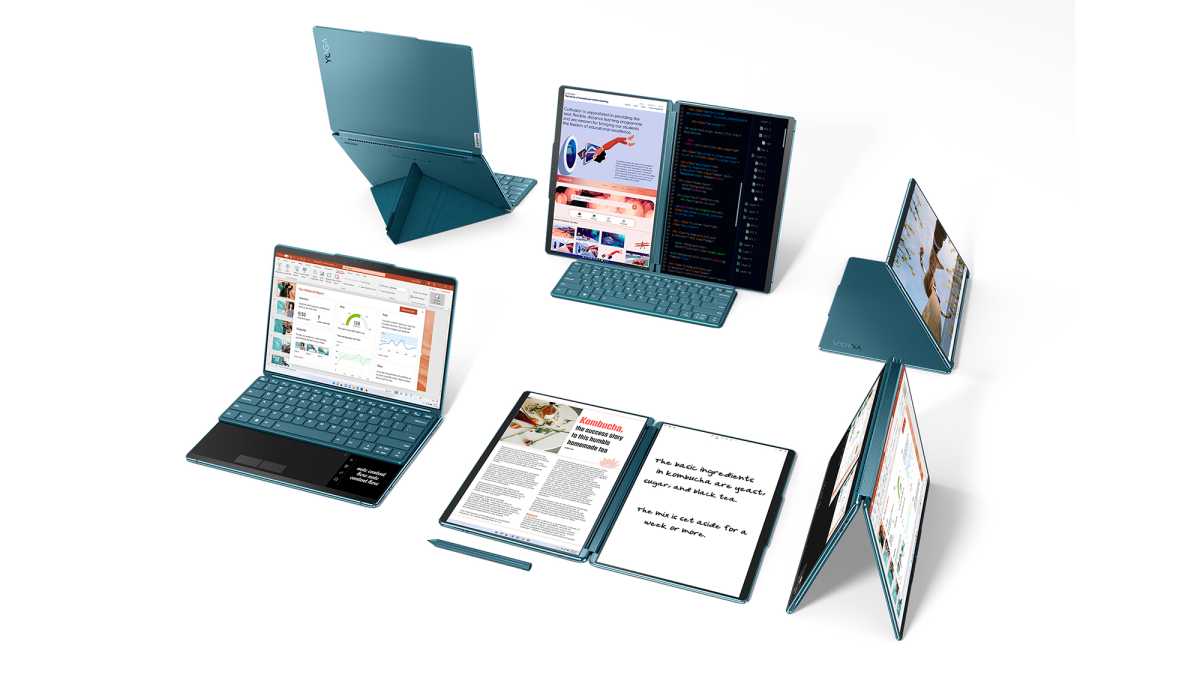 Lenovo
Although folding phones are taking off, there has been some cynicism around the usefulness of dual screen devices. We're fans though, having enjoyed using the Microsoft Surface Duo 2 and the LG V60.
If you agree then you'll love this slightly mad dual screen laptop/tablet from Lenovo, the Yoga Book 9i. It's a premium computer that looks like a laptop but has two 13.3in 2K screens instead of a keyboard – the keyboard comes with it as a folio case, and you can arrange the device in several positions.
It could be overkill, but it could also be a good way to display more text and data, or run two full Windows apps at once.
Motorola ThinkPhone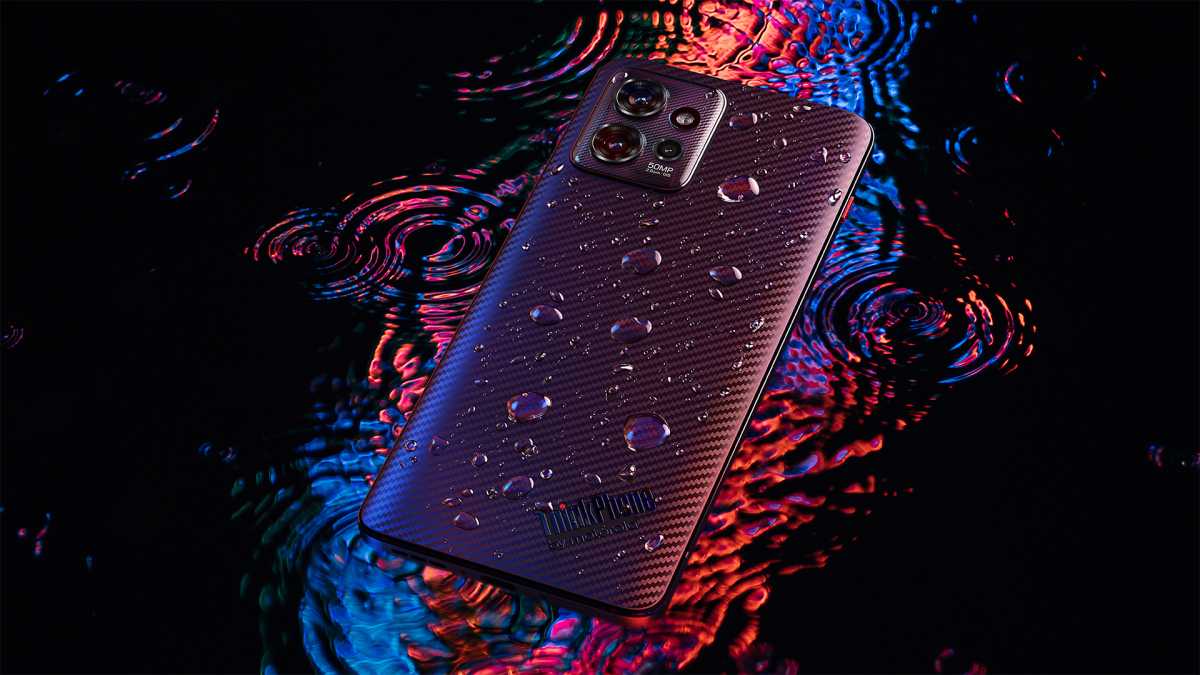 Motorola
If you have any kind of nostalgic feelings for Lenovo's ThinkBook laptops, with their austere look punctuated by a little red nubbin that's harder to use as a mouse than you remember, then this could be the phone for you.
Lenovo-owned Motorola has made the first ever ThinkPhone – and it's basically a Motorola Edge 30 Fusion with a Think-ish carbon fibre finish, a bigger battery, and lots of business software perks thrown in. Thankfully, we loved the Edge 30 Fusion.
It's aimed at businesses that Moto hopes will buy fleets of them, but it will be available to buy for everyone if you dig the look. Pricing is unconfirmed.
Nvidia GeForce Now Ultimate
Nvidia
Nvidia might've captured the hearts of PC gamers with the reveal (or should that be re-reveal?) of the RTX 4070 Ti, but what caught our attention was the announcement of Nvidia GeForce Now Ultimate, a new tier coming to Nvidia's cloud-based PC game streaming service in the next few months.
With a promise of RTX 4080 performance and power, a new streaming mode that supports 240fps gameplay with less latency than a console and a free upgrade for existing RTX 3080 tier subscribers, it's an exciting move in the cloud gaming space.
LG Signature OLED M3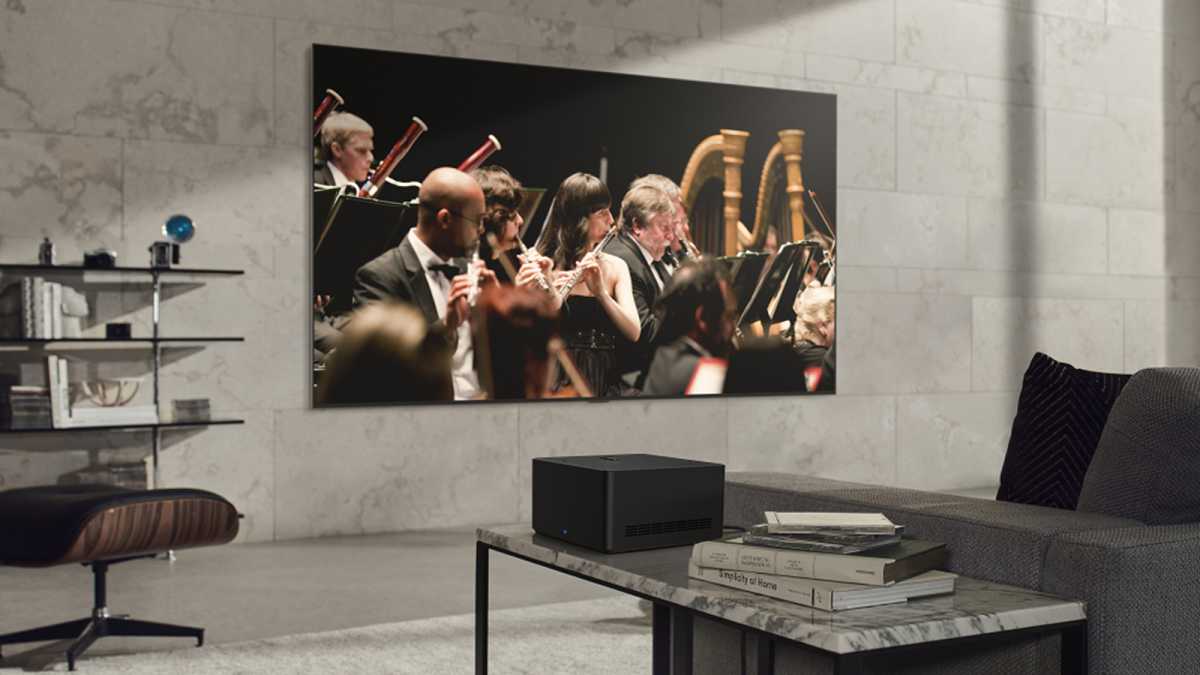 LG
The future of television is wireless. The 97in LG Signature OLED M3 still requires a power cable, but all of its media inputs can be plugged into the 'Zero Connect' box, which can be placed up to 50 feet away and streams content to the TV without a single cable, even at up to 4K at 120Hz.
It's ideal for wall mounting and solves your cable management struggles – or at the very least moves them somewhere else.
We also saw an even more wireless TV from Displace, which doesn't even need the power cable as it uses batteries, with weeks of use on a full charge. It even magnetically sticks to walls and windows, saving time on installation, but it feels like it's built for businesses – most of us don't want to take the TV down once a month to charge it.