Lenovo has stayed true to its peculiar design strategy for its ThinkBook Plus line with the new ThinkBook Plus Twist, a laptop with an OLED display that twists around to reveal a full colour E Ink display.
The screen does not detach but instead is designed to be a unique 2-in-1 that offers a traditional laptop form factor with the added benefit of an E Ink screen for reading, presenting, and lower power consumption.
Last year's ThinkBook Plus had an 8in LCD screen right next to the keyboard.
Aimed at businesses, the new Plus Twist has a 13.3in 60Hz 2.8K OLED touchscreen with pen support when you want to go full laptop mode. It's powered by 13th-gen Intel Core processors running on Windows 11, with up to 16GB LPDDR5X RAM and up to 1TB PCle Gen 4 SSD storage.
The machine also has dual speakers and mics with Dolby Atmos support, an Full HD webcam with shutter, a fingerprint reader, two Thunderbolt 4 USB-C ports, a headphone jack, and support for Wi-Fi 6E.
The screen has a twist hinge (hence the name) that rotates when you want to switch from the regular screen to the 12in front-lit colour E Ink touch display, which also has pen support.
Lenovo says you can use this in laptop or tablet form, the latter by simply closing the laptop's lid, as the E Ink display sits where the outside of a laptop's casing usually is.
The E Ink screen can be used just like a regular screen for typing documents, but Lenovo reckons the draw is the reduction of eye strain and the use of less power, meaning the laptop won't run out of battery as fast if you're away from the plug.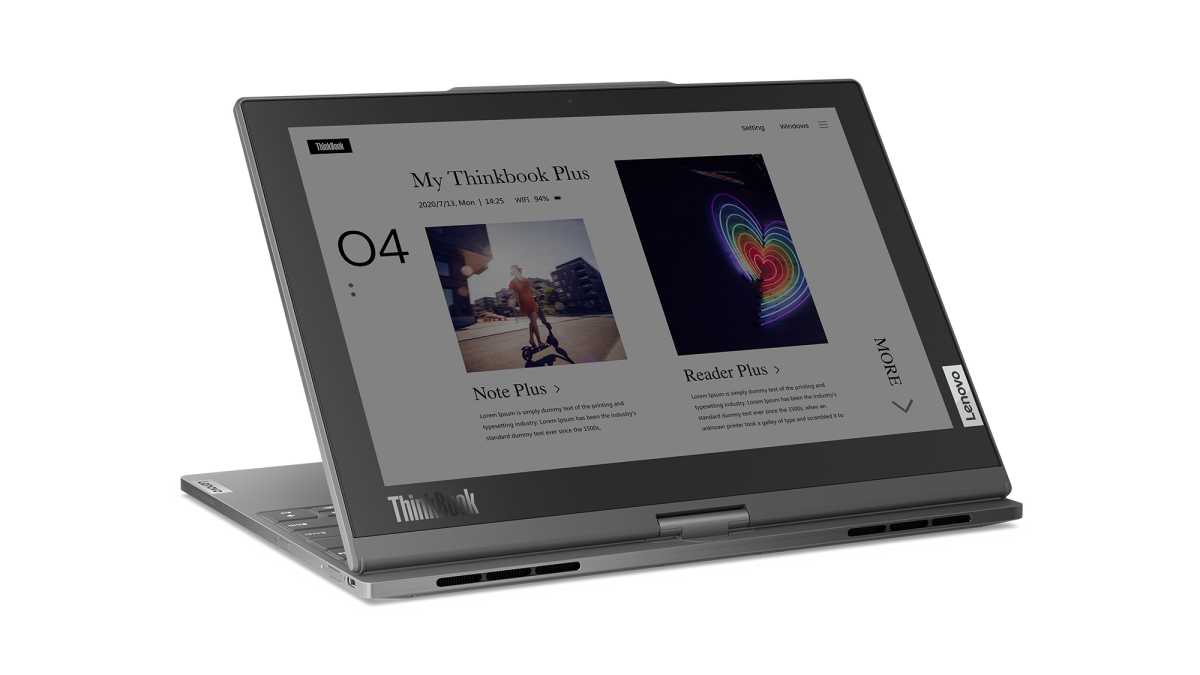 Lenovo
When closed, the laptop's outward facing E Ink screen can display information such as an email inbox or appointment calendar, or even just a screensaver. Lenovo also envisions road warrior businesspeople using the OLED screen to kick back with Netflix in the hotel room, or the E Ink screen to read a novel.
The latter might be an idealistic step too far (this is a 13in laptop) but it does make sense in some ways. I'm a big fan of E Ink for both eReaders and writing tablets, as e-ink is much kinder on the eyes compared to regular OLED or LCD screens. Plus, the tech is limited enough that it generally only appears on products with limited functionality, allowing you to focus more on one task without distraction,
Battery life has always been a pain point for business laptop use, so having a lower-powered display is one way to offset power consumption – though with the huge improvements in battery life seen on Apple's M1 and M2 MacBook laptops shows the technology is there to improve longevity without (checks notes) attaching an additional lower-powered display to the outside lid of a premium business laptop.
The ThinkBook Plus Twist will be available in the US and Europe from June and will cost from $1,649/€1,699.