After teasing an announcement for the past few weeks, HTC has finally unveiled the Vive XR Elite, an AR- and VR-focused headset that sounds quite similar to the Meta Quest Pro released late last year.
Like the Quest Pro, the Vive XR Elite is focused primarily on augmented reality while also providing a solid virtual reality experience. It achieves this via the combination of four wide FOV cameras with full-colour passthrough, 6DoF tracking, and most importantly a depth sensor – something missing from Meta's high-end headset.
The inclusion of a dedicated depth sensor should allow the Vive XR Elite to better sense your environment, translating to a more immersive AR experience with virtual objects staying put in the real world as you walk around – but we'll have to see how well it performs once it's available.
Of course, content is where Meta has the upper hand, leveraging its years of consumer VR headsets to provide high-end VR and AR apps for the Quest Pro from day one. HTC, on the other hand, has primarily focused on the B2B market for its standalone headsets, and that means there's not quite as much content available from HTC's Viverse.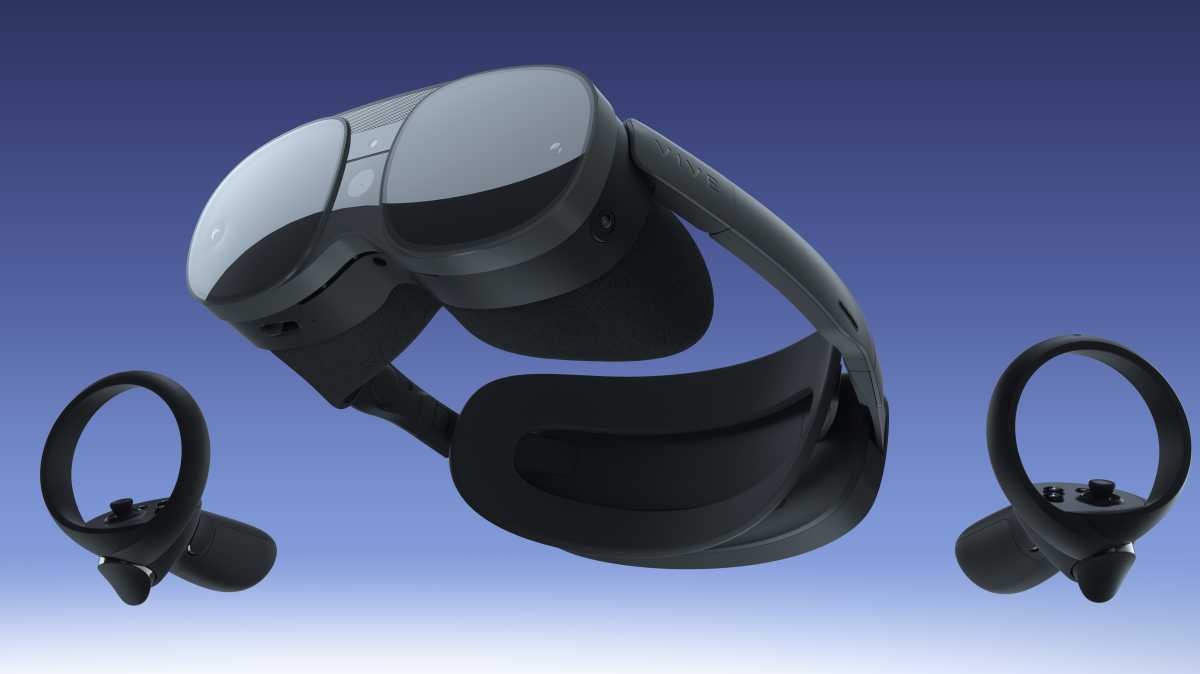 HTC
The company claims that the launch of the headset will coincide with the release of over 100 mixed and virtual reality apps including Demeo, Les Mills Body Combat, FigminXR, and Unplugged, but it'll still lack key Meta-exclusive games like Beat Saber and Resident Evil 4 VR.
You can hook the headset up to a PC for VR gaming, and unlike Meta's headset, you can wirelessly mirror your Android smartphone's display to the headset to enjoy streaming apps like Netflix and Disney+ on a big display, essentially turning the headset into the Vive Flow.
There's support for both controllers and hand-tracking, with HTC planning to release a wrist tracker later this year to further boost the hand-tracking accuracy for AR games and apps.
It's fairly sleek in design too, coming in at a relatively lightweight 620g, and a modular design means that it can easily switch from a standard VR headset design to a glasses-like design similar to that of the Vive Flow depending on what you're doing.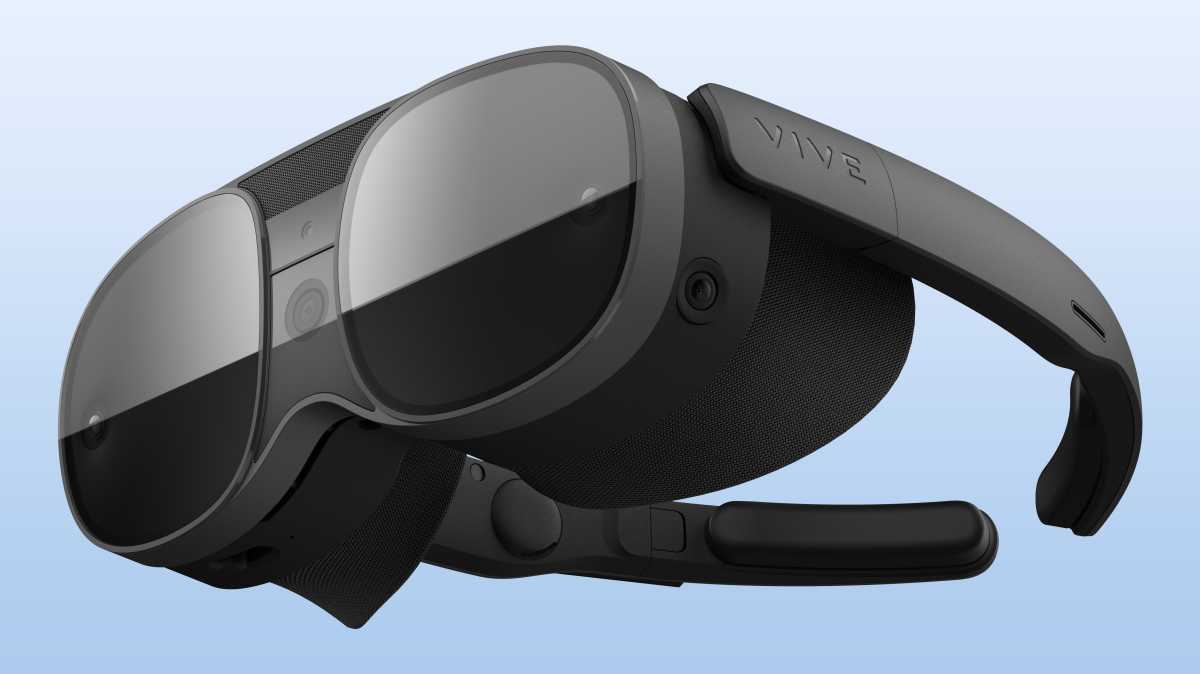 HTC
The display sounds impressive with key features including a 110-degree FOV, 4K resolution, a fine-adjustable IPD slider, and adjustable lenses that allow glasses-wearers to use the headset without wearing spectacles. It's a much-loved feature of the Vive Flow, and it's great to see it here too.
Battery life is rated at around two hours, the same as the Quest Pro, though the Vive XR Elite has a hot-swappable battery system that allows you to remove the battery and replace it once it runs flat. If you don't want to fork out for an additional battery, you've also got the option of hooking up a power bank to extend playtime.
When you're done, the bundled 30W charging dock should make charging the headset a doddle, and it'll also mean you're always ready to go whenever you fancy jumping into an XR session.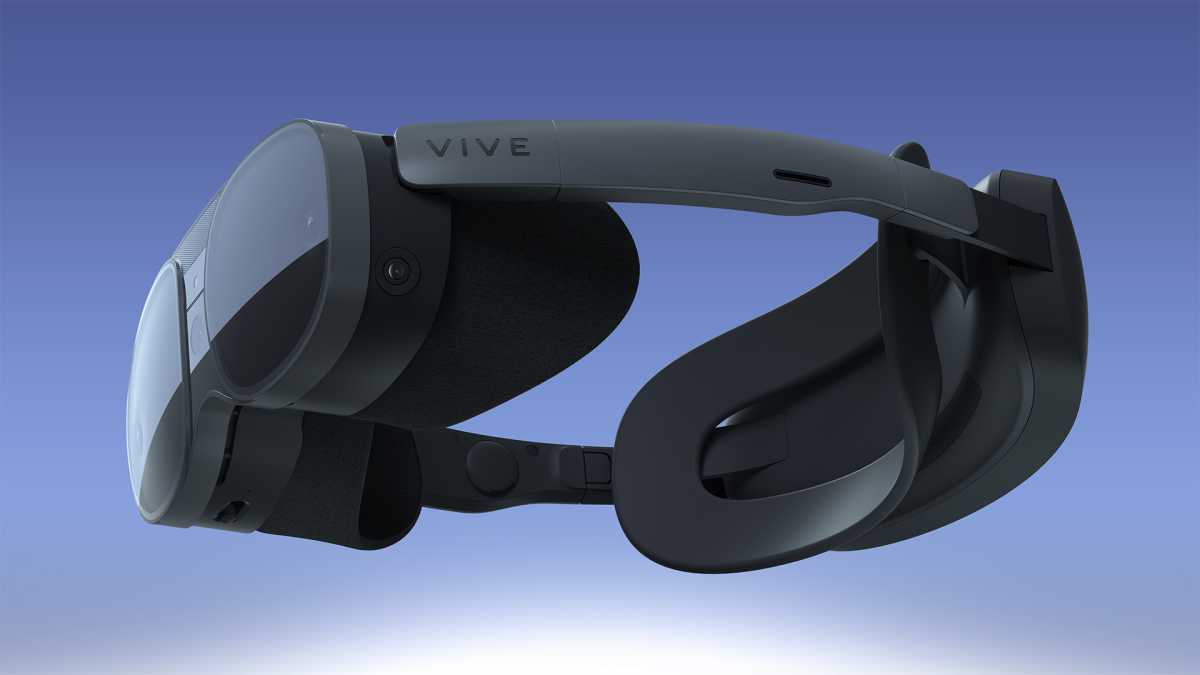 HTC
Of course, it's pricing that's most important to the consumer, and HTC has managed to undercut the Meta Quest Pro at $1,099/£1,299 compared to $1,499/£1,499 from Meta's top-end option.
It is lacking some key features offered by Meta's headset, most notably face and eye-tracking, but HTC says these will be available via an official add-on later in 2023. The main benefit to this approach is that consumers not interested in the high-end facial tracking can simply skip it and save on the headset itself, a further extension of Vive's modular strategy.
HTC isn't hanging around either; the Vive XR Elite is available to pre-order directly from the Vive site and select third-party retailers right now, with pre-orders set to ship in late February. Once it's available, it'll likely be available from most popular third-party retailers like Amazon as with other headsets in HTC's VR collection.
Are you interested in HTC's latest modular XR headset, or is the established content library from the Meta Quest 2 and Quest Pro too hard to turn down? Let us know on Twitter.